Mavericks Pumpkin Harvest Ale
| Half Moon Bay Brewing Company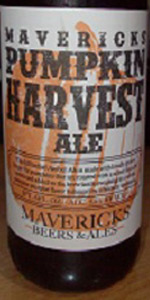 BEER INFO
Brewed by:
Half Moon Bay Brewing Company
California
,
United States
hmbbrewingco.com
Style:
Pumpkin Ale
Alcohol by volume (ABV):
4.80%
Availability:
Fall
Notes / Commercial Description:
No notes at this time.
Added by PaulStoneAnchor on 10-21-2011
Reviews: 7 | Ratings: 19

3.02
/5
rDev
-14.9%
look: 3 | smell: 3.5 | taste: 2.5 | feel: 4 | overall: 3
Pours a transparent amber-orange with a small white head. Maybe a tiny bit of haze, but that might be the color. Head dissipates pretty quickly. Aroma is light pumpkin pie spice with some pumpkin and caramel sweetness. I'm mostly getting nutmeg in the spice, and it could use some more spice or character or something, but it's not bad, really. The taste is lightly sweet with a little bit of spice. It's underwhelmingly mild. Just sort of blah caramel sweetness. I buy that they use real roasted pumpkins since pumpkins are normally quite mild, in my experience. I wish that the biscuity malt flavor was amped up. I appreciate that they're working in <5% abv territory, but they could pack more flavor in there. That said, it's sorta nice to have a mild, session-able pumpkin ale, since so many of them are big and sticky sweet. Mouthfeel is a marked improvement over the 2010 version and is actually at a very nice creamy level with lots of fine bubbles. Actually, the beer is generally an improvement over the 2010 version, but they could definitely take it further.
★
1,072 characters
3.34
/5
rDev
-5.9%
look: 2 | smell: 3 | taste: 3.75 | feel: 3 | overall: 3.5
October 25th, 2013 - Here comes another pumpkin ale. I might be soaking in the stuff, but it makes for good serial tastings, and for picking out all the lovely little subtleties between brews of the same style. The Mavericks has the same deep, amber hue that a lot of the other pumpkin beers take on, but with a veritable geyser of carbonation, scaling the inside of the pint glass. The aroma is creamy and sweet on the nose, like a fresh, chilled slice of pumpkin pie from a local diner. The aroma is, somehow, thick and rich, and almost sticking to the roof of my mouth. I can even detect a blob of whipped cream adding a faint sweetness that distinct from the pumpkin pie sweet note. The flavor leads with a surprisingly mild carbonation and a light body, but an unusual flavor. After a little parsing (and much slurping, hemming and hawing) I get a lot of Japanese flavors. The aftertaste is filled with shiitake, miso and other umami tastes, while the bulk of the foretaste and mid taste is made up of a mild pumpkin pie. It's savory, thick, custardy and low on spice, but deep with brown sugar. Like the one before it, this is another well balanced and fascinating pumpkin beer, and another winner in the vegetable category.
★
1,230 characters
3.52
/5
rDev
-0.8%
look: 3.75 | smell: 3.5 | taste: 3.5 | feel: 3.5 | overall: 3.5
5.5% ABV per the label.
Pours a clear dark orange with a foamy tan head that settles to a partial film on top of the beer. Foamy swaths of lace form around the glass on the drink down. Smell is of malt, earth, pumpkin, pumpkin bread, and pumpkin pie spice aromas. Taste is much the same with bread, pumpkin, and pumpkin pie spice flavors on the finish. There is a mild amount of spice bitterness on the palate with each sip. This beer has a lower level of carbonation with a slightly crisp and medium bodied mouthfeel. Overall, this is a pretty good beer with a nice balance of pumpkin and pumpkin pie spice characteristics.
Serving type: bottle.
★
648 characters

3.57
/5
rDev
+0.6%
look: 2.5 | smell: 3 | taste: 4 | feel: 4 | overall: 3.5
A: Pours with almost no foam whatsoever, but is a nice rich amber color.
S: Smells of roasted pumpkins with a little bit of breadiness
T: Has a fruitiness from the yeast, along with a nice pale malt character which is balanced out by sweet pumpkin. I do get some slight hints of cinnamon, but not much more then that.
M: Has a nice medium carbonation with a creamy mouthfeel.
O: Overall, this is a good pumpkin beer. It has a lot of nice pumpkin qualities that are not to overpowering, but at the same time it is very drinkable. I like the fact that it is not loaded with a ton of pumpkin and spices, which for me take away from the beer. I really like the English Pale quality that comes out of this beer as well. This is definitely an enjoyable pumpkin beer that anyone can drink.
★
797 characters

3.68
/5
rDev
+3.7%
look: 4.5 | smell: 4 | taste: 3.5 | feel: 3.5 | overall: 3.5
Picked this up in the Bay area and enjoyed it within the same month.
It poured a caramel amber color with a warming glow. My pour resulted in tight cotton with a thick layer of foam that lasts for days. The aroma has pumpkin spices, with clove and nutmeg notes dominant. The flavor has a bitterness similar to a standard pale ale with more of the pumpkin spices coming through. I picked up some nutmeg, some cloves, some allspice, and a hint of cinnamon. Not sure what the sugar pumpkins brought to this beer as I felt the body (malt) wasn't enough of a presence.
★
567 characters
4
/5
rDev
+12.7%
This was enjoyable. It wasn't the best, but not the worst pumpkin beer. This hit the normal characters. Spice, cinnamon, nutmeg, and for me a key taste was kettle corn popcorn. I got this sweet buttery taste. Good overall.
★
222 characters

4
/5
rDev
+12.7%
look: 4 | smell: 4 | taste: 4 | feel: 4 | overall: 4
A - Pours a cloudy copper-orange color with a finger of frothy white head atop. The head fades down at a normal pace leaving behind a touch of lace.
S - Aroma is a mix of cinnamon, clove, and brown sugar, as well as some pumpkin and biscuit malts.
T - Starts off with some pumpkin with a light mix of brown sugar, cinnamon, and nutmeg spices and a bit of sweet biscuit malt. Through the middle, some stronger spices come through alongside some more biscuit malt flavor. The finish is a mix of spices, biscuit malts, and some sweet pumpkin and brown sugar that linger.
M - Medium to medium-light bodied with moderate carbonation. Smooth with a sweet and spicy finish.
D - Very drinkable. I really like that this has some pumpkin flavor in it that does a good job of balancing out the spices.
★
794 characters
Mavericks Pumpkin Harvest Ale from Half Moon Bay Brewing Company
3.55
out of
5
based on
19
ratings.