BeerTemple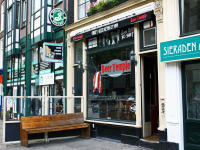 PLACE INFO
Type:
Bar, Eatery
Nieuwezijds Voorburgwal 250
Amsterdam
, 1012 RR
Netherlands
+31 20 627 1427 |
map
beertemple.nl
Notes:
No notes at this time.
Added by jesperm on 12-22-2009
Reviews: 24 | Ratings: 72

3.58
/5
rDev
-16.7%
vibe: 3 | quality: 3.5 | service: 3 | selection: 4.5
An American beer bar in Europe was intriguing enough to have to pay it a visit. It kind of had the vibe of a Belgian beer bar in America. Especially when it came to price, in Holland & Belgium their beers are very cheap compared to what we see in the US. Here the US beer prices were comparable to Belgian prices in the US.
The list of beers was huge and very strange to see in Amsterdam. Southern Tier, Great Divide, Green Flash, Founders, Jolly Pumpkin, Short's & tons of others.
I had Mikkeller 1000 IBU on tap & a couple dutch beers, didn't really sample the US selection, seeing as I can get most of it at home. I'm sure this place would be very exciting for Europeans to visit, seeing as they don't have access to these beers.
736 characters
4.15
/5
rDev
-3.5%
vibe: 3 | quality: 4 | service: 4 | selection: 5
This bar is owned by the same guy who owns Cafe 't Arendsnest on the Herengracht. It is the first and, to my knowledge, only American beer bar in Europe. Very cool indeed.
The inside is decorated half-heartedly, with a large collection of bottles on the wall and a few randomly placed, and sometimes poorly thought out, beer signs on the wall. Why is there a Leffe sign here, for example? It's also a little "green" for European standards; it looks like they were going for the old style Dutch bar but just didn't quite pull it off. That said, the music is well chosen and not too loud during the late afternoon, and the barkeep does a good job at mainting an inviting atmosphere.
The quality is fine here, so I usually think of this category as a way of grading rarity. For the average American, this is nothing special, but for us here in Europe, they've certainly got some interesting stuff. There were some bottles of Oak Aged Yeti and GI BCBS in the cooler, which we can't find in stores anymore. There was also stuff from all over the country here, which may not be the case in a local bar in the States.
As for the selection, it's quite impressive. With about 30 taps and over 100 bottles, there was a lot to chose from. All the American beer in there is either in De Bierkoning now, or has been in there at some time in the past though. Distribution lines are the same. What was cool was being able to try some of those beers on tap, and to see some of the beers that are no longer around.
We had three beers that afternoon:
Great Divide Hercules IPA 14oz - 6,50
Great Divide Fresh Hop IPA 14oz - 6,50
GI BCBCS 12oz bottle - 11,00
It was pretty cool to try the Great Divide on tap, which is one of my favorite American breweries, and the GI BCBS, which isn't around anymore. Quite a pricey experience for sure, but we're in Europe, so that's to be expected. Moreover, tipping is not a thing over here, so that made it more reasonable.
All in all, this is a great bar and a welcome addition to the beer culture here. I hope it does well and the local population supports it, instead of it just being full of tourists all the time. The great selection and extensive tap list makes this a great stop for anyone interested in American beer. I'll be back for sure.
2,281 characters

4.43
/5
rDev
+3%
vibe: 3 | quality: 4.5 | service: 4.5 | selection: 5 | food: 4
The last time I had visited Amsterdam there was talk about this bar opening soon, which it did right after we returned home to the States, so I was determined on this last trip (October 2010) to search it out and see what it had to offer.
The atmosphere and vibe is alright, but really lacks a lot of the charm, character and overall ambiance of Peter van der Arend's (owner of BeerTemple) other bar - 't Arendsnest. It's a bit sterile in my opinion.
The quality of this establishment is topnotch however, as is the service and selection. The barkeep was very knowledgeable on both American and European beers and guided me in the right direction every night (a ton of taps and refrigerated bottles ranging from California IPA's to rare Belgian Wild Ales). They had an amazing variety of Brew Dog on tap, which is what brought me back each night - all I have to say is Punk IPA!!!
They have a limited variety of cold and hot bar food that they heat up in a microwave behind the bar. We didn't get any hot food, but got their mixed nuts and Chimay Trappist cheese plate with crackers and were very pleased with both.
1,119 characters
4.58
/5
rDev
+6.5%
vibe: 4 | quality: 4.5 | service: 5 | selection: 4.5
I was lucky to stumble upon Beer Temple the first week it opened, in October 2009, and made it in on a Monday the 19th, right just before closing and had time for one beer. Even though it is an American Craft Beer bar I had to order the La' Chouffe Houbalon, because I truly enjoy that beer and I I didn't get a chance to have one on this trip. The owner was there working behind the bar and seemed glad to have Ammericans stop in durring the opening week with the local beer enthusiasts. I will be going back to Beer Temple when I go back to Amsterdam to start my 5 day Dutch beer tour September 27th.
602 characters
BeerTemple in Amsterdam, Netherlands
4.3
out of
5
based on
72
ratings.