Gusto 1833 Ruby Red
| Brouwerij De Koninck NV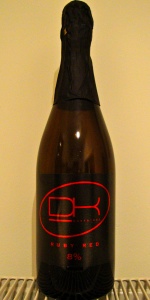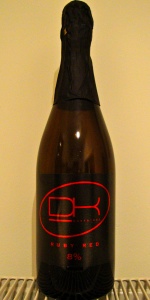 BEER INFO
Brewed by:
Brouwerij De Koninck NV
Belgium
dekoninck.be
Style:
Belgian Strong Pale Ale
Alcohol by volume (ABV):
8.00%
Availability:
Limited (brewed once)
Notes / Commercial Description:
No notes at this time.
Added by hopdog on 03-13-2009
This beer is retired; no longer brewed.
HISTOGRAM
Ratings: 8 | Reviews: 7
Reviews by SmokinSmyth:
3.38
/5
rDev
+5.3%
look: 4 | smell: 3.5 | taste: 3.5 | feel: 3 | overall: 3
Came in a big bottle with a cork, didn't realize it was a de Koninck brand until I read the back of the bottle. It truly does pour a dark ruby red. Average head with average to low lacing left behind on the Leffe glass.
Smell is good, typically Belgian. Taste is a good dark flavor, leading with fruit and finishing off with grain. Feels good in the mouth, drinks easily.
372 characters
More User Reviews:

3.03
/5
rDev
-5.6%
look: 3.5 | smell: 3 | taste: 3 | feel: 3 | overall: 3
A: Poured a medium-dark amber with cranberry ice tea hints around the edges. The initial head was foamy, a towering 3 fingers plus high, tan in color and well lasting leaving a slight spotty lacing. Effervesce was explosive with a showering of bubbles that rained upwards at a feverish rate nearly drowning out any transparency.
S: The nose delivered a light hoppiness fresh spruce and pine along with dried apples and pears with a light breadiness. The overall strength was very light making your work to get a good sense of things and did little to entice coming off ordinary and mundane.
T: The flavor was juicy and fruity with apple juice, canned pear juice, and a freshly, albeit very light and almost watery toasted grain sweetness. A fresh flowery bitterness and hoppiness of pine comes through in the middle of the palate while the finish finds a tart, dry and slightly funky fruitiness (pineapple) with some green apple skins (acetaldehyde) presence. On the trail lied a flowery bitterness of modest proportions. Overall the flavor came off light and thin with a very distracting carbonation presence.
M: quite weird, starting out with a very active fizziness before proceeding to foam up and felt like it was expanding in the mouth. Was hard to determine fullness and texture due to the rabid nature of the carbonation which gave it perhaps a little rough feel.
D: fair at best and found this particularly unexciting. At 8.0%abv it wasn't the alcohol that hindered things going down here but rather an overly active carbonation that fizzled this drink out from the very start. A fancy bottle with thin contents and cant really recommend.
1,655 characters

3.2
/5
rDev
-0.3%
look: 3.25 | smell: 3.25 | taste: 3.25 | feel: 3.25 | overall: 3
From a mid. 2011 review.
75 cl. bottle shared. Poured medium chestnut brown with a light brown head. Plenty of sweet malts, medium caramel, fruits upfront (lots of plums) & nuts, slightly roasted & bit off-tasting spices in the finish which don't really seem to belong there. Ok beer but could have been a lot better.
321 characters
3.47
/5
rDev
+8.1%
look: 3 | smell: 3.5 | taste: 3.5 | feel: 3.5 | overall: 3.5
750ml bottle thanks to Matt.
Poured a deeper brownish color with a reddish tint and a large sized off white head. Aromas of yeastiness, fruitiness, and I was getting some berries in there too. Tastes of some fruitiness, caramel, and spices.
Notes from and tasted on: 3/12/09
281 characters

4.01
/5
rDev
+24.9%
look: 4.5 | smell: 3.5 | taste: 4 | feel: 4 | overall: 4.5
Pours a deep hard to see through ruby red color with a off white head that fades leaving a small amount of lacing around the glass.
Smells is malty with hints of pears and dried apples.
Taste of pears and dried apples up front with a malty sweetness. Belgian yeast. Very dry aftertaste that has a lingering malty sweetness and green apple notes.
Great little beer, It could be that I've had a liter of it, that makes it taste so good, but either way it's worth a try.
470 characters

2.76
/5
rDev
-14%
look: 4 | smell: 3 | taste: 2.5 | feel: 2 | overall: 3
Pours a mediciney red colour, ruby but with a slight ochre tinge around the edges and kind of swampy in appearance. Head is huge, off-white, and spreads out, sinking like cobwebs, becoming less dense and just breaking up. Residual lace is decent but there could be more. Pretty good overall.
Okay, nose is quite Belgian in character. Pungent and fairly strong and quite dark, with a noticeable cognac-style alcohol twang, and a fair hint of spice. Slight sour oaky character with hints of red wine tannins, but not much else. A bit methyl, not quite complex or full enough.
Taste has a fair amount of malt at first, with hints of cocoa and tobacco, and a quite distinct whiskey malt on the mid-palate giving a slightly smokey edge. Slight yeastiness comes through towards the back, a bit bready but not offensive to any great extent, and then finishes sour and slightly metallic, with a kiss of alcohol warmth, but nothing spectacular. Yeah, not overly impressed with this, it lacks depth of character, and flavour in general. Actually feels a bit confused, like it's trying to be strong and Belgian but forgot that you need ingredients to get flavour. It reminds me of a bland version of Unibroue 17, if I'm being generous.
Very dry throughout the palate, and really quite watery, if not thin. Just feels very wet and then leaves very dry. Not great.
It's not offensive, so points there, but there are many other things I'd rather be drinking.
1,448 characters
3.31
/5
rDev
+3.1%
look: 4.5 | smell: 3.5 | taste: 3 | feel: 3 | overall: 3.5
A slightly cloudy red-brown mahogany body, with a head of very rocky off-white bubbles, that crackle and frothy before losing their integrity and collapsing. Lacing is very good though, sticking with cracked eggshell patterns down the side of the glass. Overall a pretty decent looking brew.
A bit of wet grain funk on the nose, some copper and a slightly sour carbonic note. Certainly something lightly acidic, in any case, and the metallic twang is unusual if not unpleasant. There's not a lot of wonderful characters that make me particularly excited, but it's not offensive either.
Taste is similar. Some initial grain notes that get overwhelmed with a slight lactic acidity, that morphs into a big metallic note like chewing tinfoil. This is slightly irritating, and the finish is very dry with the same sort of character. Mouthfeel is quite round at least, which is pleasant, although with the metallic characters I almost want something a little thinner.
A drinkable enough brew, but certainly a little odd. Nothing enough to put me off it, but I was a bit disappointed with it overall. I was hoping for something with more balls.
1,140 characters
Gusto 1833 Ruby Red from Brouwerij De Koninck NV
Beer rating:
3.21
out of
5
with
8
ratings