Kamenitza 1881
| Kamenitza AD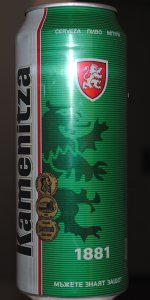 BEER INFO
Brewed by:
Kamenitza AD
Bulgaria
|
website
Style:
Euro Pale Lager
Alcohol by volume (ABV):
4.40%
Availability:
Fall
Notes / Commercial Description:
No notes at this time.
Added by Minkybut on 12-02-2010
Reviews: 9 | Ratings: 14
Reviews by DES8888:
More User Reviews:


3.74
/5
rDev
+43.3%
look: 3.25 | smell: 3.5 | taste: 3.75 | feel: 4 | overall: 4
I drank this whist on holiday in Bulgaria, sunny beach.
It's so cheap but so good! 2lev for a pint is what I was paying on average and that's like 80p. I'd happily pay usual £3.50 for this stuff.
Colour is like a typical lager, head sticks around for a good time and carbonation is perfect for a lager.
Smooth and crisp taste with a dry-ish light fruity after taste, could drink it with anything , simple lager, simple match.
For what it is, and value for money, I can only recommend it. One that will always be in the memory bank, shame I can't get it here!
★
563 characters

2.35
/5
rDev
-10%
look: 2.5 | smell: 2.5 | taste: 2 | feel: 3 | overall: 2.5
A half finger of head on a clear, golden colored body. Low head retention.
The aroma is grain (rice) and stale lemon.
The taste is moderate bitterness, with a little malty sweet note in the middle, finishes with a puckering bitterness. Not great.
Crisp texture, moderate carbonation and lighter body.
A below average euro pale lager.
★
333 characters

2.53
/5
rDev
-3.1%
look: 3.5 | smell: 3 | taste: 2 | feel: 3 | overall: 2.5
I'll be honest right up front: I only plucked this from the wall of euroswill at State Line Liquors yesterday because I'm positive I've never had a beer from Bulgaria. So, Kamenitza, with it's cheap, boring label and dull straw color it is then. Almost no head but does feature stunning clarity. Nose is grainy and grassy and blah.
All I'm going to say is that I am glad this is ice cold. The label says its still fresh so I'll take their word for it but this is sour and pretty unpleasant at first. The overcarbonation helps hide the taste and the finish is reasonably clean, but the taste itself is sawdusty and simply not very good. Back to Bulgaria with you, Kamenitza.
★
674 characters

1.55
/5
rDev
-40.6%
look: 2 | smell: 2 | taste: 1 | feel: 2.5 | overall: 1.5
The CANQuest (TM) marches on! I got a BeerMail from someone in central/upstate New York letting me know that a number of Euro CANs were available and I managed to set up an in-person trade for this and five or six others. It is New Beer Sunday (Week 363) and my plans to go to Atlantic City today got aborted, so I am looking to plow through some CANs instead.
The Crack revealed a beer anxious to come out and greet me! I had about a finger of bone-white head come puffing up through the opening before I could even begin the Glug. It actually took a while to pour because, as you might imagine, it was foaming as rampantly as the lion (?)/dragon (?) on the crest of their logo. Color was a pale lemon-yellow with NE-quality clarity and I have passed darker urine. This really reminded me of the adage that one CANnot buy beer, one CAN only rent it. Nose was grassy, slightly malty sweet and underlain with a metallic tang. Hmmm. Mouthfeel was medium and the taste of metal was prevalent on my tongue. I do not want to hear about the CAN having created this - I know better. This was borne of shoddy brewing practices, likely overworked yeast. It was drinkable in that it did not become a drain pour, but I recommend staying away from this hellion. I have had better AMLs, frankly.
★
1,283 characters

2.67
/5
rDev
+2.3%
look: 2.75 | smell: 2.5 | taste: 2.75 | feel: 2.5 | overall: 2.75
2.93
/5
rDev
+12.3%
look: 3.5 | smell: 3 | taste: 3 | feel: 3 | overall: 2.5
Uber-rare Bulgarian tick! Bottled, best by 30 Dec 2011. $2.99
Clear as crystal, light as sunlit straw and with a white head that falls off to a ring leaving little lacing, this is your prototypical pale lager. The nose, though, isn't as bad as some of the other reviews would have you believe. Mildly hoppy with a clean Saaz hop character, mildly earthy and bitter.Some corn is noticeable, as is a little sugar and malt. There is, however, a little bit of a cooked vegetable character, faint as it may be. Really though, doesn't smell like much.
The palate is a blend of mild hop bitterness (earth) a little flavor (lemon) and some dusty malt character. Not stale, but not realyl fresh. Some cotton candy is present, along with some honey. There's no detectable metallic flavor here that some of the other reviews mentioned. Drying on the finish with a touch of bitterness, the finish is a little watery and bland. Crisply carbonated, this beer is enjoyable in its mindlessness.
★
980 characters
2.86
/5
rDev
+9.6%
look: 3.5 | smell: 2.5 | taste: 3 | feel: 2.5 | overall: 3
16.9 oz can, label lists ABV as 4.4% I wanted to try a beer from Bulgaria, so why not this one? Poured it into a .5l mug
A- Clarity is exceptional, I can read the score off the TV while looking through the glass. I suppose this could be considered a good thing for a Pale Lager.
S- smells like straw, slightly damp. Just a touch of lemon zestiness (that's too strong of a word) in the background
T- Taste is constant front to back and start to finish, as one should expect a very simple brew. Tastes like straw. Has a touch of bitterness that is barely perceptible, but it does give this beer just a little something more than your typical American light beer.
M- Smooth with just enough carbonation so you know it's there. Not as refreshing as I would hope from this style, aftertaste lingers for less than 3 seconds before receding.
O- I think this brew falls into the average range, it's not my favorite style, but there's nothing really wrong with this beer, it is what it claims to be and does an alright job at it, even if it's a little weak in a couple areas. I don't often seek out Euro Pale Lagers, so it's not a surprise that I'll never revisit this one.
★
1,169 characters
2.9
/5
rDev
+11.1%
look: 3 | smell: 3 | taste: 3 | feel: 3 | overall: 2.5
I poured this beer into my tumbler at 45 degrees. The beer was a white very light color. The beer poured a big white head but that did not last very long at all. The beer was bready smelling. I thought the beer was very thin tasting, slightly sweet and had a grassy taste to it. I will not buy again
★
299 characters
2.86
/5
rDev
+9.6%
look: 3 | smell: 2 | taste: 3 | feel: 4 | overall: 3
Welp, this looks pretty much just like the last beer I reviewed (Ciuc Premium), clear gold with a pretty lame white head, so I'm giving it the same, average score. Aroma is copper coins with honey, and tiny tinges of lemon and skunk. Flavorwise it's thin, honey and lemon sweetness with a twang of rust and that weird chemical bitterness you get from bad liquor... an unpleasant and unnecessary surprise at only 4.4% ABV. Poor but not undrinkable, a fairly textbook European pale lager.
★
486 characters
1.81
/5
rDev
-30.7%
look: 4 | smell: 3 | taste: 1 | feel: 1.5 | overall: 1.5
A: clear golden colour, good head,
S: some hops, some yeast, a little bit of acidity
T: sweet, corn, almost no hops, no yeast and something metallic
M: thin and undercarbonated, unpleasant too be frank
O: avoid this one, even though it looks pretty good, it's pretty awful
★
277 characters
Kamenitza 1881 from Kamenitza AD
2.61
out of
5
based on
14
ratings.