Red Rambler Ale
| Peace Tree Brewing Co.
BA SCORE
79
okay
30
Reviews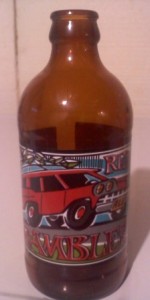 BEER INFO
Brewed by:
Peace Tree Brewing Co.
Iowa
,
United States
peacetreebrewing.com
Style:
American Amber / Red Ale
Alcohol by volume (ABV):
5.80%
Availability:
Year-round
Notes / Commercial Description:
This ale is brewed with the finest quality pale, caramel, and lightly roasted malts. This complex combination of malts, contribute to the deep red color and malty flavor. This is balanced with the flavor, bitterness and aromas of three varieties of hops. The IBU's are around 35. Top fermenting ale yeast is added to create this well rounded beer.
Added by daledeee on 05-21-2010
Reviews: 30 | Ratings: 137

3.53
/5
rDev
+3.8%
look: 4 | smell: 3.5 | taste: 3.5 | feel: 3.5 | overall: 3.5
Cool, "Red Stripe"-ish 12oz bottle received in trade with mattafett as an extra. Thanks Matt! Poured into a Bruery tulip.
A - Pours a hazy, dirty brownish color with some amber highlights. A finger of tight foam sits atop the beer after the pour, but disappears rather quickly...falls to a light skim coat and a light coolar of cream colored bubbles around the glass.
S - Light in aroma overall...most of what I'm getting is malt based - some light sweetness, a bit of caramel with some buttery diacetyl, lightly roasted nuts, grainy, bready. Can't say I'm picking up much for hops...definitely malt biased.
T - A bit more bitter than I expected from the aroma...bitterness is quick and fading with the malt taking over. Lightly metallic with some roasty/toasty and biscuity malt. Mildly sweet with a the slightest inkling of caramel. The remainder of the flavors are muted yeastiness giving way to a grainy and bready malty flavor set at the base.
M - A touch lighter than purely medium bodied. Carbonation is a touch on the lighter side...a bit of a tingle on the tongue, but not much else. The metallic aspects of this beer seem to linger.
D - Pretty enjoyable beer. Doesn't blow me away, but it is a well brewed red ale. Seems like it would be a better companion with food rather than a stand alone. Worthy of trying...glad I got the chance.
1,350 characters
3.53
/5
rDev
+3.8%
look: 4 | smell: 3.5 | taste: 3.5 | feel: 3.5 | overall: 3.5
"I rambled all the time. I was just like that, like a rollin' stone."
--Muddy Waters
Blazing bonfire reddish orange with an attractive crown of golden brown sugar colored whipped mousse. The foam is taking its sweet time melting, painting the pint glass with tattered sheets of sudsy lace in the process.
The nose, which could be stronger, is classic American red ale with a modest hoppiness. Peace Tree says that pale, caramel and lightly roasted malt are used. Mum's the word, however, on the 'three varieties' of hops.
Red Rambler Ale is pretty good stuff that most Iowa beer lovers with even an ounce of adventurousness should enjoy. It's well-balanced with respect to malt and hops, which is (mostly) a positive. Doubling the 35 IBUs would make me happier, but these guys aren't in the business to make me happy.
The malt tastes equally toasted and caramel-like, with slightly more bitterness than good hop flavor. No guesses will be made, except to say that Simcoe, Amarillo, Centennial and Columbus are doubtful. Probably something German... or English... or a less distinctive American like Magnum or Mt. Hood.
The mouthfeel just does sneak in under the 'better than average' wire. It could use more bubbles... which, if done right, would lead to a more expansive creaminess.
Red Rambler is so named because the Peace Tree Brewing Company is located in what was once a Nash Rambler dealership. This isn't outstanding beer, but I'm still going to have to ramble on down to Knoxville one of these days to check this place out.
1,539 characters
3.58
/5
rDev
+5.3%
look: 4 | smell: 3.5 | taste: 3.5 | feel: 4 | overall: 3.5
Thanks to blutt59 for sharing this bottle.
The beer pours a hazy orange color with a white head. The aroma is toffee along with some earthy hops and a dirt-like character. The flavor is toffee and an earthiness that is similar to dirt. Medium mouthfeel and medium carbonation. The taste of this beer is just a little too muddled for me.
337 characters

3.9
/5
rDev
+14.7%
look: 4 | smell: 4 | taste: 4 | feel: 4 | overall: 3.5
12 oz into a pint
A - Pours a deep dark amber, red color. Lots of floating, as I did a bad job of leaving behind yeast sediment. Light head formation, off white in color.
S - Very malty beer, toasted, toffee, sweet, caramel. Lots of things normally associated with a red ale. Just a hint of a spicy yeast play in.
T - Starts off lightly malty, a bit cloying and sweet. Toffee, caramel, crystal malts show through. Mid-stream gets spicy - like a belgian yeast was used (I think thats true). Hopping is not detected. Finishes fairly clean, with a smooth malty sweetness.
M - Moderate beer body - can be thick and clingy at times. Carbonation is well balanced for this beer style- enough to build body.
D - Easy drinking. A bit filling at times. ABV is unknown, but appears sessionable. Sweetness does grow a bit "heavy" - more of a cool fall or winter beer than a summer beer.
879 characters
3.95
/5
rDev
+16.2%
look: 3.5 | smell: 3.5 | taste: 4 | feel: 4 | overall: 4.5
Another offering from an Iowa brewery.
This beer comes in a unique short bottle(but not like Belgian). The label says the name of the beer came from the fact that the brewery is located in an old Nash car dealership.
I poured this beer in to a glass and found it to have a small head that went away to an off white covering with a bigger ring of bubbles around the edge. The head was easily reborn with a twirl of the glass. The body was a reddish cloudy brown.
The nose was not real pronounced. A hint of slight malt.
Taste was malty with bitter hops and a slightly creamy finish. I served this at about 40F and found it quite easy to drink. Not a real complicated taste but very fresh and tasty. The more I drink this the more it grows on me. I have not had many red ales so this is a good example in my book.
819 characters
Red Rambler Ale from Peace Tree Brewing Co.
3.4
out of
5
based on
137
ratings.