Craggie Brewing Company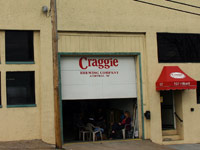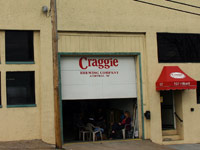 PLACE INFO
Type:
Brewery, Bar, Eatery, Beer-to-go
197 Hilliard Avenue
Asheville
,
North Carolina
, 28801
United States
(828) 254-0360
// CLOSED //
Notes:
They also have their own public house with live music 4 days a week, etc. They have growlers for sale as well.
Added by ArchStanton on 01-07-2010
HISTOGRAM
Ratings: 11 | Reviews: 11
Reviews by slowbie:
3.61
/5
rDev
-11.1%
vibe: 3.5 | quality: 3 | service: 4 | selection: 4
Before going to Asheville, this was near the top of my list of places to visit, so I had high hopes going in.
My wife and I walked here from Tupelo Honey Cafe (great dinner stop btw) without too much trouble. Almost walked right by the place although in the daylight the next day we noticed a bright red awning over the door, so look for that if you're going.
Inside was pretty small. six or seven tables made from split logs that were about a foot across and about five feet long? You could probably fit two on each side comfortably, although one table had seven people crowded around it. There was also a pretty strong smell of body odor in the air which detracted from the visit somewhat.
We went on a Wednesday night and all pints were 2.50, but their regular price was only 3/pint anyways, so the prices are very reasonable. They also offer 11 and 21.5 oz sizes. The bartender was nice and the beer was good but far from the best we had in Asheville. They had about 8 beers on tap IIRC, and no food available.
Overall, I'd stop back again, but not at the expense of missing out on Wedge or Pisgah.
1,106 characters
More User Reviews:
4.44
/5
rDev
+9.4%
vibe: 4 | quality: 4.5 | service: 5 | selection: 4
The place looks like an old garage, which I thought was cool. There was no one there when my wife and I stopped by on our honeymoon, so we got great service. The guy behind the bar, Zaq, was a way cool and helpful dude. Their beers were great, especially the Mango IPA, which was aged on organic mangoes, freaking delicious! The most expensive beer they had was an oak aged chipotle porter, for $4 a pint, the other beers were all $3. Excellent place that when I go back to Asheville I will surely hit up again.
511 characters

4.3
/5
rDev
+5.9%
vibe: 4 | quality: 4.5 | service: 4.5 | selection: 4
We went here one late evening before going out to a late dinner.
A - Craggie has a roll up garage door and when we walked in there was a small stage with a guy playing guitar and singing in the main part of the brewery. The bar area is in a room walled off from the brewery but isn't completely segregated. We would have liked it more if it was just one big open space.
Q - The beers we tried were all excellent. Very different as others have mentioned. We tried the IPA and newly released Oktoberfest. Both were really good.
S - Service was great. Admittedly, there weren't many people there, but the bartender was really friendly, laid back, and helpful.
S - Craggie serves only their beer and has 4-6 on depending on the day. Although the overall number on tap isn't great the variety of those selections is pretty awesome.
F - N/A as there is none.
We had a good time and enjoyed talking to the other patrons and the bartender. While we were listening to the music we noticed a poster for a band. The bartender said it was the band he was in and they were playing later at Pulp (small venue below The Orange Peel). We went and ran into some of the same people we'd seen at Craggie. That is the Asheville way - just embrace it and go along for the ride.
My only regret is that we didn't make it back to get a growler to bring home and try the beers we hadn't had already. Definitely a must-see.
1,407 characters
3.65
/5
rDev
-10.1%
vibe: 4.5 | quality: 4 | service: 3.5 | selection: 3
Sometimes one goes to a place and just wants to have a quiet beer and relax and be with one's thoughts. Sometimes, one is in that mind frame but is quickly jolted from that mindframe and is thrust into a different, better mindframe. That was the case this evening.
I was walking through downtown area and wanted to give this place a try. I had a long day at work and wanted to relax with a nice, quiet brew. I was greeted with an awesome "jug band" and dont regret the expereince.
Craggie is located in a garage but serves the purposes of a brewery very well. The tap room is to the right, but the brewery/fermenting room was an open area, and in this area were congregators and a jug band. The band consisted of a ukulelist, a trombonist, a violinist/fiddle player, and the following home-made instruments; bass guitar, guitar, banjo, kazoo-type horn. These are the instruments I grew up with in NC and this really brought me back to my rural NC days. Lovely.
I was disappointed in the fact that there were only 4 beers on draft. Although they are all fresh and house made, variety is the spice of life. The plus was that the beers were only $3 each.
1,155 characters
3.56
/5
rDev
-12.3%
vibe: 4 | quality: 3.5 | service: 3.5 | selection: 3.5
A general theme in Asheville are breweries in garages, making it easy to open and close each day. Craggie fits that criteria to a T.
Atmosphere: Enter through the large bay door. Once inside, you can sit in the garage space or find a table in the small attached office. The bar is located in the office area, as are restrooms. The brewing equipment surrounds you in the garage. We sat in the office at a thin wooden table.
Quality/Service: A Brew Cruise mishap had staff scrambling to clean up - always a shame to see that. The industrial feel was nice and I shot the breeze for a few minutes with the bartender, trying to figure out what to order.
Selection: Craggie had four beers on. One of which, Yo La Mango, I had already tried at Thirsty Monk. I settled on the Summer ale, a chardonnay-barrel aged light beer that nicely picked up the oaken feel of the barrel. As I mentioned, I tried the mango IPA as well but struggled to find much mango in it. The summer ale was worth visiting for.
Food: I think I saw some popcorn floating around but you may want to eat (or wait for a food truck) before stopping in. That might have helped the Brew Cruise.
1,156 characters
3.86
/5
rDev
-4.9%
vibe: 4 | quality: 4 | service: 4.5 | selection: 3
Stopped in during the last stop on the way home from Chicago.
The facility and vibe are almost identical to Green Man up the street, but with more of a Belgian flair to their lineup. Focused on some really unusual styles.
6 taps, looked like 4 regulars and 2 rotating. I don't think everything was available for growlers though for some reason. Very inexpensive though. $6 growler fills, $3 pints. Need to spend $10 for the card however.
Small warehouse type building, small bar area designed into one corner. Pretty nice little set up. Most people spilled out into the brewing area with the open overhead door since it was nice out.
Small stage, present at nearly every little brewery around Asheville. Usual hippie aura to it, but the service was much better than the restaurants around town. Bartender seemed invested and knew his stuff.
Prices were very reasonable.
Definetely one to add to the rotation in Ashville.
922 characters
4.55
/5
rDev
+12.1%
vibe: 4 | quality: 4 | service: 5 | selection: 5
I chose to visit Craggie specifically because their beer menu looked completely different from everyone else's. I was traveling from Southern California, so I didn't want regular IPAs or someone's "new" twist on a DIPA. Craggie offered rye beers and some very tasty American Ale circa 1840. The menu told me that the brewers didn't care about mainstream, they cared about brewing good beers and exposing people to them. Their prices were great, too.
When I arrived the following scene unfolded. Two men in blue scrubs (yep, like doctors on TV) set up the shuffleboard table while several dread-locked individuals and some middle-aged conservatives ordered beer at the inside bar and drank them in the open brewery. The atmosphere was as eclectic as the beers, and my wife and I would definitely come back. I ended up taking home a Battery Hill growler that was very good, also.
The only downside was that there was no food, but the place really keeps the alcohol content down. Therefore, you aren't getting floored by two beers despite the absence of food.
1,059 characters

4.09
/5
rDev
+0.7%
vibe: 4.5 | quality: 4.5 | service: 4 | selection: 3.5
A great local place that is both interesting and totally unpretentious. Brewery rather than a brewpub, though the small tasting room inside the quonset hut building is very civilized. Chairs inside or out, with the big garage door open to the street. You're right in the middle of the brewing equipment, so it couldn't be more atmospheric. Check out the bags of Belgian malt they're using. Nice folks, live regional music. The antithesis of the big brewpub restaurant kind of place.
The most unusual yet tasty lineup of beers in Asheville, and as far as I'm concerned, better that most brewpubs anywhere. Well-made with an emphasis on flavor. One of the best lower alcohol beers I've had, not to mention a seldom-encountered style, is the Toubab Zwickl. The Dubelicious Belgian is great, as is the Battery Hill English style rye. Finally, for true weirdness, the Antebellum with molasses, spruce, and ginger is worth a try.
924 characters
3.93
/5
rDev
-3.2%
vibe: 4.5 | quality: 4 | service: 4 | selection: 3.5
Small bar with a few tables was half full on a weekday night. An Appalachian folk (I think, according to wiki) band was belting out some engaging tunes. Band was entertaining, bartender was quick and eager to recommend brews. Pints were only $2.50, dirt cheap. Unfortunately only had 5 beers on tap. Of those, the dubbel was quite tasty, with the lineup overall above average. Were missing a couple of beers listed on BA that I was hoping to try. After 5 Craggie essentially has its own parking lot... also located in the building adjoining what appeared to be, from city postings, a condemned building. In any case would definitely revisit.
641 characters
4.28
/5
rDev
+5.4%
vibe: 4 | quality: 4 | service: 5 | selection: 4
This was my seventh stop on a recent trip to Asheville. Talk about hard to find on this one... I almost walked right by it. There was a red awning over the doorway with a large garage bay door next to it where you could see all of the brewing vats. If not for seeing those, I would have passed right by. Upon walking in I was greeted by a very friendly bartender who knew just about everything about every single brew they had which I love to see. BTW, they only brews they have on tap at this location is their own. They also offer a sampler of every one of these as well (I had that myself). The location is setup like a small bar/tasting room with a very nice atmosphere to it. This one is definitely worth seeking out on any trip to Asheville for sure.
756 characters
4.44
/5
rDev
+9.4%
vibe: 4 | quality: 4.5 | service: 5 | selection: 4
This was the last place the wife and I visited on our resent trip to Asheville. Tried there beer while attending the local Octoberfest,thats a whole other great story. We decided to visit their taproom. It was open on Sunday at 2pm. We arrived at 2:10. The brewery is located what loos like used to be a garage with a taproom that seats about 25 and a bar with 5 stools. There is an open area in the brewery itself with some folding chairs and a makeshift stage for live music on the weekends.For the most part the place was empty except us and Zaq the bartender.
I really enjoyed the beer. I started with Herkulean IPA,better than average very dark for an IPA. My favorite of the visit though was the Antebellum Ale. Very different,brewed from a recipe from the 1840's using molasses,ginger and spruce tips.Zaq says that everybody that tries is tastes a different ingrediant.For me the dominant taste was the spruce tips the wife said the ginger. We ended up taking a growler home.
We enjoyed our visit. This place proves simple can be good.
1,045 characters
Craggie Brewing Company in Asheville, NC
Brewery rating:
3.77
out of
5
with
0
ratings