Aufsesser Dunkel
| Brauereigasthof Rothenbach Sonnenhof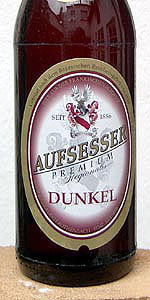 BEER INFO
Brewed by:
Brauereigasthof Rothenbach Sonnenhof
Germany
aufsesser.de
Style:
Munich Dunkel Lager
Alcohol by volume (ABV):
4.70%
Availability:
Year-round
Notes / Commercial Description:
No notes at this time.
Added by Bierman9 on 03-01-2005
Reviews: 6 | Ratings: 9
Reviews by hoegaardenhero:
3.85
/5
rDev
+10.3%
look: 4 | smell: 4 | taste: 4 | feel: 3.5 | overall: 3.5
A friend of my mom brought this back from Germany for her to try. She is not much of a beer drinker so I lucked out.
A: nothing in terms of head but a light white ring around the top and some light wisps of foam floating; body is a very red amber
S: super grainy; like rubbing toasted wheat in your nose; also some very strong sweet fruity overtones with a light salty sourness in the back; light blood scent
T: a little unexpected; darker roasted flavors are first followed by the strong grainy scent; light toffee; chocolate and coffee also light
M: high carb; light body with very mild syrupiness
d: a decent drinkable brew with great grainy tastes but ultimately a little thin in terms of flavor
★
707 characters
More User Reviews:
3.61
/5
rDev
+3.4%
look: 3.75 | smell: 3.25 | taste: 3.75 | feel: 3.5 | overall: 3.75
Flip-top half-litre bottle BBD 4th July 2013: poured into two 'Hannan Alt' tumblers at home on 7th June 2013.
Good looking beer: toffee apple red/brown with an off-white head that tried to hang around.
Semi-sweet maltiness in the aroma and taste: caramel and toffee notes coming through from the very start of the tasting. I like the sweeter brews so this was fine by me.
Easy to drink and fairly well balanced: mini bitterness towards the end, but still one of the sweetest Dunkels I've had so far.
★
502 characters
3.33
/5
rDev
-4.6%
look: 4 | smell: 2.75 | taste: 3.5 | feel: 3.25 | overall: 3.5
L:
-pours a clear copper-red with a medium,foamy,offwhite head
-low to medium carbonation visible
S:
-faint chocolate,nutty,raisins
T:
-plums,raisins,chocolate,nutty,faint coffee,toasty finish
F:
-medium carbonation
-light body
O:
Nose is flat.Taste is what you want from a Dunkel,
★
281 characters
3.31
/5
rDev
-5.2%
look: 4 | smell: 3 | taste: 3.5 | feel: 2.5 | overall: 3.5
Re-rated 01-01-2013
Aufsesser dunkel didn't impress me when tasted first a year ago but has grown on me since then.
An old fashioned swing-top bottle gives a coppery clear pour topped by two fingers of creamy
off-white to beige head with good stickage creating sheets and patches of lace on the sides. Sweet malt nose is dominated by appetizing bread crust and nut aroma. Similarly, the delicate sweet flavor gets characterized by slightly acidic heavily baked, nearly burnt bread crust and nuts. I'm unable to pinpoint at any hops although their presence is revealed through the bitterness keeping the initial malt sweetness in check.Body is medium with a bit too soft carbonation. In short, a well balanced Dunkel with bold bread crust-like character unlike to find in any other, a genuine local product with a personal touch (500 ml into pint, BB 05-07_2013).
12-26-2011
Pours orangeish-coppery body with good clarity capped by thin light tan head that completely dies out.
Nose is Munich malt sweetness with strong, well-baked bread crust qualities, evident burnt notes and dark chocolate.
Taste follows the aroma with pronounced bread crust being the dominant flavor. Obvious are inappropriate burnt, slightly acidic flavors revealing the usage of roasted malts. The hop-bitterness and malt are nicely balanced, the finish is medium-dry with roastiness lingering into the aftertaste. Almost medium bodied and a bit flat with too soft carbonation. Overall, a Munich Dunkel with too noticeable roasted malt edge, making it more Schwarzbier rather then Munich Dunkel alike. (500 ml, without BB indication, into tulip.) 2.5, 3, 2.5, 2, 2.5 = 2.55
★
1,651 characters

3.06
/5
rDev
-12.3%
look: 4 | smell: 3 | taste: 3 | feel: 3 | overall: 3
As the previous reviewer notes, a dark amber to light-copper colored beer which looks excellent in the glass (from tap it had a nice, medium-dense head). However, with a syrupy and almost smokey burnt caramel/butterscotch undertone, which (unfortunately, in my opinion) strongly dominates every other characteristic of the beer, it's difficult for me to rate this beer too highly. I drank this beer at the brewery in September 2012.
It could well be that in this region, known as the Frankische-Schweiz that there are so many different local styles of beer that we are just not used to, when we meet the unusual it affects our judgements as we have no reference point for the style.
However, having seen the excellent brewery operation and experienced the hospitality at Brewery Gasthof Rothenbach, you can be sure that this beer is well-made and crafted for the clientele.
★
877 characters
3.37
/5
rDev
-3.4%
look: 3.5 | smell: 3.25 | taste: 3.5 | feel: 3.25 | overall: 3.25
A dark amber bodied beer which looks good, small, but lasting head. Slight smokey taste, but also favors the sweetness of the malts More sweet than roasty. Decent dunkel.
★
170 characters

Aufsesser Dunkel from Brauereigasthof Rothenbach Sonnenhof
3.49
out of
5
based on
9
ratings.