Paw Paw's Peach Wheat
| Back Forty Beer Co.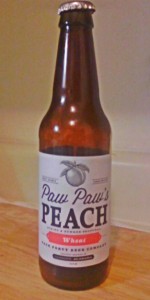 BEER INFO
Brewed by:
Back Forty Beer Co.
Alabama
,
United States
backfortybeer.com
Style:
Fruit / Vegetable Beer
Alcohol by volume (ABV):
4.50%
Availability:
Rotating
Notes / Commercial Description:
No notes at this time.
Added by Golden32 on 04-04-2014
Reviews: 7 | Ratings: 46
3.68
/5
rDev
+4.2%
look: 4 | smell: 3.5 | taste: 3.75 | feel: 4 | overall: 3.5
1L howler from the 7 Degrees liquor store in north side Edmonton - hey, maybe actually write the name of the beer that I purchased on the cutesy, if spare label attached thereon, eh?
This beer pours a hazy, pale golden yellow colour, with a near-teeming tower of puffy, loosely foamy, and bubbly off-white head, which leaves some random sudsy island group lace around the glass as it quickly blows off.
It smells of grainy wheaten malt, some peach and nectarine orchard fruitiness, wet saltine crackers, a touch of hard water flintiness, and some weak earthy, leafy, and grassy green hop bitterness. The taste is bready and doughy pale and wheaty malt, wanly fruity peach notes, further generic earthy stone fruitiness, a touch of edgy yeast, and some still hard to pin down leafy, weedy, and floral hoppiness.
The bubbles are fairly innocuous in their plainly rendered frothiness, the body a solid medium weight, and generally smooth, nothing really capable of running interference here willing to stick its fool neck out, y'know? It finishes well off-dry, with both the mixed malt and stone fruitiness taking on the lingering day with a fervour, of sorts.
Overall, not a bad fruit beer, only the singular peach component kind of duffing it, as such, which implies a certain lacking, but really, this one is hefty and heady enough to overcome that, and makes for a titillating and refreshing summer quaffer, in the end.
★
1,426 characters
3.64
/5
rDev
+3.1%
look: 3.75 | smell: 3.5 | taste: 3.75 | feel: 3.75 | overall: 3.5
not sure if i prefer this one or the honey brown. its a neat brew too, with a delicate but perfumy peach character and a very light wheat malt base, and not much residual sugar (thankfully). never been down to ole alabama, but i can imagine a hot muggy summer where a fruity tart brightly carbonated low alcohol beer like this one would be perfect (if festina from dogfish cant be found). the body is super light and there is a light tang to it which makes it really summery. the peach is both bold and subtle at the same time, hard to do. its a fruity beer but its pretty dry, and the peach flashes in and out so it feels more like a beer than a juice. back fourty is up to come cool stuff, with good local flare. it takes me to a place i have never been, and i enjoy that very much. unlimited drinkability too
★
812 characters

3.36
/5
rDev
-4.8%
look: 4 | smell: 3.5 | taste: 3.25 | feel: 3.25 | overall: 3.25
Bottle from Burg. Thanks. Pours deep clear golden with a fluffy white head that recedes rather quickly. Nice aroma of lots of sweet peaches, some hay, wheaty funky notes, not bad. Flavor is very peachy as expected, with a dirty wheaty finish I always get from the style. Fairly sweet and pretty juicy. Medium bodied with lowish carbonation. On the sweet side and I don't know that of want more than one of these, but better than the other two I had from this brewery. If you like peaches, I find it hard to believe you wouldn't think this is decent.
★
549 characters

3.23
/5
rDev
-8.5%
look: 2.25 | smell: 3 | taste: 3.5 | feel: 3.25 | overall: 3.25
"From the fruity notes of Spring, to the roasted aromas of winter, these beers are inspired by the Alabama Seasons. And just like the Seasons, these small batch offerings won't be around for long. So relax and let us guide you through the year... with beer!" Brewed in the style of an American Pale Wheat Ale with peaches added. Originally released in 2013 as a spring seasonal, previously known as "Seasonal Peach" before being retitled in 2014. Previously available in 22 oz. bottles, currently available in 12 oz. 6 packs and on draft.
Poured from a 22 oz. bottle to a pint glass. Served above 50º Fahrenheit.
(Appearance) Pours a very fizzy pale white head over a very mildly hazy golden amber body. Carbonation is plentiful and spritely, retention is poor. 2.25
(Smell) Notes of doughy wheat malt, slight dry cracker malt, all with an understated sweetness. Peach aromas are faint, slightly tart aromatically. Slightly musty and dank. Potency is mild. 3
(Taste) A bit more enjoyable than the aroma, the cracker malt provides a light, clean base and the wheat tends to slightly elevate the body, yet the texture is quite thin without much of a wheat malt base to thicken the body nor enhance the flavor. The peach generates a significant tartness and a fairly mild fruit flavor. It's pleasantly sour, and I'm unsure if this is the primary intention but it plays out well to the benefit of the flavor. One might be able to pass this off as a peachy Berliner Weisse. 3.5
(Mouthfeel) Texture is light, dry, thin. Carbonation generates a strong crispness for a fizzy, energetic mouthfeel. Body is light/medium for an American Pale Wheat Ale, light/medium overall. Balance is slightly tart over sweet over bitter. Alcohol presence is light. 3.25
(Overall) A fairly unimpressive Pale Wheat Ale that does a decent job with the peach texture but not so much on the malt profile and goes overboard on the carbonation. One could chalk it up to batch inconsistency and quality control, but I would suggest approaching this beer cautiously. 3.25
Back Forty Beer Company's
Seasonal Peach/Paw Paw's Peach Wheat
3.26/5.00
★
2,119 characters

3.52
/5
rDev
-0.3%
look: 3.75 | smell: 3.5 | taste: 3.5 | feel: 3.5 | overall: 3.5
A-clear golden color with very little head
S-wheat is the strongest aroma with the peach coming in a strong second
T-Peach and wheat blend with the wheat taking over in the aftertaste
m-light body and medium carbonation
O- solid beer from Back Forty. Peach is always a great choice h
ere in Alabama
★
298 characters

3.69
/5
rDev
+4.5%
look: 3.75 | smell: 3.5 | taste: 3.75 | feel: 3.75 | overall: 3.75
A: Dark golden, to almost twilight orange. opaque. Finger head dissipates very quickly.
S: Wheat. Peach is subtle. Almost like a spritz of peach really. Light cherry notes really set off the flavor. Mild yeast. Great showing of a lack of hop character which is on point for the style.
T: WOW! That'll do. Starts off wheat and the peach is entirely in the middle. Finishes with cherry and alcohol. Light mild yeast. Hop notes are very light, but they are there. Off notes of metal can be tasted on sips as the beer gets slightly warmer. (May just be a weird bottle. I will finish the six pack and if the taste changes, I'll let you know.
M: VERY DRINKABLE. I agree with the other reviewer, this beer is like so many of these fruit wheat beers... drinkable in large amounts on summer's dog days. At 4.5% alcohol they wont make you sweat, and the beer is light bodied. I think women would find this beer quite enjoyable. The peach is very balanced and not over bearing like a neighboring mother in law with fresh cobbler.
O: This is a good outing for Back Forty. It is worth a sip for sure.
★
1,095 characters

3.52
/5
rDev
-0.3%
look: 4 | smell: 3.25 | taste: 3.5 | feel: 3.5 | overall: 3.75
A nice, smooth summer beer. I probably would have preferred it to be a little more peach-forward, but overall a good, refreshing beer to have poolside or after a hot day in the yard. The beer is quite chuggable and overall light-bodied with great color.
★
253 characters
Paw Paw's Peach Wheat from Back Forty Beer Co.
3.53
out of
5
based on
46
ratings.