S'honig
| Brauerei Frastanzer Genossenschaft M.b.H.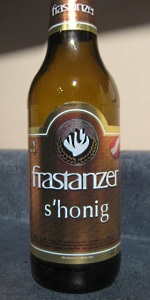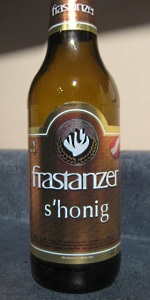 BEER INFO
Brewed by:
Brauerei Frastanzer Genossenschaft M.b.H.
Austria
frastanzer.at
Style:
Herbed / Spiced Beer
Alcohol by volume (ABV):
4.90%
Availability:
Year-round
Notes / Commercial Description:
No notes at this time.
Added by wordemupg on 10-09-2012
Ratings: 8 | Reviews: 6
Reviews by OF001:

3.61
/5
rDev
+3.7%
look: 4 | smell: 3 | taste: 4 | feel: 3.5 | overall: 3.5
330mL btl. poured into a mini fluted pint. 4C serving temp.
pale straw gold pour with 3cm tight undulating head that is maintained by ample carbonation. Sturdy lacing.
Musty, wild, spicy honey notes are pervasive with light sparks of dry citrus and light sweet oat biscuits.
Honey, lots of honey on the palate that is more sweet than the nose by far. Soft caramel with a mid-range spice (helped by a carbonation spike); both of fresh raw-ish honey and that nutty toast spice of oat and barley cookies. Well rounded malty quality that is balanced but whose sweetness is understated in lieu of the honey. Honey and caramel.
Light medium bodied with a notable absence of carbonation compared to the visual over abundance of. Very creamy, smooth with a light dry-ish note at the midway point on the flavour profile that quickly dissipates into a neutrally refreshing, long and mildly sweet finish.
I would have liked to have had a little more spice from the honey that was unassisted by the carbonation; or some more volume on the texture from the carbonation considering the visual nature of it.
1,098 characters
More User Reviews:

3.23
/5
rDev
-7.2%
look: 4 | smell: 3.5 | taste: 3 | feel: 3.5 | overall: 3
330ml bottle, day 9 in the 2012 Craft Beer Advent Calendar.
This beer pours a hazy medium golden straw colour, with two fingers of tightly foamy, somewhat chunky off-white head, which leaves some disintegrating rock face lace around the glass as it slowly seeps away.
It smells of bready cereal malt, some earthy, musty honey, a bit of aged lemon rind, and soft floral hops. The taste is much more sweet than the nose let on - sugary, honeyed breakfast cereal, some further neutered lemon candy, a slight rocky, mineral character, and very little in detectable hop bitterness.
The bubbles are quite innocuous, and barely noticeable after a while, the body a sugary medium weight, and smooth by the same measure. It finishes still pretty damned sweet, the honey and saccharine malt in perpetual cahoots.
Too unbalanced to enjoy a whole bottle, let alone any more - kind of like a thick braggot, with all the honey notes running rampant. Another weird one from this rapidly emptying calendar.
995 characters

2.72
/5
rDev
-21.8%
look: 2 | smell: 2.5 | taste: 3 | feel: 3 | overall: 2.5
This is a honey beer according to the website.
A- slightly cloudy lemon yellow. White head not too much of it, but it covers the beer.
S- honey, malt and green
T - pleasantly sweet and tart, a bitter aftertaste. You can really taste the honey. I'd like to know what type of honey it is, but it doesn't say on the website. It's very different than your Alberta honey.
M- Good carbonation level, but a bit astringent
O- I don't really like it after the first couple sips. the bitterness is becoming a little off-putting and it's a bit too sweet.
549 characters
3.38
/5
rDev
-2.9%
look: 3.5 | smell: 3.5 | taste: 3.25 | feel: 3.25 | overall: 3.5
Okay, a very hard head covers this golden beer. Carbonation is very low and the nose presents malty with lots of honey. The taste was a bit of surprise as it kind of reminds me of a carbonated mead with just a touch of bitterness in the end to remind me it's a beer. Different but not bad.
289 characters

3.62
/5
rDev
+4%
look: 3.5 | smell: 4 | taste: 3.5 | feel: 3.5 | overall: 3.5
Craft beer advent...
A: Blond with a white head, some leg/lace.
S: I really smells like sweet honey, with some underlying mineral notes.
T: I was taken aback by the sweetness. There's a lot of sweet honey here, with some earthy mineral. There's not much bitterness for balance. The flavour is a bit like a sweet mead, yet it's very light.
M: Lot's of residual sweetness, a bit sticky.
O: I can't say I really liked it, but I assume it was what they were going for. There's a lot of honey flavour here (presumably some of it is Bru-malt, and it's not just back-sweetened with honey?).
588 characters


3.52
/5
rDev
+1.1%
look: 3 | smell: 3.5 | taste: 3.5 | feel: 4 | overall: 3.5
330ml bottle poured into pint glass 8/10/12
A slight haze in a pale yellow body, lots of fast bubbles that grow as they reach the short lived finger of foam that leaves no lace
S sweet malts, honey and a little floral lemon, smells like a honey lemon Halls Center cough drop straight up and down
T a little spite (pop) and herbal lemon cough drop, again smells like Halls Centers and I don't mind it, not great but decent
M thicker then I'd guess from the color and fluffy from the carbonation, a little slick in the mouth yet a little sticky on the lips
O for a cough drop it would be awesome, as a beer its OK. a little sweet and I'd be worried how I'd feel the next mourning after drinking this all day
I had no idea what style of beer this was supposed to be and I still have no idea. I found it on the other site and it was listed as such so ya I copied them. strange but I didn't mind the honey and I'm craving a cough drop now for some reason
973 characters
S'honig from Brauerei Frastanzer Genossenschaft M.b.H.
Beer rating:
0
out of
100
with
8
ratings