Das Bierhaus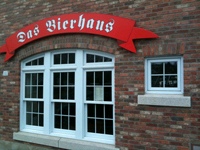 PLACE INFO
Type:
Bar, Eatery
175 Church St
Burlington
,
Vermont
, 05401-4603
United States
(802) 881-0600
// CLOSED //
Notes:
No notes at this time.
Added by kingcrowing on 01-20-2010
Reviews: 8 | Ratings: 16
4.63
/5
rDev
+10.8%
vibe: 5 | quality: 4.5 | service: 4.5 | selection: 4.75
In the summer, this is possibly the best place to have a beer in Burlington. Rooftop beer garden is all you need to know. The beer list isn't extensive, but all the taps are German. If you don't like German beer, go elsewhere. The beers can be expensive, but they offer three different sizes which can help keep costs (and alcohol consumption) under control.
358 characters
4.23
/5
rDev
+1.2%
vibe: 4 | quality: 4.5 | service: 4 | selection: 4.5 | food: 3.5
Where? Well I didn't know, but earlier that morning, I was out front of Muddy Waters nursing a double espresso and someone commented on the German flaggery, so, there. It's on Church, a stone's throw from some bars with $5 Headys, but they're too young and loud. But still, $5 Headys, I could almost put up with Burlington college kid nonsense for them. Almost...
Peeked in and found nothing doing. Bar to the rear with seating for a half dozen but none tonight and tables forward unoccupied. I'm typing dead empty.
"Are you looking for the rooftop deck?" she asks.
Hmmmn, it's got to be more fun than this. And up the stairs we go to this room with a small bar and seating, but it's not feeling very rooftoppish. I don't understander. Oh wait. And up another flight of stairs to the rooftop, top of the world, ma. Wood deck with metal railings all around (to keep you contained and alive) with strung tiny pastel colored Chinese ball lamps, hanging planters, and some railing affixed glass lamps. 9 tables of picnic and metal mesh, some of them under Weihenstephaner umbrellas, blue & white checkerboard flaggings, and an oddball street lamp.
Wandered back downstairs for a looksie (Not downstairs downstairs, just downstairs). A small 7 seat wood 'L' bar with a pair of ceramic towers (one with 7 taps, the other with 2), and a half dozen + tables riddled about. A bunch of TV's for the viewing currently of soccer. And the décor done in German beer tins and ski stuff (some mountain ski slope map, skis, and whatnot), and that's the scene.
9 taps, 8 German offerings (Arcobrau Zwickl Lager, Hofbrau Maibock, Kostritzer Schwarzbier, Warsteiner Pils, Weltenburger Pils, Paulaner Hefe, Schneider Aventinus, Bayerischer Bahnhof Berliner fucking just kicked Weisse), and a single guest tap, which was DogFishHead Punkin, but had also kicked and it's just as well (and I may have berated some poor college kid & part time server about the authenticity of a German beer bar pouring a pumpkin beer). I drank the Arcobrau Zwickl Lager, Hofbrau Maibock, & Schneider Aventinus.
And 100+ bottles; a mix of a whole lot of things; a baker's dozen in the 750 cellar series (DogFishHead My Antonia, De Ranke XX, Victory Golden Monkey, North Coast La Merle, a few each from Allagash & Ommegang), 2 dozen Germs, a dozen European (read: Belgian), 4 dozen American craft (surprisingly holds only 5 offerings from VT, but one of them is a $6 Heady), and a dozen more gluten free, cider, & N/A's. And nearly a dozen and a half wines by bottle or glass.
You know what's in my head about now? A goddamn pretzel. I grab the kid and I says, I says, "Hey man, tell me the truth. Can I get a pretzel?"
"What kind?" he says.
"What do you mean?"
And he shows me the list. There's a pretzel list. What? Chocolate? Cinnamon? Ham & fuckin' cheese? Really?
"Um, traditional for me" (and I may have berated some poor college kid & part time server about there being multiple pretzel selections).
Adisa went with the ham & cheese and Dev the cheese pretzel. Sigh. I raised them better than this. They will do better with the tacos tomorrow.
It's really a beautiful goddamn night; rooftop, with a great little breeze, and a big big near full moon shining bright. The only thing missing is Marvin, who has not completely unexpectedly blown off showing up (He will call me two days later as I'm shooting back down I-89 to tell me how he fell asleep after work). Good German beer selection; Adisa tried his first Schneider Aventinus and did dig. And foodwise, they do plenty more than the bastardization of pretzels, I would have liked to have hit the schnitzel, yo, but no. Well it's getting late, yes it is, yes it is…
3,755 characters
4.33
/5
rDev
+3.6%
vibe: 4 | quality: 4.5 | service: 4.5 | selection: 4 | food: 4.5
Stopped in here on 01APR11 with Alewife during a weekend visit to northern Vermont for a late lunch.
Had to swing around the rear, right side of the building to a side-door to enter. From there it was up a flight of stairs to the Stube. At the top, go right to enter. There was a large table to the left by the front window, and the on the right side was a bar that made an L to the right and back. A few tables were opposite the bar, and a small area in the very rear had a few more tables. Decor was Deutsch all the way, with posters and pics of Germany, with the furniture being light, polished wood. A chalkboard listed their "spezials" of the day. A few TVs were hanging around, so one could watch the Sox lose their opener. Music was at a low-level, and was classic rock on this visit. The staff was dressed in pseudo-native garb. Looked good, but not quite authentic. on the other hand, they were top-shelf with regard to friendliness, attentiveness and actual help.
Das Bierhaus had about 10-12 German drafts, and a solid number of local and foreign bottles. Prices, though, were up there, with it being $7/8/9 for the 0.3/0.4/0.5l offerings vom Faß. Pricey!! Just one round for each of us this day. Foodwise, our meals were delicious (currywurst for me, wiener schnitzel for the Lady) but were, again, quite costly. Overall, this was a pleasant experience, though I think the numbers on the right side of the menu will dissuade us from returning frequently.
Prosit!!
4.33
vibe: 4 | quality: 4.5 | service: 4.5 | selection: 4 | food: 4.5 | $$$
211
1,563 characters
4.13
/5
rDev
-1.2%
vibe: 4 | quality: 4 | service: 4.5 | selection: 4 | food: 4
We went for lunch this past Saturday. We sat at the bar on the second floor. Ashley was our barmaid.
The place was spotless, bright and new. European soccer was playing on the big screen at the rear of the dining room.
The beer selection was great, at least 8 quality German beers on tap, plus many bottles. I like the fact that they serve drafts in three different sizes.
The brats were great (I had mine with a great house curry).
The service was great and Ashley really is a great ambassador for the business. We will return here with friends.
550 characters
4.08
/5
rDev
-2.4%
vibe: 3.5 | quality: 4 | service: 4.5 | selection: 4
I stopped in here midday Sunday over Labor Day weekend on a Burlington pub crawl. We were planning to hit the city's troika of brewpubs in addition to a handful of beer bars, but weren't expecting so many places to be closed until 5pm. We recalled hearing of this place, and having spent a semester in Berlin realized it was a perfect addition to our tour.
We were told to head up a sterile staircase on the side of the building to the second floor by a gentleman enjoying a Marlboro out front, though we later saw that there was another barroom on the ground level. Everything was very new, evidence of the building's recent transformation, but still nice. The space was small, which leant more of a cozy feeling than would otherwise be found in such a newly renovated room, and a number of tables accompanied a bench along the front window. It reminded me a bit of what Atwood's in Cambridge might be like during the day. On the way out, we scoped out the roof deck, which looked like an excellent place to spend a night with beer and friends.
Being early on a Sunday, the place was fairly dead, with a few tables in the back occupied as well as an older couple enjoying German beers and some very tasty looking food at the other end of the bar. The service was excellent, even when a large group arrived and set up shop at the window-side table, taxing the single food server/bartender.
One of my favorite things about going out in Burlington (along with the easy walkability and high quality of the local beers) is the prevalence of offering beers in multiple serving sizes. When I have only one day and want to try several beers, half pints are a welcome aid in my endeavor. Das Bierhaus is no exception, and even though there were several more appealing options, neither of us could pass up the .5L of Spaten for $2. Many of the other beers were a bit pricy, but not surprising given the relative rarity of quality German import beers in northern New England, but the specials provide respite for the penny-pinching yankee looking for a taste of German lager.
In our attempts to enjoy the most local beer as we could stomach, Das Bierhaus was clearly a departure; and in a town where local beer is king, I expect this is the case even for the visitor. If visiting again, I'm not sure I'd stop by given my interest in drinking Vermont beer when I'm up, but if I lived in the area, this would be a really enjoyable spot to take a break from the provincialism that is sometimes a bit strong in the state, and imbibe in the memory of a semester spent abroad.
2,564 characters
3.93
/5
rDev
-6%
vibe: 3.5 | quality: 3.5 | service: 4.5 | selection: 4 | food: 4
Paid a visit during the recent heat wave (94+) and was met with a $2.00 Spaten - a special, to say the least. Das Bierhaus is a new entry to the exceptional Burlington beer scene: it is a block from American Flatbread and Vermont Pub and Brewery (see my reveiws) and offers eight German drafts (vom Fass)along with extensive bottled listings - German, Europe and American crafts.
Das Bierhaus consists of three parts: a small, but comfortable lounge area on the first floor (as you enter); a second floor with a larger bar and dining room; there is a rooftop garden, but the heat prevented further us from the experience thereof. (It was really hot, really).
The menu was somewhat limited to sausages, salad and wienerschnitzel. (They do offer cheese spatzle; this was tasty.) The drafts are priced by size (.3/.4/.5 litre) and run from $3.00-$9.00. The $2.00 Spaten (.4 L) not included.
The server was superb; of course, her being adorned in traditional dirndl was a plus. Nice place for some tasty German brews. Jawohl!
1,025 characters
3.86
/5
rDev
-7.7%
vibe: 4 | quality: 4 | service: 4 | selection: 3.5
Been here many times since their initial "soft openings" and had many beers on both floors. Pretty interesting building, there's a small downstairs with a bar and a few tables, and upstairs is a bigger "Ski Chalet" themed bar with much more room.
On any night, they've got about 6-10 different German beers on tap, from Schnider and Weinstephaner to their "low-end" beer, Beck's. They have a bunch of German food as well, but I've never had it.
It's a good beer bar but their selection doesn't seem to change that much but they're still pretty new so we'll see what they do in the future.
591 characters
4.28
/5
rDev
+2.4%
vibe: 5 | quality: 4.5 | service: 4.5 | selection: 4 | food: 3
They have a decent selection of imported beers on tap, but they are a little pricey. Their beer glasses are superb! The food consists of different varieties of sausages and appetizers and is not too bad. The atmosphere is what makes this place great though. It's perfect to go and hang out with a couple friends if you want some good beer but don't want to be somewhere super busy. The upstairs is sort of small, but very cozy. The bathroom definitely has the coolest hand driers I've ever used. http://www.dysonairblade.com/homepage.asp
537 characters
Das Bierhaus in Burlington, VT
4.18
out of
5
based on
16
ratings.