Iron Horse Taproom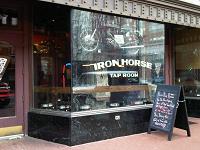 PLACE INFO
Type:
Bar
507 7th St NW
Washington
,
District of Columbia
, 20004-1601
United States
(202) 347-7665 |
map
ironhorsedc.com
Notes:
No notes at this time.
Added by mdfb79 on 01-20-2010
Reviews: 8 | Ratings: 20

3.97
/5
rDev
+3.4%
vibe: 3.75 | quality: 4 | service: 4 | selection: 4
Visited late on a Wednesday night after watching VT beat FSU in the second round of the ACC Basketball Tournament at Verizon Center. The place was rather slow.
I need to come back and visit when this place is busier, but for right after a Verizon event this is one of the places to go for a good beer. Its close and open late (2-3am depending on the night). For me this is the perfect no frills, grab a quick beer, have a friendly conversation and move on. I will be back at which time I might raise my Vibe number.
V - A dark empty place but with a decent bar. No kitchen, but they encourage you to bring your own food. 3.75
Sel - A good tap selection with something for everyone, with new and unusual beers as well as beers on either extreme. 4
Ser - Good service. Bartender seemed knowledgeable enough. Upon noting that I liked old ales he immediately poured me a taster of a beer I had not yet ordered. 4
Q - Proper and clean glassware, beer served at close to the proper temp. No complaints. 4
1,003 characters
4.24
/5
rDev
+10.4%
vibe: 3.5 | quality: 4.5 | service: 4.5 | selection: 4
I like beer and I like motorcycles. So this was like having both. Like a museum with decent selection of craft brews leaning toward local breweries. A good thing. I return ( as an out of towner) for the local beer and the cool machinery displayed on the walls. Especially like the Norton in the front window!
308 characters
4.24
/5
rDev
+10.4%
vibe: 3.5 | quality: 4.5 | service: 4 | selection: 4.5
The name "Iron Horse" refers to the collection of motorcycles ("It's not a motorcycle, baby, it's a chopper") adorning this venue: in the front window sits a 1936 Norton; above the first floor bar, there hangs a gleaming 1967 Thunderbird. So, if you are into bikes (or choppers) and craft beers, then why not enjoy both. Incidentally, "Iron Horse" was also a 19th Century term describing locomotives – guess they wouldn't fit.
At first glance it is an unassuming storefront along 7th Street, situated amid the touristic hordes that wander the Chinatown/Gallery Place/Penn Quarter confluence – and a short stroll from RFD (See My Review). In that the Iron Horse is also a block from the Verizon Center, you should expect a crowd during sporting events. (Given the lackluster performance of the city's hockey and basketball franchises, be prepared for a sullen bunch, at that.)
There are two floors: upstairs, where you find the main bar, is a spacious area with large windows that allow an enjoyable quaff while watching slack jawed tourists waddle past; downstairs is cramped and dark, and where patrons indulge themselves with a myriad of games, such as Skee-Ball and shuffleboard. It is a room that is your basic fetid basement packed with sweaty, swilling fratboys trying to hook up with loud, vapid phone cows. So if it is peace and quiet you seek, seek it elsewhere.
Despite all this, Iron Horse does offer a decent array of about 20 craft beers and one of the better Happy Hours around - $2.00 for pints! They also have a heavy schedule of "Tap Takeovers," the one perpetrated by Great Lakes being the reason for this particular visit. As noted in the previous reviews, there is no kitchen here; so, you may bring in food from the many neighborhood places.
As one who would never recommend driving (or parking) in this city, I will note that Iron Horse is accessible via the Gallery Place Metro. Unless there is an event at the aforementioned Verizon Center, the doors swing open at 4:00 pm. I cannot describe this as one of the area's prime beer venues, but it is worth checking out for a few quick pints during any Washington DC pub-crawl.
2,181 characters
3.28
/5
rDev
-14.6%
vibe: 3 | quality: 3 | service: 3.5 | selection: 3.5
Stop in for a drink after seeing reviews on beeradvocate. The bar has a big open space when you walk in with the bar on the left and stairs which lead downstairs to the right in front of you. In talking with one of the bouncers of duty he informed me that downstairs was ski ball and shuffle board, however, i didn't venture down that way. At the bar there was a vast selection of liquor and there was about 15 taps. Due to it being savor week all of the taps were craft brews no miller no ab. The cost of the beers during happy hour was 4 dollars for a draft and non happy hour was still only 5 dollars. I acutally found it hard to believe that those were the prices. Most of the stuff was local to the area, loose cannon, dogfish and the like. We had two bartenders both were attentative however, only the second seemed to really now about beer. The atomsphere was okay, there was about 5 bouncers which seemed odd based on the fact that upstairs there were four people. Overall it was solid I would stop again if I was in the area but not sure i would seek it out or look for something new.
1,093 characters

3.78
/5
rDev
-1.6%
vibe: 3.5 | quality: 3.5 | service: 4 | selection: 4
Place on 7th, been meaning to pop in there for a while now, finally got the chance. Place is a big open floorplan with a bar along one of the walls, a huge space I suppose for standing, and a bunch of two top tables around the perimeter. There are different levels but I stuck mostly close to the bar. The bar itself is decorated with motorcycles and motorcycle paraphenalia. I suppose you need something for the tourists.
The beer (during happy hour) is super cheap. 4$ drafts of high alcohol beer? Yes please. The staff is attentive and I get served quickly and my check quickly. I wish I had a seat but that isn't their fault. There were probably around 20 beers on draft, all craft, and I don't know how many in the bottle.
Bottom line, decent atmosphere, great value (during happy hour), nice place, good staff. I'd go back during happy hour sometime again.
864 characters

3.7
/5
rDev
-3.6%
vibe: 4 | quality: 3.5 | service: 3.5 | selection: 4
Situated in the Gallery Place area in downtown DC. For those familiar with DC bars, it's very similar to Rocket Bar just a couple of blocks north which also do not serve food. A small-decent sized ground-floor level with a bar serving up good brews and a huge downstairs area with shuffleboard, skeeball, video games, etc. Sounds more like a 'fun' bar than a beer bar, but there are 20 taps that include local beers, Goose Island, Great Lakes, Dogfish, Victory, etc. I personally had the Heavy Seas Prosit! on tap during Oktoberfest week (yum!) and Piraat draft (nice!). I too would recommend this place if you want an alternative to RFD around the Verizon Center or if your friends don't want to do a 'beer' bar. Nice bar along with good happy hour prices to boot! You can even bring food in if you want.
805 characters
3.94
/5
rDev
+2.6%
vibe: 3.5 | quality: 4 | service: 4 | selection: 4
Would have given this place a 1 1/2 $'s if possible, as the happy hour is pretty good - $2 off all drafts from 4 to 8. I don't know many places in the city where you can get a Hoegaarden on-tap for $5 a pop.
The atmosphere is pretty cool. It's a "biker" theme with motorcycles and whatnot littered about. The bar is relaxed and comfortable, and each time I've gone, I've been able to get a seat. There are also a few open tables by the windows which is nice. It's probably not crowded upstairs because everyone is downstairs playing pool or shuffleboard.
Note: they don't serve food, but they will let you bring take-out or even have something delivered. One time, Domino's Pizza showed up!
692 characters

3.73
/5
rDev
-2.9%
vibe: 4 | quality: 4 | service: 3.5 | selection: 3.5
The Iron Horse Tap Room just opened up last weekend in Chinatown, DC, so after a few beers at the District Chophouse last Saturday I checked it out. It wasn't very crowded as most people probably do not know about it yet, but they did have 20 beers on tap, ranging anywhere from DFH 90 minute for $6 to Delirium Nocturnum for $12. They do not serve food but they do let you bring food in with you apparently.
We walked in and the bars "theme" is to be a motorcycle bar minus the bikers. They had a few nice vintage bikes around the place on display. AFter a while we headed downstairs, where there were 2 more bars, though only one was open. They also had 2 shuffleboard tables.
Overall it seemed like a decent bar with a decent tap selection. It is very similiar to Rocket Bar but with better beers, so if you are in Chinatown and want a Rocket Bar atmosphere with better beer, I would check it out. If you'd rather but relax or sit around and drink nice beer though, I would head to RFD.
991 characters
Iron Horse Taproom in Washington, DC
3.84
out of
5
based on
20
ratings.