Rio Salado Hurricane Hefeweizen
| Rio Salado Brewing Company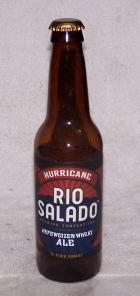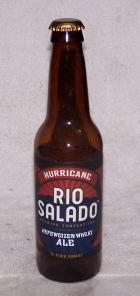 BEER INFO
Brewed by:
Rio Salado Brewing Company
Arizona
,
United States
Style:
German Hefeweizen
Alcohol by volume (ABV):
4.90%
Availability:
Year-round
Notes / Commercial Description:
No notes at this time.
Added by Bierman9 on 09-24-2002
This beer is retired; no longer brewed.
HISTOGRAM
Ratings: 12 | Reviews: 12
Reviews by mzwolinski:
4.12
/5
rDev
+11.1%
look: 3.5 | smell: 4 | taste: 4 | feel: 4.5 | overall: 4.5
Beer color is perfect for style, a cloudy almost susnet like orangish-yellow. Almost no head retention at all however, which was somewhat disappointing.
The aroma is a nice, traditional blend of banana and cloves. Spice and fruit also dominate the taste, which ends with a slightly tart, dry finish.
Highly carbonated and light bodied. Very refreshing mouthfeel.
A very decent hefeweizen. Not much special, but apart from the head, not much wrong either.
467 characters
More User Reviews:
4
/5
rDev
+7.8%
look: 4 | smell: 4 | taste: 4 | feel: 4 | overall: 4
Appearance – I poured 95% of this into my glass then swirled 'er up and plopped in the rest. The color is a beautiful orangish-yellow and extremely hazy. The head was a little on the smallish side, but overall this one looked terrific.
Smell – I let the bottle warm for a half hour before opening, and the yeast aroma seemed to like this temperature. It came out beautifully along with some big banana and a bit of spicing.
Taste – This one is true to the style. The yeast and banana come out wonderfully at the taste along with a hint of orange. The spicing, which seems like clove, is here as well.
Mouthfeel – This is where most American attempts at the style fail. A good German Hefeweizen should be light to medium-light in the body, well carbonated, and smooth as silk. This one meets these criteria, earning it a big thumbs up.
Drinkability – Perfect for an afternoon or before-dinner snack. This is one of the few American efforts at the style that I have enjoyed.
Comments – I'm a stickler on my Hefe Weizen ratings, mainly because I drank the style so much when I lived in Germany. Other than an offering from a small local brewery (Celtic Bayou) this is the only good American rendition that I've had thus far. A big BA thanks to Gusler for sending this one out my way.
1,304 characters
4.36
/5
rDev
+17.5%
look: 3 | smell: 4.5 | taste: 4.5 | feel: 4 | overall: 4.5
Traditional Bavarian hefe-weizen color with a glowing orange-tinted golden although the bright-white head is limited. It does, however, keep a nice creamy collar throughout the glass. The nose is tart and sweet with ripe banana and clove. Really nice. The body is light and the carbonation is exceptionally fine but somewhat limited for the style. Still, it's quite smooth and even lightly creamy in the mouth. The flavor is a bold expression of the fruity, tart and quenching quality that many hefe-weizens have, followed by the signature flavors of a slightly green banana, mild clove and delicate soft vanilla with a light touch of soft spice. It finishes gently tart and dry with a lingering fruitiness and mild smoky phenolic. Really quite elegant. Well done with a unique twist that's exciting and refreshing.
815 characters
3.62
/5
rDev
-2.4%
look: 3.5 | smell: 4 | taste: 3.5 | feel: 3.5 | overall: 3.5
After decocting, to remove the sediment from the bottom, it pours a "Chill hazed", lemon yellow, the head modest in size, white in color, the lace in fine sheets. Nose is lightly earthy, hints of wheat, citrus, and sweet ripe bananas. Front is malt, lightly sweet, the top skimpy, the finish significantly acidic, adequately hopped for the style, droughty aftertaste. Clean and fresh, and a pleasant beer for the hot Arizona Summers, could in my estimation have a touch more body, but a decent beer nonetheless.
513 characters
3.24
/5
rDev
-12.7%
look: 2.5 | smell: 3.5 | taste: 3.5 | feel: 2.5 | overall: 3
Appearance: light straw/gold color, not much head to speak of (a bit off style if you ask me), fairly clear for a weizen (filtered perhaps?), but there was some yeast in the bottle
Aroma: more clove phenols than banana esters, slight breadiness, touch of hops, banana aroma component comes out more in the conjunction with tasting the beer
Flavor: a pretty standard hefeweizen, smooth flavor with a tangy aftertaste, slight hop flavor, clean finish, flavor improves by rolling the bottle and adding some of the yeast sediment (clove phenols are increased)
Mouthfeel: a bit of minerally astringency (no doubt from the hard AZ water), mellow carbonation (needs a bit more), texture not as "fluffy" as traditional weizens
Overall impression: all in all a pretty satisfying beer and certainly a good accomplishment as far as an American rendition of a traditional German style. I'm glad they went the traditional route, rather than the "American weizen" route which I pretty much abhor. Perhaps I dinged the beer a bit too much, tasting it right after having a Paulaner Hefe.
1,083 characters
4
/5
rDev
+7.8%
look: 4 | smell: 4 | taste: 4 | feel: 4 | overall: 4
The first of three Rio Salado beers recently collected during an Arizona Beer Trip with Gusler.
Presentation: 12 fluid ounce bottle. The dark blue, black and brown obverse label is broken with white lettering that states 'Hurricane – Rio Salado – Hefeweizen Wheat Ale'. Listed as 4.90% by Volume. When the empty bottle is held to the light, a red smudge looks like a Best Before Date, but it wasn't worth wasting the ink because it's completely illegible. The appearance is all finished with a bronze colored crown cap.
Appearance: Hazed mushed peach orange body with some lemon barley hints when backlit. The head is thin at around ¼" but extremely consistent and lasts the race.
Nose: Wow, the aroma leapt out of the bottle before I even got chance to pour this one. Bananas, Cloves, Vanilla and Wheat. Fruity on the nose.
Taste: Just as the nose entices, the Body delivers – lots of crushed Banana's and Cloves stir the Wheat middle, with a lemony feel to the latter third. Not much yeast in this one, it tends to more of a fruity Banana Hefeweizen, than a harsh Yeasty one.
Mouthfeel: Mushy bananas and pestle crushed cloves fill the mouth against a liquid wheat background and a citric sharpness that cuts the cloying feel of the Banana's. Slick with a light cloying fruity feel. Some vanilla on the cheeks once swallowed.
Drinkability: I really enjoyed this one – a short Review for me but the Hurricane has already come and gone long before I got to even type this!
Overall: This was a very nice Hefeweizen Wheat Ale indeed. Very Nice!
1,577 characters

4
/5
rDev
+7.8%
look: 4 | smell: 4 | taste: 4 | feel: 4 | overall: 4
Banana, Banana, Banana. As soon as I started to pour this beer I could smell a nice fruity banana aroma. This Hefe is a yeasted gold color. Aromas of banana yields to aromas of fruity citrus and grain, and then back to banana again. This beer taste tart, fruity and of banana. There is also a nice yeastiness to this beer as well. A nice pleasing carbonation adds to the perception of tartness. A nice amount of body to this beer, not as thin as some examples out there. Nice white head disappears to a constant thin layer of heady bubbles. Lightly sweet with a kiss of hops. A great example of the German style.
612 characters
3.59
/5
rDev
-3.2%
look: 3 | smell: 4 | taste: 3.5 | feel: 3.5 | overall: 3.5
Kinda looks like a carbonated apple juice, the lack of a head really throws it off. It's still a nice gold color with a nice level of carbonation. When I smelled this brew, I looked around to see where I left the peels, because the aroma of banana is very present and pleasant. As noted on the bottle, there is also a definite clove presence. When I take a drink, the banana flavors are the first to be sensed, then as the brew works its way through your mouth the taste of the cloves and hops become apparrent. An acidic aftertaste taste takes away from the drinkability of this brew.
585 characters
2.68
/5
rDev
-27.8%
look: 3.5 | smell: 3 | taste: 2.5 | feel: 2.5 | overall: 2.5
Picked up a sample of this at my local Sprouts for $4.99 a six pack.
Poured a nice head that left a scattered lacing on my glass. It is a tad bit cloudy. Nose is a hint of banana but dominated by a heavy citrus smell. Taste is way too heavy on the citrus side. It has a highly acidic finish. The mouthfeel is almost watery. This beer is not brewed to the normal hefe style I am accustomed to. I have enjoyed the other Rio Salado brews but this one highly dissapointed me.
474 characters
3.62
/5
rDev
-2.4%
look: 3.5 | smell: 4 | taste: 3.5 | feel: 3.5 | overall: 3.5
The Hurricane pours a hazy, orangey-golden color, without much of the yeast being swirled in yet. Despite a hard-pour, the head was minimal, with nary a trace of lace. Nose was rather pleasurable, with a good complement of banana and some clove and yeastiness thrown in. The body of the Hurricane was struggling to get into the "good" category, and it was pretty rough and tumble as it traversed the tongue. Lots of prickliness. Flavor has a decent wheat aspect, with banana again coming forth. A little clove asserts itself, too, and after the introduction of the remaining yeasties the bier gets a bit of a sharp, spicy kick to it. A mild citrus flavor shows up as the Hurricane passes down the gullet. This is a decent American version of a Hefe, fairly true to the Bayerisch style. Thnx, Gusler, for send the 'Cane my way! Prosit!!
835 characters
3.92
/5
rDev
+5.7%
look: 3 | smell: 3.5 | taste: 4 | feel: 4 | overall: 4.5
I liked this wheat beer. It was slightly tart, true to style and appealing in both flavor and aroma. Hints of banana, nutmeg, cornbread, butter toffee and vanilla are present in the aroma. Tastes of cloves mainly, but also nutmeg and vanilla. I really liked the mouthfeel as well. This stuff is quite good.
306 characters
3.42
/5
rDev
-7.8%
look: 3.5 | smell: 4 | taste: 3.5 | feel: 2.5 | overall: 3
Appearance: bright, golden yellow, hazy at the top, clearer at the bottom, with a short white head that's quick to close.
Aroma: large, sweet citrus, sugar, spice, so much that it reminded me of a tripel, which is most unexpected in a hefe weizen.
Oooo!! The sweet'n'citrusy sour character right up on the palate was a bit much, and not appreciated. I need my weizens on the mellower side, not so harsh with the citric acid! Grainy wheat texture appears, plays with the tongue for a spell, then vanishes. Finish is short, body on the small side.
Unfortunately, this was not a hefe weizen that went down smooth with me. I hope that it was just an off-bottle, and I thank Good Sir Gusler for sending the sample!
712 characters
Rio Salado Hurricane Hefeweizen from Rio Salado Brewing Company
Beer rating:
3.71
out of
5
with
12
ratings