Amazon Princess
| People's Brewing Company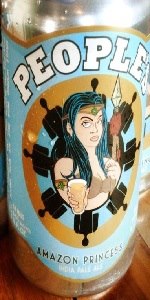 BEER INFO
Brewed by:
People's Brewing Company
Indiana
,
United States
peoplesbrew.com
Style:
American IPA
Alcohol by volume (ABV):
6.20%
Availability:
Rotating
Notes / Commercial Description:
No notes at this time.
Added by mynie on 01-13-2011
Reviews: 9 | Ratings: 39
3.1
/5
rDev
-20.5%
look: 3.5 | smell: 3.5 | taste: 3 | feel: 2.5 | overall: 3
Generously provided growler via Ben. Thank you very much for the opportunity! Shared with my brother while alternately watching our Chicago based baseball teams shit the bed. At least tomorrow's 1oo degree golfing will quell what ails us.
Pours a clear dark amber with a nice consistent cover and some spotted lacing. Looks a bit darker than expected.
Smell is quite malt forward. Reminiscent of caramel drizzled red apple with some booze and spice...cinnamon?...on the back end.
Heavy caramel, pine, some middlin' bitterness, and red apple skins and some air exposed fleshiness. Malts wash over the finish.
Mouthfeel is off. Carbonation is lacking and the body is medium and sticky.
Overall, I'm not sure I get this as an IPA. A decent attempt, but something is off in the presentation.
794 characters

3.58
/5
rDev
-8.2%
look: 3.5 | smell: 3.5 | taste: 3.5 | feel: 3.75 | overall: 3.75
Another solid offering from People's. I wish that this beer was their flagship IPA. Very hop forward and definitely has that grapefruit rind character in a well developed IPA. Great citrus notes, drinks really well and overall finishes clean. Much, much better than Moundbuilder.
279 characters
3.62
/5
rDev
-7.2%
look: 4.5 | smell: 3.75 | taste: 3.5 | feel: 3 | overall: 3.75
Pours a clear, copper color. 1/3 inch head of an off-white color. Good retention and great lacing. Smells of pineapple, hint of piney hops, sweet malt, citrus hops, and a hint of pale malt. Fits the style of an American IPA. Mouth feel is sharp and crisp, with an average carbonation level. There is also a distinct dryness. Tastes of strong citrus hops, floral hops, sweet malt, slight alcohol, and a hint of caramel malt. Overall, too sharp, strong body, and a slight metallic feel.
492 characters

3.91
/5
rDev
+0.3%
look: 3.75 | smell: 4 | taste: 4 | feel: 3.75 | overall: 3.75
A: Copper-colored with a clean, clear translucence. A short layer of tan cream sits atop the body.
S: Hops come out thick and resinous: strong notes of pine sap, passionfruit, melon. They expand over a malt base, dark with wheat toast and doughy biscuit aromas. Lots of contrast in the nose – I like it.
T: Just like the nose, the palate is a juxtaposition of dank, oily Simcoe and grainy malt. The front end is packed with pine nut and grapefruit, a hop flavor that lays thick on the tongue. Soon after, it tightens to a bright, lemony bitterness (almost soapy at times) and you get the drop: that sudden rush of malt flavor that puts the bitterness in wonderful perspective. Here, those malts are roasted and bready, pushing the palate to a husky, natural grain aftertaste.
M: Quite chewy for a beer with only 6.5% alcohol, but it's certainly not unwelcome. Noticeable carbonation, though it seems slow-acting: it picks up only after the creaminess of the body has settled on the tongue, like a beer on cask. Interesting.
O: One of People's finest brews; I really enjoy the interplay between the toasted malt and the fruity hops. This is a thick one, though, so I couldn't exactly see myself going for more than a pint. But when it comes to good beer, sometimes that's all you need.
1,298 characters
3.94
/5
rDev
+1%
look: 4 | smell: 3.75 | taste: 4 | feel: 4 | overall: 4
I bought a bottle of this off the single shelf at Binnys. It poured a clear copper with white head that is leaving a lace. The scent is malty with some bitter hops. The taste is bitter through but easy to drink. There is sweet malt at the front then a bitter citrus finish. The Mouthfeel is medium in body with good carbonation. Overall it's a solid beer.
357 characters
4.07
/5
rDev
+4.4%
look: 3.5 | smell: 4 | taste: 4 | feel: 4 | overall: 4.5
I almost accidentally labeled this "Amarillo Princess," since the Amarillo hops are so freakin dominant. Seriously--my adventures in homebrewing have been only halfassed, and so my hop identification skills ain't as finely honed as they could be, but as soon as I opened this I said "damn, that's a lot of Amarillo."
But the hoppiness here isn't about intensity so much as it's about focus. There's a difference between Ron Artest and Derrick Rose, you know, and this here hop profile is all D-Ro. The hops run perfect against the barley. Everything is medium and digestible, unadventurous but unpretentious, definitely inviting but not quite exciting.
Amarillo, tamed and fiery. You know all you need to know about this beer the second you lay eyes on it, but, still, you want to devour it. Mystery ain't everything.
820 characters
4.16
/5
rDev
+6.7%
look: 4 | smell: 4.25 | taste: 4.25 | feel: 4 | overall: 4
Got this upon recommendation at the brewery and thought my taste buds just got rocked!
A - Great orange-copper color. Low white head with light lacing. Clear beer.
S - Very pungent hop aroma with great notes of citrus and pine really coming through. Some slight graininess but mostly covered by the hoppiness.
T - Great hop flavor that shines through with an amazing pine and grapefruit character. It's sweet up front with some orange and resin that are also there. This beer seems to have a more pronounced hop flavor profile instead of a muddled hop bomb that makes me enjoy it even more. Smooth with a solid hop bitterness to finish crisp. Some malt in the middle of it with a nice sweetness to give balance.
M - Medium to light mouth-feel with the tones of sweetness but bitterness to cut it cleaner. Moderate carbonation also helps with the sweetness.
Overall, one of my favorite IPAs. If you've never had a piney mixed with citrus brew this a great beer to try. Awesome blend of pine/citrus hops and malt for an IPA. I'd drink it every day to give my hops thirst a quench. Every time you burp you get a taste of that memorable hop flavor.
Glass- Pint
1,163 characters
4.32
/5
rDev
+10.8%
look: 4 | smell: 4.5 | taste: 4.5 | feel: 4 | overall: 4
Had on tap....
A- Pours a orange-ish color. One finger white head shows medium retention. Some ring style lacing with hints of streaky lacing once the beer is getting drank.
S- Juicy tropical hop aroma in this beer. I mean these really seem to just jump out overtaking all other aromas. Light malty undertones come and go but this is all hop forward which I like a lot.
T- Nice kick of citrusy hops in the front of the beer is wanting to destroy my palate right off the get go. Middle of the beer the base malt really shines with a light caramel bready presence. This does jump right back into the citrus hops with a light bitter kick on the backend. I really enjoy how well this is put together and not over the top but still very much in your face flavorwise.
M- Medium mouthfeel. Carbonation is good for the style. Citrus hops really just dominate everything from the palate to the aftertaste. There is a light alcohol presence in the aftertaste but even this is mostly covered by the hops. A hop forward beer and it is balanced (or lack there of)to this style. No off flavors at all were present. Medium high alcohol drying on the palate.
D- This beer was very drinkable. A palate crusher in the terms that it will crush any other beer you decide to drink after. ABV is in the middle ground which makes it a nice drinker but a little dangerous.
1,356 characters
4.45
/5
rDev
+14.1%
look: 4.5 | smell: 4.5 | taste: 4.5 | feel: 4 | overall: 4.5
This was on tap at People's Brewing Company on 7/6/2011. This is the 2nd 'batch' of this beer and some changes were made from the first batch.
Color: Light red, pale tan/white head. Quite attractive, I sat and studied it a bit. Amazon Princesses are strawberry blondes, who knew?
The scent is a bitter citrus with notes of herb and amber grains.
The taste is, to my palate, much smoother than version 1. A smooth bitter caramel grain with a sweet aftertaste.
I.. I wasn't crazy about the first version, but this version. Her and I get along pretty well. Bitter, but sweet. Nice caramel malts behind it. I think this is a very nicely balanced IPA, and I will be drinking more of it.
685 characters
Amazon Princess from People's Brewing Company
3.9
out of
5
based on
39
ratings.