Farmer's Daughter Wheat
| People's Brewing Company
BA SCORE
78
okay
12
Reviews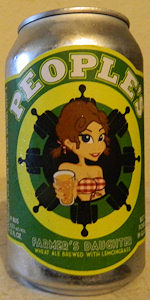 BEER INFO
Brewed by:
People's Brewing Company
Indiana
,
United States
peoplesbrew.com
Style:
American Pale Wheat Ale
Alcohol by volume (ABV):
4.20%
Availability:
Rotating
Notes / Commercial Description:
No notes at this time.
Added by aasher on 03-12-2011
Reviews: 12 | Ratings: 48

1.4
/5
rDev
-54.8%
look: 2 | smell: 2 | taste: 1 | feel: 2 | overall: 1
I had this on tap at Hunter's Pub in Lafayette. The general sentiment is that people from Lafayette feel or act like they have to like beers from this brewery. I actually appreciate beer and am not from Lafayette so I don't share this feeling. It arrived a relatively clear bright orange with zero head or foam. It smelled of a skunked Dortmunder. There was absolutely nothing reminiscent of a wheat beer. The flavor too, of a skunked Dortmunder. It tastes like BMC inspired swill. Even Michelob's products are far superior to this monstrosity. It was awful, by far the worst wheat I've ever had. This isn't worth making, let alone purchasing and consuming. People's is disappointing once again. Avoid!
702 characters
4.21
/5
rDev
+35.8%
look: 4.5 | smell: 4 | taste: 4.25 | feel: 4.25 | overall: 4.25
Another can courtesy of Trent. Thanks you!
Cool! It has a ring tab that pulls the entire top of the can off. A first for me!
It pours a hazy yellow orange with a 3 finger head of foam.(pulled straight from the fridge)
It has a spicy nose to it. Loads of lemon grass and citrus, thinking coriander, pepper. Yeasty, wheaty, that's a heck of a good smell.
The taste follows the nose and does not disappoint. Other than what I mentioned above, I'm quite impressed with the body, mouthfeel, and drinkability. The fact that it is only 4.2% abv is icing on the cake.
This is delicious.
583 characters
3.15
/5
rDev
+1.6%
look: 3.5 | smell: 3.5 | taste: 3 | feel: 3 | overall: 3
D-do you people not know what an American Pale Wheat is? The style is malleable, and they usually don't taste like hefes. Blue Moon is an APWA; so is Gumballhead. The wheat is like a blank canvas and brewers are allowed to do with it what they please.
That having been said, Farmer's Daughter is far from a perfect Pale Wheat. But it's nothing close to an egregious departure from the style. It pours cloudy yellow with a decent head. It smells much more bitter than an average example of the style, and the bitterness seems to come from the yeast, instead of from any hops. Unexpected, but not at all offputting.
The flavor is a little unbalanced. There's a hint of wheatmalt spice up front, then some not-so-great medicinal nodes, then ending on a solid melange of wheat spice, mild citrus, and bitter, chewy yeast.
819 characters

3.31
/5
rDev
+6.8%
look: 4 | smell: 3 | taste: 3.5 | feel: 3.5 | overall: 3
12 fl oz. can, iCanned on 11/03/15. My third beer from People's Brewing Company, acquired a single can as part of a mixed six pack at the local Binny's.
Poured to a Duvel tulip snifter.
A - Seems like more than 12 oz. in this can, as it squirt everywhere upon opening. Pours a standard light golden orange body, one finger of thin fizzy white head that dies out rather quickly. Appears adequately carbonated. Looks alright for what it is.
S - Aroma doesn't offer up much. A bit of musty earthy yeast funkiness, and some earthy grassy qualities. Nothing in the way of citrus, lemons, orange or hop content. Subtle notes of creamy wheat. Not a very enticing aroma, but not off-putting either.
T - Taste is the same: earthy, wheaty, slightly funky, with very minor lemon tart. Crisp, creamy, wheaty, funky - are the best words I can use to describe this one.
M - Feel is smooth & crisp, moderately easy-drinking stuff, though not terribly flavorful or interesting.
Overall, underwhelming and not very interesting. Would maybe be better having it fresh or direct from the brewery next time. I look forward to more from People's Brewing Company.
People's Brewing Company Farmer's Daughter -----3/5.
1,213 characters

3.5
/5
rDev
+12.9%
look: 3.5 | smell: 3.5 | taste: 3.5 | feel: 3.5 | overall: 3.5
Enjoyed at the fine Tin Fish restaurant in Newburgh, IN. In a can, so no description of visual attributes nor lacing.
Nose subtle, touch of zingy citrus and wheat malt. Not bad.
Taste subtle. Lemongrass notes are prominent. Kinda sour and citrus bitter, edged down by the malty base. An easy to drink brew, not great but surprisingly refreshing and unusual.
360 characters
1.31
/5
rDev
-57.7%
look: 2.5 | smell: 1.5 | taste: 1 | feel: 1 | overall: 1.5
Had on draft...
A- This beer came to me a light hazed golden straw color. Half finger white head shows poor retention. Light streaks of lace on the sides of the glass with each sip.
S- Not a wheat beer. Not even close. There is a hint of wheat in the front that quickly gets overtaken by sassafras to the max. This scent is overpowering but hints of bandaid come and go till the end of the scent itself. Alcohol is noticable as well in the ending itself. The malt base (which isn't wheaty at all) is the same for the rest of their beers....not good but not bad...almost lending off a lacto infection aroma to it.
T- Light wheat upfront just like the aroma. This is where it just goes downhill sadly. There is a hint of spice in the front that seems like it would go good with the wheat but never quite gets there before that mother fuckin sassafras like flavor dominated everything around it. The middle had the lacto malt base shine for a split second before dirty bandaid and sassafras took away any redeeming flavors. The alcohol on this beer was noticable but not offputting in the ending...it kind of killed the off flavors in the beer.
M- Medium light mouthfeel. Carbonation was lively for this beer. Two flavors left on the palate and long into the aftertaste which were sassafras and bandaid. Alcohol did show in the aftertaste as well. Flavors were far from being balanced let alone being balanced to the style. Off flavors? Well do you have the time for me to really go into great detail about it? I didn't think so. Medium alcohol drying on the palate from each sip.
O- They should really go back to the drawing board with this beer. Well either that or else make a different wheat beer because this is not one at all.
1,735 characters
3.71
/5
rDev
+19.7%
look: 4 | smell: 3.5 | taste: 3.75 | feel: 3.75 | overall: 3.75
Pretty golden color, with full fluffy white head and some lacing. Very quiet nose, strong sour front, wheat comes forward in the middle, and a quick quiet close. Nothing surprising, but pleasant.
197 characters

3.59
/5
rDev
+15.8%
look: 3.75 | smell: 3.5 | taste: 3.75 | feel: 3.25 | overall: 3.5
Not bad, just not a whole lot going on; one could do a lot worse, but there are definitely more interesting pale wheat ales out there. Generally, any People's brew is a solid choice if you want to drink local in the Purdue area
228 characters
3.56
/5
rDev
+14.8%
look: 4 | smell: 3.5 | taste: 3.5 | feel: 3.75 | overall: 3.5
12 oz. bottle into a Helles glass
A - Moderate to heavy pour produces a 2 finger frothy head that is white in color and dissipates moderately paced to a 1/2 finger frothy layer. Beer itself is cloudy and straw color in appearance. Carbonation, what can be seen anyway, rising quickly toward the surface and is moderate in concentration. 4/5
S - The aroma consists of grain, wheat, fresh white bread, yeast, and a grassy hoppiness. Aroma is very focuses on the malt in the profile and is somewhat sweet without smelling anywhere near bitter. There is quite a bit of lemon that comes out as well that complements the sweet malty profile. 3.5/5
T - Lemon fruit (not peel), white bread, and yeast dominate the flavor profile while also allowing grassy hops to play a small part on the back end. No lingering bitterness. Lemon lingers for quite some time but the lingering flavor is only slightly tart. Slightly tart throughout the entire tasting profile. Pale malt really stands out alongside the lemon note. No lingering bitterness. 3.5/5
M - Light carbonation tickle up front transitions to a light crips mouthfeel in the middle and back end of the beer that does not lead to any drying in the slightest. Leaves the palate wet but not slick or coated. Light bodied beer. Very smooth throughout due to the wheat. 3.75/5
O - Not the most flavorful wheat beer that I have had but also not the least flavored wheat beer either. Very light and sessionable with a lemony tartness that is a nice change from the orange peel centric profile that many wheat beers go for. Smooth and quaffable. Very approachable for the craft beer newbie but also appecriable for the craft beer veteran. 3.5/5
1,712 characters
3.49
/5
rDev
+12.6%
look: 3.75 | smell: 3.5 | taste: 3.5 | feel: 3.25 | overall: 3.5
Tried this one at Scotty's Brewhouse to go with my bison burger.
A - Nice straw gold color with bright white head.
S - Grassy with hints of lemon and grains.
T - Lemon flavor shines through with a grassy character. Light wheat flavor but very effervescent and drinkable. Crisp refreshing finish but with some lemony after taste.
M - Light and crisp mouth-feel. The high carbonation and light body make this brew very thirst quenching.
Overall, this is a fine brew for a hot summer day. Not my favorite People's brew but worth a try. Good compliment to greasy fries.
Glass- Pint
585 characters
3.14
/5
rDev
+1.3%
look: 3 | smell: 3.25 | taste: 3 | feel: 3.25 | overall: 3.25
Nice wheat ale. Cloudy golden appearance with a light, thin head. Smell initially comes off a bit citrus and sweet. I initially remembered the smell of an early 80's Miller High Life. The taste was a bit flat with a tangy aftertaste. I am fairly new to craft wheat beers, but this is how it comes across to me. Overall it is a good beer, but I would probably take another selection.
382 characters
3.97
/5
rDev
+28.1%
look: 4 | smell: 3.75 | taste: 4 | feel: 4.25 | overall: 4
A: It poured a semi cloudy straw yellow with a nice white head.
S: It had the typical wheat smell to it. Not quite barnyard but still less sweet than all barley beer. No significant banana or clove esters which was nice because it fits the style for an American Wheat.
T: Nice wheat flavor, semi sweet, very light relative to other beers offered
M: Nice carbonation, full but not overbearing for a summer beer
O: This is a nice wheat beer. It's not the best, the brewers knew what they were doing when they made this one. I would enjoy this on a hot summer evening in Indiana.
577 characters
Farmer's Daughter Wheat from People's Brewing Company
3.1
out of
5
based on
48
ratings.