Ramjet Whiskey Barrel Aged Imperial Stout
| Boatrocker Brewing Company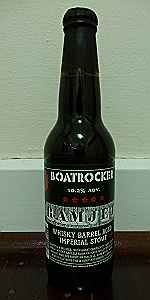 BEER INFO
Brewed by:
Boatrocker Brewing Company
Australia
boatrocker.com.au
Style:
Russian Imperial Stout
Alcohol by volume (ABV):
10.20%
Availability:
Rotating
Notes / Commercial Description:
No notes at this time.
Added by ADZA on 11-03-2013
Reviews: 8 | Ratings: 14
Reviews by danieelol:

4.14
/5
rDev 0%
look: 4 | smell: 4.25 | taste: 4 | feel: 3.75 | overall: 4.5
Pours a dark black with great head and lacing.
Nose is roast; creamy. Oaky barrel character. Marshmallow and Belgian character. Chocolate and a little Vegemite. Vanilla. Some sort of flowers, perhaps roses. Bit of alcohol. Coconut.
Taste is more roast, barrel character, marshmallow.
Mouthfeel is roasty, toasty, bit of Vegemite, bit of booze. Bit of coconut in the finish. A little thin unfortunately.
Really enjoyed this beer. Very solid BA Imperial Stout. Particularly notable as it comes from an Australian brewer. Only other one doing this I can name off the top of my head is Moo Brew. Think this edges that out though- it's a bigger beast with less pure oak character and is better for it. Well priced beer also. Nice work Boatrocker.
745 characters
More User Reviews:

4.07
/5
rDev
-1.7%
look: 4 | smell: 4.5 | taste: 4 | feel: 4 | overall: 3.75
Pours black with a tan head.
Nose shows whisky, milk chocolate, vanilla and woody oak.
Flavours include big oak notes, some liquorice and vanilla, whisky and heavy roasted malt.
177 characters
3.93
/5
rDev
-5.1%
look: 4.25 | smell: 3.75 | taste: 4 | feel: 3.75 | overall: 4
Drank from my Mane Liquor tulip
A - Pours a deep ebony colour with a thick tanned head that retains well and laces.
S - Vegemite, roast and small vanilla.
T - Up front some nice roast followed by big roasted gravy, vegemite flavours. Molasses also a big part of the taste The Whiskey barrel kicks in at the finish and is warming. ABV is well hidden
M - Full body and low carbonation
O - One of the best barrel aged stouts made In OZ. The molasses is a let down and would have like to taste more Whiskey.
508 characters

4.4
/5
rDev
+6.3%
look: 4.25 | smell: 4.25 | taste: 4.5 | feel: 4.25 | overall: 4.5
Very dark appearance with little head and carbination. Very pleasance whisky aroma with a slight hind to vanilla. Taste is a very robust whisky stout with just a very slight vanilla add on. During my travels around Australia, this was by far my favorite stout.
263 characters
4.83
/5
rDev
+16.7%
look: 5 | smell: 4.5 | taste: 5 | feel: 4.5 | overall: 5

3.94
/5
rDev
-4.8%
look: 4 | smell: 3.75 | taste: 4 | feel: 4 | overall: 4
A - Pours a dark brown colour with thick foamy tanned head that retains and laces well
S - Oak, slight bourbon, vanilla and sweet chocolate.
T - Sweet vanilla oak, caramel, milky chocolate and fairly warm and boozy finish.
M - Medium bodied and medium carbonation, very smooth and creamy.
O - A fairly good aged stout that easy to drink and well worth a try
363 characters
4
/5
rDev
-3.4%
look: 4 | smell: 4 | taste: 4 | feel: 4 | overall: 4
4.02
/5
rDev
-2.9%
look: 3.5 | smell: 4 | taste: 4 | feel: 4.5 | overall: 4
Got this one from BobbyHeenan over on RB. Cheers!
From a bottle into a snifter
Vintage: 2013
New World whisky barrels from Victoria Valley distillery
APPEARANCE: A clear, dark brown pour yields a 1½ finger, medium-thick, creamy, light tan head with great retention. Transparent black body with no carbonation evident. Had fades to a good wisp and clings to the sides. A decent wisp remains until the end but leaves no real lacing down the glass. Great head but average body.
SMELL: Oak, whisky, coconut, sweet cream and vanilla with toffee and light milk chocolate notes. Bold enough and quite nice.
TASTE: Oak and toffee with milk chocolate up front, as well as some whisky and vanilla into the swallow. Big and lingering aftertaste of whisky, oak, sweet vanilla and coconut with light milk chocolate as well. A bit of bitter chocolate and coffee in there as well, with some roasted notes under the sweet whisky barrel. Quite nice indeed.
PALATE: Medium-fuller body with medium levels of carbonation. Creamy smooth on the palate, goes down smooth and finishes slightly mouth coating. Very good, smooth feel.
OVERALL: One of the better imperial stouts out of Australia. Flavorful, enjoyable, well crafted and a nice, thick feel to support the show. One I'd gladly drink again. Thanks again Bobby!
1,308 characters
4.06
/5
rDev
-1.9%
look: 3.75 | smell: 4 | taste: 4.25 | feel: 3.75 | overall: 4
Been looking forwards to this one and it pours a pitch black hue with a coffee laced two finger head and a tight rim of lacing,the smell is so balanced its a beautiful symphony of bourbon,oak,chocolate and vanilla and I'm more enticed to wanting this brew more and more,the feel is big full bodied,lush and lightly carbonated with tastes of warming sweet bourbon first followed by dark chocolate,caramel malts,coffee and finished with a mix of warm bourbon and bitter hops and overall quite a nice drop that I'd drink again cheers.
531 characters

4.26
/5
rDev
+2.9%
look: 4 | smell: 4.25 | taste: 4.5 | feel: 3.5 | overall: 4.25
Amazing to think a beer this complex and well made comes out of Aus.
The world is changing.
Stacks of vanilla, choc, roasts, quite sweet, and the only downside is quite warmly alcoholic.
Top stuff, up there with the best US barrel aged beers.
242 characters

4.41
/5
rDev
+6.5%
look: 4.25 | smell: 5 | taste: 4.25 | feel: 4 | overall: 4.25

4.25
/5
rDev
+2.7%
look: 4.25 | smell: 4.25 | taste: 4.25 | feel: 4.25 | overall: 4.25
Ramjet Whiskey Barrel Aged Imperial Stout from Boatrocker Brewing Company
4.14
out of
5
based on
14
ratings.