Hoppbier Beer Garden Pilsner
| Boatrocker Brewing Company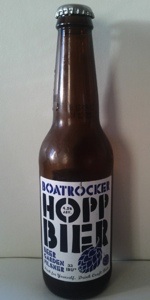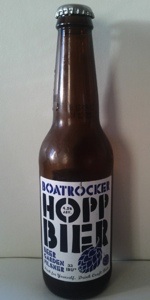 BEER INFO
Brewed by:
Boatrocker Brewing Company
Australia
boatrocker.com.au
Style:
German Pilsener
Alcohol by volume (ABV):
4.50%
Availability:
Year-round
Notes / Commercial Description:
No notes at this time.
Added by shambeano on 12-02-2010
HISTOGRAM
Ratings: 11 | Reviews: 8
Reviews by Kroehny_Loves_Hops:
More User Reviews:
3.42
/5
rDev
-4.5%
look: 3 | smell: 3.5 | taste: 3.5 | feel: 3 | overall: 3.5
Pours gold with a small head.
Nose shows a fair bit of fruity hops and some faint bready malt.
Very similar flavours, faint fruity hops and a lot of sweet cookie dough-like malt. Finished with a somewhat sharp bitterness.
Carbonation could be higher just to dry out the finish a bit.
283 characters
3.3
/5
rDev
-7.8%
look: 3.5 | smell: 3.5 | taste: 3 | feel: 3.5 | overall: 3.5
In what sounds like a classic New World Pilsener, this beer is made with Riwaka and Motueka hops (now there's a match that seems to be made in heaven), along with New Zealand Hallertau.
Pours a slightly odd-hued golden colour, almost as though it's tinged with a little pink. Clarity is good, and the body has a surprising amount of heft to it. Head is only minimal, forming a film across the top of the glass. Carbonation is very moderated for the style, but the heavier than usual body may account for this. Looks decent.
Nose is clean and fruity, with big, but rather sweet tropical fruit notes coming up from the NZ hop varieties. Surprisingly enough, it doesn't actually give that clean cutting note I expect from both the varieties and the style of beer, so it ends up only average. Slight bready overtones come through as well, which don't help a great deal.
Taste is rather flat, with some husky sweetness on the front, giving a slight German pils grain character, but with minimal hop bitterness to match it. Body indeed feels bigger than it needs to, and there's a surprising amount of residual sweetness. It really needs more hop character to balance it.
I was a bit disappointed with this. It had all the signs of being a great example of the style (like Croucher's NZ Pilsener, or Knappstein Reserve Lager), but it really ended up a lot more bland than everything would suggest. A shame.
1,404 characters

3.5
/5
rDev
-2.2%
look: 3.75 | smell: 3 | taste: 3.75 | feel: 3.5 | overall: 3.5
Pale straw - little aromas save grains. taste however is nice and florally hoppy, lemons as well. Could do with a smidge more carbonation but otherwise very solid indeed for style.
180 characters

3.84
/5
rDev
+7.3%
look: 4 | smell: 3.75 | taste: 4 | feel: 3.5 | overall: 3.75
330ml bottle poured into tulip glass
L - straw coloured, generally clear with some fine suspended sediment. A nice white creamy head, 5cm thick. good retention
S - citrus and tropical fruit odours (passionfruit, lychee), with some grassy notes.
T - good malt base with typical grassy hop bitterness to be expected of a pilsener. Sweet bitter finish, with hints of orange and passionfruit.
M - oily texture, medium texture, medium carbonation.
O - strong pils style beer, with a welcome fruity tinge to the flavour. Refreshing.
534 characters
3.68
/5
rDev
+2.8%
look: 4 | smell: 3.5 | taste: 3.5 | feel: 4 | overall: 4
Okay, so the new one from Boatrocker arrived at my local bottleshop last week. one of the cool things about it is that on the six pack holder they outline the specific malts and hops, which more Australian beers should. German Pilsner & Carapils malts, Hallertau, Riwaka and Motueka Hops all from NZ.
A- pours a clear and very light golden with a slight whisper of head, looks like a german pilsner.
S- not so much malt, the aroma is hop driven. little bit of passionfruit in there, as well as some citrus. subtle, but with some nice hoppy aroma's going on.
T- slightly malty upfront, a touch sweet. followed quickly by the hop. again a little passionfruity, with a touch of citrus, but its pretty subtle, but pleasant. with a nice bitterness.
M- spritzy carbonation, lighter mouthfeel, slight bitterness on the back of the tongue, with a slightly dry finish. pretty good.
D- i could sit back on a warm summers day and drink a whole bunch of these. very nice.
978 characters

3.78
/5
rDev
+5.6%
look: 3.5 | smell: 3.5 | taste: 4 | feel: 3.75 | overall: 3.75
3.83
/5
rDev
+7%
look: 4 | smell: 3.5 | taste: 3.5 | feel: 4.5 | overall: 4.5
A - Pours a clear light golden with a 2.5cm white head that falls to a thin whisp.
S - Light grainy aroma is quickly overpowered by citrus fruit & herbal hop notes. Not in a IPA way, just enough to say hoppy.
T - Like the smell there is light grainy malt taste that is quickly pushed to the background as the cittus and herbal hops come into play.
M - Light bodied, highish carbonation, moderate bitterness.
D - A very nice New World or Antipodean Pilsener.
My only fault is a bit too herbal that some of these NZ versions of European hops seems to give off. I will be buying more though.
As already mentioned, the listing of ingredients is pretty cool, as is the sort of punk rock stencil style label.
703 characters
3.38
/5
rDev
-5.6%
look: 3.5 | smell: 3 | taste: 3.5 | feel: 3.5 | overall: 3.5
Crystal clear straw colour with a tiny and shortlasted white head. Poor head retention. No lacing.
Sweet, lightly honeyed malt aroma with a touch of grain and spice. Not all that hoppy.
Light, crisp malt with some earthiness and grain. A touch of herbal hop adds depth. Moderate bitterness.
Medium-light body with moderately-high carbonation. Crisp.
A crisp, clean lager. Nice bitterness. Overall, a refreshing beer but I'd take a Stone & Wood before this any day.
468 characters
3.65
/5
rDev
+2%
look: 4 | smell: 4 | taste: 3.5 | feel: 3.5 | overall: 3.5
Appearance - 4.0
Pours two fingers of dense white foam head that slowly reduced to a thin layer over a clear body of pale gold. Good head retention and a little lace.
Smell - 4.0
Dry, husky malt is just evident in a hop dominated fragrance of lemon, lychee and a little sulfur.
Taste - 3.5
Thin malt backbone tastes of grain and husk, hops are lemony and rather grassy - I'm not convinced of the suitability of dry hopping in such a light style. Tasty nonetheless, but others do it better.
Mouthfeel - 3.5
Light bodied with light to moderate carbonation.
Overall - 3.5
An interesting and overall pleasant pilsener. What this beer lacks compared to the greats of its style is drinkability. I wouldn't turn one down, but this is not a beer I can see myself drinking by the 6-pack, or by the litre, as is often the case in Germany.
833 characters
Hoppbier Beer Garden Pilsner from Boatrocker Brewing Company
Beer rating:
3.58
out of
5
with
11
ratings