Vineyard Liquors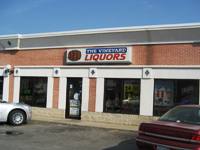 PLACE INFO
Type:
Store
115 E South St
Plano
,
Illinois
, 60545-1417
United States
(630) 552-8878 |
map
vineyardliquors.com
Notes:
Monday - Thursday: 9:00am - 10:00pm
Friday - Saturday: 9:00am - 11:00pm
Sunday: 10:00am - 10:00pm
Added by stitches58 on 01-26-2010
Reviews: 10 | Ratings: 14

5
/5
rDev
+21.7%
vibe: 5 | quality: 5 | service: 5 | selection: 5
Been going here for years. I still pop in whenever I am visiting my Dad in Plano. Terri always has a great selection and prices are extremely reasonable.
If you are looking for craft beer in Plano look no further. Don't bother going to the other liquor store. Support the Vineyard as it has been a Plano staple for as long as I can remember (probably before I was born).
Cheers
★
380 characters
4.66
/5
rDev
+13.4%
vibe: 4.5 | quality: 5 | service: 4 | selection: 5
Awesome find - definitely going back. Beers that would have sold out in stores weeks ago (WWS, Mirror Mirror, Ten FIDY as a few examples) were there in ample supply. I spent a half-hour in there that felt like ten minutes...I was like a kid in a candy store.
★
258 characters

3.98
/5
rDev
-3.2%
vibe: 4 | quality: 3.5 | service: 4 | selection: 4.5
My home town store and I enjoy buying my mix a six packs here. A pretty diverse selection for the size of the store. It's a small liquor store but an ample selection. One thing I would advise is that they do leave some seasonal brews that are out of date on the shelf on occasion. While not dated you could trace being a seasonal brew made for a short period of time. If your a semi-educated beer drinker you should be ok and if not your able to use your beer advocate app to double check if unsure. lol Nice people who are very helpful and prices are very fair for a small establishment. I will be a customer for the long haul.
★
628 characters

4.15
/5
rDev
+1%
vibe: 4 | quality: 4.25 | service: 4.25 | selection: 4
Atmosphere- When you first walk in it looks like a typical liquor store. You walk to the back and see the "beer cave" a walk in cooler with tons of craft beers. Then there is a good sized aisle of craft beers, all of which can be bought in singles or 6-packs.
Quality- They had a pretty good selection of beers, a few that I hadn't even seen at large chains like Binnys, and definitely a lot that you normally wouldn't be able to buy as a single in most stores.
Service- I have met two of the workers there and they were both very friendly. Offering to help and make suggestions but also giving me time to look around and decide on what I wanted. They seem pretty knowledgeable as well.
Selection- They have a very good selection for being such a small shop. Probably 125+ different beers to choose from and a few that I hadn't seen in major stores.
Food- N/a
Value- Pretty much on par with Stores like Binny's, some may have been a dollar or so more but others were a dollar or so less. No complaints on price.
★
1,016 characters
4.88
/5
rDev
+18.7%
vibe: 4 | quality: 5 | service: 5 | selection: 5
I can't stress enough how much I love this store. Great, well rounded selection that includes your standards (bud/miller/coors), craft (goose island, founders, stone, three floyds) and some occasional white whales. The owner is extremely knowledgeable and friendly and looks to his customers on beers to potentially order.
The beer cooler in the back is a must see! Everything is reasonably priced and craft bottles can be purchased individually. Also has a good selection of spirits and wine.
I randomly came across this store a year ago searching for DF 120 and am now a regular customer. Frequent here 2-3 times a week.
★
625 characters
4.14
/5
rDev
+0.7%
vibe: 4 | quality: 4 | service: 4.5 | selection: 4
The atmosphere was good, a little cramped for space but understandable considering the location of the store. The quality was pretty good, all the products I had were fresh. The service was very good, got a free bottle after talking to the beer rep/owner. Selection was good, have seen more expansive selections but this store's selection was thoughtful on getting the best choices. I was happy with my purchases, the selection was great enough that I didn't even get close to purchasing every beer that I've never had before; will be back someday to see what their selection is like in the future.
★
598 characters
4
/5
rDev
-2.7%
vibe: 4 | quality: 4 | service: 4 | selection: 4
I live a block from this store, it is my local haunt, i am glad they sell any bottle as a single, that makes extras really easy for trades, or if i just want to walk down and grab a single beer or two for the night.
The selection is pretty good, and they will get anything in that you ask them for if they are able to. They have been in town for decades and are the store you should support of any of them here. Find them on facebook as they update that just about every time they get an order in with a few new things.
★
519 characters
4.14
/5
rDev
+0.7%
vibe: 4 | quality: 4 | service: 4.5 | selection: 4
I found out about this place on Facebook. It is a small store, but they had a good selection of beers. In addition, you could buy singles of all of their four and six packs. They also had Parabola there for $15 per bottle. The prices were fair to inexpensive. The store was right off of route 34 in downtown Plano. There was also a Beer Cave in the back of the store that had a bunch of cold individual beers. The "Cave" almost seemed like I was walking into an "employee only" area. The guy working was very helpful and answered all my questions. I would definitely go back there.
★
581 characters

4
/5
rDev
-2.7%
vibe: 4 | quality: 4 | service: 4.5 | selection: 3.5
A friend of a friend suggested Vineyard Liquors, and it's in the next town west of where I live. While craft brews are totally covered by the "big box" liquor retailers, those stores have alot of consumer pressure and little individual store control. So, I'm interested in finding some smaller independant stores that have craft brews. Terry, the owner of Vineyards is definately building his craft beer inventory and his own knowledge of what he should stock. Very decent selection of Chicago crafts, and testing which national brewers to carry on a regular basis. Vineyards is a great place to try and find seasonals and limited releases (esp from midwest brewers, I picked up 2 bombers of FFFS Artic Panzer Wolf on my first trip). And, for regular customers I believe the owner would try and get any brews, on a special request basis.
★
837 characters
3.88
/5
rDev
-5.6%
vibe: 3 | quality: 4 | service: 4.5 | selection: 3.5
I browsed Beerfly before our trip to Illinois (the nearby towns of Sandwich and Somonauk are where most of my family live) and came across this untested BA addition. Checked the website and found an ample listing of craft beers, so I stopped in to check it out briefly on both Thursday and Friday, April 22-23. It's great to see passion for craft brewing extending further and further out from the city.
On Thursday, I met affable owner Terry; he made a point to show me the latest arrivals (including the last 4 bottles of the polarizing Sam Adams Triple Bock ~ I grabbed 2). Among the other good midwestern 6-packs I saw, beers from: Capitol, Sprecher, Founders, Three Floyds, Bell's, Great Lakes, and Goose Island. From among those, we picked a 6-pack of Bell's Two-Hearted, a 4-pack of GIBC Matilda and a bomber of the Night Stalker...also, out of morbid curiosity, a bottle of the infamous "Mamma Mia! Pizza Beer". Besides what we chose, there was a fairly good mix of German and Belgian favorites, along with some Italian beers I'd never seen before...not the most amazing finds for a seasoned craft beer hunter, but certainly a strong enough collection, especially given the more rural locale ~ my Selection/Quality scores reflect this.
The owners were hosting a Leinenkugel's Tasting on Friday night and sound ready to host other craft beer-centered events as interest grows. One thing they're doing to encourage experimentation is to sell/promote single bottle sales and mix-it-yourself 6-packs. Very cool, especially when the average craft sixer runs around $10 vs. the much cheaper racks of macro-stuff filling most of the cooler shelves.
A fine little store (with a good stock of wine and liquor to boot); we'll be back the next time we're in the area.
★
1,768 characters
Vineyard Liquors in Plano, IL
4.11
out of
5
based on
14
ratings.