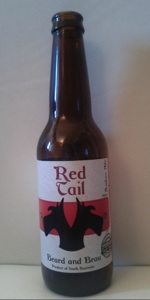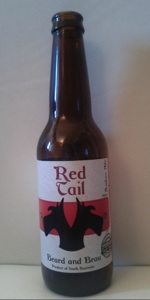 BEER INFO
Brewed by:
Beard & Brau
Australia
beardandbrau.com.au
Style:
American Amber / Red Ale
Alcohol by volume (ABV):
5.10%
Availability:
Year-round
Notes / Commercial Description:
No notes at this time.
Added by dgilks on 02-05-2010
HISTOGRAM
Ratings: 9 | Reviews: 6
None found.
More User Reviews:
3.32
/5
rDev
+2.2%
look: 3 | smell: 3.5 | taste: 3.5 | feel: 2 | overall: 3.5
Pours rich ruby/amber with a massive persistent head. Aroma is very fruity, with grapes, peaches and lychees, but also shows some darker caramel. Flavours are less hoppy, but still show some grapefruit with a little bit of the sweet darker malt previously mentioned before an aggressive, cutting bitterness. Carbonation is pretty full-on, only exacerbating the dry, bitter finish.
380 characters

3.01
/5
rDev
-7.4%
look: 4 | smell: 3 | taste: 3 | feel: 2.5 | overall: 3
This pours a dark amber colour with a fine beige head with good retention.
Caramel aromas on the nose. A tiny bit of chocolate. Some fruitiness and a bit a spice.
Caramel persists on the palate but there's not a lot to it. Some late bitterness.
Thin mouthfeel.
Flavour and mouthfeel really let this down.
308 characters

3.93
/5
rDev
+20.9%
look: 4.5 | smell: 4 | taste: 4 | feel: 3 | overall: 4
Pours a vibrant ruby colour with very nice cream-coloured head. Fluffy with nice marshmallow effect on top, lovely trail of lace. Bead is enthusiastic, and maybe a bit too much. Otherwise looks fantastic.
Smells pretty tasty, too. Nice toffeed malts underlying with a nice hoppy overlay. Slight citrus and balsamic for tang, with a herbal medicine edge to it, kind of dirty but not bad, especially with that fruity lift from the other hops.
Taste is quite malty upfront, although the assault gives slight apple notes from British ale esters. Develops roasty, slightly chocolatey grain notes midway that smooth out nicely towards the finish with a slightly metallic note, but this is largely cleaned up by the bittering hops; slight citrus and a hint of maraschino cherry, before finishing herbal with a bite of ginseng. Nice, malty but ultimately clean and pleasant beer.
Bit too much carbonation for my liking; it just pops too much in the mouth and marring what might otherwise have been pretty smooth as there's a decent body there.
Wasn't expecting much from this beer, but it's really silenced my inner critic. Rich and malty but very satisfying as well. This tasty beer will make a nice complement to me eating my words.
1,230 characters
2.89
/5
rDev
-11.1%
look: 4 | smell: 2.5 | taste: 3 | feel: 2.5 | overall: 3
Something of a hybrid Amber Ale / Scottish Ale through the use of Scottish Ale yeast over what appears to be a relatively hoppy Amber ale. Let's see how it goes.
Pours a very pleasing red colour, just slightly burnished to amber orange on the sides. Head is filmy, but very fine bubbled, and the body looks pleasantly thick. Overall, a pretty good looking beer.
Nose is slightly organic, giving up a little citrus and a strong aroma of green apple peel. It's a bit like ale-fermented sugar, which is worrisome, and there's ont a huge amount of depth and sweetness to balance it.
Taste is a little better, giving some nutty grain characters, and a chalky residue. Feel is very thin however, as is the breadth of the palate--it feels as though much of it is empty. A very little amount of bitterness on the back is the only hint of the hops. Quite bland.
A disappointing brew. Not something I'd be that keen to try again. It looks alright, but when it comes to the crunch it doesn't have a lot to offer. Really rather bland.
1,027 characters
3.43
/5
rDev
+5.5%
look: 4 | smell: 3.5 | taste: 3.5 | feel: 2.5 | overall: 3.5
This brew pours a rich ruby hue with decent carbonation that leaves behind a creamy two finger head and sporaic clingy lacing,the smell is stonefruit,raisin bread,toffee and fruity hops,it has a light bodied averagely carbonated mouthfeel and feels a tad watery for my liking and has tastes of stonefruit,creamy vanilla,fruit cake and finshed with a tinge of cherry bitterness and overall the mouthfeel on this brew really lets down what could be a really nice drop and apart that its not bad.
493 characters

3.2
/5
rDev
-1.5%
look: 3.5 | smell: 3.5 | taste: 3 | feel: 2.5 | overall: 3.5
Lots of carbonation. Nice medium copper colour with a massive, light tan head. Good retention.
Rich, chocolate and caramel aromas. A bare hint of spicy hop aroma comes through. A touch fruity. Very nice.
The flavours are actually a bit muted and are killed by the high carbonation simply attacking the tongue. What is there is a caramelly malt profile with very little hop flavour. No diacetyl or noticeable flavour flaws which is good. A strong bitterness is present which is a nice change from other ambers.
Medium-light body with high carbonation. It is actually a bit unpleasant and doesn't quite hit the mark.
A decent drop from this South Australian brewery. A few flaws in the mouthfeel and it lacks a bit of complexity but its good.
752 characters
Red Tail from Beard & Brau
Beer rating:
3.25
out of
5
with
9
ratings