Main Street Brewery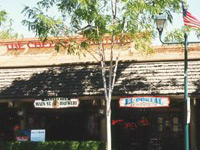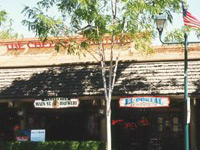 PLACE INFO
Type:
Brewery, Bar, Eatery
830 Main Street
Pleasanton
,
California
, 94566
United States
(925) 462-8218 |
map
mainstbrewery.com
Notes:
No notes at this time.
Added by BeerAdvocate
HISTOGRAM
View: Beers | Place Reviews
Ratings: 12 | Reviews: 10
Reviews by BeerManDan:
4.3
/5
rDev
+10%
vibe: 4 | quality: 4 | service: 4.5 | selection: 4.5 | food: 4.5
Very plan inside, but a fair selection of draft and bottle beers. If you like Hefeweizen's, you MUST try there Hefeweizen. I live in this town and would go back again, just to drink there Hefeweizen and munch on there pub food! Located on main street and get parking in the back!
279 characters
More User Reviews:


3.91
/5
rDev 0%
vibe: 3.5 | quality: 3.5 | service: 4 | selection: 4.5
Located on Main Street in downtown Pleasanton. Decor inside is not all that great. Some table scattered throughout and a horseshoe shaped bar in the back right. Lighting isn't all that inviting and there's almost no natural light. Small patio out front.
Beer ranged from decent to pretty tasty. Their imperial IPA on nitro was probably my favorite. The imperial oatmeal stout was pretty good as was the hoppy pale ale. Not great beer but not mediocre either, like some spots. I'd try their beers again, but I didn't get a pint after having the sampler tray of all the house beers.
Crowd was definitely all locals (mid-day on Saturday) and all at the bar. Everyone there knew each other and probably have for some time.
Not bad, but not great. Worth visiting, I suppose, if you are in the area. It's about 3 miles off 580.
827 characters

3.95
/5
rDev
+1%
vibe: 3.5 | quality: 4 | service: 4 | selection: 4 | food: 4
I went here for the Pub Night. The opening of the Scottish Highland Games in Pleasanton. It was a great time. I had the chipotle burger which was really good. They have bands there regularly and for Pub Night it was all scottish which made it even better. I had 3 or 4 of their beers and they were all very good. I will definitely come back there again. We were there for probably three hours or so and had a great time. Their Legacy Porter is really good. So is the Pleasanton Pale Ale and the War Pig Amber ale.
513 characters
4.95
/5
rDev
+26.6%
vibe: 4.5 | quality: 5 | service: 5 | selection: 5 | food: 5
Always great to stop by Main Street for a beer or two. I had a pint of the Atta Boy IPA. Hoppy and not filtered. As Matt, the owner/brewer says: "Our beers are unfiltered, that's what your liver is for."
I've been going here for at least 10 years. I am never disappointed. I try to stop by every time I am in the Bay Area.
A very good selection of guest beers on tap as well.
I find it a good sign of a brewer's confidence in their product if they are not afraid to have guest beers on tap. (Quality beers on tap, that is.)
528 characters

2.5
/5
rDev
-36.1%
vibe: 2 | quality: 2 | service: 4 | selection: 2 | food: 2
I really liked the vibe of the Pleasenton Main drag. I was hoping that some of what I have read about this place were true. However, I found this brewpub to underwhelm me. The place was dead around 7PM on a Sunday. The food was not average at best, but I wasn't their for the food. There are many brewpubs that are in Malls or have horrid food that produce award winning beers! However, I was served 3 beers that were made by Main Street were not memorable...I'm sure this is a great place to take a break with the family to enjoy a cold one while shopping with the wife. It was big, had a good food selection, and right on Main Street. However, I would rather spend my alcohol capital at the Hop yard.
702 characters
4
/5
rDev
+2.3%
vibe: 4 | quality: 4 | service: 4.5 | selection: 3.5 | food: 4
This place is located in downtown Pleasanton. It has a spacious inside dining area. There is also a good size outside seating area. I brought my 3 year old son, and was promptly given a basket full of toys to keep him entertained. The walls are littered with all sorts of beer memorbilia, posters, signs and what not. The brewing equipment was slightly visible in the back.
The beers were good. Some were just a little booring, but no one in my group had any complaints about anything.
The service was good. We didnt have to wait for anything. That might be because at the time, we were the only people there. The serving staff were friendly, and knowledgable on beer.
They had a decent selection. They had 5 house brews and a few guest beers. They covered the American styles nicely. IPA, Pale, Porter, Hefe. Pretty much something for everyone.
The food was great. The portions were big, and the price was right. They didnt have the biggest food menu, but it was the standard brewpub selection.
This place was fairly priced. I got a cupon online that was good for 2 meals for the price of 1, so that was a good deal. I would go back to this place any day.
1,171 characters

4.08
/5
rDev
+4.3%
vibe: 3.5 | quality: 4 | service: 4.5 | selection: 4 | food: 4
Just wanted to give some love to the cool folks at the Main Street Brewery in Pleasanton, CA.
Our chartered bus made a lunch stop there on the way out of the Bay Area after a furious weekend of strong ale debauchery.
Even though they only had only 3 of their own beers on tap... all were great. The Trainwreck IPA was delicious.
In addition... the tap selection was pretty impressive with:
Sierra Celebration
Sudwerk Pils
HopTown DUIPA (on nitro)
Russian River's Pliny the Younger (yes... the Younger)
Once we crushed that keg... they put on... oh, what's this...
Drake's Jolly Rodger
The food: great pubfare.
If you ever find yourself driving up to the Bay Area... the brewpub is just off the 580 (the freeway you merge get on after the hellish journey on the I-5)
792 characters
3.68
/5
rDev
-5.9%
vibe: 3.5 | quality: 3.5 | service: 4.5 | selection: 3 | food: 4
We tried this brewpub after leaving the HopYard Ale House. With all the great beers on tap at the HopYard, we were afraid this could be a real mistake. But surprisingly, instead of a quick beer and heading back to HopYard, we settled in for a complete beer sampling, some pints and appetizers. Their Belgian beer was actually quite tasty, and the pale ale was average - no complaints here.
This is a family-friendly establishment, and defintely oriented towards the sports fan. The owner was very hospitable and gave us several free samples. The crowd was very mellow and having a good time. I liked the open air patio out front, a perfect place to enjoy an ale, a good cigar, and watch the Main Street foot traffic.
Unless I'm in Pleasanton on business, to lure me back and away from the HopYard, I'm afraid they will need a hoppy IPA, double IPA or experiment with their pale ale.
Chappy
900 characters
3.38
/5
rDev
-13.6%
vibe: 4 | quality: 3.5 | service: 3.5 | selection: 3 | food: 3
The atmosphere is allright with TV screens all around almost like a sports bar. There is a covered patio out front which is nice. The bar area is a U shape that is squared off. Beer and sports paraphenalia all around with a stage for live entertainment.
Nice wooden tables and chairs the bar is similar to marble covered with a thin coat of enamel.
Service is good and prompt.
Only three of their own brewed there that was available today. They taste like some of there guest beers and no cask. Most of their guest beers are not real risky.
Good selection on the menu with some healthy options.
Reasonable
611 characters
4.4
/5
rDev
+12.5%
vibe: 4.5 | quality: 4 | service: 5 | selection: 4 | food: 5
Nice little brew pub / restaurant in the town of Pleasanton. Small horseshoe shaped bar sits off to the side in a large room full of wooden tables. Beer signs and tap handles decorate the place. On a shelf up near the ceiling, behind the bar, sit many beer bottles. House beers and many guest beers are on tap, selection is decent. The pub brews a porter, pale, IPA, Wheat, and a amber. Guest beers have included Sierra Nevada celebration and Harvest, Alaskan, Widmer, Sudwerk, Russian River (Pliny the Elder and Younger) Drakes, and the local Hoptown to name a few. Service is fast and very friendly. Food was real good, my smokehouse stack burger was one of the best I have had in a pub. This place is worth a visit. Main Street's own beers are pretty good and there are also plenty of guest beers to satify the micro afficiando as well. Sharon, one of the owners, is about the nicest person you will ever hope to meet. When she waits on you one feels like a king. Your name is remembered and she's always happy to see you. Matt, her husband and co-owner is a great guy as well and knows is stuff. If we lived closer we would spend much more time there. A very nice pub to enjoy a relaxing time in.
Since originally reviewing this pub we have become semi regulars and truly love this place. By semi I mean we live fairly far away and can't make it as often as we do, when we go we wish we could go more often. Today was one of our best experiences ever. I had called the previous day to ask if Sharon would be working Saturday. It was Suzanne's b'day and I wanted to take her to the pub as part of her day. Matt, Sharon's husband, brewer, and co-owner assured me she would be. I had mentioned to Matt it was Sue's b'day. When we arrived today Sharon had balloons tied to a barstool reserved for Sue, flowers were on the bar, and she came around to hug her and myself as well. Sue was overwhelmed and frankly so was I. What a wonderful person and Matt too. Sorry he wasn't there today. Free dessert was also forthcoming. This is a great pub and has a very loyal core croup of regulars. We are are proud to be members of the group, even if it is semi.
2,151 characters
Main Street Brewery in Pleasanton, CA
Brewery rating:
3.87
out of
5
with
15
ratings