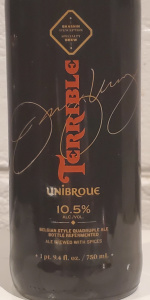 Write a Review
Beer Geek Stats:
| Print Shelf Talker
Style:

ABV:

10.5%

Score:

Avg:

4.2

| pDev:

10.95%

Reviews:

980

Ratings:

From:

Avail:

Year-round

Wants

Gots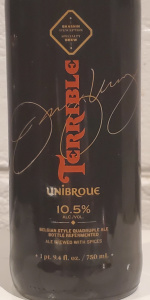 Notes: In 2002, when the SAQ requested an exclusive new high-end product, Unibroue responded with Terrible. Given its dark colour and 10.5% alcohol content (a first for Unibroue), we knew that this Belgian quadruple-style ale might very well be greeted with reticence.

So we gave it a name that would evoke terror and worry, but also something extraordinary, formidable and awe-inspiring. From here on out, no other beer can ever be called Terrible.
Reviews: 980 | Ratings: 2,294

4.9
/5
rDev
+16.7%
look: 5 | smell: 5 | taste: 5 | feel: 5 | overall: 4.5
Notes: 750ml corked and caged bottle that feature gold embossed writing on it. Accoring to the cork this beer was bottled in 2/2002, I purchased it in 12/2002 and I am drinking it now in 5/2003.
Almost Perfect. I am still trying to decide which beer is a better brew. This one, or Chimay Blue. I may have to switch there scores around when I finally come to a conclusion, but for now. I'll give the award to the Chimay.
This beer is one of only 2 dark beers that Unibroue makes. Upon sampling this beer and Trois Pistoles (their other dark beer) one can only ask themselves, "why is that?"
This beer pours a wonderfully thick, dark, ruby-black colour with a mammoth, off-white head. The aromas are of sharp alcohol, various kinds of dark fruits, candy sugar, exotic yeasts, bittering hops, strange malts, and wonderful spices. The taste is even better than the aromas. Spicy, malty, alcoholic, bitter, sweet, complex, and wonderful.
The mouthfeel is very thick and this beer is 'oh-so-smooth'. The drinkability has to be knocked down a half of a point though as this is a bit too strong for a good sesion of drinking. Weighing in at %10.5ABV and over $6-7US a bottle this Quebec-only, SAQ exclusive release is really a treat.
Soon this will be available here, and than my money may suddenly dissapear.
A magical brew to sip and savor with the ones that you love, and the ones who love you.
Cheers!
1,420 characters
4.77
/5
rDev
+13.6%
look: 4.5 | smell: 5 | taste: 4.5 | feel: 5 | overall: 5
750mL corked bottle. Bought October 2002 (when it was just brand new on the market), imbibed April 2003. Poured into a Hennepin glass, once cold (fridge), once cellar temperature with a little yeast.
"La Terrible". Literally translated as "the terrible". More realistically, I'd translate this as "scary", "frightening", "intimidating" - that sort of thing. They don't mean it's bad, they mean it's a beer that you have to respect. (or so I think).
Near opaque body, with some dull brown when you hold it to the light. A good sized head that fades back pretty quickly. A little head stays around in blotchy clumps.
Smells of heavy malt, dried fruit. I think the operative term here is heavy. Enticing.
Taste is of dark red plums, dates, figs... Soft and fry fruit that doesn't have too much bite. (one exception is a nice blackberry touch). Lingering light acid notes. Certainly worth the time to savour (and I don't know how you couldn't savour, given the strength of the beer).
Mouthfeel is typical to a bottle-conditioned Belgian. When it's cold the little bubbles swarm on the tongue and give a really envigorating feel. As it warms up the carbonation is smoother and softer. The body of the liquid is relatively thick.
The Chimay Grande Reserve (blue label) has long been the accepted standard of this style. This destroys Chimay. I never really liked the Grande Reserve - I respected its complexity, its flavour, but this has the edge that the Chimay brew lacked. Damn bloody tasty - for now (I have no access to Westy) this will serve as king of the dark Belgians.
1,589 characters

4.3
/5
rDev
+2.4%
look: 4 | smell: 4 | taste: 4.5 | feel: 4 | overall: 4.5
After uncorking the bottle, this beer poured a deep, almost prune black. The thin, dark head cleared quickly, leaving a ring of foam.
The smell is rich, containing a lot of fruits: raisins and prunes, some berry perhaps? and wine.. Maybe that's the alcohol, which isn't surprising given that it weighs in at over 10%.
The flavour is rich and clean, again with a lot of the dried fruit flavours coming through. There are some bright notes to lighten things up, blackberries, spices. It really complements the body, which is full and rich without being thick. It's a very cozy and warming beer. I'm really enjoying this one, even if this 750ml, 10% monster will finish me off tonight...
692 characters
4.7
/5
rDev
+11.9%
look: 4.5 | smell: 4.5 | taste: 5 | feel: 4.5 | overall: 4.5
A stunning beer in the same tradition of Chimay's Grand Reserve (blue cap), it offers everything that the Belgian classic has with just a darker tone and a more affordable price. BC-LDB currently stocks this at $7.95cdn per 750ml bottle -- and this one is honestly worth every penny.
Having tasted my fair share of Belgian styled brews over the past several years, Chimay's Grand Reserve was and will still remain my current all time favorite, but Unibroue's latest "Terrible" (an Abbey Style) dark brown ale pegged at 10.5% abv is an extremely strong contender that deserves a close look by fellow Belgian styled enthusiasts. New to market, or at least to my eyes, "Terrible" is the easy front runner on the Unibroue product schedule suprassing fellow label mates "Don de Dieu" and "La Maudite."
"Terrible" is another exceptional offering from Unibroue that is very drinkable and a great brew to relax with. It's a multi-purpose beer that works well as an afternoon sipping drink, a hearty addition to a meal, or as a replacement to coffee after a meal with friends or family.
1,084 characters
4.5
/5
rDev
+7.1%
look: 4.5 | smell: 4.5 | taste: 4.5 | feel: 4.5 | overall: 4.5
Aged 1 year before opening Aug 10/03........
Appearance: 750ml corked bottle. A very dark brown, almost black, pour with a huge tan head that holds up well. Plenty of active carbonation as well.
Smell: Malty and sweet. Dark raisiny-sweet nose with raw sugar hints throughout. Just a touch of light maple syrup.
Taste: Dry and malty off the top. The taste quickly turns towards a dark fruit sweetness highlighted by raisin and plum. Moderate spiciness and an obvious alcohol kick. Plenty of body and complexity. The finish is very warm and reminds me very much of a nice port or sherry.
Mouthfeel: Dry off the top and very full. Plenty of active carbonation accompanies the complexities of this beer well. Smoothes out towards the finish.
Drinkablilty: I loved this beer. Complex and ever changing in my mouth. What i would consider a perfect after dinner drink or even an adequate night cap. Excellent. A world class brew.
937 characters
Terrible from Unibroue
Beer rating:
93
out of
100
with
2294
ratings