Superstition Pale Ale
| Mogollon Brewing Company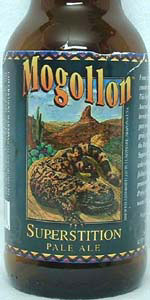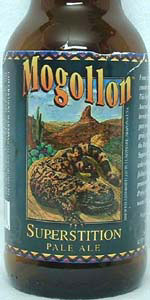 BEER INFO
Brewed by:
Mogollon Brewing Company
Arizona
,
United States
Style:
American Pale Ale (APA)
Alcohol by volume (ABV):
5.00%
Availability:
Year-round
Notes / Commercial Description:
If you are searching for a light, refreshing pale ale, your search is over! Superstition Pale Ale is named after the Superstition Mountains which are just east of Phoenix. This American pale ale is brewed using mountain pure water, select domestic grain, yeast and hops from the Pacific Northwest. Superstition is copper in color with a clean, malty fullness and finishes with pronounced hop bitterness. Perfect for enjoying on a warm Arizona day.
Added by Gusler on 10-14-2002
This beer is retired; no longer brewed.
HISTOGRAM
Ratings: 13 | Reviews: 13
Reviews by 2beerdogs:

4.5
/5
rDev
+18.1%
look: 4.5 | smell: 4.5 | taste: 4.5 | feel: 4.5 | overall: 4.5
I consider this a very solid example of what I like in an AMERICAN Pale Ale. The key here is that APA's tend to be a bit more aggressively hopped. This beer is beautifully balanced with the malt still coming through nicely, yet being slightly overtaken by the hops, slight citrus notes evident at times. I love the mouth feel of Superstition!!! I try to stock up whenever I pass through Flagstaff!!!
399 characters
More User Reviews:
4.05
/5
rDev
+6.3%
look: 4 | smell: 4 | taste: 4 | feel: 4.5 | overall: 4
Appearance – Hazy orange in color and very inviting with a nice, full head that puddled in clumps on top of the beer and left some fine lacing on my Ruination glass.
Smell – Wow, there are a few things going on in here. First, you have a fine, toasted malt base with tons of caramel. But, what hits the nose first is the sharp, complex hop profile. I can particular find some good pine notes. There's a touch of grapefruit in this bouquet as well.
Taste – The malts come out very strong in the taste, with a sweetness that reminds me of the "Bit-'O-Honey" candy. The hops are more of a whisk at the tongue, but are big enough to stay noticed.
Mouthfeel – Here is the ale's strong point. This is smoother than smooth with a creamy body that empties your glass way too quickly.
Drinkability – This was a creamy, chewy mouthful that went down fast.
Comments – This makes the fourth beer from Mogollon that I've had, and they have all been excellent. A big "thank you" to Gusler for sending these up my way.
1,030 characters
3.47
/5
rDev
-8.9%
look: 3 | smell: 3.5 | taste: 3.5 | feel: 3.5 | overall: 3.5
Slightly cloudy copper amber color no head at all, hop citrus aroma nice not powerful hop tastecomes right in , but the bitterness of the hops quickly overwhelms it. Thirst quenching enough , but a slower fade in of the hops would be better.OK for a hot Flagstaff night.
270 characters
3.35
/5
rDev
-12.1%
look: 3 | smell: 3 | taste: 3.5 | feel: 3.5 | overall: 3.5
I had this on tap at the Mogollan Brewery in Flagstaff, AZ. It's a good example of your usual American pale ale. It had a 6.0% ABV and I didn't find it at all bitter or too high in hops. It had a sweet and fruity smell and taste, and the higher alcohol content is well-masked, making it very drinkable.
302 characters
3.62
/5
rDev
-5%
look: 3.5 | smell: 4 | taste: 3.5 | feel: 3.5 | overall: 3.5
The pour is a gratifying amber in color with a modest light tan head that is frothy in texture and as it fades away to nothingness the lace takes the form of a sealing blanket upon the glass. Nose is malt with light hints of hops, clean and crisp to the senses with the start sweet and nicely malt laden, the top basal. The finish is distinctively hopped and potently acidic, the aftertaste dry as the desert sand, a quite good session beer and well worth the try.
464 characters
4.19
/5
rDev
+10%
look: 3.5 | smell: 4.5 | taste: 4 | feel: 4 | overall: 4.5
This was another one of my great pickups from Tucson. Mogollon (pronounced "mug ee on" according to the bottle) brews 3 regular beers: a pale, and amber and a stout. I tried all three in Tucson and they were all excellent
This Pale Ale has a nose tantalizingly similar to Full Sail Pale Ale's—the appetizing balance of sweet malts and crisp, floral, citric hops. The slightly hazy, yellowy-orange body sports a pretty white that kept a skin of small-bubbled foam on top of the beer for a long time. As the hop aroma started to fade after a few minutes, the sweet freshness of the malts began to come through on a larger scale. This beer really smelled great.
The taste was equally appealing. The sweet, biscuity maltiness opened the flavor up wonderfully, leading into a juicy, bitter-ish finish that lingered between lightly citric hoppiness and sweet malt. Something in this beer put me quickly in the mind of Jenlain—it tasted like an orange pastry, only bitter.
Mogollon's Pale was quite similar to Full Sail's, from the nose and the appearance, through the flavor and into the finish. The aroma and aesthetics of the beer were most like Full Sail. The medium body, while well balanced and sweet, was more bitter but slightly less hoppy than Full Sail. The best feature of this beer was the fresh cracked malt character, which I'm sure fades as the beer ages. It's a shame really, because anyone that tries an older sample of this beer will likely find it no more than average. I loved mine—I could drink it all night.
1,543 characters
3.58
/5
rDev
-6%
look: 4 | smell: 3.5 | taste: 3.5 | feel: 3 | overall: 4
Copper color, small white foamy head. Aroma is citrusy. A medium bodied Pale Ale. Malts are nutty and sweet. Hops are bitter and grapefruity. Good balance. Mouthfeel is full and smooth. Finish is crisp and clean. Aftertaste is hoppy and slightly bitter
252 characters
3.65
/5
rDev
-4.2%
look: 3.5 | smell: 3.5 | taste: 4 | feel: 3 | overall: 3.5
Pours a light, honey gold in color with a few floaties suspended throughout. The thin off-white head fades rather quickly to a thin "cling ring" with a lone foam island left in the center of my glass. Aroma is grainy and malty. Citrusy hop notes linger in the background. Taste is pleasantly balanced. Malty sweet, with the citric hop bitterness coming into play around mid-glass. Dry finish. A decent tasting brew. Slightly grainy mouthfeel and on the lighter end of carbonation. Overall a nice, drinkable, slightly above average brew. Thanks Gusler.
551 characters

3.8
/5
rDev
-0.3%
look: 3.5 | smell: 3.5 | taste: 4 | feel: 3.5 | overall: 4
Smells hoppy, with a fruitiness to it. The taste of this beer has a clean fruitiness with a nice bitterness to back it up. An orange color, with a bit of chill haze. There is some citrusy flavors here from the hops. This is a strong example of a pale ale meant to be easy drinking with a good amount of flavor.
310 characters

4.25
/5
rDev
+11.5%
look: 4 | smell: 4 | taste: 4.5 | feel: 4.5 | overall: 4
A: Golden color, one-finger head with some lacing. Nice looking beer in the glass.
S: Malt and hops on the nose. Very nicely intermingled.
T: Hops win the wonderful battle with the malt, slightly (and I mean slightly) citrusy-hops aftertaste.
M: Very nice and smooth.
D: Super easy to drink.
Any time I am staying at http://www.shootingstarinn.com just north of Flagstaff, I stock up on my way through town.
413 characters
4.12
/5
rDev
+8.1%
look: 4 | smell: 4.5 | taste: 4 | feel: 4 | overall: 4
Some heads are two fingers, some three, etc, etc. Right now , I have a hand-plus. A delightfully billowy, rocky, just off-white, rising above the rim head is slowly braking down. leaving excellent lacing, and room in the glass for more beer. The body is a hazy gold-orange with some mild carbonation and some little yeasties floating around.
A delightfully fruity aroma of grapefruit, orange, with a little bit of pine. This would be formidable even for an IPA.
Taste starts off with a quick light malt foundation, which too quickly yields to rising walls of hops. It's good, but I wish the malt had put up a little more struggle.
Good mouthfeel. Good drikability.
This would make a well above average session beer. Nicely hoppy, but by no means an IPA. I heartily recommend a try if you have the opportunity.
824 characters

3.87
/5
rDev
+1.6%
look: 3 | smell: 3.5 | taste: 4 | feel: 3.5 | overall: 4.5
An interesting, less-common take on the APA style. Sure I could name off a few others who brew a Pale similar to this, but that's boring; I wanna entice you a bit, here. Pours a bright amber/dark gold in color, with a slight chill haze, and fairly clear but not brilliant. The nose offers only a mildly malty component to the bouquet, along with a hint herbal hop and an almost briney-astringency: I know what I'm in for! On the first sip a slightly sour (but still not-quite astringent), not exactly "off" taste stands out . . . vegetal, for sure. Some might easily be tempted to put this down to infection, but here it seems obviously intentional, and if not exactly a regional taste preference (I've detected a similar taste from others in this corner of the US) then it was certainly the intention of the guy that started this joint. Bitterness is restrained, positively mild by comparison to a good sampling of contemporary APAs and especially IPAs, although the former lean toward the latter more and more every day! Medium bodied and very well-balanced despite the overt hop bitterness/kick. There are definitely floral hop notes here, and they tend to blend well with the herbal, vegetal qualities of the malt that I noticed from the outset. I typically try to pair beers with food style whilst sampling and I can totally see this beer paring well with both zestier Southwestern cuisine and lighter fare. A nice beer!
1,425 characters
3.1
/5
rDev
-18.6%
look: 3.5 | smell: 3.5 | taste: 3 | feel: 2.5 | overall: 3
Color: a clear, bright apricot, with tiny, yeasty(?!?) travellers swimming hither and thither. Head: small, brief, white.
Aroma is soft amd swept clean, but slowly unfolds with malty tones of caramel and nuts. Faintly fruity, otherwise lacking in hops.
On palate, a bit sharp, at first, with a coppery twang. Eventually, hops assert themselves, but the mouthfeel was not a pleasant experience. The roughness I felt subsides some, and the pieces come together more in the middle. Still, the flavors compete a bit too much. Something about what I could only call a "dull, ringing aftertaste" spoiled this ale for me. Body is medium, texture good, but not a smooth ride, when that's what's called for with a pale ale.
Thanks to Gusler for the sample.
750 characters
Superstition Pale Ale from Mogollon Brewing Company
Beer rating:
3.81
out of
5
with
13
ratings