Mogollon Brewing Company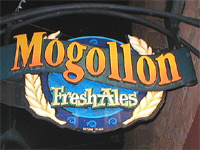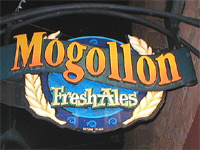 Brewery, Bar, Eatery
4366 Huntington Dr
Flagstaff
,
Arizona
, 86004-9400
United States
// CLOSED //
Notes:
Reviews by 2beerdogs:

2beerdogs from California
3.53
/5
rDev
-2.5%
vibe: 3.5 | quality: 4 | service: 3 | selection: 3.5 | food: 3.5
I love this place. A bit gritty, not polished, but great beers!!! This place has become the most consistent quality brewery in Flag. I love the happy hours prices, especially when they pour their Imperial Stout--hoowahh. My God that is fortified!!! The Horny Toad IPA, the Superstition Pale Ale, the Wapiti Amber, and the Apache Trout Stout are all GREAT BEERS!!! And if you are into whiskey, they distill their own now. But I heard recently that they might be closing or closed. Anybory with information about this, please post it, or email me thanks.
Jun 21, 2006
More User Reviews:

woodychandler from Pennsylvania
3.8
/5
rDev
+5%
vibe: 3.5 | quality: 4 | service: 3.5 | selection: 4
This place featured a long storefront window that had its entryway at about the centerline. Entering, off to the right was the high, "L"-shaped, laminated wood bar with logs as its front. If I had complained about short stools at other places, here they were constructed of logs of laminated blonde wood that made me feel as though I had to be boosted up into one. Off to the left of the entry were a foosball table and more laminated high tables and chairs constructed of logs and rough-hewn wood. Continuing aft, I found the lavatories, followed by a pool table and behind glass, a copper-jacketed distilling system as well as several FVs. They also had a stage for live music. I really dug their anodized aluminum tap handles that they used for their house beers, although they had some guest taps and a cooler of bottles. The bartender was a take-no-crap sparkplug named Becky and my seatmate was a regular named Randall Kennedy.
Beers: Wapiti (Elk) Amber Ale; Superstition (Mountains) Pale Ale; Woody (!) Mountain Porter 5.5%; Hefe-Weizen Wheat 5.9%; Horny Toad IPA 7.9%; and Donnybrook Irish Stout on N2 6.0%.
Jun 10, 2008
xymyl from Arizona
3
/5
rDev
-17.1%
vibe: 3 | quality: 3 | service: 3 | selection: 3
I like the Mogollon beers. They aren't all to style, but they are good. Some of the beers are spot on, then some don't seem even remotly related to the style they claim. This brewery would be much better off if they tried to never make anything other than the house styles they've developed.
Example of not hitting style: Donneybrook Irish Stout. It's a good stout. I drank it and gladly! However, it isn't Irish, and it isn't dry.
There truly is a distinct quality to each of these beers that, if I ever tasted them blind, I'd be shocked if I missed that it was Mogollon. And that's not a bad thing.
Mar 18, 2007
kdoc8 from Oregon
3.61
/5
rDev
-0.3%
vibe: 2 | quality: 4 | service: 4 | selection: 3.5
While I have to admit their beers were the best (in my opinion only) in Flagstaff, I was kind of disappointed in the atmosphere of Mogollon. This might have just been my expectations and hunger thinking, though, because it would be a fun place to go drinking with your buddies and see some live music. I was really just after a hot meal and some quiet beers. So, it was more of a bar than a brew pub, though they did have some food that I didn't try. There were also a lot of drunk and loud people there for 7pm on a Tuesday. But, it was snowing, so cause for celebration.
Mar 13, 2007

BeerAmbassador from Arizona
2.96
/5
rDev
-18.2%
vibe: 4 | quality: 2.5 | service: 3 | selection: 3
Of the three Breweries in Flagstaff I am always least impressed with Mogollon's beer. That's not to say that it is terrible, just that when I go there I tend to stay away from their beer and buy something from a guest tap. Their IPA is way too bitter with no balance whatsoever. When I got a chance to speak to the owner, he bragged about the nearly 100 IBU's but the fact is, it really doesn't taste very good, and I really enjoy hoppy beers. The one beer there that is worth trying is the Donny Brook Irish stout. It is a nicely balanced dry Irish stout that is fairly drinkable as a session beer. So to sum it all up, I like Mogollon as a hang out, just not for their beer.
May 27, 2006

brewandbbq from New Hampshire
3.86
/5
rDev
+6.6%
vibe: 4 | quality: 4 | service: 4 | selection: 3.5
Mogollon is stumbling distance from Flagstaff brewing, Beaver Street, and Pay and Take, and probably the best bargain amongst.
A rustic, wooden interior boasts an authentic Flagstaff atmosphere.
Bars on the right, tables on left, pools out back.
Check out the incredibly beautiful copper still, complete with a photo album made from the crate it came in.
Some of the patrons appear to have been there most of the day, and this is not a tourist trap.
Definately a mix of locals stream in and out, matted hair aplenty, with occasional hand-offs.
There were only 4 on tap upon last visit, 2 were out.
Football night brought $1 drafts of a mediocre white beer.
Bartender was helpfull and seemed very surprised with her $1 tip for the $1 draft.. Ya, I'm a big spender, baby.
Mogollon, a real institution.
Dec 27, 2005
altarego from Maryland
3.93
/5
rDev
+8.6%
vibe: 4.5 | quality: 4 | service: 4 | selection: 3.5
Mogollon has changed since I lived in Flag. It used to be as hippy-dippy as Flag Brew but it's managed to settle into lecherous old man meets college co-ed territory and that's something I like.
The beers are good. Not GREAT, but good. Well worth the money you're spending which is far less than you are at the other joints of this type in town. The Vermont trust-funders are at Flag brew and here you've got old men who know beer and all the young punks who've just gotten their student loan and want to drink something other than the 40s of Mickey's they've been swilling all Summer. It's a good joint. If there's music happening it's good even if it's not your thing and you're close to the new Joe's if you just can't stand the vibe.
They have a number of tasty micros on tap even though they obviously don't do the best job of sanitizing their fermenters after a wheat brew (banana esters abound in their beers at times.)
My favorite brew joint in Flag, up from the number two spot.
Mar 28, 2004
beerguy101 from California
4.41
/5
rDev
+21.8%
vibe: 4 | quality: 4 | service: 5 | selection: 4.5
Mogollon Brewing is one of the three-brewpubs/beer bars in Flagstaff. It always strikes me as a little weird because all three are within 4-5 blocks of the other. Mogollon is as close to a biker bar/beer pub I have ever been to. It has the peanut shells on the floor and has a rough and tumble feel about the place. The brewery stuff is sort of out in the open, there is no glass wall separating the brewery from the bar. This is the place that the "locals" hang out. They don't serve food, and a sampler tray of 7 beers was $5. They have live music nearly every night. The service the afternoon I was there was outstanding. The goth bartender saw me standing around outside waiting for them to open and let me in 20 minutes early. I always seem to feel more and home in the dive bars than in the upscale places and this one is a great dive bar.
Aug 25, 2003
ecoboy from Rhode Island
4.16
/5
rDev
+14.9%
vibe: 4 | quality: 4.5 | service: 4 | selection: 4
This place gets a qualified hurrah from me. The qualifyer? You'd best want a saloon experience when you walk in.
This is a saloon, pure and simple. Dropped in on a Saturday afternoon and a Sunday night, and the "dark in the daytime" feel permeated the place. This is a bad-ass integrity earned all on its own, not a commercial representation of a western version of a dot-dot-dot. It made me feel like maybe I shouldn't be drinking so early in the day. No coasters. The TV was steadfastly off. There are a decent number of "ne'r-do-wells" at the bar with far away looks. This is not a criticism. This made the place feel like the real thing.
The brewery and ingredients, and even the shipping door for the brewery are all out back. There's a stage for live music.
The IPA had a nice chewy bite and a long dry finish. A nice straight-ahead pale was on tap, too. The bartenders were both ready-to-serve without being surly, even as there was some sort of "toughness" going on. Maybe I haven't been on the back of a Harley enough or drunk beer for breakfast enough. I was really impressed by this rough and tumble place that makes such good beer.
May 08, 2003
Mogollon Brewing Company in Flagstaff, AZ
Brewery rating:
0
out of
5
with
0
ratings