Hops & Barley Hausbrauerei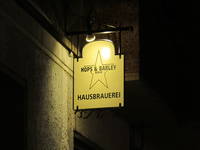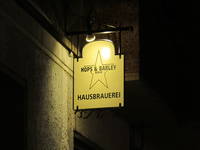 Brewery, Bar, Eatery, Beer-to-go
Wühlischstraße 22-23
Berlin
, 10245
Germany
+49 30 29367534 |
map
hopsandbarley-berlin.de
Notes:
Reviews by Beervana:

More User Reviews:
dgilks from Australia
3.46
/5
rDev
-7.7%
vibe: 3.75 | quality: 3.5 | service: 3.5 | selection: 3.25
Jul 09, 2015
dasEbb from Germany
3.93
/5
rDev
+4.8%
vibe: 4.25 | quality: 3.75 | service: 4.25 | selection: 3.75 | food: 3.75
Apr 17, 2015
BlackHaddock from England
2.98
/5
rDev
-20.5%
vibe: 2.25 | quality: 3 | service: 3.5 | selection: 2.75
I have to say we were a bit disappointed with Hops & Barley. Four of us, led by me came here on Monday 20th Jan 2014. It was very cold outside and we expected a warm, cosy brewpub: it's not like that.
The front room with it's minute brew plant and bar area is cold looking and boring, the drab tiles and colour scheme not helping to make you feel welcome. No pictures or posters adorn the walls, it's all very, very basic.
The beers were OK, four different ones on offer, staff friendly enough and unintrusive. It was early when we arrived and began to fill up a little as darkness fell.
We just found it a bit soleless to be honest.
Feb 06, 2014
Goldorak from Canada (QC)
3.69
/5
rDev
-1.6%
vibe: 3.75 | quality: 4 | service: 3.25 | selection: 3.75
Friedrichshain was my favorite neighborhood in Berlin. A little artsy, a little gritty, young and lively. That's where we found hops&barley. The first thing you notice when you walk in is the tiny (one barrel?) Brewing system. Cute! The rest of the decor is weird, ugly tiles on the wall and dizzying patterns on the floor. The smoking section in the back was way too smokey for me, so we hung out in front. 4-5 taps, with a seasonal which was a citra ale, which was excellent. The weissbier was a little too light for me, the pils was crisp and fresh and the cider(yeah, they make their own!)was fizzy and easy to drink. Service was okay, the waiter didn't seem to know the brewing process too well or wasn't interested in practicing his English with us. But he was quick with the beers. Good prices. This pub is a bit off the beaten path, but is worth checking out, just like the rest of this area.
Sep 30, 2013
howison from Turkey
4.43
/5
rDev
+18.1%
vibe: 5 | quality: 4.5 | service: 4.5 | selection: 4
This is a great neighborhood brew pub - perhaps the only one - in Berlin. Small tables up front, if you are lucky enough to find one, but also a large banquet room in the back with ample seating. The brown ale was good, the hefeweizen was even better, and the pilsner was a gem. Unlike many of the bland pilsner beers - German or otherwise - this one was complex and earthy with a smooth grain aftertaste. Outstanding. The big old dog on the floor added to the good vibe of this place. Highly recommended; required for beer enthusiasts visiting or living in Berlin.
Nov 16, 2011
Ruds from England
4.13
/5
rDev
+10.1%
vibe: 3.5 | quality: 4 | service: 4.5 | selection: 4 | food: 4.5
Visited H&B early on a Monday night, so fairly quiet, but still a few people in (and the house dog who was a lovely old fella!)
All house beers were 'decent' enough and we sampled Dunkels and Pils (and ...) the Cider
not a cider person but the landlord insisted we sampled it (as it was made from English apples) and it was really good, so much so we purchased a 2 litre take out to drink on the way to the airport :P
The food we had was very good indeed, rustic cheeses, meat and bread and great vfm !
They also have accomodation upstairs which seems really reasonable price wise (self catering)
Oct 22, 2011
calibrewfan from Louisiana
4.3
/5
rDev
+14.7%
vibe: 4 | quality: 4.5 | service: 4 | selection: 4.5
We visited Hops & Barley in December 2010. We actually went there twice on our visit. The beers were great, especially the seasonal which was an Altbier. They also had a dunkel that was good. For those that prefer 'other', they do have a cider on draft as well. The place has a real neighborhood feel and it's a bit punk rock. We talked a lot with the guy working there and we do not speak much Geman! Really great beer and they sell t-shirts. In terms of all the hausbrauerie's we went to in Berlin, this one had the best beer. Cheers!
Jan 03, 2011
lstokes from Illinois
3.36
/5
rDev
-10.4%
vibe: 3.5 | quality: 3.5 | service: 3 | selection: 3.5
Went twice in May 2010, and my impressions are, as always, those of a spoiled American who misses her home country's brewpubs. I speak fluent German but still found the service here slightly crankier than usual, and the beers are all solid-not-spectacular efforts (I've had the weizen, the pilsner, and the schwarzbier), but the rotating specials are maybe not as creative as Brewbaker's offerings.
Seems like it could be a nice place to watch Tatort though, and the beers are tasty and fresh, the cider is supposedly really good, and overall it offers something different from the regular mass market pilsner lineup. Worth a visit if you're in Friedrichshain already but I wouldn't go out of my way.
May 31, 2010
mjsaarin from Finland
3.43
/5
rDev
-8.5%
vibe: 4 | quality: 3.5 | service: 3 | selection: 3.5
The first time I visisited this place was in February 2009. Now, I revisited it in Februrary 2010. Both visits were enjoyable. Their pils was and is good, They have always a seasonal tap and it seems they are not afraid to try some new things. Service has been friendly and the staff is willing to speak with you and show the places, even the brewery. It helps a lot if you know at least some German. They have some snacks available but I haven't tried those. The place may get a bit noisy when they show Bundesliga games.
Feb 20, 2010
Hops & Barley Hausbrauerei in Berlin, Germany
Brewery rating:
3.64
out of
5
with
23
ratings