Rorie's Ale
| Odonata Beer Company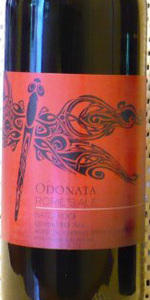 BEER INFO
Brewed by:
Odonata Beer Company
California
,
United States
Style:
Quadrupel (Quad)
Alcohol by volume (ABV):
10.20%
Availability:
Limited (brewed once)
Notes / Commercial Description:
No notes at this time.
Added by BeerAdvocate on 02-07-2010
This beer is retired; no longer brewed.
Reviews: 15 | Ratings: 26

4.38
/5
rDev
+2.6%
look: 4.5 | smell: 4 | taste: 4.5 | feel: 4.5 | overall: 4.5
Thanks to chswimmer and ipa247 for sharing bottles of this at various tastings. Batch 1.
Rorie's Ale pours a crimson hue, dark but showing good clarity and color. It's topped by a small slightly off-white head that settles to a thin collar.
The aroma is fruity, slightly tart, with a ripe berry-like sweetness and some spicy, estery notes from the yeast. Faintly mineral, and quite vinous as it warms, almost like a good port or a sweet, full-bodied red wine.
Simultaneously sweet and tart on the palate, the cherries are evident but balanced by a vinous and tannic character from the barrel. The balance is outstanding. There's a little chocolate and black pepper mid-palate, hints of figs, port wine, something faintly mineral or metallic. Medium-full in body, there's a moderate level of carbonation that keeps the mouthfeel lively without blurring any flavors. The finish is more tart than sweet, slightly drying and tannic, a bit peppery.
★
946 characters

4.17
/5
rDev
-2.3%
look: 4 | smell: 4.5 | taste: 4 | feel: 4.5 | overall: 4
A huge thanks to ipa247 for opening this beer at Pliny the Younger release day (2/5/10).
A: The pour is a muddy dark mahogany color with a fluffy off-white head.
S: The nose has a nice mixture of sour dark fruits to it, but the main ones I could discern were cherries, raisins, and perhaps some cranberries. The sweet caramel and toffee malt flavors were present as well, along with the usual yeastiness.
T: I had high hopes after giving this one a sniff, but found the flavors to be a bit less impressive. The tartness was very slight, with the usual caramel, toffee, and fruity sweetness of a Quad taking over. There was some light oak and yeast on the palate as well.
M: The beer felt nice and full on the tongue, but this was probably aided by the high level of carbonation.
D: The alcohol was fairly well hidden and I enjoyed the nice sweet fruit flavors this one provided. I was hoping that it would be tart (due to the nose), so perhaps I was a little let down.
★
973 characters

4.38
/5
rDev
+2.6%
look: 4.5 | smell: 4 | taste: 4.5 | feel: 4.5 | overall: 4.5
Thanks to Craig for contributing this late addition to our mega-tasting. Served in a tasting snifter.
A - Pours with a finger of foam that settles to a thin collar and leaves a few spots of lace. The body is a very attractive transparent blood orange color with a nice glow to it.
S - Dark and vinous fruits, cherries, oak, port wine. There's some slight alcohol spice to it as well.
T - The taste is a marked step up compared to the nose. No alcohol to be found, and loads of tart cherry, dark fruits, standard quad sugary malt character, vinous notes, and a lightly tannic finish. A well-balanced and tightly integrated collection of flavors.
M - Medium-full body, and light dry tannic finish, and a sticky fruity residual texture. Carbonation is sufficient to keep things from being syrupy or cloying.
D - I liked this better than Lust, which also contained some similar characteristics. I'd love to have it again, but I get the sense there wasn't much made.
★
966 characters
4.1
/5
rDev
-4%
look: 4 | smell: 4 | taste: 4 | feel: 4 | overall: 4.5
Batch #1 provided by my good friend Ditmier.... Thanks a ton Eric.. I know I never would have enjoyed this without you...
The brew pours with a yellowish head atop a lite hazed amber brew... okay retention with good lacing.
Nose is rich with some brown sugar and vanilla.. I get a bit of cinnamon.. dark cherry essence is pretty pronounced.... Belgian BSD qualities are there for sure, but seem a tad muted and not well defined.
Flavor shows some cherry up front... tart/tannic fruit and some background caramel and toasty malt.. semi sweet and earthy... a bit vinous on latter pours.... tawny port and sherry... very complex.. although, not exactly what I was expecting.. sorta tart throughout... the cherry sometimes gets a bit antiseptic with warmth..
Negatives on the flavor are the absence of a pronounced base beer, especially given it is a Quad.... but really, it is a minor complaint on such a rich brew.
Medium body for the style... carbonation may be a touch too much.... Thanks for holding this one Eric... You are good people.
4/4/4/4/4.5
Edit.. The label art is beautiful.. Brenda has a thing for dragonflies and she noticed it immediately... Very pretty.
★
1,176 characters

4.05
/5
rDev
-5.2%
look: 4 | smell: 4 | taste: 4 | feel: 4.5 | overall: 4
2/20/2010
Batch 001. Pours tried from two separate bottles at Woodshop 5.0 courtesy of illidurit and jhenry04. Thanks! The beer appears red tinged brown with a small white head.
The nose is of caramel malt and oak, with notes of ripe grapes and sweet cherries. Alcohol is noticeable, but it's faint beneath the fruit. There's a touch of tartness, but the sweetness is most notable.
The flavor exhibits a light tartness with a bready and caramel malt base. Cherry is light, but the fruit impression is more of a general vinous character. The beer is moderately sweet and oak is perceivable midpalate. The finish is sweet and slightly tart with some astringency. Alcohol is well hidden. The mouthfeel is full and carbonation is at a lower moderate level. This was an interesting beer that I'm glad I was finally able to try.
★
826 characters
4.49
/5
rDev
+5.2%
look: 4 | smell: 5 | taste: 4.5 | feel: 4.5 | overall: 4
Big ups to Josh for sharing this rarity...
Appears a crimson toned dark brown with a small head of off white fluff that fizzles into a thick collar. Spotty bits of lacing are left around the glass.
Smell is of bretty funk and cherry up front with vanilla, red wine, caramel, cranberries, and cream all over the place. Invigorating!
Taste is of the aromas with standout toasted grains, tart cherries, caramel, cocoa, vanilla, and port wine.
Mouthfeel is full bodied, coating, and sweet-tart in the finish.
Great brew!
★
517 characters

4.35
/5
rDev
+1.9%
look: 4 | smell: 4 | taste: 4.5 | feel: 4.5 | overall: 4.5
Great ruby pour with a pinkish ecru head that leaves a smattering of wet lace. Aroma is very winey, lots of jamminess and berries along with the expected black cherry notes. Some oak and light alcohol as well. Flavor is fruity red wine atop a bed of caramel and maple syrup maltiness from the quad. The cherry notes are a bit hidden behind the forward wine character. Light tartness, lots of complexity. Finish is a bit astringent from the wine. Mouthfeel is full and satisfying, carbonation is rather perfect.
★
510 characters
4.32
/5
rDev
+1.2%
look: 4 | smell: 4.5 | taste: 4.5 | feel: 4 | overall: 4
What an honor to try this beer. Provided by the one and only daknole!
A: Pours a deep brownish amber hue with a small tan colored head. Light retention and lace.
S: Aromas of cherry both tart and sweet, caramel malt, toffee, and oak. Subtle spice going on with light vanilla as well.
T: Flavor of chocolate covered cherries. Oak and vanilla are there as well. Light red wine seems to mingle with dark fruit. A really tasty brew.
M: On the fuller side of medium in body, smooth, a great sipper.
D: Very good. One worth seeking out for sure. Thanks Dak, for the chance to try this one.
★
588 characters

4
/5
rDev
-6.3%
look: 4 | smell: 4 | taste: 4 | feel: 4 | overall: 4
MI Mega Tasting III, 750ml bottle into RBSG 2010 snifter.
A - Pours a reddish/brown, small cream-colored head, thin ring.
S - Dark fruity sweetness, some vinous notes, oak, cherries, and caramel. More sweetness then anything, but still has a lot going on.
T - Dark fruits, oak, caramel, cabernet-esk tartness. The sweetness is right there up front while the slight tart and oak notes follow later after the initial sip.
M - Medium, light carbonation, semi-dry finish.
D - A solid quad and very enjoyable. The sweetness and slight tart notes were a nice mix. I would love to have again sometime in the future, but this one is tough to come by.
★
648 characters

4.1
/5
rDev
-4%
look: 4 | smell: 4 | taste: 4 | feel: 4 | overall: 4.5
Wow, can't believe I finally got to try this extreme rarity. Bottle very generously shared by ipa247 on BA up in Santa Rosa. Big thanks to Jeff for this one.
Pours a cloudy reddish-brown color with a nice off white head and some lacing.
Excellent aroma - sour raspberries and cherries, sweet malts, and vinous notes.
Flavor is actually somewhat sweet, not as tart as I expected although the tartness is definitely there. Very fruity and vinous with lots of raspberry and cherry, sweel caramel malts and toffee, barrel notes, and a little belgian yeast.
Medium full body with a nice mouthfeel and average carbonation. Not too much acidity.
Extremely drinkable for the ABV. Overall this wasn't quite as mind-blowingly amazing as I expected given the RateBeer hype, but is a very good beer, one I would definitely want to try again.
★
834 characters
3.92
/5
rDev
-8.2%
look: 4 | smell: 4.5 | taste: 3.5 | feel: 4 | overall: 4
This beer was from a friend in California. It pours a murky brown color with hints of red around the edges. Not much head nor lacing on the glass. The aroma has a definite hint of cherries with a stronger sour note. Also has some oak, alcohol, and caramel. Interesting. The flavor is quite sour and the cherries are more pronounced than expected. The caramel malt and the fruity sweetness are a bit too pronounced as well, but this is still a tasty beer. I find this typical of quads. A lot of complexity. The mouthfeel is medium/full due to the large amount of residual sweetness. The drinkability is pretty good for a beer with so much alcohol in it, but the sweetness takes away a bit.
★
688 characters
4.1
/5
rDev
-4%
look: 4 | smell: 4 | taste: 4 | feel: 4 | overall: 4.5
Batch 1.1 tasting from October 3, 2009. The first batch actually poured in May at West Coast Beer Fest.
A - Poured brwon with 3 fingers of foamy mocha head. Dissipated moderately and left nice lacing.
S - Sour cherries, tons of sweet caramel, and bittersweet chocolate. Hops not detectable in smell.
T - Sour cherry, roasted caramel, bittersweet chocolate, and bittering hops. Very little belgian funk in there. Very sweet.
M - Full-bodied, malt dominated, sweet, and light alcohol.
D - Overall, very good. Would have enjoyed more of the funktified yeast flavor tho.
★
571 characters

4.55
/5
rDev
+6.6%
look: 4.5 | smell: 4.5 | taste: 4.5 | feel: 5 | overall: 4.5
This is a limited (small)-release beer (74 cases of 750 ml bottles brewed; released 9/2009). Pours a semi-translucent reddish brown, with a slight head that resolves quickly into a thin layer of foam, leaving some lacing on the glass. My first Irish Setter dog was named Rory, so the name of this beer has some significance for me.
Smells of malt, brown sugar, sour fruit, dark Christmas pudding flavors, with raisins, cherries, citron, balanced by ample roasted malt, notes of wet hay and wet horseblanket.
Uncommon taste of preserved Morello cherries, specifically French griottes, which I love and seek out every time I get to France. A lollipop cherry intensity but not too sweet. Roasted and sweet malt flavors, with just a little funk, along with caramel and spices (a bit of cinnamon, clove, a tad of ginger). Sweet and sour tastes make this a highly complex, highly enjoyable beer.
Mouthfeel is light, with fine, subtle carbonation. Gives the palate some exercise--I have sweet on the left of the tongue and sour on the right going on, and some peppery, malty, hoppy bitterness down the middle.
This is very drinkable, with 10.2 % ABV, you need to take your time to appreciate. But it rocked me with a sublime experience. Looking forward to more from these guys.
★
1,274 characters
4.37
/5
rDev
+2.3%
look: 4 | smell: 4.5 | taste: 4.5 | feel: 4.5 | overall: 4
75cl bottle thanks to illidurit, and a well earned thanks for bringing this gem to the tasting back in December. Hazy red with a medium beige head. Awesomely complex aroma of tart cherries, oak, lots of red wine, caramel-sweet malt and candied fruits. The flavor is a nearly sublime mix of red wine and strong dark belgian ale laced with tart cherries. Sweet dried fruit blends with cherry, oak, and wine, starting with a rich malty sweetness and ending with a light tartness and oaky tanic bite. Creamy carbonation with a medium-full body and light astringency. I'm a little sad that I was not tipped of to this great beer when it was available at the local beer store, but I am definitely looking forward to Odonata's full line of barrel-aged beers.
★
751 characters
4.82
/5
rDev
+12.9%
look: 4.5 | smell: 5 | taste: 5 | feel: 4.5 | overall: 4.5
750ml bottle from City Beer Store in San Francisco. Poured into North Coast snifter. Pours a murky deep red, strong long-lasting tan head, excellent lacing. Aroma is mildly tart up front of sour cherries and dark fruit, vanilla, caramel, a hint of toffee, and rich with oak. A beautiful medley of so many different smells coming together and working so beautifully with each other. Body is medium-heavy. Taste is mildly tart and fruity at first, dark Belgian sugars in the mix, burnt, oak, caramel, vanilla, toffee (everything very similar to its aroma), a hint of citrusy grapes pulls through near the finish, as well as that "tawny" port flavor. Absolutely incredible.
★
670 characters
Rorie's Ale from Odonata Beer Company
4.27
out of
5
based on
26
ratings.