Saison (Draft)
| Odonata Beer Company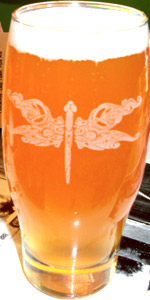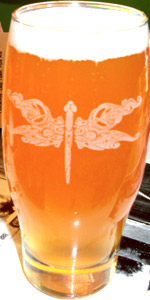 BEER INFO
Brewed by:
Odonata Beer Company
California
,
United States
Style:
Saison / Farmhouse Ale
Alcohol by volume (ABV):
5.70%
Availability:
Year-round
Notes / Commercial Description:
No notes at this time.
Added by illidurit on 03-09-2010
This beer is retired; no longer brewed.
HISTOGRAM
Ratings: 11 | Reviews: 8
Reviews by bulletrain76:
4.33
/5
rDev
-1.8%
look: 4.5 | smell: 4 | taste: 4 | feel: 5 | overall: 5
Draught at Vino Cruz. This batch came to 6%abv, but future batches will be targeting 5.7%abv. In addition to this, the draft version differs from the bottles in that it uses a pale ale base malt, while the bottles use a mix of pilsener malt and munich malt in order to arrive at the same color, which is incidentally a glowing orange with a light haze. This is all topped by a persistent white head of creamy texture that leaves light lacing. Big, fruity aroma with a blast of pineapple and tropical fruit. There is also a nice hop character that is spicy and earthy, but melds well with the yeast profile and isn't too obvious on its own. Malt plays the last string in the aroma, but provides a nice sweet bready base for the yeast and hops. The flavor is a nice mix of juicy topical fruit and candied bready malt up front that quickly gives way to an almost bone dry finish that is made more apparent by the ample carbonation. Lightly peppery, but a lot of fruit character that dominates the profile. Lovely pineapple and mango notes. This batch finished at a very respectively (for the style) low gravity of 1.006, but the relatively high percentage of oats in the grist gives it a great creamy texture that allows it to be both refreshing and mouth-filling. Carbonation is about as lively as you get get out of a draught system, which compliments it perfectly. Almost like getting fresh, hoppy Dupont on draught, though this is obviously a slight rethinking of that beers classic theme.
1,490 characters
More User Reviews:
4.5
/5
rDev
+2%
look: 4.5 | smell: 4.5 | taste: 4.5 | feel: 4.5 | overall: 4.5
Enjoyed this beer on tap at extreme Pizza on Expo.
A- Tasty looking beer, nice hazy straw yellow color to the beer, tight head of white 1 finger head that stays around a while. Not a ton of lacing.
S- Sweet malt and white peppercorn dominate the aroma.
T - Follows the aroma. This is a rather sweet and malty beer with just the right amount of bitterness and spiciness to finish off the flavor. Lots of white peppercorn.
M- Lots of yeasty body to this beer. Very light on the tongue, easy to drink. Spicy flavors leave the mouth dry.
O- Maybe the best Sasion I have ever had, wonderful beer.
599 characters
4.69
/5
rDev
+6.3%
look: 4 | smell: 5 | taste: 4.5 | feel: 4.5 | overall: 5
Sacramento has a relatively new name in Belgian-Style Ales. Odonata Beer Co. has been producing some choice beers recently and now I have the pleasure of reviewing one of them and being part of something that I think has a bright and prosperous future. With the unexpected close up of Sacramento Brewing Company, head brewmaster Peter Hoey and partner Rick Sellers formed Odonata Beer Co. in 2009. In the past I have had the opportunity to sample the Odonata Water Witch Belgian Strong Ale. That brew alone got me hooked and needless to say I was stoked to be one of the first to try the Saison.
The Odonata take on the style is first of all really good. Coming in at 6.4% abv, the beer packs a mild punch and fits well in the Saison flavor spectrum. The aroma is mildly sweet and the initial sip is as well. However, after that the flavor get much more complex. This is a hoppy take on a Saison without a doubt. The malt is not heavy and somewhat drier then I would have expected. In an effort to be constructive here, I would say that the yeast (Dupont yeast to be exact) is being outshone by the hops. Saisons, in my experience and opinion, are a showcase for the yeast. In reality though, I actually enjoy this rendition because of its use of hops. I feel that any ale made in California should be a little heavy handed with hops... This beer can be summed up in one word in my opinion, rustic! It has an earthy and rustic taste that is unique and awesome. I am really looking forward to the bottle version of this beer. I think the bottle conditioning will create some flavors from the yeast that are missing from the tap version.
Check out some pics and more words at http://sacbeerlog.blogspot.com
1,706 characters

3.95
/5
rDev
-10.4%
look: 4 | smell: 4 | taste: 4 | feel: 3.5 | overall: 4
A: The pour is a pale amber/copper color with a short lived white head.
S: There is quite a bit of yeastiness going on here. A nice spice of coriander and pepper with some sweet malt and a hint of fruit (pears and sweet apples).
T: There is a surprising bitterness that I was not quite expecting from the aroma. Still, a bit of sweetness and some fruit and honey flavors. The spice is there, but not quite as pronounced as in the nose.
M: This beer is very highly carbonated which detracts from the mouthfeel and flavor. The body is fine (medium), with a bitter finish.
D: The flavors didn't quite match up with the nose, but that isn't really a problem. I just did not really enjoy the mouthfeel on this beer.
714 characters
4.43
/5
rDev
+0.5%
look: 4.5 | smell: 4 | taste: 4.5 | feel: 5 | overall: 4.5
It's foggy and honey-coloured, with a fluffy white head that dissipates pretty quickly. It has a faint, dusty smell. It feels great, syrupy and gentle, really soft in the mouth. It's almost a little chewy, if that makes sense. It tastes sweet (but not sugary) and lemony. The aftertaste is lovely - it really fills up your whole mouth and is almost slightly peppery. Overall it's delicious, and I like how complex it is. Drinking it was very enjoyable, and I had a lot of different thoughts and impressions.
507 characters

4.59
/5
rDev
+4.1%
look: 4 | smell: 5 | taste: 4.5 | feel: 4.5 | overall: 4.5
Having this on tap at Pangaea.
A - pours a cloudy orange, with a small white head. Wish the head was stronger and laced in this, hopefully the bottles will.
S - Oh boy, citrusy, like freshly sliced pineapple. Such a very strong aroma, and the wiff ends with complex malts and some wheat.
T - this beer is very flavorful. Starts off with the yeast, coating your mouth, filling it with fruity esters. Pineapple, apple, orange. Very complex. As it warms up, more of the malt comes through, slight hop finish.
m - slightly thin, could use more bubbles for a saison. However, the yeast is very active, and completely attacks the flavor receptors.
D - at 6.4% abv, this beer hits the spot. Very complex, new flavors popping up. Very good.
737 characters

4.45
/5
rDev
+0.9%
look: 4.5 | smell: 4.5 | taste: 4 | feel: 5 | overall: 5
I tried this one a couple days after trying the bottled version, and, while I'd give a slight edge to the bottle, this is an excellent saison, as well. The beer looks quite similar, perhaps a touch paler shade of yellow but with the same great white head. The aroma seemed spicier (peppercorns) and yeastier. The bottle has a bigger malt note that's fresh, clean and wonderful, and therein lies my preference. The draft version has some of the same malt flavor, but it's a bit muted by the yeast. The yeast also seems to have made this version drier in the taste department. The hop bite is a touch more noticeable with some citric bitterness. This is a lighter, even more refreshing beer, but it sacrifices some depth of flavor. I mean that as a very gentle criticism because they're both excellent beers.
806 characters
4.09
/5
rDev
-7.3%
look: 4.5 | smell: 3 | taste: 5 | feel: 3 | overall: 4
Odonata saison
5 October 2010
Appearance-warm mead coloring. Poured into goblet with a nice white head that dissipated but left walls of lace. Not very lively.
4.5
S-apples, hay, alcohol, slightly metallic 3
Taste- intense but with a smooth finish. Unlike other saisons but not in a bad way, more in a unique way. This really takes a cidery stance and maintains the style. Feels like it was made on the farm. 5
M- small bubbles. Just okay. 3
Drinkability- 4
462 characters
Saison (Draft) from Odonata Beer Company
Beer rating:
4.41
out of
5
with
11
ratings