Dismiss Notice
Dismiss Notice
Jukebox-Hero
| Revolution Brewing Company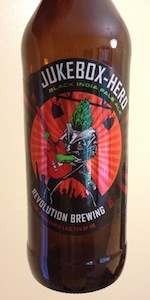 BEER INFO
Brewed by:
Revolution Brewing Company
Illinois
,
United States
|
website
Style:
American Black Ale
Alcohol by volume (ABV):
7.50%
Availability:
Winter
Notes / Commercial Description:
Our black IPA is bursting with crisp, clean bitterness and layers of wonderful American hop character. Pale Ale, Munich and Naked Golden Oats give a toasty malt backbone with a smooth mouthfeel. The dark ominous color comes from the Chocolate Malt and the de-husked highly roasted malt. We want the layers of hops to shine against this roasty malt backdrop. Warrior, Citra, Chinook, Centennial and Amarillo lend bitterness as well as a wonderful cornucopia of aromas and flavors of fresh citrus fruit, pine, fresh cut mint and fresh flowers they offer.
75 IBU
Added by Jaycase on 02-28-2014
Reviews: 36 | Ratings: 317
4.12
/5
rDev
+2.7%
look: 4 | smell: 4.5 | taste: 4 | feel: 4 | overall: 4
22 ounce bottle into tulip glass, no bottle dating. Pours crystal clear very dark reddish brown color with a 2 finger dense light khaki head with good retention, that reduces to a small cap that lingers. Spotty soapy lacing clings around the glass. Aromas of big tangerine, grapefruit, pineapple, papaya, lemon zest, orange peel, floral, grass, light pine, toast, light chocolate, and floral/grassy earthiness. Fantastic aromas with great complexity of juicy citrus/tropical hops with a light roasted malt presence; with great strength. Taste of big tangerine, grapefruit, pineapple, papaya, lemon zest, orange peel, floral, grass, light pine, toast, chocolate, cocoa, roasted malt, and floral/grassy earthiness. Fair amount of floral/pine bitterness on the finish; with lingering notes of tangerine, grapefruit, pineapple, papaya, lemon zest, orange peel, floral, grass, light pine, toast, chocolate, cocoa, roast, and floral/toasted earthiness on the finish for a good bit. Damn nice complexity of juicy citrus/tropical hops with moderate roasted malt balance; with a great malt/bitterness balance and zero cloying flavors after the finish. Medium carbonation and body; with a smooth, crisp, moderately sticky, and slightly chalky mouthfeel that is nice. Alcohol is well hidden with only a slight warming present after the finish. Overall this is an excellent black IPA. All around great complexity of juicy citrus/tropical hops and moderate roasted malt balance; and very smooth to sip on. A very enjoyable offering.
★
1,519 characters

3.53
/5
rDev
-12%
look: 4 | smell: 3.5 | taste: 3.5 | feel: 3.5 | overall: 3.5
Served in a tulip pint glass at Beelow's.
Had some time to kill between flicks, so I figured I'd grab a pint or two at Beelow's, starting with this one. It pours a deep midnight garnet topped by a finger of wan slate foam. The nose comprises pine resin, blackened pretzels, and a touch of dark chocolate syrup. The taste opens with a gush of pine resin, pine needles, and a hint of grapefruit peel. This is then followed by a comparatively mild (very mild, in fact) wave of pretzel, chocolate malt, and char. Surprisingly, especially given those descriptors, the combination is fairly pleasant, if decidedly unbalanced. The body is a lithe medium, with a light moderated carbonation and a sorta/kinda drying finish. Overall, not a bad quaff, too unbalanced to be a great black IPA, but something in the category I may actually want to have again.
★
847 characters

4.16
/5
rDev
+3.7%
look: 4 | smell: 4.25 | taste: 4.25 | feel: 4 | overall: 4
A dark brown / black in color with 2 fingers of head, slow dissipation and great lacing. Smells of roasted grains, coffee, and tangy citrus/pine coming from the hops. The flavor is nicely balanced.. A lot of grapefruit from the hops, as Chocolatey sweetness from the malt. A bit strange at first but works perfectly together. This is the most citrusy of all black ipa's I've had.
Medium in body and silky smooth.. Modest carbonation.
A really good black ipa.. For fans of citrusy ipa.. And stouts!
★
497 characters

4.06
/5
rDev
+1.2%
look: 4 | smell: 4.25 | taste: 4 | feel: 4 | overall: 4
A - 22oz bottle to DFH signature glass. 1 finger white head. Beer is very dark brown to black
S - citrus fruits dominate-tangerine, grapefruit , very slight roasty smell
T - Starts off with a nice hoppy bite but balanced well with some roasted malts, finish is a nice light bitter
M - good carb , medium body, dry finish
O - great example of the style and a very enjoyable beer. Borderline sessionable, should have no problem knocking down this bomber.
★
460 characters

4
/5
rDev
-0.2%
look: 4 | smell: 4 | taste: 4 | feel: 4 | overall: 4
Appearance is dark brown with thin white head that leave plenty of lacing. Nose starts with heavy pine and citrus, lots of resinous notes, not much in the way of roasted malts. The taste is hop forward but surprisingly not that bitter. Grapefruit and pine present on the flavor with a woodsy character backing it up. Not getting a lot of malt... In fact if I drank this blind I would expect it to be very pale. Light bitterness at the back. Mouthfeel is light with medium carbonation. Overall, this is a decent brew but is my least favorite of the hero series.
★
560 characters
4.16
/5
rDev
+3.7%
look: 4 | smell: 4.25 | taste: 4.25 | feel: 4 | overall: 4
Revolution Jukebox Hero
Rockin' label as always
Poured into pint glass
A: Dark stout appearance with a slight ruby glow when held against light
S: ahhh . . . Bout time I smelled hops in one of these "black ipa's"
T: Solid for the style. Malts and coffee with good hop bitterness as well. Glad to actually taste some hops in this
M: This has to be the most difficult part of rating for me. It just feels like a good beer in my mouth
O: Fantastic beer. I like this style and glad to see somebody actually using hops. Well done as usual Revolution
★
551 characters
3.84
/5
rDev
-4.2%
look: 3 | smell: 4 | taste: 3.75 | feel: 4 | overall: 4
Almost black, this beer doesn't show thickness, as it shouldn't, though the color does as it barely lets some brown into the edges. The head starts off as little more than wisp, with average spotty lacing showing.
The hops show and, while it's not especially roasty, certainly not as much as others of its kind, that has little bearing on it strong malt balance. It's mostly piney and floral overall with some citrus backing it up and a bit of cocoa offering a touch of sweetness to even it out. It's even a little toasty.
The hops take over the flavor as well, but in more dominant fashion. It isn't overbearingly bitter, but it's not too light on the bitterness either and certainly leans heavily hoppy. Pine, grapefruit and orange rind are backed and balanced by cocoa again and there's a touch of wood. An Amarillo-like minty note lends itself to the finish. Overall, what would most benefit this (tasty) beer would be a bit more malt contribution, but this is a good example.
Its crisp medium body is firm and offers a good, strong bite to the palate without hitting too hard. It's really very smooth, too.
★
1,111 characters

3.63
/5
rDev
-9.5%
look: 4 | smell: 3.5 | taste: 3.5 | feel: 4 | overall: 3.75
22oz bottle poured into a tulip. Pours black with some subtle brown hues; fluffy off-white head that slowly fades leaving nice lacing and retention. The aromas are full of roasted chocolate along with some citrus notes. There's hints of orange and grapefruit. There's a fair amount of cocoa malts. It's a nice blend between chocolate and sweet fruits. The flavors seem to match the nose. More malts. Lots of dark chocolate giving it a solid bitterness. Some fresh pine needles are in the mix too. Lemon and lime is in the mix. More orange zest and grapefruit rind. Hints of smoke and some expresso, Earthy stuff. Alcohol goes unnoticed. Mouthfeel is medium-bodied with moderate carbonation. It's pretty smooth and easy to drink.
This is a pretty solid Black IPA. Maybe it's not a mind blower, but the craftsmanship is impressive. It basically has all of the characteristics that one would look for in the style. It's good.
★
923 characters
4.07
/5
rDev
+1.5%
look: 4.5 | smell: 4.25 | taste: 4 | feel: 3.75 | overall: 4
Pours dark brown nearly black in color with deep mahogany hues. Head is tan in color and creamy in constancy
Smell is great, pine and citrus hops forward with some nice chocolate malt and toasty cracker like malt.
Taste follows the nose with some rich roasted malt and a big piney hop oil presence with a medium bitterness. Some hints of smokey malt also come through nicely in the mid section. More hop oils and resin in the finish with a herbal and char bitterness
Mouthfeel is good, on the thicker side with a good amount of roasted malt and lots if hop oils.
★
566 characters

4
/5
rDev
-0.2%
look: 4 | smell: 4 | taste: 4 | feel: 4 | overall: 4
Pours dark brown and slightly transparent with a thin half finger of tan foam.
Citrus, pine, roasted malt, earthy hops, and slightly herbal/floral.
Citrusy and piney hops come out to play in flavor with a light roasty character but a little weak in comparison to others in the style.
Medium-bodied, medium carbonation, slight roastiness, citrusy, piney, dry finish.
Overall, not a bad black ale but wish there was a little more roasty character to note.
★
457 characters

3.58
/5
rDev
-10.7%
look: 3.75 | smell: 3.75 | taste: 3.5 | feel: 3.5 | overall: 3.5
A: Very dark brown in color, but still fairly translucent. Forms a small-to-medium sized light tan head. Decent retention. Light lacing.
S: Aroma is all IPA. Lots of hop goodness. Primarily notes of pine, with lesser notes of flowers and citrus. Mildly sweet.
T: The taste leans heavily towards the IPA side of the spectrum, with very little roasted malt character. Mildly sweet. Lots of sweet orange, like mandarin. Some pine than a touch of minty alcohol like mouthwash which clashes with the sweet orange flavor. Maybe a faint hint of chocolate on the back end.
M: On the lighter side of medium. Mildly sweet. Mild bitterness. Appropriate carbonation. Light minty tartness.
O: Black IPAs are interesting style in that there is a wide spectrum from IPA to what is essentially a hoppy porter. This one is about as IPA as you can get with only a faint touch of chocolate on the back end. And as an IPA, I'm not overly fond of the mint mixed with the orange which reminds me far too much of drinking orange juice after brushing your teeth. Overall, not bad, but glad I just bought one.
★
1,091 characters
Jukebox-Hero from Revolution Brewing Company
89
out of
100
based on
36
ratings.