Honey Jacket

Revolution Brewing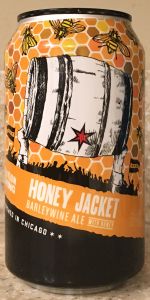 Rate It
Beer Geek Stats
| Print Shelf Talker
Style:

ABV:

14.6%

Score:

Avg:

4.37

| pDev:

8.01%

Reviews:

11

Ratings:

From:

Avail:

Rotating/Seasonal

Wants

Gots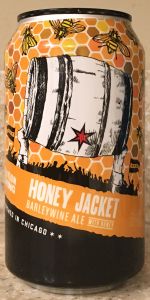 Notes: We're not the only ones who've been busy since last Deep Wood season; Revolution's only permanent residents (residing in a hive on the brewery's roof) have been pollinating local flora and producing honey for the past year. Not to be outdone, our brewers selected a crop of eighteen-month-old bourbon and rye whiskey barrel aged English Barleywines to imbue with the bees' golden elixir. Worth the welts. Enjoy now or store cold.
thebeers from Pennsylvania
4.2
/5
rDev
-3.9%
look: 4.25 | smell: 3.5 | taste: 4.5 | feel: 4.5 | overall: 4.25
Pours a deep reddish-amber color with two fingers of tan head that walk on the border between airy and foamy. Modest retention and no lacing.
Mild aroma of leather, dust and carbon dioxide. Just the slightest hints of vanilla, cherry and caramel beneath.
Where the nose is reserved, the taste is flamboyant. Big, sweet honey, caramel, vanilla and cherry, tempered only by the hotness of the alcohol and some earthy hop bitterness. A vanilla custard or crepe brûlée impression mixes with the booze and some grape jelly in the aftertaste.
Medium bodied, creamy and slightly sticky in the feel with low carbonation.
Delicious. It's very sweet, but not cloyingly so. A real treat.
Feb 25, 2021

michaelsmith11 from Illinois
4.39
/5
rDev
+0.5%
look: 4.25 | smell: 4.5 | taste: 4.25 | feel: 4.5 | overall: 4.5
Smooth, really smooth. The honey really smooths this one out and adds some sweetness to it. But it is a little too sweet. There is a nice bit of heat on the back end of this witch balanced out the sweetness to a degree. Doesn't top Straight Jacket but I appreciate the effort.
Feb 10, 2021

stortore from Illinois
4.46
/5
rDev
+2.1%
look: 4.25 | smell: 4.5 | taste: 4.5 | feel: 4.25 | overall: 4.5
Can't imagine how I missed checking in the 2019 edition, after being at the release and going through a four pack. Typically excellent base, barrels have a solid presence and the honey adds a sweetness- not too much, that really kicks this over the top. Have had one can of the 2020 version, and it's not quite as outstanding as the 2019, but still delicious. Maybe the reduced ABV (13.2%) leaves out a little of the richness? An excellent twist on Straight Jacket.
Feb 04, 2021
GreesyFizeek from New York
4.49
/5
rDev
+2.7%
look: 4.25 | smell: 4.5 | taste: 4.5 | feel: 4.5 | overall: 4.5
This one pours a golden amber color, with a small head, and not much lacing.
This one smells like sweet and caramelized honey, toffee, molasses, maple, oak, bourbon, creamy vanilla, chocolate, and caramel. It's honey at first then all sorts of barrel goodness on the nose.
The honey definitely adds some sweetness here, and it's not an overall improvement on Straight Jacket. Improving on ROSJ is hard to do, as it's one of the premiere barleywines in the entire world. While not improving on it, it certainly adds an intriguing and tasty sweet dimension to the beer. There's still lots of barrel to found here, with vanilla, maple, oak, and bourbon, along with sticky caramel and dark fruit from the base.
This is medium bodied, sticky, and not boozy in the slightest, with a very approachable feel to it, and a good drinkability.
Revolution is just draining threes at this point - they can't miss!
Feb 02, 2021

DeadWax from Illinois
3.88
/5
rDev
-11.2%
look: 4.25 | smell: 4.25 | taste: 3.5 | feel: 4 | overall: 4
2020 Vintage from a can.
Overwhelmingly sweet and one note honey until it is room temperature. Then it balances out to some extent where the honey is offset by a delicate bourbon and oak profile with caramel and brown sugar. I may have enjoyed this more on a drier straight jacket?
Amber color on the pour with a fair amount of foam, minimal lacing. Still has a bit of that classic DW aroma but it did not translate to the flavor. Sticky mouthfeel, med to thin body.
I would not need more of this and wish the honey was dialed back so the rest of the SJ nuance could shine.
Dec 30, 2020
eppie82 from Illinois
2.9
/5
rDev
-33.6%
look: 4.25 | smell: 3.5 | taste: 2 | feel: 4 | overall: 3
2020 vintage, from can (had all 4 cans out of 4 pack).
This is an amber colored beer with a ton of foam upon aggressive pour (eventually dissipating to nothing). The positives stop there for me. This is all honey the whole way. And as much as I expect honey to be prominent in a beer with 'honey' in its name, I also expect it to resemble beer and not just diluted honey. There was little resemble to a beer, let alone a Deep Wood beer from Revolution, which have been can't miss for the past couple of years. This just tasted overly sweet and entirely like honey. The 2019 vintage was far superior to the '20, in large part because that honey was restrained and other flavors came through. This is just honey. Predictably, sticky mouthfeel.
Dec 24, 2020

REVZEB from Illinois
4.55
/5
rDev
+4.1%
look: 4 | smell: 4.5 | taste: 4.75 | feel: 4.25 | overall: 4.5
Clear lighter brown, no head. Honey, whiskey/bourbon, rye, wood, bright molasses, slight flowers, toffee, and barley smells. Taste is pretty much the same, only the honey opens up in a rewarding botanical way, has more of a honeycomb and flower complexion than the smell let on, really beautiful. Get some dark fruit and leather underneath it all too. Barrel balances well, has incredible smoothness and brightness, without being too dry, though certainly thinner than normal straight jacket. Still, hands down best honey barleywine out there. The wife loved it
Jan 03, 2020

Dragginballs76 from South Carolina
4.64
/5
rDev
+6.2%
look: 4.25 | smell: 4.5 | taste: 4.75 | feel: 5 | overall: 4.5
Appearance - Pours dark mahogany with a thin tan head that quickly settles to a thin ring. No lacing.
Aroma - Nose is honey, caramel, fig, vanilla, bourbon, lots of oak, smells like a sticky sweet dessert beer.
Taste - Wow caramel, vanilla, oak, bourbon the honey is like a smooth layer of sweetness over all the other flavors. Light fig and tobacco.
Feel - Mildly warming from the alcohol, slick syrupy feel to be expected. Really smooth velvety
Overall - taking SJ to another level the honey especially in the taste really brings everything together.
Sep 13, 2019

Sabtos from Ohio
4.15
/5
rDev
-5%
look: 5 | smell: 3.75 | taste: 4.25 | feel: 4 | overall: 4.25
Beautifully copper red with a fuzzy khaki blanket that's relatively persistent.
The flavor is extremely woody, splintery and dry. The honey sweetens the woody, mature body with a little herbal wildness I really wasn't expecting to show up in flavor. This is syrupy thick and pretty sweet, but not cloying, cleaning up to a decent crispness most of the time. I'm coming back again and again in awe that I'm actually getting that wild flavor that only comes with some decent local and fresh honey. This pairs with some caramel and other typical quality barleywine characteristics, and also develops a vanilla note here or there, coming to a surprisingly paper dry finish.
Sep 09, 2019
GuyFawkes from Illinois
3.75
/5
rDev
-14.2%
look: 3.75 | smell: 3.75 | taste: 3.75 | feel: 3.75 | overall: 3.75
Canned 7/12/19; drank 7/19/19 @ the Yarchives.
See-through brown/orange appearance.
A violent pour yielded a small, noisy khaki head which quickly dissipated; no lace.
Honey, bourbon heat, oak & mild leather notes in the nose.
Thick, sticky mouthfeel.
Sweet honey & boozy bourbon flavors up front; oak & mild leather notes on the finish.
A sweet booze bomb; I love Straight Jacket, VSOJ and Strawberry Jacket, but this was not in my wheelhouse. Those bees on the roof deserved better...
Jul 20, 2019
4DAloveofSTOUT from Illinois
4.72
/5
rDev
+8%
look: 4.25 | smell: 4.75 | taste: 4.75 | feel: 4.75 | overall: 4.75
Blend 1- Incredible balance between the bourbon & the honey. The honey is unmistakable & the rye whiskey barrel notes are very nice. Deep layer oak. The beer is very sweet without being overly cloying. Hints of vanilla, caramel, butterscotch. No booze noted. It is a really excellent beer. Honestly this might be at or above VSOJ status. Overall Score- 4.72
Blend 2- Overly sweet. Not nearly as good as batch 1. Its all honey and bourbon. They used a sweeter thread of straight jacket for this blend of honey jacket and need to go back to the drier thread that added more balance & complexity to the honey infused straight jacket. Overall score- 4.30
Jul 19, 2019
Honey Jacket from Revolution Brewing
Beer rating:
93
out of
100
with
42
ratings