Borsodi Bivaly
| Borsodi Brewery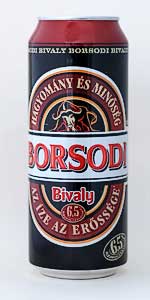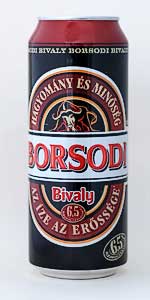 BEER INFO
Brewed by:
Borsodi Brewery
Hungary
borsodi.hu
Style:
Euro Strong Lager
Alcohol by volume (ABV):
6.50%
Availability:
Year-round
Notes / Commercial Description:
No notes at this time.
Added by bark on 03-12-2006
HISTOGRAM
Ratings: 13 | Reviews: 8
Reviews by allergictomacros:
3.78
/5
rDev
+23.1%
look: 4 | smell: 3.5 | taste: 4 | feel: 4 | overall: 3.5
A - Clear amber. Solid white head
S - Soft, floral hops. hints of grass and veggies. very faint caramel
T - Not bad. clean finishing. Light sugary molasses. Mild grassy hops. Alcohol comes through some.
M - Hefty body. A bit hard carbonation.
D - OK drinker. Not sessionable. Good flavour.
289 characters
More User Reviews:

3
/5
rDev
-2.3%
look: 3 | smell: 3 | taste: 3 | feel: 3 | overall: 3
3.45
/5
rDev
+12.4%
look: 3.5 | smell: 3.5 | taste: 3.5 | feel: 3 | overall: 3.5
500 ml bottle from Budapest
Pours golden with small, but dense and slightly fizzy head that leaves web-like lacing. The beer is full of rather large carbonation bubbles. Aroma is sweetish malty bread with some roasted nuts, no alcohol can be felt. Taste is strong bittery and nutty with light malty background and sweetish aftertaste.
Overall, this beer is good and the best I liked that in contrast to many other strong lagers, the presence of alcohol could not be felt.
473 characters

3.28
/5
rDev
+6.8%
look: 2 | smell: 3.25 | taste: 3.5 | feel: 3.25 | overall: 3.25
Got it from Hu. can,0,5l
A- Dark yellow,one finger white head,lasting few seconds.
S-Sweet malt,citrus fruits,above average and diferent smell then you could expect in this style.
T/M-Drinkable,bitter finish,medium warm,big minus is too much carbonation in it.
O-Very decent strong lager.
290 characters
3.25
/5
rDev
+5.9%
look: 2.5 | smell: 2.5 | taste: 3.5 | feel: 4 | overall: 3.5
The colour is pale golden yellow. The low white head sinks quickly down to an almost invisible lid, leaving no lacing.
The medium strong smell is sweet and fruity/nutty with some notes of raisins and marzipan.
The taste is rather powerful with some metallic bitterness, marzipan and alcohol. The aftertaste is sweet with quite a lot of alcohol, but very little bitterness.
"Bivaly" means "bullock" in Hungarian but could also mean "powerful".
The carbonation is good for a lager; fresh but not sharp.
An OK Euro Strong Lager, not very exciting but on the other hand not as bad as many others.
609 characters

3.01
/5
rDev
-2%
look: 2.75 | smell: 3 | taste: 3 | feel: 3.25 | overall: 3

3.58
/5
rDev
+16.6%
look: 3.5 | smell: 3 | taste: 3.5 | feel: 4.5 | overall: 4
Picked up a bottle during a visit to Budapest.
Poured from half liter bottle into nonic pint glass.
Appearance: Pours golden, with a large and bubbly, but thin looking, white head. Leaves a good, bubbly lace as it dissipates.
Smell: Toasty-sweet malt.Slightly floral hop character.
Taste: Interesting grainy and sweet malt and, like the smell, only a hint of hop toward the end. Also has a bit of a metallic flavor that takes something away.
Mouthfeel: An extremely smooth beer with a very natural-feeling carbonation. Medium bodied and refreshing.
Drinkability: Overall a good beer and better than I expected. It's nothing special, but probably the best of the Hungarian beers I have tried. I would have it again if I were in Hungary and it were available at a restaurant or something. Worth a fair shot.
811 characters
2.3
/5
rDev
-25.1%
look: 2.5 | smell: 2.5 | taste: 2 | feel: 2.5 | overall: 2.5
looks like a pee you take when you are real dehydrated. thick and unnaturally dark yellow color. there is no head. smells a bit like applejuice with a fruity slightly sweet vibe. taste is weird, syrupy, not as boozy as i suspected it might be, but the malts are extracty and gross, and i feel a big headache coming on from this. finish is long and fruity, but rather nasty. theres also a sort of white wine acidity in the finish. feel is undercarbonated and a little thick in body. i thought i was buying a dark brew here based on the packaging and some optimism, but i was wrong. brutal beverage here, steer clear!
615 characters

2.47
/5
rDev
-19.5%
look: 3.25 | smell: 3 | taste: 2.5 | feel: 1.5 | overall: 2
2.38
/5
rDev
-22.5%
look: 3.5 | smell: 3 | taste: 2 | feel: 2.5 | overall: 2
My third Hungarian beer courtesy of Tibor my friend. 500ml brown bottle, BB 30/10/2006. Served chilled in a pint-size weizen glass.
A: pours a bright, dark straw hue, coming with a pretty decent foamy white beer head supported by abundant, not fierce, fizziness.
S: malt-dominated--bitter toasted bread, sweet and thick adjunct-like grainy note, plus a refreshingly bitter and dried grassy edge of hops. Overall it's medium-thick, but not heavy nor alcoholic.
T: the spritzy, sour-sweet and slightly syrupy grainy palate gets no support from anything else, the semi-thick sweet edge increases bit by bit as the body falls thinner and thiner... a slightly dryish bitter palate hides in the end, soon overwhelmed by the unpleasant sugary aftertaste... overall the composition of flavour is too simplistic and betrays the modest aroma big time.
M&D: thin, sugary on the palate, spritzy but not too fizzy, thankfully. Overall this is not a good beer by all accounts, although honestly I didn't expect of this pale lager as highly as two other nice Hungarian dark lagers tried previously. But I thank my friend all the same for his kind thoughts!
1,147 characters
2.86
/5
rDev
-6.8%
look: 3.5 | smell: 2.5 | taste: 3 | feel: 2.5 | overall: 3
Poured from a 500ml can into a pint glass
A: A fairly vigorous pour yields a white head of about two fingers that looks foamy on top but has large bubbles on the side of the glass. It dissipates over the course of two to three minutes. The color is golden straw and there are small visible bubbles of carbonation. Lacing is there but minimal.
S: Smell consists of light malty bread. Maybe a hint of hops but not much else.
T: Again, the taste is a bit of light bread and malt. Similar to most macrobrews. The hops is a bit more prominent than in the smell but still very minimal. A little bit nutty.
M: Thin and with moderate carbonation that tickles the tongue. Smoother than most of the lagers I've had in Budapest.
O: Typical macrobrew, just slightly stronger that the standard Borsodi.
794 characters
Borsodi Bivaly from Borsodi Brewery
Beer rating:
3.07
out of
5
with
13
ratings