Napa Parabola
| Firestone Walker Brewing Co.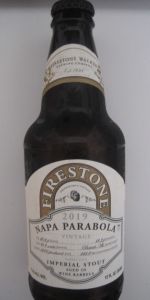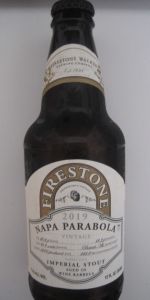 BEER INFO
Brewed by:
Firestone Walker Brewing Co.
California
,
United States
firestonebeer.com
Style:
American Imperial Stout
Alcohol by volume (ABV):
11.30%
Availability:
Limited (brewed once)
Notes / Commercial Description:
None provided.
Reviews: 14 | Ratings: 28

4.51
/5
rDev
-0.7%
look: 4.25 | smell: 4.5 | taste: 4.5 | feel: 4.75 | overall: 4.5
L: Poured from a bottle to a pint glass. Had a dark, mahogany brown color and a thick, opaque consistency. There was a half inch of foamy, off white, somewhat long-lasting head. Not a whole lot of lacing.
S: A big, powerful aroma of malt, a vinous quality, chocolate, wood, berries, and brown sugar.
T: Tasted of a good shot of the vinous quality (red wine grapes), a good amount of brown sugar, a lot of malt (present throughout), lots of dark chocolate (a good addition), some raspberries, and a nice cherry tinge. This is a complex, powerful, and forceful flavor. It's remarkably well-balanced and goes down easy.
F: An average amount of carbonation with a smooth finish. Medium-bodied.
O: A well made, tasty stout. Drinkable.
733 characters

3.96
/5
rDev
-12.8%
look: 4 | smell: 4.25 | taste: 3.75 | feel: 4 | overall: 4
Bottle from a lazy dog.
Dark inky black in color with a small tan head with moderate retention. Rich roast and licorice with bits of sweet brown sugary maltiness and light jam like grape from the wine barrel. Not much in the way of oak or woody notes. Nice sipper, but I noted again how I have enjoyed the base beer much more on tap than in a bottle.
351 characters

4.75
/5
rDev
+4.6%
look: 4.75 | smell: 4.75 | taste: 4.75 | feel: 4.75 | overall: 4.75
2019 vintage had on-tap at Monk's in Philadelphia. Poured into a snifter.
L: Nearly black pour with thick fluffy off-white head. Great lacing.
S: Cherry, red wine, cocoa, roast, and deliciousness. Smells absolutely decadent.
T.F: A complex array of deliciousness. Red wine and oak mingled with dark chocolate, cherry, raspberry, and dark fruit. Sweetness up front.. balanced by some tartness form the fruit and bitterness from the roast. Loads of flavor... subtle but assertive. Smoooooth and creamy. Medium bodied and warming. Dark fruit, red wine, and dessert at the finish.
O: An absolutely decadent, fantastic, and orgasmic kind of beer. One to seek out.... just outstanding.
696 characters
4.51
/5
rDev
-0.7%
look: 4.25 | smell: 4.5 | taste: 4.5 | feel: 4.75 | overall: 4.5
Picked up 3 at the Craft Beer Hop Stop 6-14-19 for $9.99. Presumably bottled in May, bottle #1 consumed 6-21-19.
Beer poured midnight black with a very nice tan head with the original pour.
Nose is a very nice mix of cocoa and dark fruits.
Taste is cocoa forward over a fairly heavy roasted malt base, with cherry and raspberry, finishing with an ever so slight tartness.
Mouthfeel is medium to large bodied and awesomely smooth!
Overall this is a very good variant and a nice alternative to the bourbon version. Have to say they are very close quality wise overall with some distinct flavor differences in those variants. Definitely worth the $10 if you have the D.I. and enjoy regular Parabola!
705 characters

4.83
/5
rDev
+6.4%
look: 4.75 | smell: 4.75 | taste: 4.75 | feel: 5 | overall: 5
2018 vintage, 12oz bottle. Rated identically to "regular" Parabola, although there are some differences in the flavor profile. Whereas Parabola (at least the few times I've had the privilege to enjoy it) is quite sweet, this Napa variant tones that down considerably. After some initial sweetness, it gets dialed way back. There are even hints of tartness. As with pretty much any barrel-aged offering from Firestone Walker, this is a true world-class beer.
457 characters
4.59
/5
rDev
+1.1%
look: 4.25 | smell: 4.5 | taste: 4.75 | feel: 4.5 | overall: 4.5
Black with an amber tinge in bright light, and 1.5 fingers of deep beige head.
Smells of cocoa, chocolate, oak barrel, grape jelly, red wine, black liquorice.
Umami, cocoa, cinnamon, soy sauce, brown sugar, oak and coffee.
Medium, syrupy body with moderate to low carbonation.
I got this in Redding, where I am enjoying it June 20th, 2019. Excellent.
355 characters
4.06
/5
rDev
-10.6%
look: 4 | smell: 4.25 | taste: 4 | feel: 4 | overall: 4
Firestone Walker Napa Parabola, 11.3% ABV. Pours black with a slight tan head. Nose is roast malt, grapes and bourbon. Taste follows, plus a hint of chocolate, prevailing flavors are oak and roast malt which largely overshadowing the wine, with a highly bitter close. Decent mouthfeel, overall outstanding. I just had regular Parabola yesterday and I am rating this lower. Good, but to me the bitterness detracts.
419 characters

4.43
/5
rDev
-2.4%
look: 4.25 | smell: 4.25 | taste: 4.5 | feel: 4.5 | overall: 4.5
Pours black with a tan fresh head. Smell has chocolate with vanilla and wood barrel wine. Taste follows nose supreme wood/wine mix with roasted malts/chocolate subtle hints of coconut,molasses and coffee. Mouth feel is thick with the base parabola then the wine barrel adds rich nuances of flavors of chocolate with wood/wine it is so good. Wow did not know if i would like this. It is superb!, I could have bought several only bought 1..only hope some more are left on the shelf.
485 characters

4.38
/5
rDev
-3.5%
look: 4.5 | smell: 4.5 | taste: 4.25 | feel: 4.25 | overall: 4.5
When i found out about this particular varietal dropping in the shoppes, i was compelled to make a pretty special (25-30 mile) "beer run" - something i'd not at all have to do, were my palate favored to the always readily-grabbable macros and IPA's. Dedication, I tell ya.
The final analysis? I'd call it "interesting" in a way that appeals yet not feeling completely smitten with - still on the fence, you might say; its scarcity (only 3k cases bottled) not much allowing for an immediate rematch. As comparatively complex as any other F-W vintage of renown, just something curiously perfume-y or incense-like found in this initial quaff. Though i might prefer the straight-up Parabola, this was certainly worth a try and to allocate/preserve a few for the rainy-day cellar inventory.
789 characters

4.64
/5
rDev
+2.2%
look: 4.75 | smell: 4.5 | taste: 4.75 | feel: 4.25 | overall: 4.75
Pours a jet black with a thick mocha head that falls away quickly but leaves nice lacing. Aroma is wine barrel forward. Flavor is bitter dark chocolate, dark roasted malts and the fore mentioned wine barrel. I'm also getting some raisin and molasses in the finish. Feel is on the thicker side of medium bodied. Overall an incredible beer. I'll pick up one or two more if they're on the shelf when I return.
406 characters
4.97
/5
rDev
+9.5%
look: 4.5 | smell: 5 | taste: 5 | feel: 5 | overall: 5
Pours black. Incredible aroma with the wine barrels noticeable immediately along with chocolate, oak and roasted malts. The taste is amazing and a wonderful balance of wine, bitter chocolate, and roasted malts. Nice full body feel. This is my favorite Parabola variant hands down.
280 characters
4.5
/5
rDev
-0.9%
look: 4.5 | smell: 4.5 | taste: 4.5 | feel: 4.5 | overall: 4.5
On draft at Barrelworks.
Near black, thin light brown lacing.
Nose: oak and red wine up front, rich dark chocolate undertones.
Taste: follows the smell. Great balance between wine and dark chocolate, roasted malts. Bittersweet finish.
Feel: full-bodied, fairly dry, low carbonation.
286 characters
4.91
/5
rDev
+8.1%
look: 4.75 | smell: 5 | taste: 5 | feel: 4.75 | overall: 4.75
Got the opportunity to try this on tap at Paso & definitely needed to walk out of there with a few bottles for myself. Tried similar wine aged stouts from goose island and such, but this one definitely played a beautiful dance between the rich notes of the stout & wine equally. Properly thick with little to no head, a hint of sweetness peeks through to your nose and the taste is simply wonderful.
399 characters

4.97
/5
rDev
+9.5%
look: 4.5 | smell: 5 | taste: 5 | feel: 5 | overall: 5
Black colored beer with a medium sized brown colored head.
Wine barrel scent hits you from the instant you crack open the bottle. very fruity. Scents of brown sugar and oak with toasted bread. Scents of rum and cherry. Chocolate and burned brownie scents. Toasted coconut. Lesser scent of lime and grape. There is a fairly strong scent of tobacco leaf. Smells on the sweet side.
Starts out salty and sweet with the bitter bite of cocoa powder. Strong taste of rum and some numbing of the tongue. Big chocolate flavor and a secondary one of cherry. Mixed fruit taste as you palette adapts to the strong flavors. Mostly I taste cherry and lime. Big tastes of vanilla and oak. Taste of tobacco leaf from an old habit I quit after one summer. Slight taste of ash. This is a Big Beer and all the tastes are big.
Mouthfeel is super thick. You won't be chugging this one.
This is an awesome beer. Worth every bit of its high but affordable price. Best beer of the year and I don't really expect to find a better one this year.
1,043 characters
Napa Parabola from Firestone Walker Brewing Co.
Beer rating:
4.54
out of
5
with
28
ratings