Oaktoberfest

Firestone Walker Brewing Co.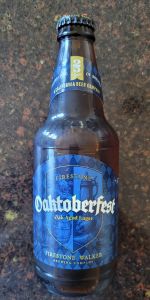 Write a Review
Beer Geek Stats:
| Print Shelf Talker
Style:

ABV:

5%

Score:

Avg:

3.77

| pDev: 10.34%

Reviews:

163

Ratings:

From:

Avail:

Fall

Wants

Gots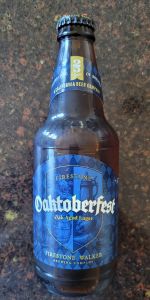 Notes: Oaktoberfest is a true German Marzen bier brewed with premium imported Pilsner and Vienna malts and is spiced with Bavarian hop from the mother land. Light Amber in color, soft malty profile, full bodied lager beer. Fermented with the famous Bavarian Augustiner Lager yeast from Munich. We utilized German Hallertauer Traditions for both bittering and aroma additions adding a rich, noble hop presence to this beer.
Reviews: 163 | Ratings: 789

3.95
/5
rDev
+4.8%
look: 4 | smell: 4 | taste: 4 | feel: 3.5 | overall: 4
Firestone Walker Brewing Company--Pasa Robles, CA--Oaktoberfest Marzen. 5.00% ABV. 24 IBU's. Thin white head. Clear bright amber color. Mild toasted caramel delicate Noble Hallertau hop front. Crisp tangy caramel malty Marzen body. Light Oak hint. Clean crisp end. (4.0 / 5.0). 5 oz. Taster @ Fremont Oktoberfest 9/24/2010.
323 characters

3.83
/5
rDev
+1.6%
look: 4 | smell: 3.5 | taste: 4 | feel: 3.5 | overall: 4
Enjoyed on tap at Papago. Poured medium golden color with thin white head. Nose was very clean with a whiff of malt. Palate had the malt focus as well, with a sweet oak sort of dryness in the background. Overall though it was still somewhat light bodied and easy drinking.
272 characters
4.3
/5
rDev
+14.1%
look: 4 | smell: 4 | taste: 4.5 | feel: 4 | overall: 4.5
On tap at the Toronado. Poured into a pint glass. No abv info is given. Paid $3.00 during happy hour.
A-Pours a clear amber with some reddish highlights. It has a half finger almost white head that has a decent retention level. Not much lace is left.
S-Lots of fresh hops give it a nice lemon zest aroma along with a touch of cinammon spice. There is also a heft does of sweet malt.
T-It tastes of fresh citrus and sweet malt. Like the nose, the two work well together. As it warms it picks up a grape flavor. I don't pick up on any oak. The sweetness lingers in between sips.
M-Falls on the lower end of the medium spectrum. It has smooth carbonation and a nice crispness.
D-It is a very good Oktoberfest beer.
I really enjoyed this one. Nicely balanced between being the hops and malts. Worth seeking out.
813 characters

4.07
/5
rDev
+8%
look: 4 | smell: 4.5 | taste: 4 | feel: 3.5 | overall: 4
Had this on-tap multiple times at Firestone's Oaktoberfest yesterday. The following review is a compilation of notes taken throughout the day.
Poured into a commemorative 0.5L Oaktoberfest ceramic mug.
Appearance: Since I was drinking this beer from a ceramic mug, most of this appearance section is based on what the beer looked like in a glass pitcher. The body was crystal clear and amber. Tiny bubbles whirled about inside; the carbonation looked very active. Head was foamy and off-white and had decent retention.
Smell: Flowery hops, light caramel, and Munich malt sweetness. There was a touch of toastiness as well. Bready yeast and leafy vegetation were also present. One of the most aromatically succulent märzens I've ever smelled.
Taste: Caramel and bready yeast were the two biggest players. I've heard people say they detect oak in this beer, but I didn't taste (or smell) any. Light spices and leafy grassy hops were both substantial flavors as well. Berries and Munich malt came into play as the beer warmed.
Mouthfeel: Malty and smooth with mild carbonation and a medium-light body. Semisweet malts lingered in the aftertaste. Decent, but a kinda dull.
Drinkability: This was a damn good märzen/Vienna lager (it's actually a mix of the two styles). This was perfect for the festival. I would happily order it again.
1,339 characters
4.23
/5
rDev
+12.2%
look: 4 | smell: 3.5 | taste: 4.5 | feel: 4.5 | overall: 4.5
On-tap at Haven Gastropub, on to the beer:
A copper/amber color shows off from the body of this beer. Solid lacing on top, good head retention. The aroma is light in intensity, with a little kick of clean hops, dark malt, and minerals. Tasting it was a pleasant surprise. I was thinking it would be really malty like a traditional Oktoberfestbier, but it tasted more like a Vienna lager. The flavor is very pleasaing. The hops come to play at the begining with clean delicate flowers, then then sweet, but not overwheling malty caramel kicks in along with some assorted minerals. Clean, uplifting, and nothing harsh about it.
Excellent, even if it really isn't "to style". I wish this beer was sold at Oktoberfest.
717 characters
4.08
/5
rDev
+8.2%
look: 4 | smell: 3.5 | taste: 4 | feel: 4 | overall: 5
On tap at Woodstocks Pizza in Isla Vista. Pretty random find, but they do sell the FW private label beers as well. Orange-gold color with a creamy head. The aroma has a lot of toasted malts, with just a touch of noble hop spice. The flavor has plenty of rich, toasty malt flavors with almost perfect hop balance. Medium-light on the palate. This is quite reminiscent of the oktoberfests that they actually serve in Munich, which are much more drinkable than the darker marzens that get shipped over here. Make no mistake though; this is a more complex and flavorful beer than the versions that the major Munich breweries are making. I'm a bit confused on the oak part. My roommate says he tasted oak, but I didn't pick out anything definitive, and Firestone's website doesn't say anything about oak in the production process. Regardless, this is another awesome Firestone beer, and one that I can see anyone loving.
915 characters
3.85
/5
rDev
+2.1%
look: 3.5 | smell: 3.5 | taste: 4 | feel: 4 | overall: 4
On tap at Buellton Taproom
Poured golden with a small white head. Nose was slightly hoppy and grainy. On the taste I was really missing the oak but it did have a nice balance of malt and hops.Mouthfeel was rather dry and crisp. Overall it was pretty good eventhough its not my style. Expected more oak.
302 characters

4.2
/5
rDev
+11.4%
look: 4 | smell: 4 | taste: 4.5 | feel: 4 | overall: 4
I was pleasantly surprised to find this on tap at San Diego Brewing Company. Pours a vibrant gold/orange. The small head has decent retention and lacing. My nose is greeted by an earthy and slightly piney hop aroma. Sweet bread, nutmeg, very grainy. I spent a few minutes trying to pinpoint the dominant characteristic in the malt profile of Oaktoberfest and decided it was grain. The beer smells very grainy. The beer is reminiscent of a pumpkin ale, but I don't think there is any pumpkin flavor in it. Aromas of nutmeg, clove, some vanilla, and possibly allspice give it pumpkin ale characteristics. These are not primary characteristics of the aroma but were detectable nonetheless. The mild bitterness up front is quick to introduce caramel and grainy malt flavors. The taste is of oak, nutmeg, and vanilla, and a faint hop bitterness concludes the show. The carbonation is good.
884 characters
4.1
/5
rDev
+8.8%
look: 4 | smell: 4 | taste: 4 | feel: 4 | overall: 4.5
Consumed 10/19/08 at Blue Palms, Hollywood, CA.
Clear, golden/orange hue with absolutely no active carbonation. A one finger white head sits atop the beer that provides long-lasting lacing.
Caramel malt aroma with a trace of wood and a whiff of juicy fruit (the kind from trees, not the gum). Cherries, perhaps? Apricots?
Flavorful: clean caramel malts, some crispness and a thin, lingering oak finish. Somewhat creamy in the mouth. Low bitterness. The oak component is subtle and a nice variation on the style, whether it really is a marzen or a Vienna lager.
Easy to put away a glass of this one, but not the best I've had of this style.
643 characters
3.98
/5
rDev
+5.6%
look: 4 | smell: 3.5 | taste: 4 | feel: 4 | overall: 4.5
On tap at City Beer in SF
A: Nice golden orange with a good white head
S: Sweet caramel malt, some oak, some spice and pumpkin (maybe?)
T/M: Bready malt. Oak isn't as present as I thought it'd be. Good spice profile. Overall, good easy drinking brew. Medium-bodied.
D: Low in abv, very drinkable. Could definitely see myself knocking back a few of these.
Nice brew. A good solid refreshing marzen beer. Was expecting a little more oak profile but like it the way it is.
475 characters

3.89
/5
rDev
+3.2%
look: 4.5 | smell: 3 | taste: 4 | feel: 4 | overall: 4.5
Now listening to: Grateful Dead - Other One
Thanks to Beechwood for this rare opportunity!
A- golden/copper in color, nice clarity, nice lasting head
S- sweet grain, mild hop
T- I didn't find the wood to be distinctive in the taste as I was expecting. Very nice within style results of sweet malt, graininess and hop character. Hints toward spice.
M- While I didn't catch the wood in the smell or taste, so much, I did catch it in the mouth. It took the sweet malt and gave it a dry finish. Borderline astringe, but mellowed through the pint.
D- Oktoberfests are meant to be very drinkble beers. Alchohol seemed low enough (guessing about 5% or 6%), that anybody could have this for a night of seasonal celebration.
717 characters
3.68
/5
rDev
-2.4%
look: 4 | smell: 3.5 | taste: 4 | feel: 4 | overall: 3
On-tap at Beachwood BBQ,
A: Pours a light orange with a small white head with excellent lacing.
S: Some wood notes, nice maltiness, hoppy finish.
T: Very oaky upfront, the barrel character is certainly there, giving a mildly astringent character, but I thought it was nice and not out of place. Caramel malt is very evident, hopping is light giving a grassy note, tasty beer.
M: Very soft carbonation, though biting at times, light/medium body.
D: I enjoyed this one from Firestone, though I didn't find it to have a great drinkability, I was really sipping on this beer more than just drinking it. Still it's an interesting brew, definitely worth a try.
659 characters
4.33
/5
rDev
+14.9%
look: 4.5 | smell: 4 | taste: 4.5 | feel: 4 | overall: 4.5
Pint at Beachwood BBQ today for $5.50, surprised to see this here because I thought it was the only for the festival up north last weekend, but lucky me it made it down to Seal Beach
A-Bright golden orange color with some yellowish highlights, thin 3/4 inch creamy white head that lasted a couple minutes, decent retention, nice lacing, illuminating body
S-Hoppiness that was subtle, sweet malt, caramel, oak, vanilla, sweetness, faint spices, hint of pumpkin and coriander, and grains
T-Flavor was fairly sweet but also had an enjoyable graininess, not much fruit or skunkiness which are two components that I have recognized in the past with this style, more spice and malt-oriented, impressive that it could stay as light as it was with this in mind, got a little sweeter as it warmed in my hand, could really taste wood and vanilla by the end which was pleasant, great balance and variety of tastes
M-Sweet, smooth, and tangy mouthfeel, perfect level of carbonation, medium bodied, taste lingered quite some time for its style
D-Could have drank numerous pints of this but wanted to try some others today, light on the stomach, low in alcohol, smooth as can be, would make a serious session beer appropriate for the current season
Nice offering from Firestone, expected a marzen from the name but plesantly surprised with this American twist on a Vienna, also cool was that a dollar from each of the pints drank today went to a charity for MS, would love to drink again but do not know how likely that is with its limited availability and all, recommended
1,561 characters
Oaktoberfest from Firestone Walker Brewing Co.
Beer rating:
85
out of
100
with
789
ratings