Double Jack
| Firestone Walker Brewing Co.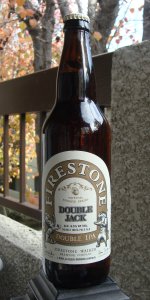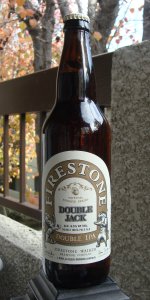 BEER INFO
Brewed by:
Firestone Walker Brewing Co.
California
,
United States
firestonewalker.com
Style:
American Imperial IPA
Alcohol by volume (ABV):
9.50%
Availability:
Year-round
Notes / Commercial Description:
No notes at this time.
Added by ThreeWiseMen on 06-25-2009
This beer is retired; no longer brewed.
HISTOGRAM
Ratings: 7,584 | Reviews: 1,405
4.2
/5
rDev
-3%
look: 4 | smell: 4 | taste: 4.5 | feel: 4 | overall: 4
On tap at the Toronado. Poured into a tulip. $5.00 for the glass during happy hour.
A-Pours a clear dark amber with lots of orange visible. It has a very thin layer of off white head that becomes a small ring surrounding a circular filmy layer. After a few sips the film and ring completely disappear. This appearance really should be scored at a 3.75 due to the poor head retention, but I will kick it up some because I like the color.
S-The nose was quite subdued when it was brought to me. There is some pine and some caramel malt. Even as it warms it never opens up and pops like most WC DIPAs.
T-Lots of pine hits fast followed by some sweet citrus and I get a lot of orange peel. The caramel malt does a good job to reign in the 100 IBUs but makes it a tad sweet. The citrus is alot stronger in the taste than it is in the nose. The aftertaste is a combination of orange juice and orange peel. Ideally I would be able to rate the taste at 4.25.
M-Medium bodied and very smooth for the high alcohol content. The carbonation is fine. Very well blended and I would never have guessed this was 100 IBUs.
D-The high abv is well hidden but it would catch up fast.
Overall I thought this was a good beer. I had been looking forward to trying this since I first heard about FW going for a DIPA. I would like to try this again to see if the nose improves at all. That was really the only disappointing aspect for me.
1,420 characters
2.81
/5
rDev
-35.1%
look: 3.5 | smell: 2.5 | taste: 3 | feel: 4 | overall: 2
On-tap at the Toronado Double Jack release party on 7/8/2009.
A: Poured into a snifter (10oz?). Has an amber-orange body with an inch of off-white head that remains throughout the drink. Granted, I was pretty hot after climbing the Haight hill from Mission, and I finished this pretty quickly, but still... Impressive retention. No lacing.
S: Tons of pine hops, with lesser floral and citrus components. Some bread, toast, and toffee malt flavors follow. It's actually more malty than expected, especially for a DIPA from, of all places, CA.
T: Follows the nose pretty well. A strong pine hop flavor blasts the senses, rounded out by juicy grapefruit and orange rind, with some floral components. The finish gives hints of toast and toffee malt. The finish was all citrus, with a lingering bitterness. Overall, it's maltier than expected; if anything, Union Jack seems to pack more IBUs. Pretty middling for the style.
M: Medium-bodied, with good carbonation. However, it failed to cleanse the palate well, and left a resiny aftertaste that coated the mouth and tongue with a lingering bitterness. Absolutely well-masked ABV though. Had no hint of the 10%.
D: This is a pretty decent beer, but the way they chose to release it (OMG mid-week Toronado release party!), the way they're being difficult about growlers, the claim that it would be the next Pliny the Younger, and the high price (more expensive than Pliny the Elder) built up expectations that this would be phenomenal. It's not. This state is saturated with DIPAs, so what they were trying to do with this is beyond me...
1,592 characters

4.42
/5
rDev
+2.1%
look: 4 | smell: 4.5 | taste: 4.5 | feel: 4 | overall: 4.5
Huge thanks to d0b for sharing this growler with me and my wife. Leaked a tiny bit in transit, but seems to be no worse for wear. Served in a Goose Island pint glass.
A - A finger and a half of off-white foam that dissipated fairly quickly and leaves a fair bit of sticky lacing. Nice transparent golden color. I think it had been on-tap it might've had a little more foam.
S - Lots of sweet citrus and earthy dankness hoppiness that is well balanced lots of toffee and doughy malts.There's also some notes of zest and rind. Big smell - jumps out of the glass.
T - The taste starts sweet with a nice mix of candied sweet orange citrus and piney flavors. I don't get as much of the dankness in the taste as I did in the aroma. There's some nice toffee balance and a decent amount of bitterness in the finish, although I'm shocked that this is supposedly 100 IBU.
M - A little thinner than I like for DIPAs - needs a little more viscosity to support the 9.5% ABV. Carbonation is kind of low, which I would attribute to the leakage in transit, but it doesn't bother me so much as I prefer just the slightest tingle anyway. Lots of residual stickiness in this one.
D - The drinkability is kind of off the chart for a 9.5% brew. You can't taste the booze at all, and the bitterness is under control. It was easy to down two pints of this - wish there was more of this in Chi-town.
Another great FW offering, and another high quality west coast DIPA.
1,450 characters
4.1
/5
rDev
-5.3%
look: 4 | smell: 4 | taste: 4 | feel: 4 | overall: 4.5
Poured from tap at Buellton Taproom.
Poured a nice orange color with good carbonation and a nice white head. Nose is ig orange peel, grapefruit and a little maltier than traditional Union Jack. taste is very much like standard Union Jack with orange peel, grapefruit, lots of citrus and some pine riding on caramel malt. Mouthfeel is nice, smooth, I thought very smooth for a IIPA. Hopb ite on the end was minimal, beer was chewy and tasty. very drinkable! Very good! Its no Pliny but damn it is good.
501 characters
4.05
/5
rDev
-6.5%
look: 4 | smell: 4 | taste: 4 | feel: 3.5 | overall: 4.5
Had this on tap at the Paso taproom. Poured into a snifter
A: Poured a copper amber in color with a one finger white head. Body of the beer is crystal clear with no carbonation bubbles evident. Head dissipates very quickly to a ring around the glass. There is not much lacing to this beer, some foam is dragged down the glass during the session but not much. Swirling brings head back but dissipates just as quick as the initial pour.
S: Pine, and tons of it, is the first smell that hits the nose. There are slight citrus and floral hop notes but not much. Didn't get any malt notes from the beer but maybe it just needed to warm up.
T: As with the smell, pine is the first thing that hits the tongue. Hop bitterness in the finish that lingers in the throat for awhile after the beer goes down. At different times though the glass I got a soapy taste in the finish. Maybe the glass wasn't washed enough but I'm glad the taste didn't stay around. Alcohol is well hidden. Pretty balanced too, and for me that's a bit of a letdown. I was expecting a hop bomb (seeing how its 100 IBUs) but the malt balanced this out quite a bit.
M: Good mouthfeel and medium body. This beer coats the tongue and mouth with an oily feeling. Not sure if I'm digging all the oil texture.
D: Very drinkable in my opinion. This beer is very balanced and the alcohol is well hidden. I was expecting much more of a hop bomb and am a bit disappoint that it was so balanced. However, this is a very solid beer and will be making another trip up to Paso to have it and will buy it again if I happen to run across it at another location.
1,612 characters
3.63
/5
rDev
-16.2%
look: 4 | smell: 3.5 | taste: 4 | feel: 3.5 | overall: 3
Consumed 06/26/09 at Blue Palms, Hollywood.
Clear, deep amber pour into a snifter. Very small off-white head which dissipated fairly rapidly. Not much carbonation evident in the glass.
Smells like oily, resiny pine sap.
Flavor is not quite all the way to huge, but close enough for this BA. Better balanced and lighter than expected - lacks the syrupy/hop burn character of some other DIPAs.
Hops seem to make up about 80% of the flavor; a caramel malt profile is largely eclipsed. There are several well-blended hop flavors in there; I struggled to pick them all up. Pine sap, grapefruit, and a bitterness with the half-life of uranium 238 were the ones I could put my finger on.
Mouthfeel is good but unremarkable for the style.
I have to say I didn't find this beer particularly drinkable; the one snifter I had was more than I could handle. Mitigating circumstances: I had already had 40 ounces of strong beer and a spicy BBQ sandwich, so maybe I was already used up when this came around.
I recommend having this one first or early in your session.
1,060 characters
5
/5
rDev
+15.5%
look: 5 | smell: 5 | taste: 5 | feel: 5 | overall: 5
This beer pours a clear golden yellow color, with a thick and fluffy light khaki head. The head fades very slowly, leaving a massive lacing.
This beer has a nice grassy hop aroma. Some citrus grapefruit mixes in. This beer has a slightly piney aroma also. No traces of the 9.5 percent ABV.
This beer tastes much like it smells. Grassy up front, with a lot of grapefruit. Just a bit of sweet caramel mixes in with the flavor. As with the aroma, the alcohol is well masked.
This beer is full bodied. It is criso, and refreshing. It leaves a grassy aftertaste.
This beer would make an excelent session beer if the alcohol content wasnt so high. It is too easy to forget that this is a high alcohol beer.
Overall: Great beer. I really like a grassy IPA or DIPA. It kind of reminds me of Apline Beer Companys Duet. As that is one of my favorite beers, this one definately ranks up there.
888 characters
4.52
/5
rDev
+4.4%
look: 4.5 | smell: 5 | taste: 4.5 | feel: 4.5 | overall: 4
I had this on tap at the brewery the first day it came out. It was served in a 10 oz snifter. They used over 4 pounds of hops per barrel and it came out to 100 IBU's!
A: The color was a pale golden amber. It had great clarity and was poured with a thin white head.
S: Lot's of hops in the nose: grapefruit and other citrus, flowers and slightly piny. Very similar to Union Jack
T: It has a very light caramel light body followed by a huge hop explosion as expected. Good balance but on the hoppy side. Very similar to the nose but I could tell there were a lot more cascades than Union Jack. It left a resinous hop coating on my tongue for a long aftertaste.
M: Heavy alcohol feel and very resinous. Medium body and soft carbonation. Aggressive on the alcohol and on the hops.
D: Easy to drink at first but as it warmed up it becomes heavier and more resinous, especially by my third one.
Overall an excellent beer. A little high in alcohol and hops for most people but any hop lover will love it. They are only sending this out in 5.2 gallon kegs so get your hands on it while you can. I have been waiting on this for a while and it lived up to my expectations.
1,162 characters
4.77
/5
rDev
+10.2%
look: 4 | smell: 4.5 | taste: 5 | feel: 4.5 | overall: 5
Am I really the first to review? Here goes. From a fresh Growler 6/26/09, delivered by my wonderful girl.
A: Pours golden amber, great clarity. Two finger white head dissipates quickly, but not too fast. Extensive lacing graces the sides of the glass.
S: Hops. Like a bag of Cascades. Piney with some distinct citrus. I just don't smell any malt over the hops. Not a bad thing, though.
T: Initial impression is just wow... citrus hops all the way down. The pine flavor comes through, as well as some bitterness, but you can just taste the dry hopping. Some sweet malt in the aftertaste; it actually comes to dominate after the citrus dies down. Doesn't seem as bitter as Union Jack, but it's still there to some degree.
M: Excellent, just light enough but with enough malt to give it some backbone. I can feel this beer, but it doesn't overwhelm at all.
D: Dangerous stuff, here. I could drink this for days. Goes down so easy. Not too much of anything.
Overall, the dry hopping dominates, and I wish I could do so well with my homebrew. The drinkability is almost scary. An exceptional brew and one that I hope they do again, as the tasting room staff say they will.
1,174 characters
Double Jack from Firestone Walker Brewing Co.
Beer rating:
4.33
out of
5
with
7,584
ratings