805 Blonde Ale
| Firestone Walker Brewing Co.
BA SCORE
80
good
89
Reviews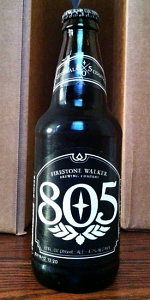 BEER INFO
Brewed by:
Firestone Walker Brewing Co.
California
,
United States
firestonewalker.com
Style:
American Blonde Ale
Alcohol by volume (ABV):
4.70%
Availability:
Rotating
Notes / Commercial Description:
No notes at this time.
Added by Zorro on 05-22-2012
Reviews: 89 | Ratings: 802
4.09
/5
rDev
+17.5%
look: 4.5 | smell: 4.25 | taste: 4 | feel: 4 | overall: 4
A: Yellow/Golden body with a white lacy head.
S: It has almost no hoppy character to it but has that nice Belgian spiciness that Belgian blondes should have.
T: Avery secessionible beer that has some malt, some Belgian bite, and a decent hop bit to it.
M: It has some viscosity to it and has a very good bite from the carbonation.
O: A very good sessionable beer that should be tried if given the opportunity to.
★
417 characters
3.73
/5
rDev
+7.2%
look: 3.75 | smell: 3.75 | taste: 3.75 | feel: 3.5 | overall: 3.75
Appearance: Pale gold with a decent head that disappears quickly, good lacing, and lots of carbonation.
Smell: Grain, buscuity malts.
Taste: Grain, malt, caramel, honey.
Mouthfeel: Lighter bodied, crisp, slight sticky sweet finish.
The Verdict: Not bad. Brewed for the 805 area code as a fresh sessionable ale we can all get behind and enjoy with our tri-tips or local organic sustainable heirloom free-range farm-to-table artisanal rabbit food. It's a good solid beer with unusual freshness.
★
498 characters

3.2
/5
rDev
-8%
look: 3.5 | smell: 3.5 | taste: 3 | feel: 3.5 | overall: 3
12oz bottle dated 11/12/12 – standard pint glass
A: 805 pours a lighter shade of caramel with fine clarity and a minute cap of fizzy white. Bouncy bubbles knock out much chance of a retaining head. Pretty minimal stick down the glass with just a few light runners and dots.
S: Aromas are real grassy and a touch herbal with a firm grainy malt character. There is a bit of a sharp tangy yeast biting at the nose as well. Nothing great but pleasant overall.
T: Tastes of grassy hay with some sour orange tang and a bit of dried herbals. There is a dominant grainy malt featured with some yeasty bread and a soft caramel sweetness. Pilsner malt with some wheat perhaps? Low moderate bitterness and sessionable by definition with no real alcohol presence. Not quite your typical Blonde Ale but still somewhat pedestrian. Comes off more like a hefe or a pale-wheat even.
M: The mouthfeel is light and frothy with a nice carbonated spritz. There is a slight tart pucker to the palate towards the finish with a great drying and a snappy crisp.
D: Light, crisp, and sessionable. I could see this as being a brew for the masses. I actually thought more of a light hefe or pale-wheat beer when consuming this so it does differentiate from other Blondes on the market. Definitely highlights a grainy malt bill.
I do get how this beer falls into FW's lineup nicely however I would have appreciated something a bit bolder and hoppier to rep the 805. While well crafted this is fairly mediocre.
★
1,490 characters

3.76
/5
rDev
+8%
look: 4 | smell: 3 | taste: 4 | feel: 4 | overall: 4
Wow.... for a blonde ale... not something i would buy just happend to aquire, but i did really enjoy this blonde ale. Nice dark blonde in color with some nice pure white head rentention. Aromas nithing there but some sweet malts as expected... but the flavor was quite full for style... lots of slightly sweet malt backbone no hops, but malt flavors were nice. Great with pub food in general when you dont know what you are eating at a party. Very verstile beer for a beer lover.
★
479 characters

2.85
/5
rDev
-18.1%
look: 3 | smell: 3 | taste: 3 | feel: 2.5 | overall: 2.5
1535th Review on BA
Draft to 6oz Snifter
@Firestone Walker, Paso Robles
App- A very clear yellow. Very similar to the yellow of the Iphone notepad. A very clear beer with a small amount of bubbles. Standard look to it. No lace or cling on it.
Smell- Its a blonde ale at heart with that clean and crisp aroma. This was better than most blondes but still a blonde. The honey adds a unique layer of aroma to this one.
Taste- Its a good blonde. Better than most but just too one dimensional. It has some cracker like bite to it with a little grass and that base malt bill I just dont like.
Mouth- A lighter body on this one with a bit of a crisp/clean carbonation. The feel of the honey adds a layer that just doesnt work on this finish. A bit muddled on the residual flavors.
Drink- It was better than most blondes. Still a blonde though.
★
841 characters
2.66
/5
rDev
-23.6%
look: 3.5 | smell: 2.5 | taste: 2.5 | feel: 3.5 | overall: 2.5
Thanks to drewone for sharing this one at Benny's tasting.
Bottled 6/25/12.
Pours a clear gold with a foamy bone colored head that settles to wisps of film on top of the beer. Small dots of lace form around the glass on the drink down. Smell is of malt, grain, honey, and some vegetal aromas. Taste is much the same with a vegetal and slightly metallic aftertaste. There is a mild bitterness on the palate with each sip. This beer has a lower level of carbonation with a slightly crisp mouthfeel. Overall, this is a pretty poor beer with some weird aromas and flavors.
★
574 characters

2.75
/5
rDev
-21%
look: 3.5 | smell: 3.5 | taste: 2 | feel: 3 | overall: 3
Poured from a 12oz bottle into a pint glass.
A: Pours a clear, lightly golden yellow color. A one finger creamy head sits on top and fades slowly to a thin ring around the sides. It appears pretty lively with a moderate amount of carbonation.
S: Light toasted malts, sweet floral notes, and corn and straw-like characteristics make up the aroma.
T: The taste was a bit of a let down. More of the corn and straw came through here than the aroma and it drowns out any other flavors that could be there. It also has a sort of off-putting metallic taste as well.
M: Light bodied and mildly carbonated, pretty much what you'd expect for the style.
O: This had a promising start, but the simple and dull taste proved this one to be average at best and certainly not one of Firestone's better offerings.
★
803 characters
3.89
/5
rDev
+11.8%
look: 3.75 | smell: 4 | taste: 4 | feel: 3.5 | overall: 3.75
Original ratings on Aug. 15, 2012 were 4.00 | 2.05 | 3.00 | 3.50 | 3.00
Changed them to accurately reflect the style (plus the 0.25 increments) on April 29, 2016 to 3.75 | 4.00 | 4.00 | 3.50 | 3.75
Poured from a tap into a pint glass at Cattlemen's Lounge in Paso Robles, Calif., on Aug. 9, 2012 for $5.00. Two fingers of head when I got it, pretty foamy on the sides. Beer was honey pale. Good retention on the top and the sides.
Smelled a bit like a saison initially. Then got honey, dark fruits, bread, grain, wheat and malts. Kind of weak overall.
Tasted honey, bread, wheat and a bit bland. Nothing really stood out.
Light body. Thin texture. Below average-to-poor carbonation. Abrupt watery finish, but refreshing. Surprisingly got better as it went down.
Pretty much an average blonde, but great for the summer.
★
828 characters
2.21
/5
rDev
-36.5%
look: 3 | smell: 2 | taste: 2 | feel: 3.5 | overall: 2
FW 805
They got me with the labeling and the fact that it's FW because this beer is crap. 
A- fizzy, light yellow. No head or lacing 3
S- some floral notes, grainy, a little yeast and some dirty bathwater 2
T- on again with the dirty soap water taste mixed with some grain and light floral hops, some metallic notes, Not good 2
M- good mouthfeel. Good carbonation, lighter body 3.5
O- "why did they release this?" is all I kept thinking. I love FW, but this is a crappy beer no matter what. I feel bad that this is the beer they gave to the 805 proclaiming "local only" on the bottle and 6-pack. Do something to make up for this abomination you've released to the 805 FW! 2
D    
★
691 characters
2.73
/5
rDev
-21.6%
look: 3 | smell: 2.5 | taste: 2.5 | feel: 3.5 | overall: 3
I had no background of this beer whatsoever, yet I decided to try a pint of it anyways. After all, it's made by Firestone Walker. On to the beer:
I spend the entire pint trying to understand what this was. There isn't much head, retention, or lace to this one. The nose is weak and offrers some strange fruity notes. And its taste is more of the same. If anything, it tasted like a weak pale ale where the hops weren't worked as much as they could. At least it was easy enough to drink, not terribly offensive, and was bubbly in the mouth. As far as everything else, I'll pass. It's a good thing this is brewed for the local Central Coast market, because I don't think it's necessary to inflict this beer on the people in my area (Orange County).
★
747 characters
2.81
/5
rDev
-19.3%
look: 3 | smell: 2 | taste: 3 | feel: 3.5 | overall: 3
Bottle (2012)
Clear golden with a small off-white head that leaves the glass clean on the way down.
The aroma is of simple grain and some dishrag, unfortunately. Simple, yet not particularly pleasant.
The flavor is similar to the aroma, with simple grain, low bitterness, and a bit of earthy yeast character.
Medium bodied with moderate carbonation.
Not that good, but completely expected for the given style.
★
414 characters
2.46
/5
rDev
-29.3%
look: 3.5 | smell: 2.5 | taste: 2.5 | feel: 2.5 | overall: 2
The color when poured into a pint glass what a light yellow with hardly any foam and not lace. The smell was of a weak lack luster aroma of weak hops and that was it. The taste was of really weak everything in a beer. I should have rated it a 1 all across. Not a good blonde ale. What a disappointment from a very good brewery. One of the worst ales I've tasted from Firestone/Walker.
★
384 characters
3
/5
rDev
-13.8%
look: 3 | smell: 3 | taste: 3 | feel: 3 | overall: 3
Picked up a 6 pack while in Paso Robles for the FW invitational. Pours a yellow beer, white head, nothing exceptional going on. Aroma was cereal grain and not much else, barely present hop aroma going on.
Clean taste, mild mouthfeel, grain presence. Easy to drink, slightly bitter aftertaste, but nothing that should scare any seasoned beeradvocate. A decent beer, worth having around for other's to drink. You've had lots of iterations of this beer, this is the local brewery easy go to drink for the non beer drinker. It is what it is. You know what kind of beer I'm describing. Its an all barley version of BMC basically. Slightly better, a little more ooomph, but nothing special.
★
685 characters

3.17
/5
rDev
-8.9%
look: 3 | smell: 3.5 | taste: 3 | feel: 3.5 | overall: 3
Black and white colored label on squat brown glass bottle. Brewed on 05/16/12 that makes this bottle of beer just 5 days old.
Clear amber colored ale that turns gold if you hold it up to the light. Not much head formation.
Smell is on the sweet side and fruity with a strong vanilla and banana aroma. Just a guess fruity from an English style beer yeast and the vanilla is from the oak barrels Firestone Walker is famous for using.
Starts out dry with a strong soda cracker malt flavor. Caramel and oak with a little vanilla in the flavor. The fruitiness from the smell does show up in the taste, it just isn't as strong.
Mouthfeel is good.
Overall a mild tasty low alcohol ale.
★
693 characters
805 Blonde Ale from Firestone Walker Brewing Co.
3.48
out of
5
based on
802
ratings.