Pivo Pils
| Firestone Walker Brewing Co.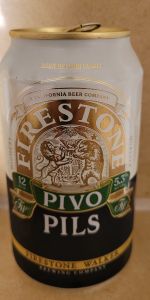 BEER INFO
Brewed by:
Firestone Walker Brewing Co.
California
,
United States
|
website
Style:
German Pilsener
Alcohol by volume (ABV):
5.30%
Availability:
Rotating
Notes / Commercial Description:
No notes at this time.
Added by UCLABrewN84 on 07-22-2012
Reviews: 283 | Ratings: 1,876
4.56
/5
rDev
+14.3%
look: 4.25 | smell: 4.5 | taste: 4.5 | feel: 4.75 | overall: 4.75
First time having this was on tap at Pinthouse Pizza in Austin. This has been a regular in my fridge since it hit the Texas market in bottles.
A: Pours a perfectly clear Yellow in color. A two finger egg white head forms, with excellent retention. Plenty of lace left all the way down. I love the clarity here.
S: Very clean lager yeast. Spicy, peppery, bready malts. Toasted cereal grains. A light grassy bitterness lingers. Simple, and excellent.
T: A great, clean lager yeast with simple flavors. Spicy, peppery, bread and biscuit. Toasted grains. A light and subtle floral, lemony, grassy bitterness. I love it.
M/D: A light to medium body. Perfectly crisp, clean, and dry. Easy and enjoyable to drink. All day with this.
An excellent example of the style. Amazing in its simplicity, and incredibly enjoyable. One of the best lagers made in the US, and I am glad I can now get a six pack pretty much whenever I want.
★
922 characters
3.71
/5
rDev
-7%
look: 4.5 | smell: 3.5 | taste: 3.75 | feel: 3.5 | overall: 3.75
Had on tap at Final Gravity in Roseville, CA
Appearance - Crystal clear and straw yellow, this brew was served to me in a tall, 14oz pilsner glass with a white finger width head. Good retention. Leaves solid lacing around the glass, sip after sip.
Smell - Grainy aroma. Slight grassy bitterness.
Taste - Clean grain malt bill. Touches on honey. Moderate grass hop bitterness near the finish. Finishes crisp and clean.
Mouthfeel - Light to medium body with fair carbonation. Easy, clean finish.
Overall - Really good pilsner. Maybe not as hoppy as advertized? Still, clean and flavorful. I'd definitely drink it again, and again, and again.
★
644 characters

4.18
/5
rDev
+4.8%
look: 4 | smell: 4 | taste: 4.25 | feel: 4.25 | overall: 4.25
Nice little pils from FW. Pours a bright, clear pale gold. No haze. Good head. Lots of fine bubbles. Good lacing. Aroma has grassy hops with some fresh grain notes. Hay, lemons, earth round things out. Taste is mildly bitter but there's a bit of light malt sugariness to it. The malt flavor is a touch grainy but not bad. A little too much sweetness. Finish is fairly clean. Mouthfeel could be lightened further but it's pretty good. I'd just prefer pils to be ultra crisp. This is a nice beer and it's always good to see American breweries take on lager styles.
Edit: Tried from the bottle and enjoyed it more.
★
612 characters
3.13
/5
rDev
-21.6%
look: 4.25 | smell: 3 | taste: 3.25 | feel: 2 | overall: 3.25
Thin, prickly body that wasn't satisfying to drink. Simple pils flavor but lacks the drinkability of a classic example. Also lacks the complexity and full body of a Prima. Overall forgettable, like a generic brewpub blonde. It isn't badly made, but there are a number of other pale lagers I'd go with first.
★
307 characters

5
/5
rDev
+25.3%
look: 5 | smell: 5 | taste: 5 | feel: 5 | overall: 5
Appearance: Beautiful pale yellow-gold with tons of bubbles. This is what a pilsner should look like.
Smell: Slight citrusy aroma from the hops, smells like a great pilsner.
Taste: Delicate flavors that really unfold. Slight bready malts. Floral hop bitterness to balance. This one walks the balancing tightrope better than most. The sign of a true craftsman.
Feel: Crisp, slightly dry, light mouthfeel that isn't too thin or watery.
Overall: My favorite american pilsner, and one of Firestone Walker's best beers. This one sets the bar. Great pairing with so many foods, great for a hot day, and the perfect beer for floating around a pool.
★
641 characters

3.88
/5
rDev
-2.8%
look: 4 | smell: 3.5 | taste: 4 | feel: 4 | overall: 4
1536th Review on BA
Draft to 6oz Snifter
@Firestone Walker, Paso Robles
App- It was more of a buttery looking yellow with a bit of a golden center. A small amount of bubbles on the top but did have some coming up from the center. A bit of a nice looking cling line as well.
Smell- Im not normally a pils fan but this one was more of a pils/ipa combo. The lemon notes were very subtle but the addition of the malt/hop combo made this a fresh and clean aromatic beer.
Taste- This was one very good pils. Had the standard pils notes but also added a layer with the hops and malt I wasnt expecting. The beer was a little spicy from the dry hopping. Very clean and crisp.
Mouth- A lighter medium body with a lighter carbonation to it. A little dry and a little crisp. Clean malt with a bit of spicy hops and a pilsner malt balance.
Drink- This was good. I really enjoyed this one. Hopefully the bottle version will be as good next year.
★
937 characters
3.68
/5
rDev
-7.8%
look: 4 | smell: 3.5 | taste: 3.5 | feel: 4 | overall: 4
Poured from a tap into an imperial pint glass (20 oz.) at Firestone Walker Brewery in Paso Robles, Calif., on Aug. 9, 2012 for $5.50. One finger of head when I got it that was white and frothy. Lots of bubbles coming up underneath in the middle. Beer color was honey golden pale clear. Lots of foamy retention throughout on the sides and the top.
Smelled honey, spices (couldn't put my finger on it), hops, cloves, Circus Peanuts, Christmas pine and lemon grass.
Tasted similar to the nose, but had to work for it. Got corn, slight lemon grass, honey, hay and wheat. Maybe a gracious 3.5.
Light body. Creamy texture. Above average-to-average carbonation. Abrupt clean finish. Crisp, watery and refreshing.
Very good for a pilsner and a great start for my first Firestone experience (in Paso Robles).
★
808 characters
3.85
/5
rDev
-3.5%
look: 3.5 | smell: 3.5 | taste: 4 | feel: 4 | overall: 4
On tap at Tony's Darts Away in Burbank, CA.
Pours a clear golden yellow with a foamy off-white head that settles to a film on top of the beer. Foamy swaths of lace form around the glass on the drink down. Smell is of malt, grain, grass, and hay. Taste is much the same with a mild herbal bitterness on the palate with each sip. This beer has a good level of carbonation with a crisp mouthfeel. Overall, this is a good beer that is tasty, refreshing, and very easy to drink.
★
476 characters
Pivo Pils from Firestone Walker Brewing Co.
3.99
out of
5
based on
1,876
ratings.