The Surly Goat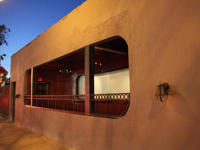 PLACE INFO
Type:
Bar
7929 Santa Monica Blvd
West Hollywood
,
California
, 90046-5107
United States
(323) 650-4628 |
map
surlygoat.com
Notes:
No notes at this time.
Added by verdugobar on 02-08-2010
Reviews: 33 | Ratings: 56
4.58
/5
rDev
-0.4%
vibe: 4 | quality: 4.5 | service: 4.5 | selection: 5
First mistake was going to this place on a Saturday night, much less one after the Bruery RS party. Place had a line out the door. This was the first time I've ever been waiting in line to get into a bar. I felt authentic LA/WeHo style.
Anyways, after about 20 minutes we were into a massively packed bar. Didn't really pick up much on the atmosphere, other than a few neat paintings of goats, Indiana Jones on the TV and a bar shoulder to shoulder packed with what looked like pretty normal people for this neck of the woods.
Selection and even pricing was awesome. Only $8 for a Deliverance on tap, full pour, tulip glass? That's like, cheaper than I can get it in the bottle at a very reasonable store, much less a hotspot like this.
Bartenders were hot, had one with fake boobs, one with big boobs and one, like the story about Goldilocks and the three bears that was just right. They were all very attentive, especially during such a busy period. Like many places these days, the list of beers they have, and the actual beers they have varies. Tried to order some Alpine stuff first, fail, didn't have it. Ended up going with the Cuvee de Tomme after the Deliverance. $40, seems pricey, but I can't even get it for that much on ebay, so to have that in an LA hotspot, deal, plus it was damn good, so there you go.
I would love to come back to this place when its not a Saturday night. If I lived in the area, this would be a popular place for me on a Monday or Thursday night.
Oh yeah, and I like shooting high end bottles, and they were totally cool with me leaving with the bottle at the end of the night. Nice.
★
1,625 characters

4.88
/5
rDev
+6.1%
vibe: 4 | quality: 5 | service: 5 | selection: 5
This place has 32 taps and a great selection. I was there at a Friday afternoon happy hour and enjoyed an Avery White Rascal. Only a few people were there.
They had some great beers on tap--Deliverance, Dissident, Abyss, Consecration, Pliny the Elder, Blind Pig--just to name a few. The servers were very friendly and helpful, and didn't hestitate to pour a sampler when requested. Prices ranged from $6-10, with most in the $6-7 range and special beers higher (like St. Feuillien Cuvee de Noel at $10).
After going out for the evening, I returned around 11:00PM and I had to stand in line 20 minutes to get into the place. Very popular.
This is definitely a great place in WEHO, although it can get really crowded in the evening.
★
736 characters
4.44
/5
rDev
-3.5%
vibe: 4 | quality: 4.5 | service: 4 | selection: 5
One's experience at the Surly Goat is going to vary considerably based on what bartenders are working that night and how busy it is. I am from the East Side, and as such, have a great disdain for the greater Hollywood area. However, as much as I try to avoid it, it does have most of the great concerts that I end up attending, and as such, I need a place to drink excellent beer before I hit the dance floor/mosh pit/balcony seating.
One of the few places I can walk into and know I will be delighted with the tap list on any night and find something or two that is not only world class, but that I have not tried before. My experiences here have been varied almost entirely on my experience with the bartenders, which, like its sister bar (Verdugo) can either be incredibly nice and knowledgeable or just plain shitty in almost every category except for not hurting my eyes.
Beer list is constantly rotating both on tap and in the cellar.
★
943 characters
5
/5
rDev
+8.7%
vibe: 5 | quality: 5 | service: 5 | selection: 5
West Hollywood REALLY needed a place like this. Before The Goat came along the best quality beer you could get in WeHo was a Corona. For a city that's known for it's nightlife, and being in a state that is known for it's numerous breweries, beer savvy WeHo is not. It's just shameful. Enter "The Goat". The menu turnover is constant. When's the last time you've had Pliny The Elder on tap? Maybe you have but it's almost shocking around these parts if you did. The staff here is great. All the ladies behind the bar are as knowledgeable of beers as they are beautiful. The guys who manage the bar know beer and are always down to discuss. This is a real beer bar at it's finest. If it's not on tap they have it in a bottle. The decor is excellent with pics of goats everywhere. Hovering over the bar is "Gus", an actual goat head. There's a great patio as well as two different seating areas inside. The bar itself is nice to sit at. The bathrooms are super clean keeping with the bar's theme. Everyone there is friendly and welcoming. The only negative is the parking, which isn't so bad considering it's West Hollywood. There's a parking lot next door that's usually free. However, depending on the night of the week and how busy it is you might encounter some little fucker in a jacket asking you for $8. If so, there's bound to be a spot available down one of the side streets, you just have to hunt a bit. As for the music, they could use to play a little more rock. Nobody wants to come to a great bar like this and hear any form of dance music. Leave that for the Hollywood douchebags down the street at Voyeur who's taste in music is as bad as their taste in beer. In conclusion, if you're looking for a damn good local pub that sells damn good beers, isn't so "Hollywood" but also isn't a dive bar in any way, you've found it.
Note: It takes a lot of guts to open a "straight" bar in WeHo these days. The fact that this place use to be a gay bar called "Eye Candy" a few years ago shows that straight people are finally starting to be accepted as equals in West Hollywood. No longer are breeders afraid to walk the streets at night. We can all finally feel free to be our opposite-sex loving selves at The Surly Goat.
★
2,227 characters
4.71
/5
rDev
+2.4%
vibe: 4 | quality: 4.5 | service: 5 | selection: 5
Verdugo. Blue Palms. And now: Surly Goat. A true trifecta of bars that any beer geek in LA would consider a must.
Ryan has done a bang-up job taking the quality and selection from Verdugo (as well as the all-hot-ladies-behind-the-bar concept) and making it more cozy and welcoming to a wider audience to try to educate the novices around WeHo about craft beer.
The atmosphere is dark: plush booths and couches as well as cast iron bars and kitschy goat-centric paintings (as well as the iconic goat-busts above the bar and in the hallway to the waterclosets). 2 smoking patios and a 'game room' with free mini-shuffle board, foosball, and pac man (soon to be everything from pac-man to galaga to centipede).
The 27 taps are advertised on small menus at the bar or on chalk placards that flanks said goat-bust above, and - as you'd expect - they are changed out frequently, with at least 4 "on deck" placards at the ready beside the main menu. Recent additions include Mikkeller Beer Geek Breakfast, Hop in the Dark, Consecration, Los Abbey Red Barn, Stone RIS 2010, etc. Ask nicely (and look like you know what you're talking about) and they'll give you a leather-bound bottle list that is TRULY stunning. Seriously. You'll probably make a lot of girly sounds reading through it. Ryan covets his bottles like Crom coveted his sword.
SPEAKING OF CROM...did I mention that there are only about 3 televisions in the place which continually play obscure and/or cult classics including Conan: The Govern...I mean, "The Barbarian," Beetlejuice, Top Gun, Black Samson, The Omega Man, etc. Yeah. Don't, worry, they'll ex the kitschy films if an important game is on but...you gotta love the idea of watching Conan talk about crushing his enemies while quaffing a Scaldis in a goblet.
Good times. Good times.
★
1,804 characters
4.94
/5
rDev
+7.4%
vibe: 4.5 | quality: 5 | service: 5 | selection: 5
Finally got a chance to go out to Hollywood this past night and visit this fine establishment...and I can say it was worth the drive.
A: Basically a toned down version of Verdugo; Leather seating, dim lighting, and a moderate volume of music playing in the background. Definitely a place to bring a date and/or hang with a few friends.
Q: Ordered a few beers, both IPA's, that were extremely fresh. Nothing to really complain about at all.
S: Prompt and polite. The bartender was great and I even had a chat with a guy who worked at both Verdugo and The Surly Goat. He was even nice enough to open up a bottle of "Hop in the Dark" and share among the customers.
S: 24-32 taps (roughly) of higher-end craft beer. Couldn't ask for much more.
F: Not sure if they serve food.
Overall: It's definitely a trip from Orange County, but well worth it. A must try. Cheers!
★
869 characters
5
/5
rDev
+8.7%
vibe: 5 | quality: 5 | service: 5 | selection: 5
I am pleased to say that Surly Goat is definitely my favourite spot in LA. I've been a usual patron at Verdugo Bar since May 2008, going every Thursday till this day, but the atmosphere at the Surly Goat is exeptional.
All the people working there are friendly, and they assure that you will walk out of the bar satisfied and pleased with all the beers you've had that night. Their tap selection is beyond great. From Blind Pig to BrewDog Tokio, the Surly Goat has gone all around the spectrum bringing beers that is definitely a "must try". Thanks to Ryan at Surly Goat and Verdugo Bar, he has provided some of the most exceptional beers.
They have a cellar menu, with all your favourite Russian Rivers, Lost Abbeys, and many, many more. What I love about it so much? If the price is right, you can endulge in older batches of all these beers.
If you want to enjoy the bar in a comfortable setting, the weekdays is right for you. It's not too packed, you meet fellow beer drinkers, and some good music playing in the background (of course you cannot exclude the usual Journey and Def Leppard tracks). Come in on a Saturday and you'll notice the place busier, but with a very fun vibe. Lots of disco, and patrons other than the superficial Hollywood crowd.
You'll definitely enjoy it!
★
1,290 characters
4.38
/5
rDev
-4.8%
vibe: 3.5 | quality: 4.5 | service: 4.5 | selection: 4.5
So, we walk in and sit down at the bar, and immediately noticed how beautiful the two women bartenders were, and how knowledgeable they were about beer. I remembered this line from a review I read here (a couple below mine) and turned to my friend and told him what it said: "hot chicks at the bar that know the difference between a porter and a stout." One of the "chicks" caught our conversation at the wrong time, totally misinterpreted and glared at me like I was some chauvinist pig or something...I couldn't get her attention the rest of the night to apologize and explain. Whateva, sista!
The other bartender couldn't have been nicer or more knowledgeable. I had a Rogue Mocha Porter (delicious) and a Ballast Point Three Sheets oaked-aged barleywine (outstanding), and my friend had a Scaldis and a Matilda. All from the tap...so you see the focus on quality there. Saw all kinds of other stuff on offer, on tap and in bottles, hardly a dud in sight. Impossible to not find a top-notch beer to enjoy, and the tap list regularly rotates too...
The atmosphere is dark, which I like, although parts of the room have an austere quality. As soon as you walk in the door, in front of you is the coziest area, kind of a den sort of vibe with tons of framed pictures of goats of various varieties...and then the bar immediately to the right (well-stocked with spirits as well), and then a long row of tables directly behind. Was a Thursday night about 10 pm, and there was a good crowd, but still plenty of elbow room. And don't look for a big sign outside, it's not there, just the street number...we drove by it a few times, looking more for the sign than the #. Totally kick-ass place, the Goat, I'll be back before I leave this town...
★
1,741 characters

4.09
/5
rDev
-11.1%
vibe: 4.5 | quality: 4.5 | service: 3.5 | selection: 4
All-in-all a great spot for a location in dire need of a solid beer bar. The bar actually reminded me of a Chicago bar, which is definitely a good thing: focus on hanging out with a great patio area. While there, I had a consecration, three sheets, idiot, and the craftsman saison. All were solid as expected. The service was great; the bartender was generous with tasters and friendly banter at the bar. Service lost some points for simply because the bartender working there didn't have a very solid beer knowledge. Aside from that, very friendly and diligent. I must also note I visited on a Sunday evening and the place was relatively empty. The selection was pretty good. Admittedly, Beachwood has a better selection of the hard to find stuff, but from the looks of this spot, the Goat is surely on its way to greatness. Definitely a fun spot and worth the trek if you are considering visiting.
★
899 characters
4.94
/5
rDev
+7.4%
vibe: 4.5 | quality: 5 | service: 5 | selection: 5
The Surly Goat is the best beer bar in LA hands down! And It is not because of the comfortable laid back atmosphere or the world class tap line up. It is not because of the awesome Goat head watching over you or the hot chicks at the bar that know the difference between a porter and a stout. It has nothing to do with the awesome walk in beer cellar adorned with gleaming bottles of Utopias and other rare goodies. It's not the VIP goat room or even the free Pacman. It's the best beer bar In LA because of the vision and commitment of the Goat owners Ryan and Brandon. It is evident in every square inch of that place, this is a beer geeks beer bar! Created by beer geeks for beer geeks in the name of beer, one nation under beer indivisible and justice for brew!
With The Verdugo Bar, Ryan and Brandon broke the stranglehold of pretentious beer bars and brought gold standards like Pliny the Elder to the comfortable neighborhood bar where you could regularly imbibe in mind blowing "how did you get that" beers. A good eighty percent of the soft opening weeks Goat line up were beers that not only exceeded that category but were beers that you would have made an event out of. Pliny the Younger, Sculpin, Rasputin XII, just to name a few.
The Goat is not only a welcome addition to the LA beer scene, it has also just raised the bar for the entire LA beer community.
★
1,374 characters
3.6
/5
rDev
-21.7%
vibe: 3 | quality: 4 | service: 3 | selection: 4
this place needs a little bit more time to find its stride and get organized. The bar is centrally located so it'll do well for sure. We went the first Friday after opening week and it was jam packed. The bartenders were nice but were scrambling to pour and sometimes the wait was a bit too long. Unfortunately, this is not only a beer bar but a full bar so you have the people ordering their mixed crap so bartenders tend to take longer to shuffle through customers. The beer list was good but not well organized. The board list didn't match the menu so we weren't sure what was available. Strange thing....I asked a bartender for Doggy Claws and she said they were out. My friend asked another bartender a couple of minutes later and she got a pour. Huh? There was also a cask on the board and when I asked, the bartender said they don't have a cask.
★
852 characters

4.2
/5
rDev
-8.7%
vibe: 3 | quality: 5 | service: 3 | selection: 5
Let me preface this by saying that I've been eagerly awaiting the opening of The Surly Goat since the day I heard it was coming to my area. There is nothing comparable in terms of beer selection around We/Ho and Fairfax and it's certainly a welcome addition to the neighborhood. It does, however have its share of problems.
BEER: En par with Verdugo (equally amazing selection, maybe a little pricier)
ATMOSPHERE: The bar setup is similar to that of Verdugo, but the seating area is a lot larger. Unfortunately the place is just missing that something extra. With no food, no "activities" except for a Pac-Man machine, and with TVs exclusively showing cult films, Surly Goat is a hard sell for non-beer geeks. Mixed service (sometimes you get friendly and knowledgeable, sometimes you don't) doesn't help matters.
If you're looking for a night of great beers in a relaxed atmosphere, this is the place. Unfortunately, in terms of the complete bar-going experience, it fails to rise to the level of Verdugo and Blue Palms. I'd place Surly Goat a distant 3rd in the LA beer scene.
★
1,081 characters

4.64
/5
rDev
+0.9%
vibe: 4.5 | quality: 4.5 | service: 5 | selection: 4.5
I guess I get to be the first to review this place. Frankly, I'm kind of honored.
Atmosphere- It's a very classy-looking place with a stone bar, new leather in the booths and on the stools, with lots of goat-themed beer art and vintage posters on the walls. It's a dark and cozy. They keep the volume on the music tolerable so you can hear companions talk. So far it's been heavily beer-geeky since it's just opened, and because they tapped PtY a couple of days later, but there seem to have been plenty of folks just trying out a new place. It's got a nice vibe.
Quality- Very good. The tap list is all-killer, no-filler. It's probably bordering on a 5, especially with all the great bottles. I'll be re-considering this score as the place develops.
Service- Has been really excellent. Very nice (and easy on the eyes) bartenders. Some folks are still learning their beer, but I've seen them make quality recommendations to several customers. Frankly, with such a great tap list it's hard to go wrong. The guys that run the place are just awesome. Will sit down and have a beer with you, shoot the breeze, and just maybe open up a special bottle or two to share. They are really passionate about beer, and really care about sharing that passion.
Selection- Once again it's all quality stuff. The bottles they have are awesome, but hopefully they'll be adding some more in the future. They've done a good job so far with keeping several different styles on so there is something for every palate.
I have to say, opening this place right in my neighborhood is one of the best things to happen in a long time. The LA beer scene is really blowing up. And these guys are leading the charge. Oh, and they made me even happier when they tapped their PtY keg without much fanfare. That meant that regular folks off the street got to actually try the super-hyped beverage. Most of them seemed to really like it to boot. It was awesome to be able to actually savor that beer in peace, in a mellow environment, surrounded by friendly folks. Just as beer was meant to be enjoyed.
★
2,076 characters
The Surly Goat in West Hollywood, CA
4.6
out of
5
based on
56
ratings.