Dismiss Notice
Extreme Beer Fest:Los Angeles
Join us December 9th in Los Angeles for the ultimate throwdown of craft beer creativity!
Learn more...
Dismiss Notice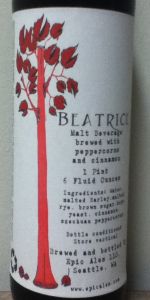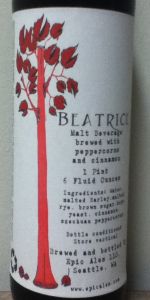 BEER INFO
Brewed by:
Epic Ales
Washington
,
United States
epicales.com
Style:
Herbed / Spiced Beer
Alcohol by volume (ABV):
4.90%
Availability:
Limited (brewed once)
Notes / Commercial Description:
Rye, Szechuan Peppercorn and Cinnamon brew
Added by Briken on 05-26-2010
This beer is retired; no longer brewed.
HISTOGRAM
Ratings: 7 | Reviews: 5
Reviews by ThePorterSorter:

4
/5
rDev
+38.4%
look: 4 | smell: 4 | taste: 4 | feel: 4 | overall: 4
Appearance:
This beer came in a cleanly and creatively labeled 1pt 6floz bottle. The cap and neck were wax dipped in dull black wax with a single, poorly placed string submerged within.
The beer poured a dense amber with a light tan head. Lacing is evident, but the head disappears rather quickly.
There is nothing too out of the ordinary, I was expecting it to be green and mutating given some of the reviews I've been reading.
Smell:
Cleaner from the dentist's office, rice, cinnamon and a peppercorn come through potently, even at colder temperatures. The cinnamon plays a nice spice role while the peppercorns are a more ominous undertone. Smelling the peppercorns makes my mouth water in anticipation. So far so good, I would have appreciated more of the rye to come through.
Taste:
This beer drinks like a sour with lots of potent flavors from both the sake yeast (dentist's office flavor?), cinnamon and peppercorn. The spices in this beer do well to harmonize rather than overpower the palate, I am honestly impressed by this beer and astonished by how poorly it has been received. Talking with Cody, the owner of the brewery, before purchasing this beer had me expecting a burning from the Szechuan, this is not the case.
Mouthfeel:
Medium bodied beer with interesting use of spices and a pleasant aftertaste. I got over the fluoride toothpaste funkiness quickly to realize this beer's potential. I get a lot of the szechuan zest in the aftertaste, this beer would pair nicely with swordfish or tuna (not yet validated, just a hunch).
Drinkability:
Just because a beer is from the west coast doesn't mean it needs to be loaded with hops just to taste delicious. I am satisfied with the purchase, the beer only cost $ 8.50ish (which is fair for a bomber). I appreciate Cody's enthusiasm, honesty, and efforts in pairing.
If you haven't done a tour of that area I would highly recommend hitting Epic, Schooner Exact, and Two beers.
Cheers.
1,952 characters
More User Reviews:
3.25
/5
rDev
+12.5%
look: 3.25 | smell: 3.25 | taste: 3.25 | feel: 3.25 | overall: 3.25

3
/5
rDev
+3.8%
look: 3 | smell: 3 | taste: 3 | feel: 3 | overall: 3
pours a cloudy orange with a small off-white head, and a little lacing.
smell of spice, some sweet fruit, a touch caramel, pepper, and malt in the back.
taste is thick, spice, somewhat tart, malt, and pineapple, ends a little on the sour side.
overall not bad for a spiced beer.
281 characters

3.16
/5
rDev
+9.3%
look: 3 | smell: 4.5 | taste: 2.5 | feel: 4 | overall: 2.5
Served at Malt & Vine in a tulip glass, Beatricve is a cloudy orange amber with little to no head. Aroma is of a Chinese stir fry. Tastes are of pepper and spice and a bit of chlorine in the finish. Mouthfeel is peppery and thin with a strange bite at the end of the tongue.
This beer is really hard to pin down. It's brewed with szechuan peppercorns and cinnamon which gives it a wonderful aroma. It's also brewed with a sake yeast that I believe may give it the chlorine I tasted. I know the chlorine effect sounds terrible and I wish I could say it had a sake finish but it didn't although it's not nearly as bad as it sounds. The mouthfeel is in a category all by itself and is quite interesting. Not exactly something I really want two glasses of but I like the attempt. Certainly something to try and experience.
819 characters

1.06
/5
rDev
-63.3%
look: 2 | smell: 1 | taste: 1 | feel: 1 | overall: 1
OK. So, I want to preface this with a few things. Epic makes some really interesting, and often, delightful beverages using unique spices or yeast strains. Cody himself is a very nice guy, a fellow Greener, and a brewer trying to make a name for himself in a competitive industry.
That having been said now, this beer has me puzzled. As in, why? Why this mixture of ingredients? szechuan pepper and ginger might've had a chance. szechuan and garlic, even. szechuan and cinnamon (along with the accompanying sake yeast, I believe?) have contributed to making a disaster of a beverage.
I feel like I remember it being pale. We had just split a pair of Surlys between the three of us and were warned. Oh we were warned. Aromas like a dish pit in the morning when the dishwasher went home sick throwing up and no one bothered to clean it up. Several sips bring me to the edge of thinking of vomiting. The only drain pours I can say I've ever performed were highly infected homebrew batches. Until Beatrice came along. She has taken my pride, my manhood, and someone's hard earned money.
I don't want to dwell on this any longer b/c I like the guy, and I hope somewhere Beatrice is not offended by this brew, grimacing while she stomachs the barrel.
1,244 characters

1.73
/5
rDev
-40.1%
look: 2.5 | smell: 2 | taste: 1 | feel: 3 | overall: 2
A - Cloudy honey. Snap-crackle-pop soapy head. The bottle gushed a little when I opened it - usually a sign of incomplete bottle conditioning.
S - lavender and dish soap. Maybe even laundry detergent. Never smelled that in a beer before. Not sure if that's good or bad - taste will determine that.
T - WAY over spiced for me. This is the first time I've genuinely wondered if I got an infected bottle. I swear it's like drinking soap.
I love beer, and I love the taste of beer. Any other added flavors - honey, cherry, maple, whatever - it has to be really subtle for me to like it. To me, this does not taste like beer.
623 characters
Beatrice from Epic Ales
Beer rating:
2.89
out of
5
with
7
ratings