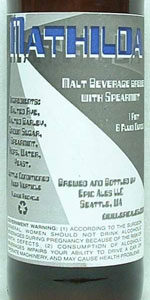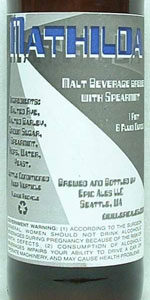 BEER INFO
Brewed by:
Epic Ales
Washington
,
United States
epicales.com
Style:
Rye Beer
Alcohol by volume (ABV):
not listed
Availability:
Year-round
Notes / Commercial Description:
No notes at this time.
Added by Wetpaperbag on 10-06-2010
This beer is retired; no longer brewed.
HISTOGRAM
Ratings: 14 | Reviews: 7
Reviews by Kakaraht:
3.67
/5
rDev
+1.7%
look: 3 | smell: 3.5 | taste: 4 | feel: 3.5 | overall: 3.5
A: Pours a opaque yellow with a thick white head that has excellent retention.
S: The spearmint is very upfront, mingling with faint light malt. There is a floralness from the hops, and the whole aroma is quite refreshing, almost cleansing.
T: Wow, it has an overwhelmingly light and fresh sensation that hits before the flavor, which is light mint with slightly sour rye malt and a slight spiciness from the hops.
M: Medium body, smooth, fresh and a little dry on the end.
D: Couldn't drink many of these, but would be perfect after a garlic heavy meal.
558 characters
More User Reviews:
3.58
/5
rDev
-0.8%
look: 4 | smell: 3.5 | taste: 3.5 | feel: 4 | overall: 3.5
Thanks to AmericanBrew for sharing this bottle.
The beer pours a yellow color with a white head. The aroma is heavy on the perfume and floral notes, with some bready malt and alcohol. There is also a hint of spearmint in the aroma. The flavor is about the same. The floral and perfume notes come through pretty strongly, with some biscuit malt thrown in for good measure. Medium mouthfeel and medium carbonation.
413 characters
3
/5
rDev
-16.9%
look: 3 | smell: 3 | taste: 3 | feel: 3 | overall: 3
1.64
/5
rDev
-54.6%
look: 2.25 | smell: 2 | taste: 1.25 | feel: 1.75 | overall: 1.75
smelled like an orange peel. Sort of tasted like an orange peel.
64 characters



3.94
/5
rDev
+9.1%
look: 3 | smell: 4 | taste: 4 | feel: 4 | overall: 4
This beer is brewed with Rye and Barley along with Spearmint and brown sugar.
A- This looks similar to a hefe when poured. Very hazy straw golden yellow with a nice thick creamy head that lasts for quite a while.
S- The smell is very interesting. Almost smells like that of a pale ale with a nice hop aroma, but then this nutty earthy rye smell comes in all mixed in with this spearmint sensation. I'm picking up some yeast bread notes as well. Very interesting.
T- This is one that grows on you as you drink it. I'm sure this beer (along with the other beers by this company) will be a love it or hate it. The rye and malt presence is very good and solid. Then you get this mint and hop flavor that seem to co-mingle. The hops are of a more bitter taste but it works well as a whole, and the mint is very interesting and refreshing.
M- Thicker full body, but it works well, and the mint seem to help thin it down in feeling.
D- Yes, and the more I drink it the more I'm thinking about when in the year, and I'm thinking this would be an excellent summer beer, that mint and a nice hop presence would be great on a hot day.
1,140 characters
3.49
/5
rDev
-3.3%
look: 4.5 | smell: 3 | taste: 3.5 | feel: 4 | overall: 3.5
Not sure how I feel about this. Very interesting. Hazy gold with thin white head. Slightly savoury rye scent, with a weird, cool sweetish mint nose. I pick up a slight bitter citrus, likely from the hops.
Bittersweet minty flavour with rye bread mingling in there. Weird dry mint aftertaste. Not horribly unpleasant. The mint really sticks in there.
Nice mouthfeel, and despite the really unique taste, this is nice to drink. I'm really not sure what to make of this. Its not drain worthy, but I don't want to rush and get more. Maybe more of an occasional beer.
564 characters

3.9
/5
rDev
+8%
look: 4 | smell: 4 | taste: 4 | feel: 3 | overall: 4
Poured a rich straw-gold into a tulip with a finger of fluffy white head. Complex, tea-like aroma of mint, black tea, and spice.
Lowish carbonation and a light, smooth mouthfeel. More complex notes of mint, cucumber, and parsley. Occasionally picked up some slight grass, lemon, pilsener-like notes. Dry cucumber finish with a hint of funky Belgian spice, perhaps due to the rye.
Not much hop presence that I could detect, but a very intriguing brew nonetheless. I found the finish to be a little sour at first, but this improved greatly as the beer warmed. Another memorable offering from Epic Ales!
602 characters
3.18
/5
rDev
-11.9%
look: 3.5 | smell: 3 | taste: 3 | feel: 3.5 | overall: 3.5
Served in 10oz goblet. Poured a lightly cloudy reddish brown color with just a thin cap of off-white head that had no retention or lacing. The aroma featured a good graininess that was tart and bright, but no one feature stood out.
The taste followed the scent pretty closely, no single aspect stood out, but the Rye did show itself a bit more than in the nose. There was a pleasant tartness that lingered on the finish. The body was clean, crisp and smooth. Drinkability was good, I'd happily have a couple, or more, of these. Overall, a pretty nice brew that you should try if you see it.
591 characters
3.58
/5
rDev
-0.8%
look: 4 | smell: 3.5 | taste: 3.5 | feel: 4 | overall: 3.5
Had this from a bottle, bought from Full Throttle. Poured into a tulip at about 45F. Definitely a tough one to review - very different from anything I have had before. The addition of the spearmint really changes this beer - reminded me a lot of what you might expect mint tea to taste like if mixed with a rye beer. The earthy rye is evident, but the spearmint dominates the flavor. Comes off fairly savory - didnt notice the brown sugar mentioned on the bottle. Perhaps would pair well with food. Flavors become more balanced, and the spearmint a bit less pronounced, as it warms.
Overall, I call this a mild success as by the end of the bottle I was at least enjoying it. At first, I was a bit put off since it tastes completely unique, but it does grow on you, and in summary, it is an interesting take.
Personally, I wouldnt make this a repeat purchase, but it is definitely worth trying once at least, and I am encouraged to try some others from the brewer. Bonus points to them for trying something new.
PS - this should probably be classified as an herbed/spiced beer IMHO.
PSS - Long lingering aftertaste is like having chewed a stick of gum!
1,156 characters
Mathilda from Epic Ales
Beer rating:
3.61
out of
5
with
14
ratings