Peg's G.O.O.D. Berliner Weisse
| Peg's Cantina & Brew Pub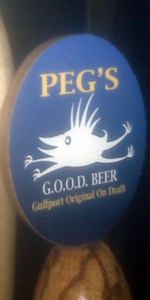 BEER INFO
Brewed by:
Peg's Cantina & Brew Pub
Florida
,
United States
Style:
Berliner Weissbier
Alcohol by volume (ABV):
3.90%
Availability:
Rotating
Notes / Commercial Description:
No notes at this time.
Added by ktrillionaire on 02-28-2010
This beer is retired; no longer brewed.
Ratings: 8 | Reviews: 5

4.08
/5
rDev
-9.3%
look: 4 | smell: 3.5 | taste: 4 | feel: 4 | overall: 5
On tap at CCB. I knew next to nothing about this producer, except that a friend kept referring to it as Doug's beer. Final talley: well done Doug!
I'm always excited to find local sours, and usually my excitement allows me to overlook a few flaws here and there. But this was truly a great representation of the style and I was very glad to have tried it. In fact, it was one of the better American Berliner Weisse that I've had. I look forward to visiting TPA again, and will have to make it a point to seek out more of Peg's--and Doug's--beers.
548 characters
4.37
/5
rDev
-2.9%
look: 4 | smell: 4.5 | taste: 4.5 | feel: 4.5 | overall: 4
On tap at CCB.
A: Pours a cloudy pale yellow hue with an above average white fizzy head.
S: Lemon heads, light corn, and a pungent sourness.
T: Very briny, with bright citrus. Tart green apples and lactic acid. Damn fine beer.
M: Lighter in body, zippy carbonation, wonderful salty tartness from start to finish.
D: The brine was a bit shocking at first but you quickly adjust. Rather drinkable actually. Add a little Belgian Red for sweetness and WOW what a beer.
I hear Doug plans to add some raspberry to a future batch. I can't wait!
544 characters

4.42
/5
rDev
-1.8%
look: 4 | smell: 4.5 | taste: 4.5 | feel: 4 | overall: 4.5
Pours a cloudy yellow/orange color with very little head and some light lacing left on the glass.
Smell is very pungent, sour lemon and lime. A little grainy in the background as well.
Taste is very similar to the smell, with huge sour citrus flavors. Very puckering, lactic sourness. Very lime forward in the taste with the sharper lemon flavor in the background. Bready, grainy flavor is there but is way overpowered by the sour.
Body is thin but not watery, light carbonation.
Very refreshing beer, can't wait to have this again in the warmer summer months.
564 characters

4.58
/5
rDev
+1.8%
look: 2.5 | smell: 4.5 | taste: 5 | feel: 4.5 | overall: 4.5
On draft at pegs, the wheat just blew, so they put this on, glad they did.
Reviewed on my phone so shortened...
Pours an odd looking greenish yellow color with a finger of head.
Smell is tart as hell, actually smells like vinegar... with a hint of citrus.
Taste is holy tart, man this is sour.... yet complex. Some wheat in there, fruitiness, and some mustard oddly enough, but it all works, this is an awesome beer. Fantastic.
Mouthfeel is thin and well carbed, man, this is fricking good.
493 characters
4.82
/5
rDev
+7.1%
look: 4 | smell: 4.5 | taste: 5 | feel: 5 | overall: 5
Peg's Cantina brews some ridiculously good beer. On par with, dare I say, Cigar City for quality. Unsurprising, actually, as the head brewer of Peg's is the assistant brewer at CCB.
A - It appears like cloudy lemonade darkened with a drop of iced tea, with a small fizzy head.
S - This stuff is pungent! To me, I get a straight green olive smell, a lactic sourness and bitterness, and a briny lemon-apple aroma. Very intense and intriguing.
T - The flavor is deliciously potent, pert, and powerful; way sour-tart flavors of lemon, lime, apple juice and papaya sit upon a refreshingly effervescent base, making for a huge amount of complexity. This brew's dynamics of tart, ripe, astringent and fruity with a sweet mouth-watering finish are a big winner for me.
M - The feel is refreshing; thin and effervescent.
D - This beer is superb. So sour, so refreshing. One of the best of the style, if not the best I've had.
921 characters
Peg's G.O.O.D. Berliner Weisse from Peg's Cantina & Brew Pub
4.5
out of
5
based on
8
ratings.