Debauched (Import Series Vol. 5)
| Stillwater Artisanal Ales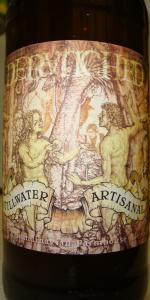 BEER INFO
Brewed by:
Stillwater Artisanal Ales
Maryland
,
United States
stillwater-artisanal.com
Style:
Saison / Farmhouse Ale
Alcohol by volume (ABV):
6.70%
Availability:
Limited (brewed once)
Notes / Commercial Description:
Brewed with whole juniper bushes, farmhouse ale yeast (brettanomyces) and a touch of smoke. Like a Viking Saison, yeah.
Added by Thorpe429 on 10-09-2011
This beer is retired; no longer brewed.
Reviews: 39 | Ratings: 112
4.03
/5
rDev
+2.8%
look: 4.5 | smell: 4 | taste: 4 | feel: 4 | overall: 4
Thanks to wishuwerebeer for sharing this 500ml bottle with me. Poured into a cervoise, the brew appears a hazed golden yellow with a strong fluffy white cap. A constant stream of bubbles maintains the head with more than a finger of thick forth.
The smell is lemony with hints of fruit. Brett is present really bringing out the farmhouse quality of earth and barn yard notes. Some grainy inclusion like straw blends into grassy hops, funk and cheese. A little bit of sulfur and citrus across the back. A hint I spicy clove is present mixed with even more cheesy notes as it gets warmer.
The taste is clove and peppery with spice. Some fruit indication like dry pear skins, apple and lemon. Dry earthy notes of Brett are midpalate before a drying sense of straw-like grain fills out the profile. A light alcohol inclusion is felt but it works to brin out a rindy fruit flavor that is bitter and grassy.
This is a medium bodied brew with a fizzy feeling level of carbonation. It is light and easy drinking, a very nice example of the style. The cheesy aspects were a bit much at times but there was enough going on to keep me interested through the entire experience.
1,168 characters

4.03
/5
rDev
+2.8%
look: 4.5 | smell: 4 | taste: 4 | feel: 4 | overall: 4
I purchased this 500ml bottle at Food and Friends in Philadelphia for $21.99.
A - Pillowy head that looks like it could actually support some weight, straw colored, strong lacing throughout the course of the beverage.
S - This reminds me of an indoor garden. If you've ever been to Longwood Gardens in Pennsylvania, this beer reminds me of what it smelled like to roam around the indoor gardens.
T - No overly farmery which is a good thing. It does have a hint of a medicinal taste to it. Nice dryness; not really sweet in the slightest but not bland to the tastebuds at all. Hops are light and airy. The bitterness is really well balanced.
M - Light and pleasant. The feel of this beer feels appropriate for a warm spring day.
O - Price aside, a tasty beer from a interesting brewery.
790 characters

4.15
/5
rDev
+5.9%
look: 4.5 | smell: 4.5 | taste: 4 | feel: 4 | overall: 4
500 mL bottle poured into a tulip
A- A hazy golden color with a huge fluffy white head.
S- Fruity, spicy, yeast. Juniper berries, some citrus, touch of funk/brett, pepper, earthy spices, bready. A very nice smelling beer.
T- Different then the nose. Very floral up front, barnyard finish, juniper berries, citrus, earthy spices, overall a very earthy beer.
M- Smooth, crisp, dry finish.
O- Another good beer from Stillwater. Flavors are well balanced, and this is a nice Saison. I feel that it was pricey, but I wouldn't mind paying for another bottle.
557 characters
4.03
/5
rDev
+2.8%
look: 4.5 | smell: 4 | taste: 4 | feel: 4 | overall: 4
500 ml bottle. Served in a tulip, the beer pours a gold color with about an inch and a half frothy white head. The head retention is excellent, and there's a good amount of lacing left on the glass. Aroma is fruity and spicy, it smells like citrus (orange, lemon peel), bready malt/wheat, cloves, juniper, peppery spice and a little bit of funk. Smells like a mix between a hefeweizen and a saison. The brew tastes like peppery spice, orange and lemon peel, wheat, and a bit of an herbal/flowery flavor. Mouthfeel/body is medium, it's a bit creamy with high but soft carbonation. I think this is a good overall brew, I think it's worth a try. But it's not a cheap beer at $13.99 a bottle.
688 characters

3.62
/5
rDev
-7.7%
look: 3.5 | smell: 4 | taste: 3.5 | feel: 3.5 | overall: 3.5
This poured out as a hazy golden yellow color with a foamy white head on top with a decent lacing. The smell of the beer had an interesting mix of what smelled to me like a lager mixed with a Saison. Interesting combo I'd say. The taste of the beer was pretty good, it was clean and crisp with a good bitterness. The mouthfeel of the beer was light bodied with some a good bite in the finish. Overall this brew wasn't too bad, I wasn't too impressed with the beer but it was drinkable nice to try.
497 characters
4.2
/5
rDev
+7.1%
look: 4.5 | smell: 4.5 | taste: 4 | feel: 4.5 | overall: 4
Pours a huge fizzy head that continues to ruse up and threaten coming over the sides of the glass, in a fluffy fashion rises over the edges and never fades, I have to eventually sip the head to keep it from bubbling over, nice saison fashion, with the beer being a semi hazy golden banana yellow color. The head eventually fades with some pot-marked spots and sticky lacing.
Nose is really interesting, lots of nice light saison malts and light bready toasty malts, light citrus and spices, the usual. It really comes through with the yeast, light funk and farmhouse aromas, a nice dry barnyard funk and little horsehair, almost Brett like but not super funky.
Taste starts with more of the funk but not very funky, barnyard funk but very little horsehair this time. A nice yeast flavor from the farmhouse dry rustic flavors. Then more dry bready malts, a bit of wheat like as well, soft creamy malts even. Then light spices from the yeast, a light nice spice kick and some light lemony like citrus. An interesting bitterness starts to come through with a light spice and hint of booze, bitterness not from hops but maybe spices... Which leads to the finish, a nice dry rustic farmhouse finish, bit of bready malts, pretty dry, more bitterness and spices, a little bit of a sticky like demeanor, and more lemony flavors.
Mouth is med bodied, tons of carbonation.
Overall pretty good, nice funky saison, nose has some real funk, taste is typical farmhouse rustic dry saison, light spices that increase as it goes and bring a light bitterness, bit of lemony citrus, and the slightest hint of booze that seems like its more than it is thanks to the spices I think. Drinkable but not sure if I would pay that much for it again.
1,727 characters

3.28
/5
rDev
-16.3%
look: 5 | smell: 4.5 | taste: 2.5 | feel: 4 | overall: 2.5
Light golden color, slightly cloudy with huge white head and incredibly sticky lacing. Head remains extraordinarily strong. Clearly saison yeast smell, slight funk, citrus as well.
Whoa, the taste kicks you in the teeth and is completely different from the smell. I suppose it's the Juniper as it's something I've never tasted before. Slightly medicinal, and herbaceous. It's somewhat offputting. Not the worst taste, but certainly not what I was looking for. This seems to be a common theme in the import series. I love Stillwater's saisons, but the flavor is too unbalanced and spicy. Still, there is a great beer under here somewhere.
639 characters

3.69
/5
rDev
-5.9%
look: 4.5 | smell: 3 | taste: 4 | feel: 4 | overall: 3.5
Draft at Khyber Pass.
Pours a hazy dark golden yelowish color with banana hues and a two finger frothy, pillowy white head that very slowly fades into a lasting cap. Streaks and spots of lace left behind.
Slightly earthy aroma with funky yeast and subtle musty Brett. The juniper is evident as well but doesn't overpower, letting the brett and saison yeast shine. Some bready yeast and light fruit notes in the nose.
Medium bodied but on the fuller end with a nice creamy texture followed by subtle barnyard funk and musty Brett. Not overpowering or too dry. The saison elements are  still evident with bready yeast, grass, straw and light fruit especially apple and pear.  Juniper gives slight earthy, spicy character but doesn't overwhelm. Well balanced with the Brett adding a crisp, funky dryness that gives it depth and complexity. Pretty good saison thats easy to drink.
883 characters

4.05
/5
rDev
+3.3%
look: 4 | smell: 4 | taste: 4 | feel: 4.5 | overall: 4
On tap at Max's taphouse in Baltimore.
Beer is golden with a white head and some lacing on the walls of the glass. Decent retention, hazy, looks like beer.
You can really smell the juniper in this one but it is not fruity or overpowering, just present, soothing.
Beer is wheaty with a nice moderately dry finish. There is some fruitiness on the palate overall. The yeast comes through nice with great floral notes throughout the beer. Another good from Stillwater.
467 characters
4.42
/5
rDev
+12.8%
look: 4 | smell: 4.5 | taste: 4.5 | feel: 4 | overall: 4.5
On tap at Max's.
The beer pours a slightly hazy gold color with very good head retention and considerable lacing. As good as this looks, it smells even better, with honey, light sour funk, juniper berries and light orange citrus. This beer smells seriously good... The flavor profile generally replicates the nose, but with some nice hoppy bitterness on the finish as well. The bitterness helps to counter the modest sweetness, and adds yet another nice flavor component to the profile. Mouthfeel is medium bodied, but with a fairly long, slighty sweet, slightly funky, slightly bitter finish. Drinkability is good, with the alcohol no more than an after thought.
This is pretty damn tasty. Maybe the best yet I've had from Stillwater.
737 characters

4.3
/5
rDev
+9.7%
look: 4 | smell: 4 | taste: 4.5 | feel: 4 | overall: 4.5
On-tap at The Double Windsor in Brooklyn, served in a Chimay chalice
The body sits a hazy golden straw color with a firm one finger cap. No discernable lacing, good retention.
The aroma is not like a standard saison. The spice/clove is well-hidden and the bitterness from the juniper and some floral aromas take center stage. Damp hay and a mild earthiness round out this nose. The aroma is soft and pleasing.
On the palate, the floral notes stand a little taller, with the earthiness and apple/pear notes coming out through the middle. Some saddle leather funk pokes through in the finish with a light spice and finishing juniper bitterness.
Medium body, soft and creamy on the palate. The carbonation is high, appropriate for the style.
I really enjoyed this saison. A slightly different take on the classic style with great results. The juniper adds a mellow smoothness and the hop profile lends floral and citrus notes in nice balance.
946 characters

4.25
/5
rDev
+8.4%
look: 4 | smell: 4 | taste: 4.5 | feel: 4.5 | overall: 4
A: Cloudy straw yellow. Moderate fizzy white head that gently receded, leaving a few wisps of lacing.
S: Wheat, restrained clove, slightly floral, mineral like earthiness. Mild brett-must in the background.
T: Vibrant brett-infused saison. Nice floral-grassy component up front with mild apple/pear fruit notes as well as a nice dry mineral-like component in the finish.
M: Light to medium bodied. Effervescent. Crisp, dry, refreshing finish.
O: One of Stillwater's better efforts since their original Stateside saison.
523 characters
4.1
/5
rDev
+4.6%
look: 4 | smell: 4 | taste: 4 | feel: 4 | overall: 4.5
On tap at Max's for the Stillwater BBW event.
Pours a hazy straw golden color with a frothy white head; nice lacing down the glass. Pleasant earthy and spicy aroma with mild juniper and wheat. Lighter side of medium body, crisp and refreshing with an interesting wheat tinged spicy saison base with a dry finish and light juniper.
331 characters

3.88
/5
rDev
-1%
look: 4 | smell: 3.5 | taste: 4 | feel: 4 | overall: 4
On tap at Max's during today's Stillwater event. Served in a cervoise. Saison brewed with juniper.
Pours a nice golden color with a good white head and a bit of lacing on the way down. The nose brings a bit of juniper along with a nice earthy presence. Light wheat and a bit of bubble gum and clove. The flavor is mildly spicy with light clove and a bit of earth. Light juniper and a background of wheat. Light-medium body with a touch of alcohol. Slight bitterness to the finish. Really nice.
496 characters
Debauched (Import Series Vol. 5) from Stillwater Artisanal Ales
3.92
out of
5
based on
112
ratings.