Sensory Series V.2 - Small Black
| Stillwater Artisanal Ales
BA SCORE
82
good
37
Reviews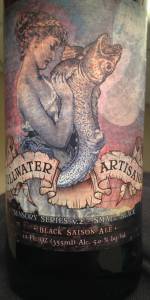 BEER INFO
Brewed by:
Stillwater Artisanal Ales
Maryland
,
United States
stillwater-artisanal.com
Style:
Saison / Farmhouse Ale
Alcohol by volume (ABV):
5.00%
Availability:
Limited (brewed once)
Notes / Commercial Description:
No notes at this time.
Added by dbrauneis on 07-23-2013
This beer is retired; no longer brewed.
Reviews: 37 | Ratings: 127
3.07
/5
rDev
-14.5%
look: 3 | smell: 2.75 | taste: 3.25 | feel: 3.25 | overall: 3
Initially ineffectual Coca-Cola collaboration.
That with exposure, moments of hands,
Warmth, an incalculable number of minutes
(for further perception's sake),
Became basically pleasant.
Though, unwarranted or impenetrable in a way
That is merely black so as to be black,
And not in the charge of nuanced virtue or spirit.
323 characters

3.75
/5
rDev
+4.5%
look: 3.75 | smell: 3.75 | taste: 3.75 | feel: 3.75 | overall: 3.75
Poured into a Nostradamus flute glass. Pours a very dark mahogany brown with a fine one finger light brown head with great retention and lacing. Aroma of saison yeast, toasted malt, mocha, light citrus. Initial flavor of toasted malt that quickly changes to dry citrusy saison with mild citrus rind, earthy spicing; finishes dry with light spice and hop bitterness. Light bodied with peppery carbonation. The combination of toasted malt and saison yeast is interesting and worked pleasantly, but the flavors were subdued and the finish was a bit stark from the promise of the initial taste. Stillwater doesn't seem to make anything that is not well crafted, but this one was not that exciting.
693 characters

3.86
/5
rDev
+7.5%
look: 4.25 | smell: 3.75 | taste: 3.75 | feel: 4 | overall: 4
Extra from SourAddict. Thanks! Served in a DryHop taster pint.
A - Generous tan foam settles to a thick, creamy cap, leaving behind stray splotches of lace. Body is very dark brown, verging on black, with some dark ruby transparency when held to the light.
S - Roasted malts, with hints of dark chocolate and caramel. Phenolic and peppery yeast presence is there; but I would probably guess Belgian Stout if asked to label this. There's perhaps a hint of stone fruit in the, and perhaps some floral hopping lingering after nearly four months in the bottle.
T - The taste is significantly more Saison-esque; there's more doughy and yeasty farmhouse flavors. Some under-ripe peach and apricot. Roast and dark chocolate show up later, imparting a mild bitterness. Flavor combination is surprisingly successful.
M - Grainy medium body, with active carbonation that manages to avoid being harsh. Clean finish that is more evocative of a Schwarzbier than a Saison. No alcohol, not that I expected any.
D - A really easy to drink beer that I enjoyed on the whole. There's an odd disconnect between the aroma and the taste, but not in an unpleasant way. Drinks more like a farmhouse schwarzbier than a black Saison. Liked this more than the similar 8% offering from Stillwater.
1,274 characters

3.88
/5
rDev
+8.1%
look: 4 | smell: 4 | taste: 3.75 | feel: 3.75 | overall: 4
ST: 12oz bottle poured into a tulip.
A: Black with red tints, root beer foam, spotty lacing.
S: Lemon, orange, stone, funk, maybe a light hint of smoke.
T: Lemon, grapefruit, stone, smoke, burnt, hoppy.
M: Medium, dry, coarse.
O: The aromas of a saison are noticeable as soon as the cap is off the bottle, an interesting counter to the black color of the beer. The pleasure of disjointed sight and smell does carry through to the flavor. Most of the elements of a saison are upfront though muted, citrus, stone funk. The flavor continues to lose some of the zipp of a typical saison as some smoky malt takes over, finishing with a hint of hop.
652 characters
3.98
/5
rDev
+10.9%
look: 4 | smell: 4.75 | taste: 3.5 | feel: 3.5 | overall: 4.25
Appearance:
This is the first beer of this style that I have personally had that is pitch black. I get absolutely no light penetration with this one! Crowned with an airy, beige, finger-thick head that settles with time. Light carbonation & minimal lacing - it almost looks like a Pepsi.
Aroma:
The aroma on this one is a thing of beauty - generous roasted malt provide a backbone to pepper, lemon peel, plum, a nice amount of yeast, and earthy spices that I can't quite identity but coriander is definitely in attendance. It's impossible to stop smelling, there is so much here - each time I take it in I pick up something new. I'm in love!
Taste:
Roasted malts, fig, plum make up a very nice, refreshing saison that is haunted by the faint presence of coffee and hints of black Licorice and bitter cocoa. As this one warms, black Licorice becomes more noticeable.
Mouthfeel:
Carbonation hits you quick with this one, it's dancing from the second it hits your lips until you swallow. Body wise, this is pretty light with plenty of bubbly and finishes semi dry.
Overall:
This is an interesting take on the style and I would happily grab this one again, if I were lucky enough to find it!
1,196 characters
3.76
/5
rDev
+4.7%
look: 4 | smell: 3.5 | taste: 4 | feel: 3.75 | overall: 3.5
Poured from a 12 ounce bottle into a brandy snifter. Listened to with the appropriate music.
A: Dark black; opaque. Nice white head.
S: Smells like a saison, with a light roastedness and tinge of soap. Belgian yeast.
T: Very light-bodied, almost lagerish. Roast is very light, and Belgian yeast is appreciated and noticeable. Interesting and nice.
M: Lightly carbonated and appreciated. Well-bodied.
O: It's okay, but not incredible. I wouldn't buy another.
462 characters
3.81
/5
rDev
+6.1%
look: 3.75 | smell: 4 | taste: 3.75 | feel: 3.75 | overall: 3.75
12oz bottle from the Belmont Station. It's been a while since I've had a Brian Stillwater beer. Bottled 1st July 2013.
Pouring a very dark brown (black, essentially) with a dense, brown head with good retention and a little lacing, this is a nice looking saison. The nose is solid, with a moderate roasted malt character, a mild smoke note, a very nice (continental) floral hop character with mint and grass. Yeast isn't super expressive here, I gather this is supposed to be a saison/schwarzbier hybrid, and based on this sample, the schwarz is winning. A rather clean yeast character is present with minimal phenols. Very nice
The palate opens moderately roasty with a little bit of smoke and a very nice bittersweetness. This really does taste more like a schwarz than a saison, especially since the yeast is very clean and the blend of minty and mildly lemony hops with the malts bring exactly that style to mind. Grainy bitterness/acidity is minimal, and there's a very enjoyable grainy fullness to the palate. Medium-light in body with a roasty, chocolatey finish, this beer has a high levelof creamy carbonation. Very enjoyable
1,136 characters
3.18
/5
rDev
-11.4%
look: 3.75 | smell: 3.75 | taste: 3 | feel: 2.5 | overall: 3
Looks nice, black with two finger, dense head, but that disappears quickly. not as rock as I would have expected. Smells pretty good too, some Belgian esters, blend nicely into a restrained roast, there is a tough of spicy hops. strong cardamom. taste is weird, slightly tinny and not very complex. mild debittered roasted malts and that's kind of it. mild sour note on the finish. Unpleasantly thin. Im usually happy with my Stillwater beers, but I don't like this.
466 characters

3.6
/5
rDev
+0.3%
look: 3.75 | smell: 3.75 | taste: 3.5 | feel: 3.75 | overall: 3.5
Just what it says on the tin (or bottle as the case may be...): it pours a cola black. Nice little tan head that dissipates fairly quickly leaving me with less lace than a pair of granny panties. dah well.
Smell is grainy, with a burnt character to it. Like if part of a granary burnt down. There's a crisp almost-sweet note underneath but this gives way to the earthy graininess and a touch of kitchen spice.
Taste follows suit. All malts, all the time. Grains with more-burnt-than-roasty edges. There's a little touch of those kitchen-cabinet spices in there too, though I can't quite put my finger on which ones it brings out.
Very drinkable, it quenches the thirst, just doesn't really stand out to me. Wouldn't go out of my way for one, but I'd drink it if someone gave it to me
787 characters

4.1
/5
rDev
+14.2%
look: 4 | smell: 4 | taste: 4.25 | feel: 4 | overall: 4
12 oz bottle poured into a tulip
A- Black with a two finger light tan head.
S- Roasted malts, a little bit of chocolate, some fruits, pepper, earth yeast.
T- Really nice, chocolate, roasted malts, light fruits, orange zest, peppers, earthy spices, very enjoyable.
M- Smooth, nice carbonation, light to medium body.
O- A nice unique black Saison. Worth trying, definitely since it is falling on the cheaper end for a beer from Stillwater.
442 characters

4.11
/5
rDev
+14.5%
look: 4 | smell: 4.25 | taste: 4 | feel: 4 | overall: 4.25
Served in a snifter at Firkin.
More dark saisons need to find their ways to taps 'round here. Just sayin'. This one pours a dark ruby-highlighted black-brown topped by a finger of khaki foam. The nose comprises cocoa powder, toasted wheat, a pinch of clove, and a bit of candied orange peel in the distance. The taste brings in more of the same, the focus being on cocoa-laden wheat, but some Belgian-style yeast, some clove, some black pepper, and some banana peel making some major waves in the glass's industry. The body is a light-leaning medium, with a light moderate carbonation and a dry finish. Overall, one of the better dark saisons I've had in a while. True story. Get some.
686 characters
3.87
/5
rDev
+7.8%
look: 4 | smell: 3.75 | taste: 4 | feel: 3.75 | overall: 3.75
Bottled 07/01/13
A: Pours a very dark cola brown in color with moderate amounts of active visible carbonation and some faint ruby red highlights. The beer has a half finger tall fizzy light beige head that reduces to a large patch of very thin film and a slightly more than thin ring at the edges of the glass. Light amounts of lacing are observed.
S: Moderate aromas of dark malts with some dark fruits (plum and fig) as well as some hints of spices and an earthy yeast.
T: Upfront there is a light to moderate flavor of dark malts with some notes of dark fruit (plum and fig) and spices - coriander and a touch of orange zest. There is also some earthiness from the yeast. Minimal amounts of bitterness in the finish.
M: On the lighter side of medium bodied with slightly heavier than moderate amounts of carbonation. Hints of dryness in the finish.
O: Overall this is a very interesting blend of the saison style with the dark malts. Nice and light on the mouthfeel and easy to drink.
1,003 characters
Sensory Series V.2 - Small Black from Stillwater Artisanal Ales
3.59
out of
5
based on
127
ratings.