Hop Bomber Pale Ale
| Rivertown Brewing Co.
BA SCORE
79
okay
84
Reviews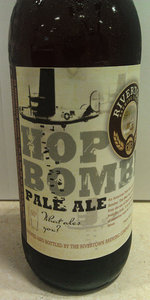 BEER INFO
Brewed by:
Rivertown Brewing Co.
Ohio
,
United States
rivertownbrewery.com
Style:
American Pale Ale (APA)
Alcohol by volume (ABV):
5.50%
Availability:
Year-round
Notes / Commercial Description:
No notes at this time.
Added by pwoods on 02-25-2010
Reviews: 84 | Ratings: 278

3.13
/5
rDev
-9.3%
look: 3.5 | smell: 3 | taste: 2.5 | feel: 4 | overall: 4
Pour is almost a brown ale color. Dark copper with a large fluffy tan head.
Smell of caramel and malt. Taste of mainly roasted malts , Caramel and brown malt flavors. Pretty dry and malty, almost an English Pale in terms of hop flavor and aromas. A change of pace for a Pale Ale. Its not quite pale and its not quite as hoppy as I imagined with a name of Hop Bomber.
Medium carbonation and a relatively thick mouthfeel for a pale ale.
438 characters
3.91
/5
rDev
+13.3%
look: 4.5 | smell: 3.5 | taste: 4 | feel: 4 | overall: 4
Poured into a Sam Adams Perfect Pint glass.
A - Deep copper and clear. Fluffy white head that quickly falls, but leaves a white ring on the edge of the glass to the end.
S - Spicy, floral and herbal hop aromas, wiith a little spiciness from the rye. Light caramel malt to balance out the hops.
T - The taste definitely tells you this is a unique twist on the American Pale Ale. The rye and the hops give a firm spiciness and herbal flavor that reminds me of a German Pilsner. But then there's the caramel malt and light ale yeast flavor that reminds me this is an American Pale Ale. Bitterness lingers long after imbibing.
M - Medium to light body and bone dry. Very crisp and clean, which is what I look for in an APA.
D - A very clean, easy drinking APA. Definitely a beer that I could drink throughout the night.
820 characters
3.13
/5
rDev
-9.3%
look: 3.5 | smell: 3 | taste: 3 | feel: 3 | overall: 3.5
A - Clear reddish color that has a nice white head that sticks around a little while.
S - Definitely could be better here. Can't really pick much up other than malt and some faint hops.
T - Some rye and some bitterness that isn't strong enough in my opinion.
M: Decent but nothing special
D: Can't say I'd try this one again. However, being a Cincinnati brew, I had to try it.
381 characters

4.18
/5
rDev
+21.2%
look: 4 | smell: 3.5 | taste: 4.5 | feel: 4 | overall: 4.5
thanks to bamadog!
pours a rich bright copper with hints of ruby. light fizzy cream colored head, retains well.
sweet malts up front. light citrus with hints of tangerine.
lots of vibrant bitterness in many levels. the rye adds a nice crisp bitterness in the backbone. light pine with citrus hints complete the hop bitterness. a bit of an earthy hop flavor. well balanced all around as they both compliment each other. nothing was too overpowering and full of flavor.
moderate carbonation that stings the gums a bit. full bodied. very crisp.
this was one easy drinking APA. lots of fun flavor and never dull. i would happily drink this more often if i had the chance.
673 characters

3.68
/5
rDev
+6.7%
look: 4 | smell: 3.5 | taste: 3.5 | feel: 4 | overall: 4
Poured into a pint glass, this beer was a clear amber with an inch of creamy, foamy head. The smell was of citrusy hops but also a little cheesiness which might mean older hops were used but I'm not sure of this. The taste is a pretty good balance of malt and hops with a slight bitterness. Don't mistake this for an IPA, the hops are not very strong for an American style. The drinkability and mouthfeel were both good and made me wish I had another. There's not a whole lot to make this stand out amongst the many APA's out there but it's a good solid beer from a new brewery that I would buy again.
601 characters

3.56
/5
rDev
+3.2%
look: 4.5 | smell: 3.5 | taste: 3.5 | feel: 3.5 | overall: 3.5
The beer was served chilled in an Imperial Pint glass.
Appearance: The body of the beer is a clear amber. The head is a nice pillowy off biege coloration. Great head retention with lots of residual sticking to my glass. They say we eat with our eyes. Very often I drink with my eyes. This beer looks tasty. Very nice!
Smell: I am not blown away with the aroma. Nor I am offended by the aroma. The beer kicks up a flash of pine and just a very light citrus aroma. The malt splashes up and brings an interesting maple syrup / caramel aroma.
Taste: The hops seem to lead with citrus. Then the malt steps in with caramel / vanilla sort of flavor. The hops at this point reassert themselves and finish with a nice bittering finish.
Mouthfeel / Drinkability: The body is medium carbonation levels work well with the beer. This is a nice throw back pale ale. Not super aggresive but not in the least boring. Well done.
918 characters
3.9
/5
rDev
+13%
look: 4 | smell: 4 | taste: 4 | feel: 3 | overall: 4
A - Same clear ruby color as the nitro-tap, but the bottle has a much better white head that stuck to the glass and also had better retention.
S - Not a lot of aroma, but a well balanced malt and hop profile.
T - Spiced rye flavor forward with slight floral and plenty of steely bittering hops in the aftertaste.
M/D - Mouthfeel is nothing special, the steely hop bite takes a bit away. However this is a solid pale ale for a beer drinker who doesn't mind a very bitter beer.
478 characters

3.6
/5
rDev
+4.3%
look: 3 | smell: 3 | taste: 4 | feel: 4 | overall: 3.5
A: Copper red, with a nice tan head.. a good bit of floaties in there as well. Little dark for the style..
S: Sweet carmel, and maple undertones. Slight hop scent from in the finish, but mostly a very sweet scent. The hops that are there are earthy.. Surprised there isn't more hop scent.
T: There are the hops.. Grapefruit, and citrus (tangerine) with a nice burnt carmel flavor in the finish. Fruity hops (tropical) with good balance of malt.
M: Medium body, with decent carbonation.
D: Good, well balanced, not amazing, but nice. A good balance of malt and hops, with a nice clean finish.
596 characters
3.44
/5
rDev
-0.3%
look: 4 | smell: 2.5 | taste: 3.5 | feel: 4 | overall: 4
6er purchased at Vonderhaar's in Reading. Poured into an imperial pint.
A: Pours a dark amber with pretty good clarity. Maybe a half inch of head on the pour with little retention and decent spotty lacing.
S: The description on their website says it's dry hopped but I'm not really getting much hop aroma. Some light malts. Hardly any aroma.
T/M: Decent bitterness level. Some light citrus, maybe some pine. Malts definitely balance and the light rye adds a nice complexity with the touch of spiciness. Body is about medium with a good carbonation level. Some dryness on the finish.
D: Drinks easily enough and the touch of rye keeps it interesting. Might be a bit overbalanced to the malt side but that's probably just me wanting a super hopped IPA whenever I drink an APA.
778 characters
Hop Bomber Pale Ale from Rivertown Brewing Co.
3.45
out of
5
based on
278
ratings.