Hop Baron Double Down IPA
| Rivertown Brewing Co.
BA SCORE
80
good
33
Reviews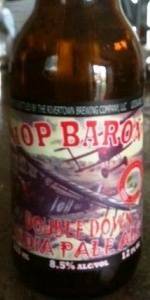 BEER INFO
Brewed by:
Rivertown Brewing Co.
Ohio
,
United States
rivertownbrewery.com
Style:
American Double / Imperial IPA
Alcohol by volume (ABV):
8.50%
Availability:
Year-round
Notes / Commercial Description:
No notes at this time.
Added by ltjska04 on 08-06-2010
Reviews: 33 | Ratings: 97
3.59
/5
rDev
+3.8%
look: 4.5 | smell: 3 | taste: 3.5 | feel: 4 | overall: 4
No date on bottle. Poured into a Sam Adams Perfect Pint glass.
A - Orange and clear with a bright, dense white head. Looks just like I'd expect a DIPA to look.
S - Hops are definitely present in the nose. Pine, citrus, and a little pineapple. However, the hops aroma is a little subdued from what I expect in a DIPA. No malt in nose, which would be nice to have.
T - Taste follows aroma. Hops are up front in flavor with a firm, lasting bitterness. Bitterness is a little rough, but not out of line for a DIPA. Light, toasty malt flavor. There's a sweetness present, but from the warming sensation I think the sweet flavor is from the alcohol. Clean yeast character.
M - Warming with a dry finish. Moderate carbonation and very smooth drinking.
D - A very quaffable DIPA. If you took New Glarus' Moon Man and amped it up, you'd have this beer. A beer that would go very well with a strong cheese. The malt isn't too sweet, which is something that I think gets screwed up in a lot of DIPAs. I'd like a stronger hop aroma and flavor in this beer, though.
★
1,058 characters

3.5
/5
rDev
+1.2%
look: 3.5 | smell: 3.5 | taste: 3.5 | feel: 3.5 | overall: 3.5
Poured into a snifter.
3.5 A: Clear medium orange color. One and a half fingers of creamy/frothy off-white head. Retention is a touch below average and a small ring of lacing is left.
3.5 S: Interesting. There's nearly no malt presence at all in this (there is a touch of caramel). It's sort of a feat given the moderately high ABV. It's also not a case of the hop aroma masking the malt since the hop aroma isn't all that powerful. Anyway, the hops are flowery, citrusy, and herbal in that order. There's also a dank, resiny quality to them. Specific flavors are orange and grapefruit. Still, this smells good either way.
3.5 T: Like the nose suggests, this is all hops and no malts aside from a minor neutral maltiness. Dank citrus and herb from the hops. Mild grapefruit and a hint of orange. The main flavor can only be described as "generic hops" - a little earthy, a little herbal, a little citrusy. Super clean. No complexity, but still tasty.
3.5 M: Light body. Good moderate carbonation. Reasonably creamy given the body and super smooth.
4.0 D: This is a generic, well crafted DIPA. No dominant flavors, very little in terms of maltiness, but still a pleasure to drink. That's about all I can say.
★
1,212 characters
3.5
/5
rDev
+1.2%
look: 3.5 | smell: 3.5 | taste: 3.5 | feel: 3.5 | overall: 3.5
Light Amber color, leaning toward the oranger side. off-White 1/4" head at pour settling to a off-white ring and thin cover on face of beer. Dark malty aroma with compliments of a deep orange breadiness. Occasionally picked up some brighter citrus notes. Doesn't pick up as much hop as I was expecting for style, aroma pretty much dominated by maltiness. Very dry finish. Beginning is very dark and sweet. Middle brings through a slightly brighter, citrusy flavor. End becomes dry which carries through to finish. Heavier maltiness very dominate in overall flavor as well accompanied by a relatively high carbonation level that seems to linger. Overall not that bad, slightly on heavy on the sweetness.
★
702 characters

3.27
/5
rDev
-5.5%
look: 3.5 | smell: 4 | taste: 3 | feel: 3 | overall: 3
Picked up at Belmont Party Supply in Dayton when swinging through there a few days back. The label drew me in to this one; sweet biplane battle artwork is a winner every time. I do find it interesting that this particular brewery produces this DIPA but does not brew an actual American IPA. Curious.
Color is a mellow golden. Head dies extremely quickly despite copious visible carbonation. Nose is heavy on the herbal and citrus notes with some pine resin and needles there for appearances.
Strange. The hops are there but they seem to take a few lapses. Earthy, metallic malts spend a surprising amount of time in the spotlight. The body could be stiffer, though its not for a lack of bubbles. The whole project needs adjusting and tightening. I'm not even sure I'd recognize this as an IPA, let alone a DIPA. Keep the label, but fix the beer.
★
848 characters

3.27
/5
rDev
-5.5%
look: 3 | smell: 3.5 | taste: 3 | feel: 3.5 | overall: 3.5
The beer was served in an Imperial Pint glass.
Appearance: The body of the beer is clear orange with a quick to resolve white head.
Smell: Biscuit caramel malt support a bit of citrus and pine hops. Smells alright but not a hop bomb by any stretch.
Taste: The flavors of the beer are sweet biscuits smeared with caramel. This supports a thin pine hop. I would like a bit less malt and a hell of a lot more hops. This is more of a hop tinged malty beverage.
Mouthfeel / Drinkability: The body of the beer is medium. The carbonation is on the low side but not really problematic. The beer drinks well enough. I think this is a very good stab at a DIPA. I think this beer needs another reworking.
★
698 characters
3.08
/5
rDev
-11%
look: 3.5 | smell: 3 | taste: 3 | feel: 3.5 | overall: 3
12oz bottle, secret santa
appearance: served in a tyranena nonic, cloudy orange body, light beige froth with minimal retention
smell: doughy malts, caramel, touch of pine
taste: a doughy caramel body, some light pine, citrus rind, peppery, moderate boozyness, somewhat herbal. A bit unrefined with a subdued hop profile.
mouthfeel: medium-full body, light bitterness
overall: probably a pass on this one
★
408 characters

3.06
/5
rDev
-11.6%
look: 4 | smell: 3 | taste: 3 | feel: 3 | overall: 3
No bottle date, poured this into a snifter.
Pours a nice opper color with a creamy, white, one finger head. Head settles out very quickly. The beer is clear with little carbonation.
Picking up some grainy cereal type aromas along with a little bit of citrusy hops and alcohol.
For a DIPA it certainly doesn't smack me in the mouth with hop bitterness or flavor. I'm mostly getting som bready notes and a little sweetness with a small touch of hops.
At 8.5% I was expecting it to be a little heavier, it's not though. There's little carbonation and it leaves a grainy aftertaste. For a DIPA I am feeling a little unfullfilled.
I was hoping for more. It has a great color but that's about where the praise ends. After that it's pretty average. Unfortunate as this is a local brewery that I would like to support more.
★
815 characters
2.75
/5
rDev
-20.5%
look: 1 | smell: 3.5 | taste: 2.5 | feel: 2.5 | overall: 3
Pithy grapefruit with some earthiness and a really big malt bill come through on the nose. The flavor starts pretty sweet with caramel malts, then fleshy orange skin, white grapefruit, and the beer stays sweet all the way through...
Where's the bitterness?
As this warms it reminds me of grapefruit with sugar sprinkled across the top.
After having the Pale ale earlier that had no hop flavor and all bitterness, this is the complete opposite-- it's all flavor and no bitterness. The flavor is decent, but not really blowing me away.
This one is undercarbed and has a slight syrupy vibe to it.
There was little head on this one, no lace, and very poor retention.
Overall, this is a slightly subpar DIPA-- it isn't offensive, and if I were offered one I could drink it without having to feel like "I'm choking it down." I'd take this over lots of beers, but with DIPA being one of my favorite styles, I just cannot see this as anywhere above average.
★
958 characters

2.62
/5
rDev
-24.3%
look: 3 | smell: 3.5 | taste: 2 | feel: 3.5 | overall: 2.25
Poured Hop Baron into a Belgian Tulip.
A - Pours a cloudy burnt orange with a half a finger of white head.
S - Malty, tropical citrus, honey. Not sure about this one.
T - Disappointing, I really not sure what this is. Orange flavors, musty malt.
M - Medium mouthfeel, with medium carbonation.
O - Not the worst beer I've had but damn close. Steer Clear!
★
359 characters
2.37
/5
rDev
-31.5%
look: 2 | smell: 2.5 | taste: 2.5 | feel: 2.5 | overall: 2
Received as an extra in a recent trade.
A- Poured cloudy, I mean really hazy orange. This shit doesn't look clean, or too promising for that matter.
S- Here's where the wheels come off. I can tell by the smell, this beer is old. There is no forward hop presence and reading the bottle would really make me thing I should get hit with some strong hops presence if it was fresh.
At this point there's not much point in continuing. Tastes like syrup. There is a slight spiciniess in it that would be good if it was fresh. I'll hopefully get to try another one fresh and change my opinion. Perhaps they should bottle date these (shouldn't they all date them, especially if they are IPA's)?
★
689 characters

2.34
/5
rDev
-32.4%
look: 4 | smell: 2.5 | taste: 2 | feel: 2 | overall: 2.5
12oz bottle into a pint glass.
Pours a slightly hazy dark orange with a one finger white head. Good head retention and lacing.
Aroma has quite a bit of caramel and a decent amount of grapefruit and pineapple from the hops. Not much else but it is decent.
The flavor is where everything goes wrong. First of all there is way too much carbonation for a IIPA. This thing is carbonated like a hefe. Also all the flavors are extremely muddled. There is a lot of caramel and an unpleasant butterscotch/bourbon flavor. Tons of bitterness but very little in the way of hop flavor.
Overall, I really can't recommend this beer. Some bad off flavors and a severe lack of hop flavor for a IIPA. Another fairly bad brew from Rivertown.
★
727 characters

2.11
/5
rDev
-39%
look: 3 | smell: 2 | taste: 2 | feel: 1.5 | overall: 2.5
12oz bottle into a Founders Tulip.
Pours a hazy golden orange with a huge three finger white head. The head falls fast, leaving moderate lacing. Pretty standard.
Nose is subdued at best. Maybe a touch of sweet citrus, but I'm reaching to find anything at all.
Taste is very very bland. There just isn't much of anything here. Not bitter, not hoppy, just extremely bland. Almost like lemon-lime soda, but without as much flavor. Without a doubt the most boring DIPA I've ever had.
Mouth is spritzy. Very thin and over carbonated. As boring as the nose and taste are, the mouthfeel is the weakest part of this brew.
Picked this up without knowing anything about it at the recommendation of an employee at Belmont Party Supply in Dayton, OH. Recommendations like this are why I typically don't ask for input from store employees. Avoid this beer.
★
853 characters

2
/5
rDev
-42.2%
look: 2 | smell: 2 | taste: 2 | feel: 2 | overall: 2
12 ounce bottle courtesy of Ryan011235, poured into a Duvel tulip. The dull amber body goes well beyond hazy into murky territory. A finger's worth of head disappears quite quickly, leaving a bubbly island and a thin collar of foam behind. A few specks of lacing.
Fighting thru the plentiful aromas of brown sugar and caramel (uh oh) is a lemony pine combo that's more reminiscent of a household cleaning product that actual lemon and pine.
On the positive side, there's a fairly potent undercurrent of bitterness and the plentiful overripe orange taste natural enough that I no longer want to scrub my floors. This stuff is tooth achingly sweet, though. I'd swear there was a spoonful of straight brown sugar dissolved in the bottle. I don't know what you paid for this bottle, Ryan, but you paid too much.
★
810 characters
Hop Baron Double Down IPA from Rivertown Brewing Co.
3.46
out of
5
based on
97
ratings.