Unit 6 American Hefeweizen
| Rivertown Brewing Co.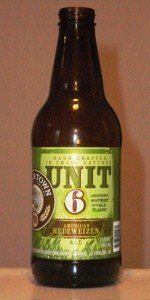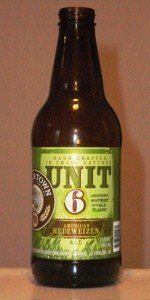 BEER INFO
Brewed by:
Rivertown Brewing Co.
Ohio
,
United States
rivertownbrewery.com
Style:
Hefeweizen
Alcohol by volume (ABV):
5.50%
Availability:
Limited (brewed once)
Notes / Commercial Description:
No notes at this time.
Added by Cannoneer on 11-15-2011
This beer is retired; no longer brewed.
HISTOGRAM
Ratings: 37 | Reviews: 8
3.08
/5
rDev
+1.7%
look: 3.5 | smell: 3 | taste: 3 | feel: 3.5 | overall: 3
This hefe is on the darker side of gold and the style. It starts off thick and opaque, but I have to say I've never seen an unfiltered beer that starts off opaque and then...clears up(?). Anyway, it's still slightly opaque, but I can see through it. Pretty strange. It grows a white head with a slight yellow tint that doesn't rise particularly high but does manage a foam that's very sturdy and never fades. Lacing is spotty.
I smell no Belgian yeast in this beer. Is the mysterious new twist that it's not actually a Hefeweizen? Smells like an APWA to me. Crackery malts with a wheat essence seem to form the foundation. There is a good floral hoppiness for a light ale. So, not a bad smell for a beer all in all, nothing like a hefeweizen; I'd say it evens out to average.
The flavor is pretty much the same story. That it's fairly hoppy for such a light beer is good; that it's nothing like the style isn't so much. I don't think a brewery ought to just brew a light ale (granted, there's plenty of wheat) and randomly call it a hefeweizen if it isn't one. What makes it a hefe if there's no Belgian yeast? It's not just the wheat.
The feel is brisk, the body on the higher side of light though it remains within parameters. The carbonation does make for a pretty good smoothness. It's just a little too spritzy, otherwise not bad.
1,335 characters


3.8
/5
rDev
+25.4%
look: 4 | smell: 4 | taste: 3.5 | feel: 4 | overall: 4
Appearance: This beer pours a slightly hazy orange color and is topped with 1" of angel white head that leaves rather quickly to a thin layer of mini bubbles.
Smell: This smells spot on what a hefeweizen should be a nice waft of malt aroma some coriander and orange peel, delicious.
Taste: It does not have the taste that I expected not a typical hefe but that isn't all bad it say a new twist on an old favorite. There is a nice malt backbone to the beer just like it should be it just doesn't have the coriander taste that most hefeweizen's have.
Mouthfeel: This is a light and easy drinking beer a great sit on the beach and take it easy type of brew. Unit 6 is not your typical hefe, but that isn't all bad a change of pace is good sometimes.
756 characters
2.61
/5
rDev
-13.9%
look: 3 | smell: 2 | taste: 2.5 | feel: 4.5 | overall: 2.5
A: Pours a bright gold with a slight haze. Head is fluffy and slightly off white with good retention.
S: Aroma gives off wheat and cereal aroma, with a faint hop aroma. Lacks any traditional German yeast aromas.
T: Flavor is fairly light, and similar to the aroma with mostly light cereal and wheat flavor on the front. In the middle there are some slight ale yeast flavors (fruit esters). The finish has a nice bitterness to balance the sweet grain flavors.
M: Well carbonated, crisp, and refreshing.
O: This beer is hard to grade correctly. Although it says Hefeweizen on the bottle and is categorized as such on this website, it appears to be an American Wheat. Even the brewery calls it "A Mysterious, hard to define twist on an old classic! An unfiltered wheat ale brewed with pilsner malt, wheat barley, and fresh Pacific northwest hops!". Either way I gave it a below average grade as a Hefeweizen, as an American Wheat I would rate it average to slightly above.
973 characters

3.2
/5
rDev
+5.6%
look: 3 | smell: 3 | taste: 3.5 | feel: 3 | overall: 3
Like Canoneer, I am a proponent of local beer, so although I have been somewhat disappointed by Rivertown in the past, i decided to try the American Hefeweizen here described.
Poured from a bottle into my Cincinnati Zoo and Botanical Garden Pint+ glass (I think it must be 20 oz.)
Despite a somewhat aggressive pour, there was little head (1/2 finger maybe) with near zero lace retention on the glass.
The beer pours pretty clear considering it is advertised as unfiltered, I was expecting a more hazy appearance that is typical for the Hefeweizen style...perhaps this is the "American" component of the beer style.
The smell is grassy, summery, little hops -my nose is stuffed up, so i really can't smell much.
At first sip, I am somewhat surprised...definitely taste the pilsner here. In fact, if i were blindly taste-testing, i would guess that it was a pilsner that I was drinking... not much wheat taste here. It is not a bad taste, but not quite what I was expecting.
Taste is very summery and actually not bad for some backyard summer beer drinking in the late afternoon. Definitely a session beer. By the 5th one I was liking it quite a bit actually.
Overall, I did not care for it tremendously upon the first sip, but as i drank more, it actually kind of started to grow on me. I really like that the beer is brewed here in Cincinnati and I really want to support Rivertown. I have not found a lot of their beer that I like, but i did somewhat enjoy this beer and I also enjoyed their Wit Beer which is a more belgian style Wheat beer. So I think they are improving and hopefully the brewery will continue to seek better tasting beers with better quality control...
1,677 characters

2.34
/5
rDev
-22.8%
look: 2 | smell: 3 | taste: 2 | feel: 2 | overall: 2.5
Poured into an A-B flute on 1/5/11
Pale, faded golden/yellow with a one thumb cap of white foam. Thin, wispy retention; no lace. The second pour finds chunky sediment.
Clean grain aromas - lightly toasted wheat. The pilsner malt adds a pleasant component. At first I though the hops smelled weak; sure, they're tame, but a nice grassy aroma is accented by zesty citrus peel and floral notions. Tastes similar in terms of wheat and pilsner malt, but the hops seems disoriented and weak, shoved aside by a lean, highly carbonated body. Finishes with some toasted wheat and a strange earthy note. Coating finish, too.
Overall impression - this doesn't have the fancy new Rivertown bottle cap, so maybe it's an older bottle. Not terrible, but I'd want some tweaks before considering it a repeat purchase. I'd be happy to give it another shot if freshness were assured.
867 characters
1.63
/5
rDev
-46.2%
look: 3.5 | smell: 3 | taste: 1 | feel: 1 | overall: 1
I am a patriot of local brewing. So, when I saw a mixed 12-pack from Rivertown Brewery, I eagerly picked up one. All their beers have disappointed, but this one in particular went beyond the "mediocre inept beverage."
I am not a beer snob - well, maybe a little - but I had to pour this one out. It tastes just like somebody had dropped a case of soap into the vat.
I even checked that, maybe, my glass wasn't washed well, with residue of soap remaining in it or something.
Nope. It was the beer.
I cannot condone this type of brewing. It makes me dismayed to say this about a local brew, but - it's the WORST beer I have ever tried.
Coors Light included.
662 characters
Unit 6 American Hefeweizen from Rivertown Brewing Co.
Beer rating:
3.03
out of
5
with
37
ratings