Pestilence
| Rivertown Brewing Co.
BA SCORE
69
poor
17
Reviews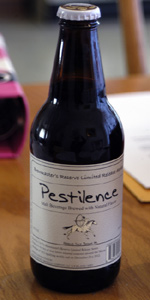 BEER INFO
Brewed by:
Rivertown Brewing Co.
Ohio
,
United States
rivertownbrewery.com
Style:
Flanders Oud Bruin
Alcohol by volume (ABV):
5.40%
Availability:
Limited (brewed once)
Notes / Commercial Description:
Pestilence is a sour brown ale brewed with 7 varieties of malted barley and wheat, organic whole Hibiscus flower pedals and spicy hops from the Hallertau growing region of Bavaria. The name Pestilence is derived from the ancient biblical term for infection or plague. Through a natural process called sour mashing, we expose the mash to airborne elements for a period of 48 hours allowing for a natural infection to arise causing the beer to sour. After this process is complete, we collect the sweet, sour runnings and introduce the spicy hops. We then boil it for a period of 1 hour and steep it with fresh hibiscus flower pedals. The end result is a wonderfully aromatic blend of fresh botanical herbs and mouth puckering sourness.
Added by deadonhisfeet on 03-03-2012
This beer is retired; no longer brewed.
Reviews: 17 | Ratings: 39

1.87
/5
rDev
-25.5%
look: 1.5 | smell: 2 | taste: 2 | feel: 2 | overall: 1.5
I snapped a few of these up on the based on the quality of Rivertowns Lambic. After a brief chilling the beer was served in a snifter.
Ap- The beer had a head that was white and briefly lasted. So basically I am looking at a glass that looks like effervescent ice tea.
S- The base of the beer is a nutty cocoa aroma. Lactic tones begin to announce a prescence but not enough. If you guys are going to make a sour brown or a wild ale go big or piss off. The beer gets a 2.0 for not being funky enough.
T- The flavor of the beer leads with subdued acitic and lactic sour green apple flavor. The beer takes a brief turn towards cocoa and then finishs up with lemony tartness. Its not terribad. I sense that the brewer has held back instead of going for broke.
M- The body of the beer is light and effervescent. The tartness lingers around nicely in the finish.
O- I really wish the brewer had went for broke. The beer isnt a drain pour but I didnt particularly enjoy drinking this beer.
★
992 characters

1.93
/5
rDev
-23.1%
look: 2 | smell: 1.5 | taste: 2 | feel: 2.5 | overall: 2
Random pick-up from a random shelf in a random bottle shop in Muncie, IN. Naturally, No hype, no background, no idea what to expect – the way beer should be sampled.
A: No head; what's going on here? Just a spritzing of bubbles along the edge of the glass and that's it. Odd. The body color is dark brownish-red, with a coffee-like texture (though not as thick-looking).This does not look very appetizing.
S: Whoa, that's a pungent funk – stinky cheese and fatty yogurt. It's unlike anything I've smelled before; at first, it's completely unappetizing, though it's a bit better after the initial shock is gone. Below that is a dull mix of dark fruit jam, floral notes, chipotle-reminiscent hops, and a molasses malt. This is one interesting nose, but not appetizing at all; that funk is stomach-churning.
T: Quite sour, with a big lemon tartness. Unidentifiable berry comes through, as well. Some spice comes through in the hop profile, pepper and chile, but with an unmistakable flowery character; that, plus light wheat, caramel, and toasted grain is really all that I'm getting. It ends on that same cheesy funk note from the nose, finishing in a very unappetizing way. Couldn't finish the bottle.
M: Fairly oily, though it's refreshingly light in its slickness. No carb, as expected.
O: Well, this one does have a good tart character in its palate; unfortunately, that one off-flavor completely kills it for me. My stomach still hasn't settled, even after pouring it out.
★
1,506 characters

2.51
/5
rDev 0%
look: 3 | smell: 2 | taste: 2.5 | feel: 3.5 | overall: 2.5
Pestilence pours a darker, nut brown color. It looks mostly clear. Backlighting shows some crimson highlights. The color isn't bad. Unfortunately, a head never materialized. A few white bubbles collected on the surface, but disappeared just as quickly as they arrived. Disappointing. Makes for a rather average look overall.
The nose is actually below average. It's not very aromatic at all. It desperately needs more strength. UP front, it smells mostly grainy. There is a bit of funky scent to it. It frankly smells rather bad. It smells a little tart. There's a bit of brown malt throughout. Very light, subtle floral notes are present. Alcohol doesn't smell very strong. Eh. This one doesn't smell good at all if you ask me.
The flavor is marginally better than the nose. Still not very good. It is grainy and a little malty initially. The malts taste a little cocoa-ish. It's not sweet. There's definitely a musky, funky flavor to it. It's really not that tart though. It's just kind of there. Doesn't add anything positive to the mix. It's definitely floral. I'm not all that crazy about that aspect either. A little tartness emerges at the secondary level, but it's very subtle. Alcohol is masked well. Doesn't taste all that strong. I'm not sure of the abv, but I'd be shocked if it were above 6% or so. Just a guess. Finishes grainy, floral, and slightly tart.
Pestilence has a lighter body. Carbonation is very light and restrained. It needs a little more body to feel smooth. It's not a bad feel though. It may well be its best attribute.
To my knowledge, a pestilence is a fatal disease. I wouldn't go quite that far in characterizing this beer, but I will say it's not good. Needs a lot of work in just about every respect. Skip this one.
★
1,794 characters

3.85
/5
rDev
+53.4%
look: 3.5 | smell: 3.5 | taste: 4 | feel: 4 | overall: 4
P: 12 fl oz bottle in to a NB tulip.
A: SRM is light nut brown. Translucent and clear. Virtually no head whatsoever. Off white bubbles cling to the sides of the glass. Medium carbonation. Medium lacing.
S: Moderate hibiscus notes and light funk. No sour notes on the nose.
T: Fairly tart, hibiscus emparts light floral and sweet notes. Light bread/nut/wheat notes on the back end. Aftertasts is a sourness that sticks to the middle of the palate from middle to edge.
M: Medium/light body. Sourness dominates the palate/feel, but hibiscus notes are noticable. Wet finish.
O: I was grinding my teeth paying +$5 for this beer, given my past experiences with this brewery. I still think it was overpriced, but I must admit that this is a very nice beer. Nice tart aspect, but I would not necessarily say this is a sour. American Wild Ale sounds right. Tartness sticks to the palate with some floral hibiscus/sweet notes as well. I will probably buy another to age. Pleasantly surprised by this one.
★
999 characters
2.42
/5
rDev
-3.6%
look: 3.5 | smell: 1.5 | taste: 2.5 | feel: 3.5 | overall: 2.5
12 ounce bottle. Served in a Unibroue tulip, the beer pours a reddish/brown color with a half inch light tan head that stayed around a little while. Small amount of lacing. The aroma is well, interesting. The beer smells like funky cheese and vomit. Well, maybe a little more cheese than vomit, but I don't think it's a nice smelling brew. Luckily, the taste is somewhat better than the aroma. The brew tastes like tart cherries, dark fruit, nuts, and unfortunately still a bit of vomit. Mouthfeel/body is medium, it's a bit slick with moderate carbonation. Overall I didn't care much for this brew. It reminded me too much of vomit for me to enjoy it, but then I did finish the bottle with no problem so I guess it wasn't truly horrible. $2.99 a bottle. I'm certainly not going to buy this again, and I'm hoping the other beers in this series aren't as bad this one.
★
867 characters

3.08
/5
rDev
+22.7%
look: 3.5 | smell: 3 | taste: 3 | feel: 3.5 | overall: 3
Served in a St. Bernardus chalice.
APPEARANCE
The beer pours a Coca-Cola brown, with just the slightest amount of deep red light poking through. There was a tiny white head when first poured, but it went away fast and left nothing remaining. There was little visible carbonation. Overall, it looks somewhat like a clear Belgian dark - nice looking beer.
SMELL
There's some interesting aroma coming from this beer. There is some nice dark fruits, such as plum and raisin. There is a bit of Greek yogurt, which is followed by a bit of stomach acid... Not exactly unpleasant, but definitely different. There's a good amount of sweetness on the nose as well, bringing some nice maltiness and maybe a bit of caramel. The hop character is on the spicy side, bringing some floral and honey-like aromas. Overall, pretty complex but not the most pleasant smelling brew.
TASTE
The taste is fairly different than the aroma. There is a surprising amount of cocoa in this beer, which I was not expecting. There's a big amount of nutty flavor that reminds me a lot of cashews, which was also unexpected. There is a decent sour twang to it, but it's not a jaw-locking sourness. More like a pretty solid tartness throughout. The first few sips brought that stomach acid flavor, which reminded me of... well, puke. As it warms up, though, that flavor is replaced with more of a Greek yogurt flavor. There's a lot of dark fruits in here, as well as some hop spice and floral flavors. This is a pretty complex beer on the tongue!
MOUTHFEEL
This has a bit more body than I had anticipated. There is a nice, dry finish and the tartness creates a crisp mouthfeel. There is a lingering oily feeling that reminds me of the leftover oil from a cashew. It's pretty easy drinking, but the sort of wild flavors keep this from being a beer you can chug. Nice mouthfeel on this brew.
OVERALL
An unusual beer to say the least. It's not a sour to end all sours, but it is a unique experience to drink this beer. There's some interesting funky things going on that makes you want to keep drinking, but it's not so wild that it's off putting. Admittedly, the stomach acid aroma and taste frightened me at first, but it smoothed out as the beer warmed. I would definitely recommend trying this beer. It's fairly cheap for a sour ale, so grab a few bottles and age'em until after the end of the world.
Cheers.
★
2,387 characters

3.46
/5
rDev
+37.8%
look: 4 | smell: 3 | taste: 3.5 | feel: 4 | overall: 3.5
Poured from my growler into a New Belgium tulip. Sours are quite rare around here and the proprietor at Party Town has been having lots of fun getting people to try this. It pours a nice-looking reddish brown color with slight haze and a thin head that dissipates quickly (not unusual for sours). The nose is funky ... seriously funky (like a monkey). The funk on this beer has funk of its own. It's like limburger cheese. We are talking some serious funk here. I don't know whether to rate the nose high because of how funky it is or to rate it low because, well, because of how funky it is.
The flavor is very sour and appetizing. I'm getting fruity notes of very tart cherries and sour apples. There is a tannic, wine-like quality that really dries out your mouth and adds to the drinking experience. I wish there was a bit more sweetness in there to balance out some of the sourness though. The sour character is brilliant, but there is a very faint ``cheesy'' taste on the finish that I find just a bit unpleasant (I don't know how else to describe it). If it wasn't for that, I'd give this beer higher marks for taste. Still, it's so faint I didn't even taste it with every swig and I still enjoyed the beer.
Overall, I have to applaud Rivertown and recommend this beer to anyone who can find it (especially if you like sours). I'm overjoyed that one of the local breweries decided to make a genuine wild ale. I overheard another customer at Party Town remark that, with all the people who wander around Cincinnati coughing and sneezing, there had to be SOMETHING in the air that, if harnessed, could make a killer sour. I seriously hope that Rivertown tries this again (and tweaks it a bit). At any rate, I also picked up a bottle of it to save for New Years. I am going to try to collect all 4 beers in Rivertown's ``4 Horsemen of the Apocalypse'' series and have a ``Mayan Apocalypse Vertical'' at the end of 2012.
★
1,925 characters
Pestilence from Rivertown Brewing Co.
2.51
out of
5
based on
39
ratings.