War
| Rivertown Brewing Co.
BA SCORE
82
good
11
Reviews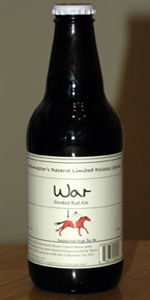 BEER INFO
Brewed by:
Rivertown Brewing Co.
Ohio
,
United States
rivertownbrewery.com
Style:
Smoked Beer
Alcohol by volume (ABV):
6.20%
Availability:
Limited (brewed once)
Notes / Commercial Description:
War is a smoked Irish-style red ale brewed with cherry wood smoked barley and traditional UK amber malt.
Added by deadonhisfeet on 07-25-2012
This beer is retired; no longer brewed.
Reviews: 11 | Ratings: 26

2.45
/5
rDev
-29.8%
look: 4.5 | smell: 2 | taste: 2.5 | feel: 2 | overall: 2.5
Poured into an E&J Cask & Cream glass on 9/11/12 (one doesn't go to war without one's E&J)
The appearance is a deep brown, like a dark tobacco shared amongst warriors; strangely, it's rather clear, though the color is dulled. A tan, one and a half finger head drops slowly, becoming dense along the way. Retention is remains a strong enforcement with lace shielding half the glassy battle garb.
The aromatics portend much calamity and strife, with rumors of cocoa, band aid, molasses, dark bread, tea leaves and caramel. The whole is an unexpected trio of gritty, toasty and sugary - the basis of an unholy alliance. Fire builds slowly before sending up billows of smoke as flames warm the night air.
Indeed, the rumors prove true. Riders come through waves of smoke, armed with dry rye bread, earthen hops and stale, crushed tea leaves as caramel, dirt and moss detritus are ripped up and flung upon them in the throes of battle. Alas, the riders are carried upon compromised horses; weak and frail of body, distracted by nerves and bucking with frantic agitation.
As conflict turns to struggle and then to subdued resistance, War likewise tips from tumultuous to defiant and then to defeated weariness. Nevertheless, no matter the hardship, trial and cost, War will be seen through until the end.
1,302 characters

3.31
/5
rDev
-5.2%
look: 4.5 | smell: 3.5 | taste: 3 | feel: 3 | overall: 3.5
Poured from a bottle into a New Belgium snifter. The beer pours out a very dark reddish-mahogany color with a massive frothy head. There is a ton of effervescence. I can hardly believe this came from a a brewer whose beers I frequently find to be under-carbonated. The nose, while faint, has hints of smoke, chocolate, and leather.
The beer is pretty light-bodied considering the presentation. The flavor is quite mild and unfortunately does not give the complexity promised by the nose. There is just a hint of toasted malt and a well-tempered smokey undertone that carries through the finish. Hop addition is well-done and is true to the style. The finish is dry, but not overly so. Unfortunately, the feel is quite thin and the nice toasted malt flavors one looks for in an Irish red are muddled and the beer almost tastes watered-down.
This is the second in Rivertown's series of ``4 Horsemen of the Apocalypse'' beers to commemorate the end of the Mayan calendar (the first being the aptly named ``Pestilence''). Like a few other Rivertown beers I could name, I think this beer was a great idea that was poorly executed. It doesn't taste like a smoked Irish-style red ale should. I don't get enough toasted malt to make me think this is an Irish-style red ale. It drinks more like a mild, slightly smoked English-style brown ale. I hope Rivertown can pull it together and hit a couple of dingers with the last two beers in this series.
1,446 characters

3.36
/5
rDev
-3.7%
look: 4.5 | smell: 3.5 | taste: 3 | feel: 3.5 | overall: 3.5
A - pours a medium brown that is very clear.  A two finger rocky, khaki colored head forms and disappears quickly.  When help up to solid lighting it appears a very deep mahagony color.
S - smokey, malty, waxy, caramel, acrid.  Reminds me a tad of the bacon smokiness aroma found inVoodoo Maple- and it makes me a little nervous.
T - wow, tons of tobacco flavor and smoke.  Reminds me of a mix of the wax lips I had at Halloween as a kid and a big old Skoal.   Not sure how they smoked this, but its an odd smoke I've not had in a beer before.   Raw squash.  Malty if you can find it under the smoke.
M - medium bodied. Slightly drying.
D - Low for me.  The tobacco is too much for me to enjoy.
Overall, interesting beer and I'm glad I tried it but the smoke takes a turn I can't appreciate.  I hope the Brewmasters Reserve series takes a turn for the better on the next release.
895 characters

3.44
/5
rDev
-1.4%
look: 4 | smell: 3.75 | taste: 3.25 | feel: 3 | overall: 3.5
Thanks Richard and Alanna, for bringing me this brew!
A: Light tan as it pours, in the glass the color is a nice dark cherry brown, with a tan head. Looks nice.
S: Nice smoked scent. Slightly sweet, with a good dose of campfire, and smoked meat. There is a nice baked bread smell coming through as well. Sometimes I think cherry smoked malt can come off a little cloying, but that is not the case here.
T: Some good toasted malt and bread notes.. The smoked malt adds a nice nuance to the flavor, and doesn't overpower the brew. There is a slight spice note from the rye, with a crisp bitterness lingering in the background. I like all the flavors this has going, but I wish it had just a little more behind it. The smokiness is good, but the beer as a whole comes off a little watery.
M: Soft feel, high carbonation level, and fine in size.
O: Overall decent, but for a beer named war, I thought it would have a little more backing it up. Nice flavor, I just wish it was amped up a bit. This is more of a skirmish, not a war.
1,035 characters
3.65
/5
rDev
+4.6%
look: 4 | smell: 4 | taste: 3.5 | feel: 3.5 | overall: 3.5
A: The beer is clear very dark amber in color and has a light amount of visible carbonation. It poured with a quarter finger high beige head that died down a bit, leaving only a small hole in the center of the layer of bubbles covering the surface.
S: There are light to moderate aromas of smoky malts in the nose; these get a little stronger as the beer warms up.
T: Like the smell, the taste has smoky flavors along with notes of the red ale. Hints of tea are noticeable in the finish.
M: It feels medium-bodied on the palate and has a moderate amount of carbonation.
O: This beer has a nice amount of smoky flavors in the taste but these are quite balanced and don't overpower the beer.
689 characters
3.72
/5
rDev
+6.6%
look: 4 | smell: 3.75 | taste: 3.5 | feel: 4.25 | overall: 3.75
12oz brown bottle with no freshness date.
Great head retention, deep rusty reddish amber hue. Deep smokiness, bread malt, mild spice, hint of alcohol, toasted grain and a mild nuttiness show a pretty complex nose. Superb smoothness, medium bodied. Lots of smoke but no cloying, woody, toasted bread, faint dried fruit, spice, balancing hop character, dried grass, clean, smoky toasty drying finish.
While the deep smokiness may take away from the drinkability a bit it does entice me to still sip ... just not quaff. Either way, pretty damn good.
548 characters

3.81
/5
rDev
+9.2%
look: 3.75 | smell: 4.5 | taste: 3.5 | feel: 4 | overall: 3.5
A: Ruby brown color, fairly cloudy. Pours with a very thin, off-white head that maintains throughout. Little to no lacing.
S: Extremely smoky. The aroma reminds me a lot of the Rogue Voodoo Doughnut Bacon Maple Ale, only without the maple sweetness. Lots of malt and woody notes come through here.
T: The best part of the beer is the first taste, when you experience all the smokiness from the nose. The flavors fall off pretty drastically as you swallow, leaving you with a pretty standar, red ale finish. Maybe slightly more robust.
M: Medium body, more in the front than the back.
O: The taste never lives up to the scent. The nose of the beer promises a rich, complex experience that the flavor never delivers on. And despite that very brief, initial smokiness, this beer lacks any truly distinct qualities. The malt profile could be a bit fuller, and the smoky wood notes needs to linger throughout more.
913 characters
3.82
/5
rDev
+9.5%
look: 4 | smell: 3.75 | taste: 3.75 | feel: 4.25 | overall: 3.75
12 ounce bottle
Served in a nonic pint glass
A - It is dark amber with lighter amber highlights. A normal pour yielded a large, creamy, tan head that lingers for a while.
S - The obvious first impression is smoke. At first I thought it reminded me of liquid smoke, but it transformed to more of a campfire smell. Some sweet caramel malt is in there too if you look hard emough.
T - My initial impression was that it was too smoky. After it warms, it is an enjoyable beer. The smokiness mellows and allows the characteristics of the Irish ale to come through.
M - It is medium bodied with a creamy texture.
O - I thought this beer was going to be a smoky turd. It turned out to be satisfying. I think the key is to let it warm. It was definitely better up around cellar temperature.
787 characters
3.93
/5
rDev
+12.6%
look: 4.5 | smell: 4 | taste: 3.75 | feel: 4 | overall: 4
War is dark, almost brown-red, with lots of ruby flaring in the light. The head takes some work to keep down; the fat brown pillow takes several minutes before it levels out at two fingers. Once there, it's massively dense and practically solid, leaving webby lace that drops to patching about 1/3 of the way through.
While seemingly one-dimensional, the nose really does have fantastic smoke to it. It's campfire, all wood with no charcoal but just a little char and only the slightest tang in it.
With warming, I get a little black pepper sort of spiciness with a little bit of something bready and a ghost of a soapy note to the hops.
The taste carries the smoke over well but with a little more tang, char and bitterness, particularly into the finish. There's some bread to the malts, including leaf, grass, and the aforementioned soapiness.
The body is simulataneously crisp and fluffy but not too heavy in a medium body.
926 characters
3.95
/5
rDev
+13.2%
look: 4 | smell: 4 | taste: 4 | feel: 3.5 | overall: 4
12 ounce bottle. Served in a mug, the beer pours a clear reddish-brown color with an inch light tan head. Head retention and lacing are both good. Aroma is mostly smoky, it smells like smoked malt/meats, along with a little bit of wood. Taste is similar to the aroma, the brew tastes mostly like smoked malt/meats, and some caramel and a little bit of rye spicyness. Mouthfeel/body is light/medium, it's smooth and easy to drink. It's also well carbonated. Overall I liked this brew, I think it's worth a try. $2.99 a bottle.
525 characters

4.13
/5
rDev
+18.3%
look: 4.25 | smell: 4.25 | taste: 4 | feel: 4 | overall: 4.25
A - Really nice deep crimson body, ample tan head. But the head goes away.
S - Smoky, meaty, earthy...It's a really nice smoke profile, and I like smoke, so I like this smell.
T - Lots of smoke, the same biting sweetness that is in famine, somewhat fruity, but this is subdued, and the moderately complex smoky profile really dominates. If you like smoke, this is good. A bitterness helps too.
M - A nice hearty mouthfeel. It doesn't feel war-like, but perhaps more like the beer you'd want while taking a break from war...I dunno.
O - this is a legitimately solid smoked beer, in my opinion. But you have to like smoke.
624 characters
War from Rivertown Brewing Co.
3.49
out of
5
based on
26
ratings.