Cincinnati Beer Week 2013 Embree's Northern Dark
| Rivertown Brewing Co.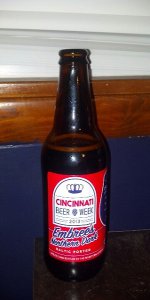 BEER INFO
Brewed by:
Rivertown Brewing Co.
Ohio
,
United States
rivertownbrewery.com
Style:
Baltic Porter
Alcohol by volume (ABV):
10.94%
Availability:
Limited (brewed once)
Notes / Commercial Description:
No notes at this time.
Added by patpbr on 01-19-2013
This beer is retired; no longer brewed.
Reviews: 13 | Ratings: 29

3.65
/5
rDev
-6.6%
look: 4 | smell: 4 | taste: 3.5 | feel: 3 | overall: 3.75
Served from a bottle into a Sam hybrid glass.
A: Dark. Very dark. No light shall penetrate this darkness.
S: Roasted malt and toffee.
T: Aforementioned roasted malt gives it some sweetness and some hop bitterness in the background helps to balance out. And there's no avoiding the taste of ethanol at this ABV.
M: Medium-to-thin and low carbonation.
O: This is a massive beer. I'm not too familiar with the style, so I'm not going to tread too far; this porter manages to possess some tasty flavor, which is no easy task at near 11%. It's dark as all get out, has a magnificent smell to it, and doesn't taste like pure rocket fuel, so I'd call it a success.
662 characters
3.76
/5
rDev
-3.8%
look: 4.25 | smell: 3.75 | taste: 3.75 | feel: 3.5 | overall: 3.75
Appearance: black body with a tan half finger head
Aroma: dark fruit that reminds me of fig; mild-medium roasted coffee; just a touch of toasted caramel; touch of mocha; hint of sour mash
Flavors: nice dark fruits on the mid and aftertaste – raisin and fig; medium coffee; just a touch of bitterness that reminds me of a 70% dark chocolate bitterness; there is a tart note on the back and aftertaste; nothing really stands out; lack character
Mouthfeel: medium body; mild carbonation; smooth feel; alcohol does not stand out – just a little warmth; aftertaste seems short; lacks depth
To the Point: easy to drink for a 10.94 abv; the alcohol was not really a factor; nice tasting; fun to review but nothing special when just sitting back and sipping;
This porter paired well with a fine cigar - La Perla Habana Black Pearl Morado Robusto
847 characters

3.8
/5
rDev
-2.8%
look: 4.25 | smell: 3.5 | taste: 4 | feel: 3.5 | overall: 3.75
Ending a long hiatus of reviews for this one-time offering from 10 Cincinnati Breweries (Blank Slate, Christian Moerlein, Fifty West, Great Crescent, Listermann, Mt. Carmel, Rivertown, Rock Bottom, Samuel Adams, and Triple Digit). Last year's Barleywine was odd fresh...looking forward to this one.
A - Looks nice - rather dark body with a medium-dark tan head that fades quickly to a ring and film of white foam.
S - Lots of roasted caramel up front, hints of vanilla...this is about all I can discern.
T - A nice full spectrum of roasted toffee, caramel, etc., the vanilla. It's quite sweet, with a light alcohol burn on the finish. Not a lot of depth, and perhaps a bit too much booze, but it's pretty good.
M - a touch drying, smooth, a little bit thin.
O - this is alright. Considering it's a collaboration from a lot breweries that range from poor to good (IMO, of course), this is at the upper end of the possible range. Looking forward to seeing how time treats it.
978 characters
3.81
/5
rDev
-2.6%
look: 3.75 | smell: 4 | taste: 3.75 | feel: 3.75 | overall: 3.75
12 ounce bottle. Served in a snifter, the beer pours dark brown/black with about a 1/4 inch light tan head that fizzled away quickly. There's a small amount of lacing. The brew smells like dark fruit (prunes, cherries, red grapes), roasted malt, caramel, and a bit of chocolate and coffee. The taste is pretty much just like the aroma, it tastes like roasted malt, dark fruit, bittersweet chocolate, nuts, and coffee. I do think the aroma is much fruitier compared to the taste, in which I think the bitter flavors are stronger. Mouthfeel/body is medium, it's a bit thin for a Baltic Porter, but also smooth with a good amount of carbonation. I liked this brew, it's definitely worth trying. $11.99 a 6-pack.
708 characters
3.81
/5
rDev
-2.6%
look: 3.75 | smell: 4 | taste: 3.75 | feel: 3.75 | overall: 3.75
Cincinnati Beer Week kicks off with a collaboration like no other. From mega brands like Rock Bottom to the ground roots efforts of Listermann, and traditional Christian Moerlein to non-traditional Triple Digit. Brewed at Rivertown but inspired by lank Slate, Great Crescent, and Fifty West... there's a lot of influence that goes into this festival's collaboration ale.
What results from the collage of influence is a demonstrative Baltic porter that's swallowed by a dark "bark" brown saturation that influences the aromas and makes me think things like "strong", "roast", and "robust". Its deep color eventually releases a lather of foam that caps the beer with a dense but condensed blanket of slight mocha-stained foam that further reinforces the beer's boldness. Light in retention and lace, the beer sparsely decorates the glass with lace.
Bold aromas of deeply toasted grains offer up alluring scents of heavy toast, Kona coffee, cocoa, walnut, and chicory but never crosses the fence into roast or charred territory. Instead, its restrained masculine scent in filled with vanilla, grape, and licorice-like spicy smoothness that balances the sweetness and accents its earthen components.
Its delicious taste is smooth and robust. Backed with the smooth caramel richness of malt, the beer further relies on the taste of nutty coffee grounds, bitter chocolate, light campfire embers, walnuts, grape and aniseed to build complexity, intrigue, and variance in taste as the beer marches across the taste buds. Its a beautiful flavor combination that weaves in yougurt-like tangy malts and port-like alcohols to close its taste.
Full bodied, yet smooth in texture- this Baltic porter lacks the quintessential smoothness of those long-lagered examples, but the beer instead celebrates its arid carbonation, dry toast, and slightly astringent char to assist a semi-dry finish and brandy-ish warmth.
Though there's a ton of Baltic porter character to be celebrated in this beer, its the rougher and more impatient flavors and textures that come to rise in the form of near-roast, slightly harsh bite, and rough alcohols that makes the beer seem "green" or maybe slightly immature.
2,185 characters

3.85
/5
rDev
-1.5%
look: 2.75 | smell: 4 | taste: 4 | feel: 3.75 | overall: 3.75
Poured from a slightly-chilled bottle into a Founders snifter. It pours out an extremely dark mahogany color (nearly black). Carbonation is extremely low. What little head there is quickly dissipates. The appearance may be a bit of a disappointment, but the nose makes up for it. I get some nice treacle and toffee notes, some roastiness, and a hint of booze.
The beer has a medium-full body and a wonderful malty flavor. Sweet toffee, caramel, and bready notes up front are followed by slightly smoky, licorice notes at mid-palate. The finish has a nice, slightly dry alcohol warmth. Very smooth, slightly creamy feel, but just a bit thin. Delicious dessert beer.
This is the second collaboration beer brewed in honor of Cincinnati Beer Week and I really enjoyed it. I thought it would be tough for the team of local brewers to hit another homer after the barleywine they brewed last year, but they pulled it off. This was a really nice brew.
945 characters

3.87
/5
rDev
-1%
look: 4.5 | smell: 3.75 | taste: 3.75 | feel: 4 | overall: 4
Serving Type: Bottle to pint glass.
Appearance (4.5): Dark, with light brown head.
Smell (3.75): At first I rated it a 4.5, because it is very aromatic, with hints of vanilla and black licorice. However, after letting it sit for a couple of minutes, I'm also getting a hint of what I privately refer to "creamy". I'm not sure what the technical term is, perhaps a slight undesired sourness?
Taste (3.75): Fortunately, the 'creaminess' or sourness is hardly present in the taste.
Mouthfeel (4.0).
Overall (4.0): Being from Cincinnati, and a strong supporter of the local scene, I have to admit my 4 my be a bit biased. Either way, I am impressed with this collaboration and it definitely is a strong source of pride to see so many breweries working together.
762 characters

3.99
/5
rDev
+2%
look: 3.75 | smell: 4 | taste: 4 | feel: 4 | overall: 4
Appearance - Dark brown with a small tan head.
Smell - Roast, dark fruit and sweet.
Taste - Robust, Chocolate a hint of sweetness, Caramel. I notice dark fruit as well. Malty brew
Mouth feel - Medium body can taste the alcohol as it warms.
Overall - Bought this as a single bottle.It states it was brewed and bottled by Rivertown in collaboration with local (Cincinnati) breweries as part of beer week 2013.
410 characters

4
/5
rDev
+2.3%
look: 3.5 | smell: 4 | taste: 4 | feel: 4.25 | overall: 4
Dark chocolate-colored ale with a sudsy, tan head. Aromas of perfumy, floral hops and roasted mocha; flavors of sweet florals and tart coffee. Very smooth and light-bodied for something with almost 11% abv...one could easily drink way too much of this stuff.
258 characters

4
/5
rDev
+2.3%
look: 3.75 | smell: 3.75 | taste: 4 | feel: 4.25 | overall: 4.25
Appearance - pours opaque for all intents and purposes. A finger of mocha forms and forms and falls to a thin but complete cover.
Aroma - molasses out of the shoot, roasty malts following with elements of coffee then Hershey's syrup. Some soy notes after a bit.
Taste - roasty, a little sweet, distinctively 'porterish' in flavor. More chocolate than coffee, the reverse of what I expected. Better coffee presence as the beer warms. A light abv going on, not pushy at all, very elegant.
Mouthfeel - smooth, a bit weighty, moderate carbonation. Well done.
Overall - I wouldn't mind seeing this one done again, I'd buy a case to last a few years. Saved this last one to review and decided to enjoy it tonight for no particular reason. Cheers!
744 characters

4.08
/5
rDev
+4.3%
look: 4 | smell: 4 | taste: 4.25 | feel: 3.75 | overall: 4
Limited availability. I picked it up at Cork and Bottle in Newport KY. Pours a nice chocolate brown, a nice roasted carmel overtones. It is a good winter blend beer. High alcohol content 10.94% . Good dark bitter chocolate taste. This is a good dark beer.
255 characters
4.09
/5
rDev
+4.6%
look: 3.75 | smell: 4 | taste: 4.25 | feel: 4 | overall: 4
A: Poured in a pint glass, dark brown with a little carbonation on the sides. a small light brown head quickly dies.
S: Wow! dark fruit, figs and dates with a little tart cherry in there. a little roast on the end with a nice sweet caramel finish
T: The taste plays off how it smells. a very nice roasted, caramel malt, slight chocolate covered tart cherries in the middle with a coffee finish. cant taste the 11%!
M: perfectly carbonated, and smooth. like i said the alcohol isn't there, it goes down very easy.
O: this was a delicious baltic porter, a must try. Has a nice tart fruit, coffee aroma with a flavor that doesnt disappoint. the mouthfeel is great and it never weighs you down. Cheers!
702 characters

4.13
/5
rDev
+5.6%
look: 3.5 | smell: 4.25 | taste: 4.25 | feel: 4 | overall: 4
Poured into a snifter. Dark brown, not a huge head. Smells sweet, almost like a brandy, of dark--almost to the point of being burnt--caramel. Clings to glass quite well. Malty--almost like a barleywine or a quad. Perhaps I've had Baltic Porters that defy the style, or perhaps I haven't had enough of them, but this beer doesn't match up to to others I've had. Tastes include toffee, blackcurrant, and again, caramel. Quite good. Thanks to ksurkin for the brew.
461 characters
Cincinnati Beer Week 2013 Embree's Northern Dark from Rivertown Brewing Co.
3.91
out of
5
based on
29
ratings.