Drie Fonteinen Framboos
| Brouwerij Drie Fonteinen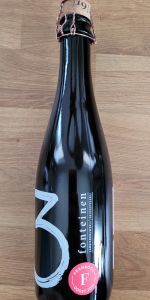 BEER INFO
Brewed by:
Brouwerij Drie Fonteinen
Belgium
3fonteinen.be
Style:
Lambic - Fruit
Alcohol by volume (ABV):
5.00%
Availability:
Rotating
Notes / Commercial Description:
Recent bottling dates:
05/25/1999
05/31/2011
06/18/2014
Added by TheLongBeachBum on 03-02-2003
Reviews: 103 | Ratings: 623
4
/5
rDev
-10.7%
look: 4 | smell: 4 | taste: 4 | feel: 4 | overall: 4
Vintage 1999 - the last true Drie Fonteinen Framboos. Sampled at a private party at GABF.
Poured an nice cloudy pink with a light pink head.
The aroma was of full brettanomyces barnyard funk, lactic acid, and reasonably bright strawberries.
The flavor was moderately tart for a DF beer. The strawberry flavor was reasonably pronounced. The beer had a clean biscuity and wheaty malt backbone (very subtle, but nice). As amazing and rare as this beer was, I must admit that I felt it was past its prime. It did taste slightly stale. I can only imagine how wonderful it was 5 years ago.
The carbonation was medium and the mouthfeel was light. I suspect the age had something to do with the carbonation being a little low for a lambic.
★
735 characters
5
/5
rDev
+11.6%
look: 5 | smell: 5 | taste: 5 | feel: 5 | overall: 5
This is the drie fonteinen Framboos/Framboise enjoyed (thanks to JorisPPattyn and MartinT) with MartinT, kimchee, Oakes and Tiggmtl. As Joris points out, this is refermented in bottle. The vintage is 1986 and I swear this bottle is like 1 inch thick. The cork looks completely ravaged like in an horror movie. Apparent soil lie everywhere under the cage which is barely holding in place. There is no label on this bottle, the vintage is written with chalk, simply Despite its age, it opens up with a serious pop. A nice off-white to pink head forms over the top of the reddish, pinkish orange body. Such a head seems like a mirage from the past and scores an easy 5. The aroma is totally unique and exploding of raspberries. They hit the deep end of your nose and penetrate your brain and you know when it happens that the smell will haunt your memories for a while. It feels very dessert-like, wet, creamy. Some sweetness seems to come from the vanilla notes. It's earthy, leafy with leathery peaks. Very complex lemon and citrus complement the lactic tartness and funky brettanomyces character. In mouth, it's definitely the most lactic beer i've ever had. Extremely dry and fruity, dusty out-of-date yoghourt. Potent lemon juice with the wheaty acidity really coming out. With the slightest effort (and it's really not that demanding actually), you grasp all the typical barnyardy and horsey characteristics. Aftertaste is long, tart, astringent, salivating, begging for more, but begging to let this moment be enjoyed for a while. Medium bodied, very dry and with medium to high carbonation which seems like a miracle. Once you'll have tried it you'll know, but it's one of those beers that is such a labyrinth of flavors and at the same time keeps such a nice focus that it's just adorable and deserves to be seeked out and tried to be believed. It's hard to paint in words all the nuances a brewer can attain when exploiting his full brewing art potential.
★
1,970 characters
4.83
/5
rDev
+7.8%
look: 5 | smell: 4.5 | taste: 5 | feel: 4.5 | overall: 5
Available, and sampled from the Bottle in the Drie Fonteinen Café, Beersel.
Traditional Raspberry lambic is very rare, sure we've all heard of Framboos, but this is the real stuff. Originally, the whole purpose of producing fruit lambics was to utilize & not to waste excess from a years fruit crops. Obviously the whole fruit was added. Of course these days – syrups, flavorings & all sorts of things are added. Drie Fonteinen make no such short cuts, they add whole Raspberries from Ternat which are some of the very best available, and it shows.
Drie Fonteinen offers this style in two formats;
Draft in the Café at 5.0% ABV, and Bottled at 6.0% ABV.
The two have some differences.
From the Bottle. A 750ml green glass bottle has a simple looking cream colored label that has Framboos & other information written in dark green lettering. Quite a basic presentation, but this is traditional after all, & it would be beneath Drie Fonteinen to have a gimmicky label – anyways, it does not need one.
Once the cage & cork are removed this beer positively oozes a steamy looking white gunsmoke. There is a lot of energy trapped in this beer.
The head is massive as the Framboos is poured into glass, & even a restrained pour does nothing to stop the frothy monster racing up the glass sides. It takes a while to slowly settles, the head activity is huge & the bubbles burst with a random effervescent pattern. Looks very appetizing. The head is slightly darker than the draft version, a deeper pink.
A turbid salmon-pink colored beer that has much higher inherent carbonation than the draft version & positively dances in the mouth, huge mouthfeel & massive similarities to drinking champagne.
Aromas are intensely fruity & not surprisingly of Raspberries. Quite something, really fruity with some sweetness, but the acidity is much higher than the draft version.
Tastes are quite simply mind-blowing. The quintessential traditional raspberry fruit lambic & the epoch of Framboos. Extremely drinkable beer, I note that the bottled version has a higher strength than the draft version, due mainly to refermentation in the bottle. Acidic, smooth, sharp, some sweetness in the middle, but the astringent cheek pulling puckering finish is to die for.
The King of Framboos – probably the Best traditional Framboos in the World.
Café Visit: 24th Nov. 2002
★
2,386 characters
Drie Fonteinen Framboos from Brouwerij Drie Fonteinen
4.48
out of
5
based on
623
ratings.