Fulton Beer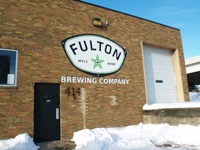 PLACE INFO
Type:
Brewery, Bar
414 6th Ave N
Minneapolis
,
Minnesota
, 55401-1214
United States
(612) 333-3208 |
map
fultonbeer.com
Notes:
No notes at this time.
Added by darklordlager on 02-17-2010
Reviews: 12 | Ratings: 83
4.28
/5
rDev
+7.8%
vibe: 4.5 | quality: 4.25 | service: 4.25 | selection: 4.25
for my money, this is one of the premier beer destinations in the twin cities. part of an earlier wave of breweries, they have matured really nicely. great space too, old brick building with a cozy interior and a big patio, plenty of parking, and a diverse crowd. bar is in the back with a small view to the fairly large scale brew house. plenty of beers to choose from too! lots of taps and some specialty bottles. i was really impressed with the war and peace stout, and loved the amber brett saison collaboration the did with a new orleans brewery, but all of the beer in here is good, and even their more common staple beers are well above the average in the local scene and really the industry as a whole. the staff handled a busy evening really well, i got a lot of personal attention, and these guys knew their stuff and seemed overjoyed to be working here. that always gives mee good feelings about a place when the staff id so stoked. i loved the beer i had here and wish i had more time to spend exploring the list. definitely near the top of my list of breweries to return to. perfect mix of classic blue collar working brewery and hip urban hangout. loved it!
★
1,171 characters

4.32
/5
rDev
+8.8%
vibe: 4.25 | quality: 4.25 | service: 4.5 | selection: 4.25
Nice modern brewery vibe. They have big tables with games and food trucks, which was nice. Quick service with a good selection. Would return. Good place to grab some brews with a group of friends and chill for a while.
★
218 characters

3.85
/5
rDev
-3%
vibe: 4 | quality: 3.75 | service: 4 | selection: 3.75
Pretty cool Brewpub . Fulton can be hit b4 a twins game or a Timberwolves game also within walking distance of world class restaurants and other very good restaurants . North Loop is a great place to hang especially in the summer. Fultons space is a little small but somehow they have great service the brews are good the vibe is good and usually have food trucks fri-sun
★
372 characters

4.23
/5
rDev
+6.5%
vibe: 4.25 | quality: 3.75 | service: 4.5 | selection: 4.5
Nice location, easy walk from light rail. Nice open space, gets a bit loud, but not offensively. The beer is pretty good, wide style selection, nice merchandise for sale. The staff has been friendly and attentive on each visit. Growlers available to go. Close to other breweries, can be part of a nice walking tour.
★
320 characters
4.19
/5
rDev
+5.5%
vibe: 4.25 | quality: 4.5 | service: 4 | selection: 4
This is on one of my bike routes and is an excellent excuse to stop in and fill up a growler. There is usually a decent food truck outside. It has sort of an industrial warehouse décor but the people are very nice and the beer is very good. It can get crowded during ball games but definitely put this place on your list for a Minneapolis craft beer tour.
★
356 characters
3.9
/5
rDev
-1.8%
A great place, especially in the summer. Close to Target Field, in a little industrial area. Industrial, unfinished feel to the space, but not cramped, and really welcoming staff. All the regulars and a few seasonals on tap.
★
227 characters

4
/5
rDev
+0.8%
The plan I had was to do a brewery crawl with my pops post-Twins game. This was stop one. If I'd known they open earlier on game days, I would have spent less time at the game watching the Twins get their asses handed to them and would have spent more time at Fulton.
Either way, we left the game about the start of the 8th inning and managed to beat the massive crowd that made their way to Fulton after the game. There was a line outside of the brewery of anxious people waiting to get in to get some beer. I was the guy inside casually sipping my beer, nodding at the people in line, smacking my lips, and making comments like "Man, this is good," and "How f#cking refreshing!". Nah, just kidding, I didn't do all that.
I was actually at the bar sampling the different brews with my pops and talking to the cool as shit part owner and Fulton family member. He was a friendly guy that demonstrated a true passion for beer and beer culture. After a long conversation and sampling a number of the beers, I settled on the excellent The Designated Bitter. It's been a month now, so I hardly can recall the beer's attributes, but it was great. A 4/5.
I also got a pour of the Sweet Child of Vine at another venue and found that to be a superb beer as well. 4/5
Overall, this place stood out for the great personnel, for the high-celiinged space and easy post-game access, and for the excellent beer.
Cheers to the Fulton family.
PS. As I mentioned, Fulton can easily be part of a brewery crawl. My dad and I followed it with Dangerous Man (awesome), Indeed (excellent), Bauhaus Labs (excellent), and 612 Brewing (so-so). I would have liked to do Boom Island instead of 612. This is a lot of walking, but you get to cross the Mississippi and see some cool neighborhoods and drinks lots of beer. Can't beat that.
★
1,818 characters

4.04
/5
rDev
+1.8%
vibe: 3.75 | quality: 4 | service: 4.5 | selection: 3.75
This is a really cool spot. Next to the Target Center and Twins field in a very industrial place. Plenty of street parking right around.
Since it was warm weather, had delivery doors and patio working. Very open air type, looks like a brewery, no thrills. Has a very local feel. They stamp hands, not sure if it's a local law, but I am not a fan.
They have 14 taps and 1 cask. Most taps were double duty, so same beer twice, but I assume a different line. Bartenders are fast and attentive, lots of room to sit, chat and enjoy a beer.
Overall this is a nice rendition of a brewery tap room.
★
593 characters
4
/5
rDev
+0.8%
vibe: 4 | quality: 4 | service: 4 | selection: 4
My wife and I were able to stop by for a visit on 12/28/13. The location is handy to downtown and the sporting arenas. We walked over, so I really can't comment on parking availability.
As we walked in, I noticed an outside terrace for the summer months. This is pretty much a semi-raw industrial space. Concrete floors and walls can make it a bit loud. It was a happy din as the place was crowded and everyone was having fun. I like the make-up of the crowd, there was a mix of ages (kids to grandparents), couple on dates, groups of friends, etc.
We were lucky enough to snag a table as two people were leaving. There is no table service so you have to go the bar. Service was friendly but a bit slow due to the crowd. I don't mind waiting a few extra minutes given the friendly crowd to chat with.
They have a large blackboard which lists available beers, some limited notes on them, prices and what beers will be coming-up next. Prices were a reasonable $5. Pints of the regular beers and smaller snifters for the high APV beers. We had 4 beers total. We had a Ringer, Sweet Child of Vine (both regulars), then an imperial IPA and the Worthy Adversary Imperial Stout.
They don't offer food, but there was a food truck out front that brought in peoples orders to their tables. There is a swag counter near the front door.
I will comeback for another visit, hopefully it will be in the summer and I combine it with a Twins game.
★
1,446 characters
4.03
/5
rDev
+1.5%
vibe: 4.75 | quality: 4.25 | service: 3.5 | selection: 4 | food: 4
Great neighborhood taproom. I walk for growlers. I hang for pints - garage atmosphere, lively, active, loud, happening without pretense. Feels like a constant block party/social club. Friendly door staff. Barkeeps a bit overwhelmed by the crowds. Good prices, solid selection. New patio addition. Open limited hours. Best of Minneapolis food trucks rotate. A must visit if you are downtown for a Twins game or just downtown.
★
424 characters
3.57
/5
rDev
-10.1%
vibe: 4.5 | quality: 3.75 | service: 3.5 | selection: 3
Ample seating inside and out. Stopped in before a Twins game but it never felt overcrowded.
Fantastic aromas of brewing beer.
No foodservice, but walk up bar pumped patrons through rapidly. Great range of rotating food trucks.
4 beers on tap when we were there. Narrow range.
Nonsmoking patio!
★
301 characters

3.3
/5
rDev
-16.9%
vibe: 3.75 | quality: 3 | service: 3.75 | selection: 3
[Note: it's weird that this place doesn't have any other reviews. I could swear I've read reviews of it in BA. Might be a burp in the computer...]
Atmosphere: a big, pretty tasting room in the front of the brewery. A decent amount of seating inside, though it surely does get crowded. An outdoor patio (thankfully nonsmoking!) with a view to Target Field (the Minnesota Twins ballpark) a few blocks away provides more seating and standing. A regular food truck parks outside. An hour before a Twins Friday evening game, it was busy, but I got a couple beers with only a couple minute wait each time.
Quality: Unfortunately, not overwhelming. I had the Expat Rye Saison, and it was kind of blah. Decent, drinkable, but just not anything special. Their flagship Sweet Child Of Vine, an English IPA, has a cute name but is really pretty average beer at best.
Service: bartenders were friendly enough, and efficient: it was a high volume operation, and they were slinging beers rapidly.
Value: At $5 for a pint, it's an okay price, but I wouldn't pay $5 for the Sweet Child of Vine again, and would be hard pressed to go out of my way to buy this stuff.
Their winning formula is probably location, location, location: it's just a tiny walk to and from Target Field, so about 81 days a year, they've got a built in crowd for baseball fans and attendees who don't want to do their pre-gaming and post-gaming at the (mostly less interesting) bars in downtown Minneapolis proper.
★
1,481 characters
Fulton Beer in Minneapolis, MN
4
out of
5
based on
2,483
ratings.