Black Lager
| Lucky Hand Brewing Company
BA SCORE
84
good
10
Reviews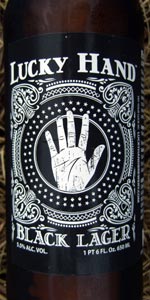 BEER INFO
Brewed by:
Lucky Hand Brewing Company
California
,
United States
luckyhandbeer.com
Style:
Schwarzbier
Alcohol by volume (ABV):
5.50%
Availability:
Year-round
Notes / Commercial Description:
No notes at this time.
Added by popery on 02-21-2010
Reviews: 10 | Ratings: 21
3.88
/5
rDev
+6.6%
look: 4.5 | smell: 4 | taste: 3.5 | feel: 4.5 | overall: 4
A: Pours an opaque black, as you might expect, with a large amount of light tan head. A thin layer retains, enough to leave nice walls of lacing.
S: Light sweet roasted malts, brown sugar. Pretty mild, but pleasant enough.
T: Light malty sweetness, leading into a slightly astringent bitter note towards the finish. Long lasting bitter molasses aftertaste.
M: Really nice medium carbonation that is just the right balance of smooth and prickly, medium leaning towards full body.
Overall, good. Not great, but drinkable and well done.
537 characters
3.85
/5
rDev
+5.8%
look: 3.5 | smell: 3.5 | taste: 4 | feel: 4 | overall: 4
Bought a bottle of this from Beer Revolution to drink at home. Pours quite black, and even a little viscous. Slightly off-white head that is a little sparser than it should be. This beer is apparently brewed by Linden Street Brewery in Oakland for these guys, and interestingly they use lager yeast at ale temperatures during fermentation, so essentially this is a black steam beer. Smells quite roasty, with a touch of lager yeast at the end. Nice flavors. Starts with roasted grain and moves on to lager yeast and then biter chocolate and citrus rind. Nice finish, and pretty tasty. Quite smooth at first, but develops a hop bite that lingers. I enjoyed this- truly different than anything else I've had recently. The smooth lager notes combined with the roastiness, bitter chocolate notes, and hop punch are a winning combination.
833 characters

3.8
/5
rDev
+4.4%
look: 3.5 | smell: 3.5 | taste: 4 | feel: 3.5 | overall: 4
Bottle, home. This beer pours just about the exact color of black coffee. The head is a light mocha cream that dissipates a bit faster than I'd like and doesn't seem to leave all that much lacing. The aroma is a bit muted for the style. There's a yeast note that overpowers the roasted malt, which contributes some nice coffee and dark chocolate flavors. The taste is mildly sweet. I'd prefer this beer a bit drier, but there's a nice hop bite in the finish that reigns things in. Feel is just ok, a bit watery. Nice beer; I'd like to see more from this brewery.
562 characters

3.78
/5
rDev
+3.8%
look: 3.75 | smell: 3.75 | taste: 3.75 | feel: 4 | overall: 3.75
This black lager pours a black (slightly brown) color, with an annoying large and slowly dissipating, foamy, tan head. The smell is fairly neutral, but there is a slight malty scent. The flavor is of toasted bread and roasted coffee. The body is medium. There is nothing too complex here, but the flavors are very nice, clean, and appropriate for a schwarzbier. I have never heard of this brewery and as of now they apparently only make two beers. I have had better schwarzbiers, but this is well done especially for such a small brewery. I would definitely drink it again sometime and I would be interested in trying the other beer made by this brewery.
654 characters
3.75
/5
rDev
+3%
look: 4 | smell: 4 | taste: 3.5 | feel: 3.5 | overall: 4
I had great success with Lucky Hand's Cali Common, so when I saw this one out and about I thought I'd give it a try as well.
Pours a deep, opaque brown colour, black for most of the body, with a fine and solid head of beige foam. Lacing is solid. The body weight is pretty light, and pretty fluid, which suits the style, although it always looks odd in a dark beer in world increasingly filled with heavy stouts.
Nose is pleasantly light but roasted, with a clean grain character giving wholesome dark bread notes. There's a little bit of green, leafy organics to it, lending a touch of tea and perhaps a hint of sweet pepper. It's not all that complex, but it gets the important parts right. Pretty solid.
Taste is also stylistically good, and solid, without being particularly jawdroppingly exciting. Strong roasted basis throughout the palate, but light in body, leaving the slightly too intense carbonation to bloat the palate, and fray away the other components. It's pretty clean, though, and pleasantly refreshing for a dark beer.
There aren't enough dark lagers out there! Even though this is a solid, but not exceptional example, it warms my heart to drink it. There's something of the cleanness and the crispness of a well-made lager that melds so nicely with the rich, darker notes of a Schwartzbier. More please!
1,328 characters

3.65
/5
rDev
+0.3%
look: 3 | smell: 3.5 | taste: 4 | feel: 3.25 | overall: 3.5
Poured into a lager glass. A thin, tan head on a black body.
The aroma is rich, roasted malt. Pretty good, if one-sided.
The taste is roasted malt at first, then a big kick of lemon bitterness. It seems a little disjointed but I like it.
The texture is smooth with moderate carbonation.
Not a bad black lager.
309 characters
3.6
/5
rDev
-1.1%
look: 3.5 | smell: 3.5 | taste: 3.5 | feel: 3.5 | overall: 4
I originally purchased a bottle of Lucky Hand Black Lager a month ago, but after posting a review of the Black Lager which described a sourness (and possible infection), the brewmaster offered to "replace" my bad bottle. You gotta love a guy who stands with confidence behind his product! My replacement bottle arrived, fresh from the brewery, so here'shoping it's better the second time around. Coming out of a 22 ounce bottle, on to the beer:
Nice looking beer. Black in color with hues of ruby brown. The head settles quicker than before, to a creamy looking lace on top with a few spots of suds. There's that schwarzbier aroma without the sourness that I encountered in my original review. Semi-sweet chocolate nose, a touch of roast, hints of herbal hops. The sweetness of the aroma seems to get less sweet with time.
Now on to the fun part. I enjoy dark lager in general, but it is an uncommon sight in the states. What I'm drinking is a fair representation of such. The taste starts bittersweet, in the form of a bittersweet chocolate. Hint of brownie batter and vague cofee roast. There's some astringent malt in the mix that adds a burnt bitterness on the palate, particularly towards the end of a given sip. Hops are present and accounted for, which ironically shine the most in the aftertaste. It's medium bodied, and somewhat smooth in texture. It's an easy drinker, and fits the overall style well.
Worth a go if if you have a thing for dark lagers. Once again, props to the Lucky Hand crew for standing by their product.
1,539 characters

3.53
/5
rDev
-3%
look: 4 | smell: 3.5 | taste: 3.5 | feel: 3.5 | overall: 3.5
A-Pours dark burgundy with 1/2 inch of foamy coffee colored head. Leaves soapy lacing.
S-Roasted barley, black pepper, condensed milk sweetness.
T/M-Pleasantly roasty, with a soft mouthfeel and low/moderate carbonation. The back end has a nice, delicate dry hoppiness. Body is on the light side for the style, which helps drinkability, but makes it a bit less interesting.
O-Would have prefered this a little thicker/roastier. It's a good easy drinking black lager.
470 characters
3.43
/5
rDev
-5.8%
look: 4 | smell: 3.5 | taste: 3.5 | feel: 3.5 | overall: 3
pours a burgundy-black hue with a light, coffee white head. A light acidic coffee aroma, very light. Almost faint. Heavy lager aromas.
A nice, playful combination of a light-medium dark malt, faint coffee flavors working well with a good hop bite. Some hints of burnt malt and milk, too. Surprisingly refreshing for a dark beer. Hoppy, cream-coffee finish.
Definitely not worth the $7.50 I paid for (but that markup was likely due to the location of purchase, I hope). This would make a good six pack beer for those spring and summer outings.
545 characters

3.01
/5
rDev
-17.3%
look: 4 | smell: 3 | taste: 3 | feel: 3.5 | overall: 2.5
Wet and lager like. Just a touch of blackened malt and a little sour taste. Not much to brag about. Faint malt. Some bitterness but seems to be missing any actual hop flavor except for the damp mossy dankness. Some musty aroma.
Looks nice enough in the tall wine glass. Very light bodied with a coarse beige foam that lasts well. Plenty of foam in every pour.
From the 22 oz bottle. Lucky Hand is decent enough to say the beer is brewed for them under contract by Uncommon Brewing, which does make a couple of decent beers.
525 characters
Black Lager from Lucky Hand Brewing Company
3.64
out of
5
based on
21
ratings.