Seriously Low Budget Cucumber Berliner Weisse
| Flat Tail Brewing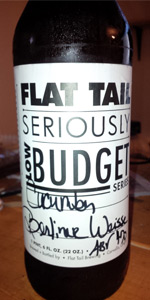 BEER INFO
Brewed by:
Flat Tail Brewing
Oregon
,
United States
flattailcorvallis.com
Style:
Berliner Weissbier
Alcohol by volume (ABV):
4.00%
Availability:
Limited (brewed once)
Notes / Commercial Description:
No notes at this time.
Added by MasterSki on 12-10-2012
This beer is retired; no longer brewed.
Ratings: 12 | Reviews: 5
Reviews by ccrida:

3.14
/5
rDev
-18.9%
look: 3.5 | smell: 3.25 | taste: 3 | feel: 3.5 | overall: 3
On draught at The Bier Stein (listed as the cucumber cuvee, but by taste, description and strength I assume is the same thing). Appearence is a lively pale gold with a small white head. Big bubbles fade quickly to skim leaving no lace.
Smell is sweet acetone, solvenant, but more sweet, from the cuc's?
Taste is heavy cuc, also sweet solevant before a tart lacto smack, which dominates the fairly quick finish.
Mouthfeel is light and oily, but with a dry crispness.
Drinkability is ok. First sip impressions were "wow, this really delivers on the cucumber meets Berliner Weise." Powering through the solvants for the madeit evident why it 's "seriously low budget. "
670 characters
More User Reviews:
4.01
/5
rDev
+3.6%
look: 3.75 | smell: 4 | taste: 4.25 | feel: 3.75 | overall: 3.75
Bottle (2012)
Clear light golden color. Small near-white head. Not a particularly stick beer. Appropriate for the style.
The aroma is one very much of cucumber skin and just a tiny bit of crisp, juicy cucumber flesh. It definitely leans more toward the skin aroma then the flesh. A bit of earth and vegetable character. No wheat or sour/acid character.
A very fresh cucumber beer--good amounts of cucumber skin and a bit of crisp, fresh cucumber flesh. Quite tasty. Though, with the aroma, there isn't much, if any, wheat, or sour character. Refreshing and very drinkable.
Thin-medium bodied with moderate carbonation. Refreshing.
Very unique and quite drinkable. I wish it had more complexity, but I have no complaints.
725 characters



4.06
/5
rDev
+4.9%
look: 4.5 | smell: 4 | taste: 4 | feel: 4.25 | overall: 4
Big thanks to canjeeps for gifting me with this rarity. A bomber poured into tulip, the brew appears a clear pale yellow color with 2 fingers of white head that retains well.
The smell is grassy and lightly lemony/tropical with a hint of cucumber salad (without the vinegar.) Overall this brew smells surprisingly fresh and enjoyable.
The taste is tart and lemony like your standard berliner than a fresh hint of cucumber overtakes the profile.
This is a very refreshing summertime offering. It has a light body, moderate carbonation and is clean and easy drinking. This is easily the best cucumber beer ive ever had though i can probably count on 1 hand how many cucumber beers ive tried.
692 characters

4.03
/5
rDev
+4.1%
look: 1.5 | smell: 4 | taste: 4.5 | feel: 3.75 | overall: 4
22 oz. bottle ~ purchased Summer 2012, consumed 4/29/2013
From the "Seriously Low Budget Series", handwritten name on the label, 4% ABV. Took a bottle of this from the cellar to our 'getaway' cabin on the Oregon Coast, enjoyed during sunbreaks on our last afternoon; poured to a pint glass.
A: First off, this is a months-old Berlinerweiss - not TOO old but not 'fresh' either. The first pour is a pale straw/golden with lots of speedy carbonation - looks very much like mildly hazy, vaguely greenish ginger ale. Starts with a loudly fizzy finger of whitish head, one that dissipates within seconds. A second pour is murky and filled with chalky sediment flecks; the end result looks like watered-down grapefruit juice. Not attractive.
S: Wow - vibrant 'cucumber' aroma. It's green salad, crisp lettuce, cut greens and watermelon rind all-in-one. A fairly one-dimensional scent (try hard and you may get some bread/citrus nose-twitching zest), but a strong one.
T: As good as this one smells, the taste is better... loads of grassy greens and 'salad' vegetable flavors, very 'fresh'. Balanced by an ample lemony lactic acidity, that cucumber flavor is bright and the tartness comes alive. Hints of green apple and unripe berries/grapes. Quite tasty!
M: A bit thin, but the style isn't meant to be heavy at all. Refreshing, fairly clean, mildly starchy.
O: Wasn't sure how this would hold up, considering its months in the cool/dark basement... but what a delicious way to conclude a weekend at the Coast. Not for everyone, but if you like the melon-y taste of fresh cucumber slices then look for this - it's a winner. Saved (for some odd reason) one more bottle that I plan to open soon... and hope this will return in 2013.
Aside: paired well with some salty/sweet Asian cracker snacks. Maybe sushi next time?
1,819 characters

4.24
/5
rDev
+9.6%
look: 3 | smell: 4 | taste: 4.5 | feel: 4 | overall: 4.5
Thanks to Mike (AgentZero) for sharing this oddity. Served in a Russian River tulip.
A - White foam quickly settles to nothing. Translucent yellow-green body.
S - Cucumber skins, grassy and sharply vegetal, with a bit of earthiness as well. Not really a ton of the base Berliner here; just an abundance of fresh cucumber.
T - The taste is great, with a mix of cucumber flesh, sweet pale malts, a bit of wheat, and light lactic tang. Significantly less vegetal than the aroma, and with a good balance of flavor elements.
M - Surprisingly hefty medium body for the listed 4% ABV. A tad grain, with a dry and mildly acidic finish. Zesty carbonation that's appropriate for the champagne of the North.
D - I really enjoyed this beer and made sure the remnants of the bottle didn't go to waste. I'd never heard of this brewery but I'll be checking them out more in the future as this was a highly drinkable beverage.
915 characters
Seriously Low Budget Cucumber Berliner Weisse from Flat Tail Brewing
3.87
out of
5
based on
12
ratings.