Vedett Extra Ordinary IPA
| Brouwerij Duvel Moortgat NV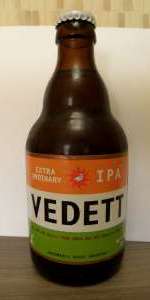 BEER INFO
Brewed by:
Brouwerij Duvel Moortgat NV
Belgium
duvel.be
Style:
Belgian IPA
Alcohol by volume (ABV):
6.00%
Availability:
Year-round
Notes / Commercial Description:
No notes at this time.
Added by Coren on 03-20-2014
Reviews: 12 | Ratings: 87
3.75
/5
rDev
-0.8%
look: 3.75 | smell: 3.75 | taste: 3.75 | feel: 3.75 | overall: 3.75
Hazy orange color with a thin head with short retention.
Aroma with notes of tangerines, herbal hops, lots of Belgian yeast, lemon, some mango and honey.
Likewise, flavor with herbaceous and citrusy notes with Belgian yeast, tangerines, candy sugar, mild mango, lemon and sweet flowers. Dry aftertaste with a medium bitterness.
Medium body with appropriate carbonation.
Refreshing and easy to drink Belgian IPA, relatively mild but with a character of its own.
460 characters

3.36
/5
rDev
-11.1%
look: 3.25 | smell: 3.5 | taste: 3.25 | feel: 3.25 | overall: 3.5
330ml bottle @ Tropical Murphy's in Koh Samui, Thailand.
Murky copper colour; translucent. Standard off-white head of 2 minute retention.
Aroma and taste bring notes of orange zest, citrus, pale malts, and fruit. Balanced, albeit somewhat shallow, lacking the pungent hop profile of superior IPAs.
Mouthfeel is soft, smooth, wet, refreshing, medium, and overcarbonated.
Overall, it's a nice low ABV IPA that drinks easy on a hot summer day and will pair well with food, but it can't hold a candle to the finest expressions of the style brewed in Denmark, the U.S.A., and the like.
B- (3.36) / WORTHY
605 characters
3.78
/5
rDev 0%
look: 3.75 | smell: 3.75 | taste: 3.75 | feel: 4 | overall: 3.75
On tap served in a Vedett pint glass at Ekamai Beer House, Bangkok, Thailand.
L:
Golden orange in color, a bit hazy, thick white frothy head sinks down slowly with good retention and leaves thin foamy layer atop. There are a lot of lacing patches clinging here and there.
S:
Candy sugar, spice, hint of ripe mango, orange peel, citrus and some malt with bready quality underlying.
T:
Floral, fruity (mainly citrus) and sweet from malt along with Belgian's yeasts but not too overwhelming as hops brought to balance with some spice and moderate bitterness, the aftertaste is also lingered with more intense hop bitterness.
F:
The body is medium with smooth mouthfeel and crisp carbonation to stimulate the taste buds. Finish is dry.
O:
Pretty good Belgian IPA, light, balance, refreshing and easy to enjoy while not forsake the part of hop. Yes, the hops work very well here.
881 characters
4.09
/5
rDev
+8.2%
look: 3.75 | smell: 4 | taste: 4.25 | feel: 4 | overall: 4
Received in a beer52 order.
Pours hazy golden orange into a tulip glass from 330ml bottle. White head has large silky bubbles, and rises 3-4 fingers high before diminishing quickly to nothing. Lacing is minimal.
The nose is all sweet clementines, with some papaya, mango, and pineapple. There's also a herbal aroma almost like coriander which blends with the orange to create a fresh and juicy earthy scent. It makes the beer smell very appealing; I liken it to the scent of an orange vinyard blowing through an old monastery. Very Belgian.
The nose comes through strong in the flavour, more of those sweet herby clementines with just a bite of sour tropical fruit, and then meandering into mellow bitter hops. The aftertaste is an amalgamation of all the aforementioned with a bit more emphasis on the bittersweet orange.
In the mouth it feels more carbonated than I had expected, producing this tang on the sip which melds with the citrus, and leaves the palate feeling fresh. The beer is light-medium bodied with an oily quality to it, but after the swallow it leaves a slight dryness behind.
This is a great thirst quenching IPA with a really nice Belgian spin on it. The flavours are fruity, and earthy, and above all well balanced. I would definitely return to this IPA given half a chance.
1,301 characters
3.97
/5
rDev
+5%
look: 3.75 | smell: 3.5 | taste: 4 | feel: 4.5 | overall: 4.25
330ml bottle from Beer52 website:
A really nice Belgian IPA, better than I thought I would; it was certainly a step up from the bottle of First World Problems Belgian IPA from Stewart Brewing that I also tried recently. The beer was fresh & well-balanced with a nice hop bitterness, plenty of fruits & a few nice herbal touches towards the end; excellent stuff & definitely a beer that I'd go back to again.
407 characters
4.6
/5
rDev
+21.7%
look: 4.5 | smell: 4.5 | taste: 4.75 | feel: 4.5 | overall: 4.5
Inviting golden orange color with nice lacing. Taste of candy, fruity, citrus. Very very thirst quenching with dry finish. Superior drinkability. One of my favorite so far.
172 characters
3.75
/5
rDev
-0.8%
look: 3.75 | smell: 3.75 | taste: 3.75 | feel: 3.75 | overall: 3.75
Simply listed as the Vedett IPA at the Mushroom bar in Bordeaux, there's hardly anything "extra ordinary" about this IPA. The beer had a nice, somewhat perfumy IPA nose, with some nice floral characteristics, which were replicated pretty closely on the palate. The beer was a fairly lean and dry on the finish, with some light bitterness to buoy the underlying golden ale characteristics. Alcohol is well integrated into the flavor profile, and so drinkability was pretty decent.
An easy to enjoy and appreciate beer from Duvel Moortgat. Not sure I would order this again (even here in Bordeaux, where options are limited), but it's decent enough.
652 characters

3.66
/5
rDev
-3.2%
look: 3.75 | smell: 4 | taste: 3.5 | feel: 3.25 | overall: 3.75
IPA of a hazy orange/ocher color and a nice foam.
Smell is hoppy, grassy and filled with citrus notes.
Taste is similar, more fruity and less grassy.
In the mouth, it begins refreshing but then it dries a bit. Body and carbonation are ok but I think this beer hasn't a pleasant feel.
283 characters
3.76
/5
rDev
-0.5%
look: 3.75 | smell: 4 | taste: 3.75 | feel: 3.75 | overall: 3.5
A: Golden orange and filtered with soda like carbonation and 2 fingers of light orange cream head.
S: Tropical fruits, pineapple, candied orange, papaya, and lemon.
T: Tropical fruits as on the nose, almost like Fruit Loops cereal. Pineapple, candied orange, lemon, mango, and papaya. Light bitterness on the finish, light sweetness throughout but overall relatively dry.
M: Medium body, light sweetness, dry finish with moderate foamy carbonation.
O: Pleasantly surprised by the tropical fruit notes in this Belgian IPA! Its not like others in the style, nor is it very strong, but pleasant. Found at a bar by Papa John's in Kunming, drank March 21st 2015.
674 characters
3.9
/5
rDev
+3.2%
look: 3.5 | smell: 4 | taste: 4 | feel: 3.75 | overall: 3.75
Bought from a small foreign grocery store in Shanghai China. Poured into a pint glass from the 33cL stubby bottle.
A: The beer is a hazy pure orange color topped with a foamy white head that doesn't last very long. Lots of carbonation inside.
S: Tangerine and then orange peel most noticeable. Somewhat balanced by a nice sweetness and some yeast.
T: Nice balanced character, bitter up front but then mellowing out before a drying finish. Citrus peel but also some pine or floral. Hard to make out in the middle. Good sweetness in there, but again balanced in a great way.
Overall: Very pleasing refreshing drink. Compare to La Chouffe in character. Great find in China. I will have this again.
700 characters

3.73
/5
rDev
-1.3%
look: 3.75 | smell: 3.75 | taste: 3.75 | feel: 3.5 | overall: 3.75
Beer bottle (33 cl.) purchased from la Cervoiserie, and tasted in 2014.
Appearance : orange color with white foamy head.
Smell : hoppy and floral aromas.
Taste & mouthfeel : citrus notes and hint of hoppy spice, hop is quite mild for an IPA.
Overall : a good beer in the Belgian style IPA.
290 characters
3.3
/5
rDev
-12.7%
look: 3.5 | smell: 3.5 | taste: 3.25 | feel: 3 | overall: 3.25
"Not really a pale ale," the bottle says in a bit of expectations management. So. Poured into a tulip glass as a brass-colored with a thin trail of bubbles feeding a thing ring of white foam. Aromas of mint, bread, light toast, a light lavender something. The hop attack stabs in as a thin and flinty edge of bitterness with a bit of iron in it. Some apricot, banana and coriander behind that, and some citrus pitch lingers afterward. Not a lot to chew on, with some helpful cleansing from the effervescence but a bit of oil persists in the mouth. Not so much that it won't work for a quencher or an aggressive session starter.
627 characters
Vedett Extra Ordinary IPA from Brouwerij Duvel Moortgat NV
3.78
out of
5
based on
87
ratings.